Group Event Types
We know that there are as many reasons to get together, as there are event venues out there. Explore which event types work best for you and your group attendees, so we can can help you make the most of your meeting! Planning a successful event for your group is our highest priority. From personalizing each event according to you and your group's needs, Westgate Resorts can accommodate most group types and sizes. Why settle for a family reunion drowning in drab surroundings when you can have the experience of a lifetime filled with family fun at any one of our unique group booking destinations? Looking for corporate or business conference space? Don't let their board room become their bored room! We work hand in hand with you to customize event types to your needs and RFP criteria. Learn more about our hotel event types below!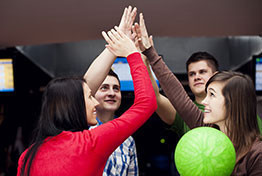 Student & Youth Organizations
Planning a class trip or sporting event? Westgate Resorts properties are in premier destinations for student and youth groups. Many of our resorts have indoor corridors and multiple bedrooms, making supervision easier.
Corporate Meetings & Conferences
With a variety of flexible meeting/event space available, Westgate Resorts provides the ideal location for everything from informal corporate events or team buildings to large sales meetings.
Reunions
With its proximity to iconic theme parks, spacious suites and multitude of onsite recreational amenities, Westgate Resorts properties are in great locations for family, class and military reunions.