Westgate Resorts Creates Specialty 'Liberty Lemonade' Cocktail to Honor U.S. Military Members
Jun 22, 2023
ORLANDO, Fla. – June 22, 2023 – Westgate Resorts announced the creation of a new specialty cocktail with a cause. The "Liberty Lemonade" will be sold at Westgate bars and restaurants across the country to honor active U.S. military members and raise money to support veteran causes.
From every "Liberty Lemonade" sold, $5 will go directly toward supporting our armed forces through the Westgate Foundation, a nonprofit that helps team members during times of unforeseen crisis, while also giving back to Westgate resort communities through donations, grants, volunteerism and more.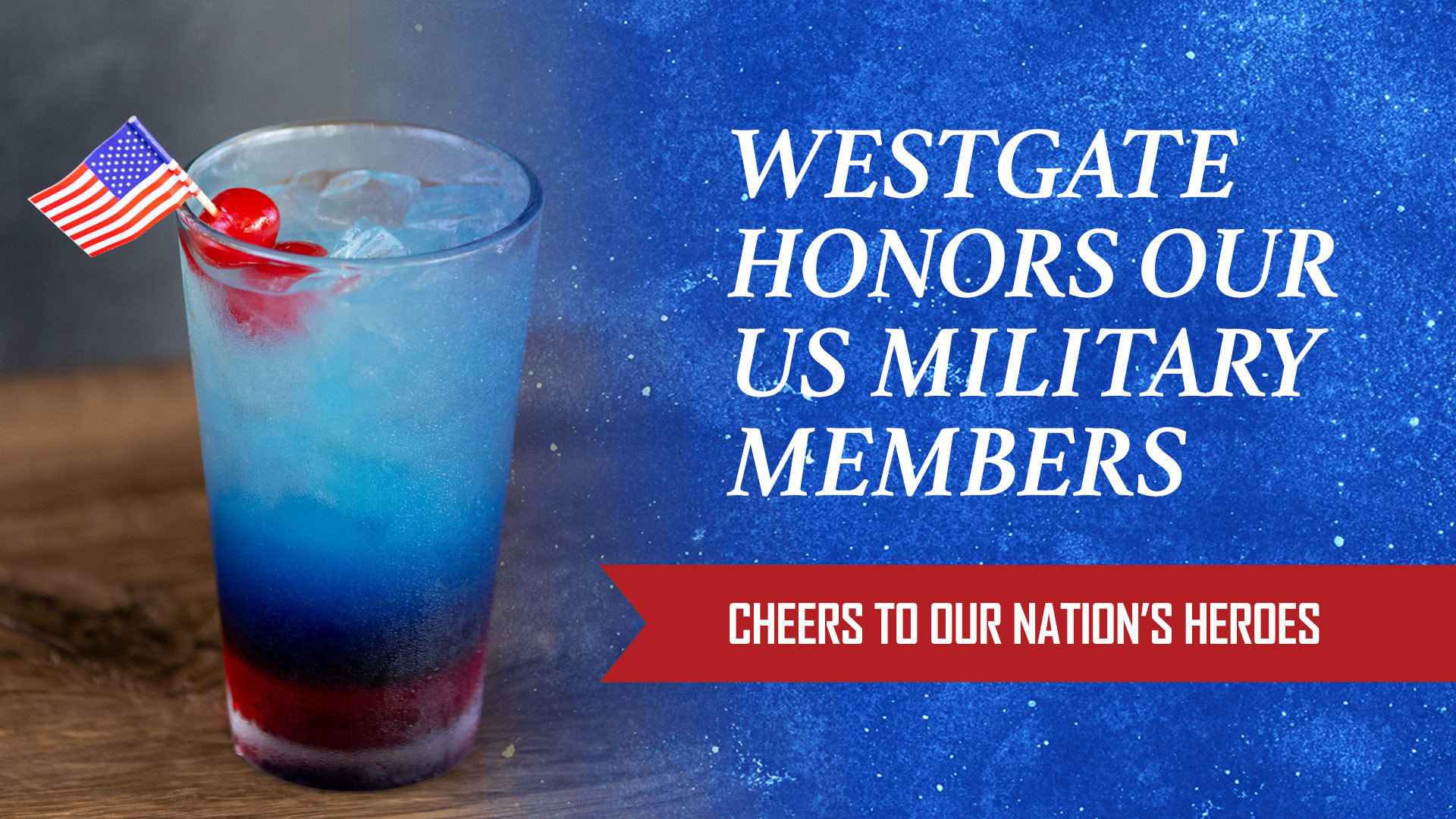 In addition to offering special discounts for our military servicemen and women, Westgate Resorts is proud to provide 1,000 military families a free vacation during Military Weekend, an annual event honoring their service. Proceeds from this specialty cocktail will be presented at the 2023 Military Weekend event in December.
"Military Weekend is Westgate's chance to give back to the heroes that have protected us and provided us the freedoms that all Americans enjoy," said Westgate Resorts Chief Operating Officer Mark Waltrip.
The "Liberty Lemonade" cocktail is made with Wheatley vodka, fresh lemonade, cherry syrup, Blue Curaçao and is served on the rocks.
###
ABOUT WESTGATE FOUNDATION
Founded in 2001, the Westgate Foundation's mission is to be a catalyst for positive change by partnering with organizations that seek to end the nation's drug epidemic, create stability for families in need, provide critical resources to active military and veterans and develop workforce readiness programs across the country.
The Westgate Foundation is also equally dedicated to supporting Westgate Team Members when they need it most through the internal David's Dollars Team Member Crisis Fund. Since its inception, over $16.5 million has been donated to nonprofit organizations and individuals across the nation.
ABOUT WESTGATE RESORTS
Westgate Resorts is the largest privately held timeshare company in the world and one of the largest resort developers in the United States. Founded in 1982 by David Siegel, the company is headquartered in Orlando with seven Orlando hotel resorts and 22 themed destination resorts nationwide, featuring more than 14,000 luxury villas and hotel rooms in popular vacation destinations throughout the United States such as Orlando, and Cocoa Beach, Florida; New York City, New York; Park City, Utah; Las Vegas, Nevada; Gatlinburg and Pigeon Forge, Tennessee; Myrtle Beach, South Carolina; Williamsburg, Virginia; Branson, Missouri; and Mesa, Arizona.
In 2022, the company launched the cutting-edge World of Westgate (WOW) Loyalty Program, an exclusive program that rewards Westgate Owners and Hotel Guests with prestigious perks and privileges at no added cost.
The company has garnered many distinct accolades, including the 2022 ACE Project of Excellence Award from the American Resort Development Association (ARDA) for Westgate River Ranch Resort & Rodeo, recognition from Forbes Travel Advisor ranking Westgate Park City Resort & Spa as a recommended resort in its 2022 Star Awards and 73 Best of State Awards for Westgate Park City Resort & Spa after winning 10 years in a row.
Westgate Resorts locations are known to feature a variety of unique restaurant, retail, and spa concepts, including Los Amigos Mexican Grill & Tequila Bar, Villa Italiano Chophouse, Drafts Burger Bar, Edge Steakhouse, Westgate Marketplace & Deli and Serenity Spa by Westgate. For more information about Westgate Resorts, visit WestgateResorts.com. Find Westgate Resorts on LinkedIn, Instagram and Facebook.