Enjoy a Movie Night
Please check back as we've discontinued our movie nights until further notice.
Fitness Center
You don't have to give your workout regimen a break while you're on vacation in Orlando. Our Fitness Center features premium fitness, cardio and weight training equipment for those guests who wish to reenergize, rejuvenate, tone up or embark on a new workout routine.
Game Room
Test your skill at our amazing Mission Control Game Room, which offers every type of game imaginable! Fun for all ages, the lively Game Room boasts a variety of contemporary and classic games (and air hockey, of course!) that provide an enjoyable outing for the whole family.
Miniature Golf Course
Fun and challenging for all ages, the Miniature Golf Course is located between Buildings #1 and #11. It's the perfect spot to relax and enjoy some quality time with friends and family in the early morning or late afternoon. Mini golf equipment is available for rent at the Front Desk. A photo ID is required.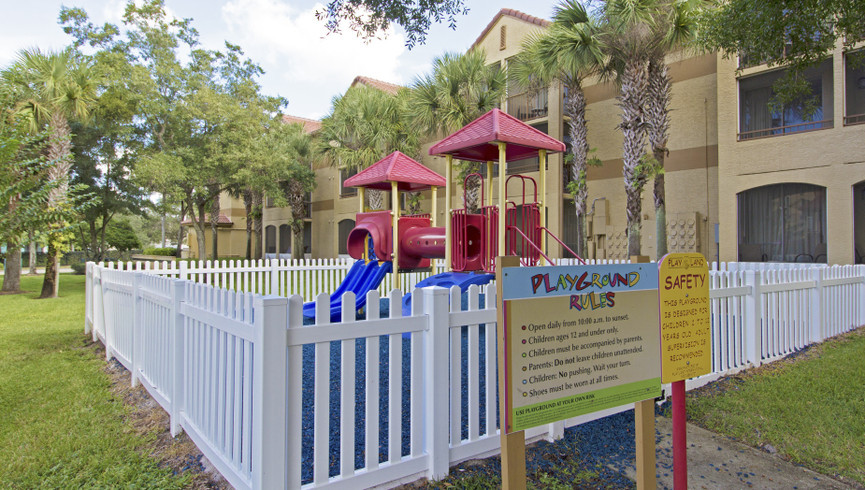 Playground
Kids will enjoy endless hours of fun as they climb, slide and use their imagination for creative play in a safe environment at the resort's Playground, which is located between Buildings #4 and #12.
Volleyball Court
Gather your family or friends for a casual or competitive game of beach volleyball! Enjoy a chance to soak up the Florida sunshine as you bump, set and spike your way to a fun-filled afternoon at the resort's Sand Volleyball Court. Volleyballs are available for rent at the Front Desk. A photo ID is required.
Outdoor Heated Pools
Enjoy the sun and fun you expect on your Orlando vacation getaway with multiple outdoor heated pools.