10 Ways for Families to Deal with a Delayed Vacation
10 Ways for Families to Deal with a Delayed Vacation
Patience is a virtue, and sometimes you've got to use more of it than you want. Even after spending months of planning and dreaming to get away on vacation, you might have to put things on hold for a little while longer.
But even when you have to wait, there's no need to lock down your mind. So let it wander free with these 10 ways for families to deal with a delayed vacation!
Promise Yourself a Special Something
Half the fun of a vacation can be the expectation, even if that expectation has to last longer than you expected. If you've got to think farther out, it gives you time to plan ways to make it even more special. Whether it's an extra special family dinner, a special memento that you've always wanted, or just an extra day to wander around and do whatever you want, you can promise it to yourself as a reward for the patience you had to show when your vacation became a dream deferred.
After all, you'll have earned it.
Plan a Vacation-Themed Dinner
If you can't get to where you want to go, another way to bring the spirit of where you're going is to create a special vacation-themed dinner, just for you and your loved ones. No wait times, no crowds, just the people you love and a lovely meal that can carry your thoughts to someplace you'd like to be.
If sunny Orlando was your dream destination, there are some neat places that share recipes from Mickey's kitchen online, and some foodie blogs have pairing suggestions for watching Disney movies.
You can't discount the tasty fare at Drafts Sports Bar & Grill, either. You might have some fun recreating some of our signature menu items, from tatchos to killer wings. If you were looking to get back to nature and some hearty meals for outdoor hikes, there's a great menu full of comfort food you can recreate at home from our very own Wild Bear Taven. If you fancy yourself a master chef with plenty of time and resources, try your hand at recreating the dining experience of Edge Steakhouse in the comfort of your own home.
Either way, you've got plenty of fun resources to help make a vacation meal happen in the comfort of your own home.
Charades: Family Vacation Edition
Charades has been a staple of family game nights for generations. All you need is some imagination, a willingness to get silly, and a flair for the dramatic. Everyone can think of their favorite vacation activities, destinations, or even foods, and challenge themselves to act them out in a way that anyone can guess what they're thinking.
You might need a referesher with some of the rules for charades, or to help the video game generation get in the groove, but it's a surefire crowd pleaser!
Pictionary…but with a Vacation Flair!
You could always play with the aid of some digital apps, but all you really need is some blank paper and a pen. You just have to draw a picture of something you like to do on vacation, or something you plan to do when you get to go on your next one. Then have your family take turns guessing what it is. It might seem that innate artistic talent would carry the day, but never underestimate that one person's umbrella is another person's shovel!
Split into teams if you want, but everybody wins because by the end you're in a vacation state of mind.
Play a board game from your favorite theme park
Maybe charades and drawing don't do the trick, or you have a very specific place you'd rather be. Why not give some themed board games a try? Board games have always been a great way for families to come together. It's not called "family game night" for no reason after all! In terms of players, so long as you've got 2 or more, you've got choices galore.
For example, you can transport yourself to the Magic Kingdom with the Disney Parks Theme Park Edition Monopoly Game, or even one of my own family's favorites, The Game of Life® The Haunted Mansion® Disney Theme Park Edition! If your family's more keen on getting out to Hogwarts, you can always play Golden Snitch™: The Quidditch™ Game, available from the Universal Store online.
Of course, there are any of a number of free online games that can take you to a place far away, too. But nothing will ever be as much fun as using game time as an excuse to reconnect with the ones you hold dear.
Hang up pictures of the vacation spot where you're going
Pictures are worth a thousand words, and memories last a lifetime. Turn your house into a tourist spot all its own when you hang pictures of the vacation spot where you're going.
What's that you say? You keep everything virtually? Well there are ways to handle that, too! No need for printouts or photo paper. Convert your TV to a vacation window by connecting your mobile device to the screen, and enjoy a great slideshow of the places you plan to be.
You can also imagine yourself at any one of our amazing destinations when you download some amazing wallpapers and backgrounds for your phone, computer, or video meetings.
Visit the Website of Your Vacation Destination
You're probably riddled with anticipation about getting out and about…we all are! Soften the urge to get away with a virtual walkabout of your vacation destination. As you scroll through the superb images online of your heart's desire, with a little imagination you can feel the air stir and the sounds of relaxation play across your ears. Looking for images to download? Checkout our awesome travel wallpaper downloads here!
Write a Story About your Favorite Past Vacation and Share It with the Family
Get into a fresh frame of mind when you share great memories of past vacations! It might not be as much fun as making new memories, but at least you're able to use your mind's eye to see the places that have made so much family magic happen.
Dress in Your Vacation Clothes for the Day
A good part of the vacation fun is the relaxed dress code! Whether it's awful shirts or Bermuda shorts, everyone loves a relaxed atmosphere. You can bring the fun of dressing down to your own home! Pack a bag for the week and set it aside so that you can awaken every morning and select a special outfit for your mental respite.
With a little planning, you can even coordinate your outfits the way you would on your trip. Have some fun with it and let mom and dad dictate which day would be picture day, and have the family dress like they would for that magic moment!
Find and watch a movie set in your favorite vacation spot!
We've all got the time right to check the channels and apps for some top-notch in-home entertainment right now. But while everyone binge watches the latest streaming drama, maybe you're itching for a spiritual escape to somewhere far away.
If you had to delay a trip to Orlando, you can get some vacation vibes by checking out something like 2003's The Haunted Mansion, a family-friendly romp with Eddie Murphy through a spooky story inspired by the classic Disney park attraction, or even revisit the spirit of adventure with a Pirates of the Caribbean film. You can even capture some of the hidden spirit of Orlando with Fighting with my Family, which is partially set in the WWE's Performance Center in Central Florida's signature town.
But not every destination is Disney! Maybe you were planning a trip to experience that Legendary Las Vegas vibe. In that case, why not check out 1971's Diamonds are Forever with the original James Bond, Sean Connery, which was filmed on location at the building that's now Westgate Las Vegas Resort & Casino!
Of course, you might just be aching to experience spacious skies and purple mountains' majesty, like the ones so easily accessible at one of our amazing destinations in Gatlinburg, Tennessee or unforgettable Branson, Missouri. so why not read our own list of recommendations on our Ultimate Guide to Free Indoor Movies for movies that can transport your mind out of the confines of your home and into the Great Outdoors!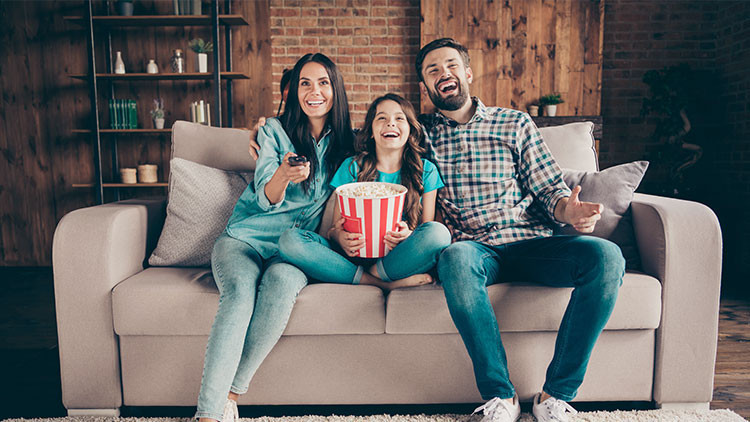 Last Thoughts On Putting The 'Deal' Into Dealing With Delay
No matter what you decide to do, there's no reason a delayed vacation needs to give you the blues. But we know that kids have short memories, and we all (no matter what the age) wear our emotions on our sleeves more often than not. So above all, just be honest, and kind – as your extended Westgate family, we're always striving to personify those attributes, whether it's getting our family friendly hotels in Orlando ready for your next arrival, or providing you with super-sweet, inspirational travel wallpapers so you can dream in digital, while bounce your little ones on your knee during the occasional remote-office coffee break,... it's part of who we are. Try these great ideas out and let your spirit roam free. AND… if you have a great idea you'd like to share for how to deal with a delayed vacation, show it to us on social media on Twitter, Instagram, or Facebook and use the hashtag #westgateresorts
At Westgate Resorts, when you Check-In, there's a LOT to Check-Out! Your vacation awaits. Start planning your next vacation today or talk with a vacation planner at 888-852-2959 or 407-355-2690.
When You Check-in, There's a Lot to Check Out
Sign up for our newsletter and check-in to great offers, secret stuff, and special events.