The 10 Best Outdoor Attractions in Las Vegas
10 of the Best Outdoor Attractions Las Vegas Has To Offer!
"Nature's peace will flow into you as sunshine flows into trees. The winds will blow their own freshness into you, and the storms their energy, while cares will drop off like autumn leaves." – John Muir
When people think about Las Vegas, wild parties, magnificent shows, world class Vegas hotels, and exciting casinos all come to mind. And yet, Las Vegas has plenty more to offer, especially when it comes to outdoor activities such as hiking, mountain biking, rock climbing, kayaking, paddle boarding, horseback riding and more. In fact, Las Vegas lies just a short distance from some legendary outdoor recreational areas such as Lake Mead, Red Rock Canyon, Valley of Fire and Black Canyon, among many others. Here are 10 of the best outdoor attractions in Las Vegas:
1 | Lake Mead | Located about 24 miles outside of Las Vegas, Lake Mead is a man-made body of water that resulted from the construction of the Hoover Dam, which was completed in 1935. For outdoors enthusiasts, there are plenty of activities and sights to see around Lake Mead. For many, biking is the most fun thing you can do, and there are plenty of trails to enjoy. Perhaps the most scenic is the River Mountains Loop Trail, a 35-mile trail that follows the edges of the River Mountains. You don't even have to bring your own bike as there are plenty of places for you to rent one. Other popular recreational pursuits at the Lake Mead National Recreation Area include swimming, hiking, boating, canoeing and kayaking, horseback riding, wildlife viewing, scuba diving and fishing.
WHERE: 601 Nevada Way, Boulder City, NV 89005 | WHO: 702-293-8990
2 | Red Rock Canyon National Conservation Area | If you want to take a break from the bustling Las Vegas nightlife, then a visit to Red Rock Canyon is perhaps one of the best things you can do. It's just about 15 miles away from Las Vegas. There's a 13-mile route that will take you to the best scenery of the park. You'll hardly run out of spots to pull over and take photos of the fascinating landscape and magnificent rock formations. It's also a favorite spot for many hikers and rock climbers. If you have a bit of time, then an easy stroll through the picturesque Calico Basin is highly advisable if you are visiting this amazing conservation area.
WHERE: 1000 Scenic Loop Drive, Las Vegas, NV 89161 | WHO: 702-515-5350
3 | Spring Mountains National Recreation Area | Part of the 6.3-million-acre Humboldt-Toiyabe National Forest, the largest national forest in the lower 48 states, the 316,000-acre Spring Mountains National Recreation Area is referred to as "Mount Charleston" to locals. Known for its astounding natural beauty and majestic snow-capped mountain peaks, it lies just 45 minutes from Las Vegas. Popular recreational activities here include hiking, mountain biking, rock climbing, fishing and horseback riding, as well as skiing, snowboarding and snowshoeing during the winter months.
WHERE: 4701 N. Torrey Pines Drive, Las Vegas, NV 89130 | WHO: 702-872-5486
4 | Arizona Hot Springs | You may end up with a few aches and muscle sores as you enjoy all the amazing things Las Vegas has to offer. Thankfully, there are hot springs that can help you melt those pains away. Just near the Hoover Dam are numerous hot springs. The most accessible by foot is the Arizona Hot Springs via a 3-mile hike that is labeled "very strenuous." Furthermore, it offers a unique view as it sits on a narrow canyon slot above the river. The place is even better during the winter as the hot springs can easily warm your heart and soul as you enjoy the serene environment.
WHERE: Lake Mead National Recreational Area, NV 89005 | WHO: 702-494-2517
5 | Black Canyon | The river section that's under the Hoover Dam is named the Black Canyon. The beauty of this place is it's near both Las Vegas and Hoover Dam, so there are already establishments that help you to explore this section of the Colorado River easily and conveniently. For example, some of these places allow you to rent kayaks for a fun-filled outdoor adventure. You can be dropped just below the Hoover Dam and kayak your way downstream to Willow Beach, which is around 12 miles from Hoover Dam. The experience is not only majestic due to the sheer size and steepness of the canyon, but it's also serene. Furthermore, you don't need to be an expert kayaker as the stream is relatively mellow.
WHERE: 268 Lakeshore Road, Boulder City, NV 89005 | WHO: 800-455-3490
6 | Bootleg Canyon | Bootleg Canyon is located near both the Hoover Dam and Boulder City. If you love to bike, then you definitely have to make plans to visit this place while you are in Las Vegas. In fact, Bootleg Canyon is world-renowned in the biking world due to the unique terrain that allows different types of bike trails ranging from downhill to cross-country. If you don't feel like biking, then an exciting zipline ride may be the thing for you. A company called FlightlineZ offers zipline tours that let you fly across the Mojave Desert. They have four separate zip lines. The longest one is about half a mile. If you visit between April and October, they also offer a sunset tour. Watching the sun go down on this part of the world is nothing short of breathtaking.
WHERE: 401 California Avenue, Boulder City, NV 89005 | WHO: 702-293-9302
7 | Valley of Fire State Park | If you want to feel what it's like to be in a Western movie, then there's a perfect spot for that near Las Vegas. A northeast drive from the Las Vegas Strip will get you to a beautiful state park called Valley of Fire. When you get to this place, it feels like you've been transported to John Wayne-style Western movie. On top of that, there are plenty of peculiar rock formations to view. Some of them have memorable names like Mouse's Tank, Arch Rock and White Domes. To make it even more interesting, some of the rocks have petroglyphs inscribed by ancient Native Americans. Valley of Fire is also an excellent place for hiking. There are plenty of trails with varying difficulties. Late afternoon and early mornings are the best times to hike.
WHERE: 29450 Valley of Fire Highway, Overton, NV 89040 | WHO: 702-397-2088
8 | Ice Box Canyon | It's common knowledge that Las Vegas is in the middle of the desert. Therefore, you might assume there's a waterfall in the area. Believe it or not, there are waterfalls, and you can find them in the Ice Box Canyon. On the downside, most of the waterfalls in the place are seasonal, so you might want to check the local park centers to ensure that you have the best chances of seeing waterfalls in the middle of the desert.
WHERE: Red Rock Canyon National Conservation Area, Nevada 89161 | WHO: 702-515-5367
9 | Sandy Valley Ranch | If you feel like being a cowboy for a day, then Sandy Valley Ranch is the place for you. It may be only 45 minutes away from downtown Las Vegas, but it's an entirely different world. The main attraction is horseback riding, but it's the setting that takes it to another level. Furthermore, you have the option of taking a guided horseback tours if you feel your horseback riding skills are nothing to write home about. Also, you get to trail ride, herd cattle and even shoot 45's just like in the Wild Wild West.
WHERE: 1411 Kingston Road, Primm, NV 89019 | WHO: 702-242-0955
10 | Seven Magic Mountains | A colorful art installation created by Ugo Rondinone, Seven Magic Mountains lies just 10 miles southward from Las Vegas, so you don't need to do a lot of driving. The original plan was to let the art installation stay for two years. However, it has become so popular that the initial plans of taking it down have been scratched off. Plus, it's in the middle of the desert, so you get to see the wonders of the topography. Also, you'll have plenty of great-looking pictures to go with it, as the place has a unique vibe to it and features plenty of scenic shots.
WHERE: S. Las Vegas Boulevard, Las Vegas, NV 89054 | WHO: 775-398-7228
Use Our Handy Map to Find Your Way Around!
Last Tips to Keep in Mind Before Going to the Best Las Vegas Outdoor Attractions
Here are a few tips you should keep in mind:
Bring plenty of water: Always remember that Las Vegas and the surrounding area is a desert. Hence, you need to stay hydrated, and that means you need to bring plenty of water. In cases such as these, it's best to think in terms of, "It's better to have it even if I don't need it now than need it now, and don't have it." Always respect the desert, or you'll find yourself in a lot of trouble.
Always tell someone where you are going: If you go outdoors to enjoy what the desert or wilderness has to offer, always tell someone exactly where you are going. In fact, be as detailed as possible. If you are going on a hike, inform them of the route you are taking. Depending on where you plan to go, cellphone coverage may not be existent. Hence, you can't rely on your smartphone to get help in case of any problem.
Dress for the occasion: Don't assume that since you'll be in the desert, it will always be hot. Because of the unique geography surrounding Las Vegas, there are pockets of areas that will have a micro-climate. In some cases, these pockets will exhibit unusually low or high temperatures. Therefore, be sure you know the kind of temperature of the place where you're going and then bring the appropriate clothing.
Call ahead: When visiting resorts, parks or attractions, you should call ahead. Most of the outdoor attractions surrounding Las Vegas are dependent on weather conditions. The last thing you want to do is drive there and get all excited only to find out that the attraction is closed.
Las Vegas has much more to offer than the bright lights and exciting shows along the Strip. In fact, there are plenty of people that live in Las Vegas because there are a multitude of outdoor activities to do and attractions to visit surrounding the city. Looking for things to do in Las Vegas for couples? Check out the best Las Vegas attractions for couples. And don't forget to seek out the best Las Vegas hotel deals!

RELATED ARTICLE: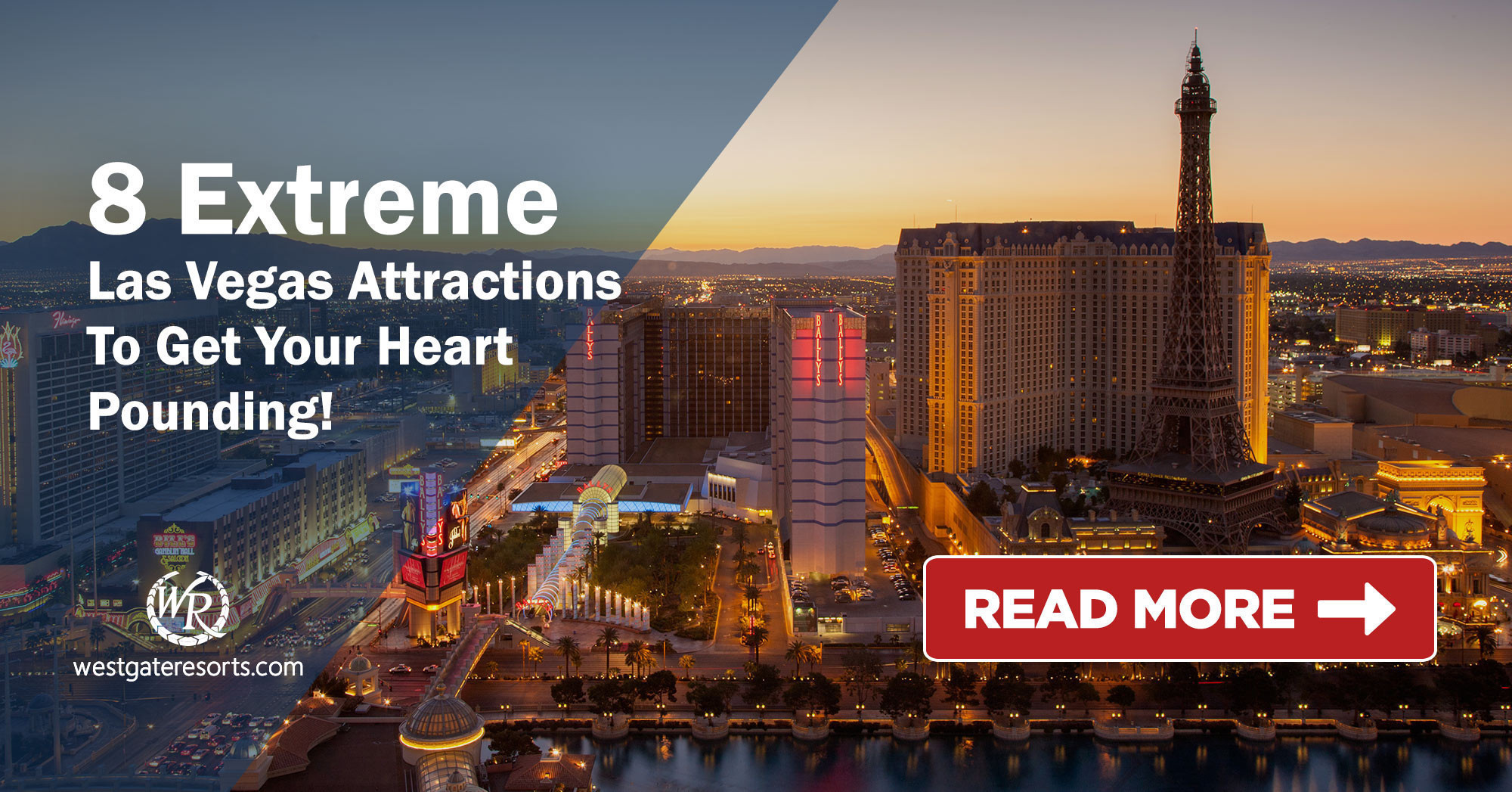 At Westgate Resorts, when you Check-In, there's a LOT to Check-Out! Your Las Vegas vacation awaits! Explore our Las Vegas resorts today or talk with a vacation planner at 888-852-2959 or 407-355-2690.
* Westgate Resorts is in no way affiliated with the attractions featured in this article. Items or places listed are current as of the publishing date of this article. Please call or visit the respective website for the most up-to-date offerings and details.
Other tagged pages of interest: Las Vegas hotels, Las Vegas timeshare promotions, sushi Las Vegas, Las Vegas suites, Jen Kramer, Barry Manilow tickets, Vegas getaway, resort hotels, staycations
When You Check-in, There's a Lot to Check Out
Sign up for our newsletter and check-in to great offers, secret stuff, and special events.