10 Best Breakfast Places in Las Vegas
10 of the Best Breakfast Places in Las Vegas
"All happiness depends on a leisurely breakfast." – John Gunther
Breakfast is the most important meal of the day. As such, one must treat it with the respect it deserves and strive to enjoy a breakfast of champions every morning. This isn't difficult to do in Las Vegas, thanks to the city's plethora of breakfast spots.
From bottomless Champagne to hearty burgers, flaky croissants, steak and eggs, French toast and fluffy scones, there's no shortage of options for you to choose from. If nothing else, a Las Vegas breakfast is a great way to beat the morning-after blues after a long night of successful partying.
If Instagram-worthy food-porn that tastes as beautiful as it looks is what you're looking after, you can rest assured that there's a place to cater to your every desire.
Best Breakfast Places in Las Vegas
After you've booked the flight, cozied up at the best hotel Las Vegas has to offer, hit a few of the extreme attractions in Las Vegas, and slung a few sheckels down the slots,... it's likely you've worked up an appetite. Oftentimes, it's best to venture off the beaten path (aka "The Strip") for a unique dining experience. A few minutes outside of the city are family-owned bistros and diner-style restaurants that serve generous portions of family-recipe inspired foods at reasonable prices. Your pocket and your stomach will definitely thank you after a visit to one of these Las Vegas breakfast hotspots.
But, if you want specifics on which restaurants, cafes and eateries to check out for breakfast in Las Vegas, then you can't go wrong with the following selection.
1 | Sid's Café | Three words: Giant Cinnamon Roll. Located in the legendary Westgate Las Vegas Resort & Casino, Sid's Café offers a wide selection of home style meals in an atmosphere so elegant, you'll fall into breakfast bliss. Not to mention, Sid's Café serves up delicious breakfast dishes of epic proportions! From the Jumbo Cast Iron Baked Cinnamon Roll to the Jumbo Croissant Sandwich, every bite you take will fill all of your breakfast needs. And if skillets are your thing, then Sid's got them! Guests have raved over their BBQ Brisket Skillet, stacked with mesquite smoked brisket, breakfast potatoes, two eggs any style, chipotle BBQ sauce, peppers, and pepper jack cheese. Now, you can enjoy the sweet and savory flavors of the South right off the Las Vegas strip!
LOCAL FOODIE FINDS | Sid's Café is named after the owner and CEO of Westgate Resorts, David Seigel's father, Sid Seigel. Sid would visit Las Vegas twice a month and felt like it was a place where he was always welcomed. There's no better place than Las Vegas to make you feel like a high roller!
WHERE: Westgate Las Vegas Resort & Casino | WHO: 702-732-5111
2 | MTO Café | Ideally located in downtown Vegas, MTO Café is a casual restaurant that serves both breakfast and lunch. Its menu mainly consists of comfort food made from fresh, local ingredients. It's close to the Freemont Street Experience, which is a great place to work up an appetite in preparation for delicious skillets, wraps and omelets. Once you've chosen from these three preparation options, you can add your preferred ingredients that include the Avocado with its house-made tomatillo salsa, jack cheese, jalapeno, cilantro, red onion and whole eggs. Or you could opt for the Denver that includes cheddar cheese, red onions, green and red bell peppers, diced ham and whole eggs. MTO Café may not have an Eggs Benedict but they do have an extensive selection of home-style favorites like skilled dishes and wraps.
LOCAL FOODIE FINDS | If you find yourself in need of a filling breakfast to fuel up before your visit to the Red Rock Canyon National Park, MTO Café has a second location in Summerlin, and is designed to be perfect for walkups and quick bites.
WHERE: 500 S Main Street, Las Vegas, NV 89101 | WHO: 702-380-8229
3 | Jamms Restaurant | Drive west from the Las Vegas Strip and you'll come across Jamms Restaurant, a small eatery located in a small strip mall. It's always packed thanks to scrumptious home-style meals that never cease to delight customers. It's the perfect vacation eatery because it gives you the opportunity to really dive into the local cuisine with hopeless abandon. Think the classic Pot of Bread, waffles, omelets, sandwiches, burgers and skillet meals. Although lines can be long, the service is quick and waiter friendly. Apart from the great food and service, Jamms is known for being reasonably priced with a family-friendly vibe that attracts visitors from far and wide.
WHERE: 1029 S Rainbow Boulevard, Las Vegas, NV 89145 | WHO: 702-877-0749
LOCAL FOODIE FINDS | Are you looking for the best chicken noodle soup Las Vegas has to offer? Look no further than Jamms Restaurant! Their homemade noodles will melt in your mouth and warm your heart.
4 | Tableau | The Tableau is known for its chic style and tranquil ambiance. But, their breakfast and lunch menu is really where it's at. It opens its doors every day at 7 AM. Breakfast options are varied and include fruit, smoothies, juices and American-style fare such as the Tableau Breakfast, which consists of three eggs, pastries, toast, potatoes and bacon. There are four different renditions of the Eggs Benedict to choose from including two seafood options with smoked salmon and filet and crab, a vegan option, as well as one with ham. The lunch menu mainly consists of sandwiches, burgers, soups, and salads.
LOCAL FOODIE FINDS | Tableau's menu is built from seasonal ingredients perfect for a delicate breakfast. Due to the restaurant's quiet and reserved atmosphere, children under five are not allowed to dine in the restaurant.
WHERE: 3131 S. Las Vegas Boulevard, Las Vegas, NV 89109 | WHO: 702-770-3330
5 | Mon Ami Gabi | Mon Abi Gabi is the perfect place to go for some quality people-watching. But, aside from their ideal view and location, their food is nothing to scoff at either. No matter what your preferences are, Mon Ami Gabi promises to satisfy them. Their menu includes an extensive selection of fruit and cereal options that includes 10-grain oatmeal, organic vanilla yogurt parfait, Ruby Red Grapefruit and Fresh Fruit Salad. For a heartier breakfast, the eggs can be prepared according to your mood, whether you're in the hankering for sausage and bacon, omelets, steak and eggs or gluten-free Eggs Benedict. The full breakfast menu leaves no stone unturned, with other options being crepes, pancakes, waffles, quiche and croissants. Beverages include fresh juices, cappuccino and espresso.
LOCAL FOODIE FINDS | Do you consider yourself a wine connoisseur, aficionado, and overall expert of fine wines? Then, you will LOVE the carefully selected collection of wine Mon Ami Gabi presents from their historic rolling wine cart.
WHERE: 3655 S Las Vegas Boulevard, Las Vegas, NV 89109 | WHO: 702-944-4224
6 | Egg & I | Known for its extensive breakfast and lunch menu, this casual restaurant chain has several locations throughout the city. Those who've tried their breakfast options say the blueberry pancakes and omelets are some of the best in the city. Thanks to their Habla Diablo seasoning, everything here tastes great – from Bloody Mary's to baked potatoes. Flavor is the name of the game at this eatery, as evidenced by their adventurous "Eggs Ole!" breakfast menu section, which is dedicated to Hawaiian Style dishes, three different types of burritos and a breakfast tostada. Or, you could stick with old classics like omelets, country fried steak, steak and eggs, Eggs Benedict, Skillet breakfasts biscuits and gravy, as well as savory and sweet crepes. The lunch menu is peppered with salads, sandwiches, homemade chili and burgers, to name but a few options.
LOCAL FOODIE FINDS | At Eggs & I, they know it's sometimes difficult to get a server's attention. That's why they've implemented their famous egg cards! Now you can enjoy your breakfast and have excellent customer service guaranteed.
WHERE: 4533 W Sahara Avenue, #5, Las Vegas, NV 89102 | WHO: 702-364-9686
7 | Mr. Mamas | Once you've seen most of the Strip and are ready for a hearty breakfast or lunch, head west to Mr. Mamas for some traditional American fare. Options here include wraps, pancakes, salads, eggs and bacon, burgers and omelets, all of which are served in generous portions for reasonable prices. But, just because the food is cheap doesn't mean that it isn't well-made. Expect good quality ingredients with pancakes that are made from scratch, fresh burgers made according to your preferences and each omelet is made with four eggs – no skimping here! The décor is inviting with a casual atmosphere that works for the whole family. The staff is friendly and efficient, which means you won't have to wait long for your meal to arrive.
LOCAL FOODIE FINDS | Raised by Greek restaurant owners, Mr. Mama's owner, Nick, wanted his restaurant to pay homage to his upbringing. Photographs of his family are painted on the interior walls and give you the feeling of dining with family.
WHERE: 5693 S Jones Boulevard, #106, Las Vegas, NV 89118 | WHO: 702-220-9224
8 | The Broken Yolk Café | This San Diego classic is new to the Las Vegas Strip but has quickly etched itself in the hearts and minds of local and tourist foodies. This is all thanks to its signature breakfast and lunch dishes that are prepared according to Southern Nevada traditional recipes. It's ideally located next to the Town Square shopping center, which is close to the strip. The Broken Yolk serves a lot of old favorites with a twist, including Eggs Benedict, Mexican-inspired dishes, waffles, omelets and more. Come around lunchtime for a sandwich or a burger. Beverages on offer include juice, tea, coffee, Bloody Mary's, beers, mimosas and, of course champagne. Hey, if you can't have champagne for breakfast in Vegas, where can you do it!
LOCAL FOODIE FINDS | After being aired on The Travel Channel's Man vs Food in 2009, the original Pacific Beach location expanded to 34 sites nationwide! Who knows, there could even be one in your hometown!
WHERE: 6805 S. Las Vegas Boulevard, #125, Las Vegas, NV 89119 | WHO: 702-617-9655
9 | Eat | Eat is all about preparing good food made with love to be enjoyed in a great ambiance for the folks of downtown Las Vegas. Their breakfast and lunch menu is prepared with the guidance of head chef Natalie Young, whose menu is as scrumptious as it is soulful. Take their golden-brown pancakes, for example, which are topped with chicken apple sausage and maple syrup; or the decadent truffle egg sandwich with its duo of scrambled eggs, feta, bacon, and onions. Then there's Chef Young's Huevos Motulenos, which is made with over-easy eggs, sautéed bananas, feta, peas, black beans and chilies. Of course, this wouldn't be a soulful restaurant without some shrimp and grits. Eat is also one of the first restaurants in Las Vegas to offer a menu made entirely out of fresh, sustainable, organic and locally sourced ingredients, and it continues to operate by that ethos to this day.
LOCAL FOODIE FINDS | Looking for a fast eat? While Eat may not be known as the place for a quick bite, the restaurant offers prepared take-out options for those who are always on the go!
WHERE: 707 E. Carson Avenue, Las Vegas, NV 89101 | WHO: 702-534-1515
10 | Bouchon | Bouchon is headed by Chef Thomas Keller, who serves up delicious and aesthetically pleasing French bistro-style eats. The restaurant is located at the Venetian and has won many awards for its amazing breakfast menu. However, Boucher has a very extensive menu that offers a modern take on breakfast favorites like Eggs Benedict. Theirs is the Oeufs Benedict, which is made with country bread and smoked pork loin. Then there's the Hachiz de Merguez, which is made with eggs, house-made merguez sausage and hash. Bouchon offers a plethora of delicious dishes, from a full breakfast with all the trappings, meat, eggs and potatoes to freshly baked pastries accompanied by world-class coffee or tea.
LOCAL FOODIE FINDS | Las Vegas is filled with beauty at every corner and Bouchon is no exception! If the finely plated French-inspired breakfast dishes wasn't enough, Bouchon is decorated with antique light fixtures and murals that were hand-painted by the renowned French painter, Paulin Paris.
WHERE: 3355 S. Las Vegas Boulevard, Las Vegas, NV 89109 | WHO: 702-414-6200
BONUS | Peppermill Restaurant | Founded in 1972, the Peppermill Restaurant has remained the same through all the changes that the Strip has gone through. It still has that classic Vegas feel and serves up a hearty breakfast with options that include turkey sausage, ham, eggs, chorizo, bacon, sausage, hash browns and bread. Their biscuits and gravy and Eggs Benedict still follow the original recipe, while their Munch's Breakfast is something to write home about. It includes peppers, cheese, eggs, hash browns, tomatoes, mushrooms, sausage and onions. Waffles, pancakes and omelets are also available, and they actually make their Bloody Mary from scratch.
LOCAL FOODIE FINDS | Do you love classic television and films? If so, you'll probably recognize the Peppermill Restaurant! The iconic establishment has been the backdrop for several films, like "Showgirls", "Casino", and "The Cotton Club."
WHERE: 2985 Las Vegas Boulevard S., Las Vegas, NV 89109 | WHO: 702-735-4177
Use Our Handy Map to Find Your Way Around!
Last Tips on the Best Breakfast Places in Las Vegas
Las Vegas truly is the city that has it all – premier entertainment, outdoor entertainment, world-class resorts and top-class dining establishments that serve a variety of breakfast options to meet every need.
If you find yourself in Sin City, be sure to check out our list of the top breakfast places in Las Vegas. And while you're at it, look into the best Las Vegas hotel deals, as well as the most spectacular Las Vegas shows and entertainment.
FREQUENTLY ASKED QUESTIONS ABOUT CASINOS
The following list shows the USA states with casinos and the total number of casinos in the state: Alabama (4), Arizona (26), Arkansas (2), California (97), Colorado (44), Connecticut (2), Delaware (3), Florida (90), Georgia (2), Idaho (9), Illinois (10), Indiana (15), Iowa (23), Kansas (9), Kentucky (2), Louisiana (136), Maine (2), Maryland (7), Massachusetts (3), Michigan (26), Minnesota (24), Mississippi (31), Missouri (13), Montana (171), Nebraska (5), Nevada (345), New Jersey (10), New Mexico (26), New York (26), North Carolina (2), North Dakota (6), Ohio (10), Oklahoma (109), Oregon (10), Pennsylvania (15), Rhode Island (2), South Carolina (4), South Dakota (40), Texas (2), Virgin Islands (1), Washington (57), West Virginia (5), Wisconsin (22) and Wyoming (4).
According to Statista, there are 462 casinos in the United States
The most popular and largest casino in the US is the Bellagio in Las Vegas, NV.
According to gambling.com, the WinStar World Casino & Resort in Thackerville, OK, is the number 1 casino in the US.
The WinStar World Casino & Resort in Thackerville, OK, is not only the biggest casino in the US, but also in the world
Gambling is completely banned in only two states out of 50 – Utah and Hawaii!
The two states with the most casinos are Nevada, with 345 casinos, and Louisiana, with 136 casinos.
Texas casinos are banned by the state constitution. The only land-based gambling facilities in Texas operate on tribal land.
There are 90 casinos in Florida, including the famous Hard Rock Hotel & Casino in Hollywood, FL.
WinStar World Casino & Resort in Thackerville, OK, is the largest casino in the world!
The MGM Grand in Las Vegas, NV, has the biggest casino win with $20-$40 million.
The MGM Resort in Las Vegas, NV, is the most successful casino in the US, with the Bellagio as the second-most profitable casino in Las Vegas.
The safest online casino is Las Atlantis because it's regularly audited, with Wild Casino as the close second.
The casino with the best payout is Caesars Palace in Las Vegas, with payout received within 48 hours, 100+ 88 fortunes, $100 match and $10 free.
After the casino took over the Foxwoods Resort Casino, WinStar World Casino is the richest casino in the US.

RELATED ARTICLE: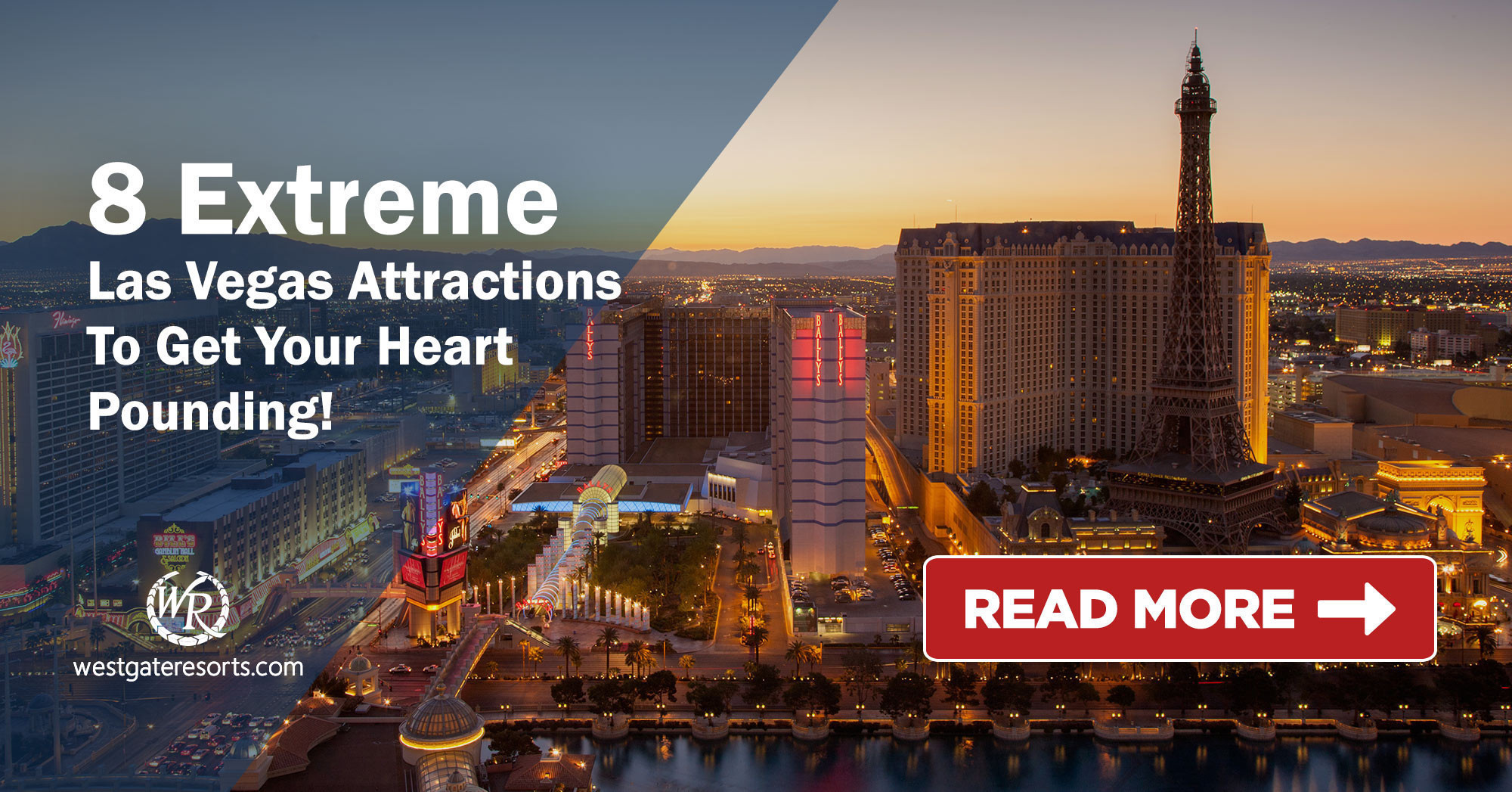 At Westgate Resorts, when you Check-In, there's a LOT to Check-Out! Your Las Vegas vacation awaits! Explore our Las Vegas resorts today or talk with a vacation planner at 888-852-2959 or 407-355-2690.
* Westgate Resorts is in no way affiliated with the attractions featured in this article. Items or places listed are current as of the publishing date of this article. Please call or visit the respective website for the most up-to-date offerings and details.
Other tagged pages of interest: Las Vegas hotels, Las Vegas timeshare promotions, sushi Las Vegas, Las Vegas suites, Jen Kramer, Barry Manilow tickets, Vegas getaway, resort hotels, staycations
When You Check-in, There's a Lot to Check Out
Sign up for our newsletter and check-in to great offers, secret stuff, and special events.