5 Must-See Weekend Events for Your Westgate Getaway
5 Must-See Weekend Events for Your Westgate Getaway.
"Do you have anything fun planned for this weekend?" Chances are, you get asked this at least once, if not multiple times a week. It's the question you hear in conversation with a friend, family member or even when talking to coworkers. And like most of us, your response may include taking your kids to a sports game or dance recital, staying in and watching something on Netflix or maybe cleaning up the house and running errands you didn't have time to do during the week. We hear you and we understand. That's why we have put together a list of weekend getaways you can do almost any weekend and on a limited budget. Have a last-minute desire to get away? Need a weekend of something different, but not too crazy? Here are five great opportunities.
Unique Weekend Getaway Events
Sometimes going off the beaten path while visiting a city known for theme parks and tourist entertainment can lead to hidden gems. From exploring historic space locations to taking in stunning views of the land from above, your weekend plans can be filled with adventurous, exciting getaways. We've put together our top five unique getaway events, which include 3 nights at a Westgate Resort property, a $50 dining gift certificate, and late checkout on your final day - so sleeping in is a must!
1 | Tree Trek Adventure Park | Hit the ropes with an all-day exploration in the trees! Glide down zip lines, climb into hanging nets, walk across suspended bridges and more! Spend the day in a natural pine forest and swing like Tarzan then navigate through swinging logs. Tree Trek Adventure offers a 425' zip line and over 95 aerial challenges. With 5 courses to choose from, you can try the courses with minimal skill level and elevation or take on some of the more advanced levels and elevations. Located in Kissimmee, FL, this weekend getaway event includes 3 nights at Westgate Town Center Resort.
WHERE: Kissimmee, FL | BOOK: 800-888-9361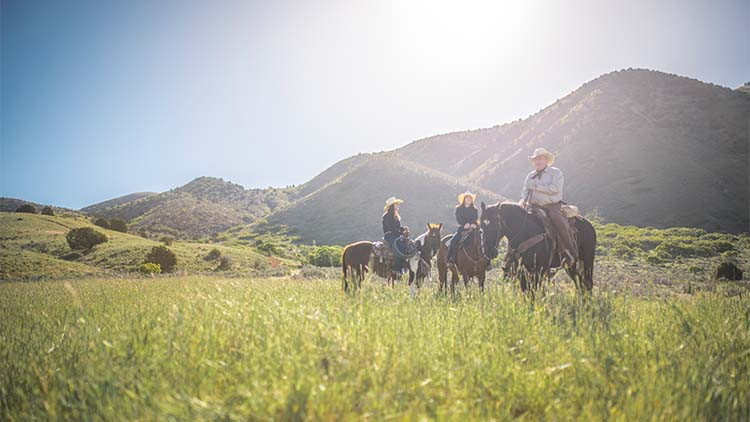 2 | Horseback Trail Ride in the Smokies | Explore the beauty of the Great Smoky Mountains with an hour-long ride on horseback. This 3.5-mile horse ride led by a knowledgeable guide takes you on a shady trail filled with mountain views, gentle streams, and beautiful trees. You'll even visit an authentic moonshine still! This weekend getaway event is perfect for a calm, peaceful getaway after a busy week to clear your mind, relax and enjoy the beauty of the Smokies. This event takes place at the Adventure Park at Five Oaks Riding Stables, and includes a 3-night stay at the Westgate Smoky Mountain Resort & Water Park.
WHERE: Gatlinburg, TN | BOOK: 800-888-9361
3 | Wild Florida Drive-Thru Safari Park | Who wouldn't want to tell their friends they're going on a safari for the weekend! With a weekend getaway at Wild Florida Drive-Thru Safari Park, you can do just that! Located in sunny Central Florida, this 85-acre safari park brings you up close to more than 100 native and exotic animals found across the globe. Because all the animals are roaming freely, you never know which animals you will encounter! While driving down the two-mile path, view zebras, American bison and giraffes - you even have the option to get out of your car and stand on a platform to feed these gentle giants. Your safari drive-thru also includes exploring the Gator Park, where you can see the Exotic Animal Show and meet Crusher, an American Alligator who weighs over 1,000 pounds! Your safari weekend takes place in Kenansville, FL and includes a 3-night stay at Westgate Town Center Resort.
WHERE: Wild Florida Drive-Thru Safari Park | BOOK: 800-888-9361
4 | A Day at Kennedy Space Center | Journey into space with a day at the Kennedy Space Center! Learn about our story of space exploration through exhibits and attractions as you visit different Mission Zones at the Kennedy Space Center Visitor Complex. Your astronaut exploration tells you about the Heroes and Legends featuring the U.S Astronaut Hall of Fame and takes you to the Apollo/Saturn V Center. Your day continues as you climb aboard the Space Shuttle Atlantis on the Shuttle Launch Experience. Plus, watch 3D Space Films, access Journey to Mars: Explorers Wanted, NASA Now and don't miss out on visiting the Rocket Garden. The Kennedy Space Center getaway launches from Merritt Island, FL and includes 3 nights at Westgate Town Center Resort in Orlando, FL.
WHERE: Merritt Island, FL | BOOK: 800-888-9361
5 | Smoky Mountain Scenic Helicopter Tour | It's not every day you are able to share that you're going on a helicopter ride and what better place to do it than the incredible beauty of the Smoky Mountains! The Mountain Valley Helicopter Tour for two takes you over Sevierville, Pigeon Forge and Bluff Mountain where you'll witness the incredible landscape and scenic views of Great Smoky Mountain Park in the distance. As you fly over Sugar Loaf Mountain and Bluff Mountain, you will notice the formation created from a glacier during the end of the last ice age. This 24-mile air experience offers breathtaking views so be sure to bring your camera! Located in Sevierville, the helicopter weekend getaway event includes 3 nights at Westgate Smoky Mountain Resort.
WHERE: Sevierville, TN | BOOK: 800-888-9361
Looking For Even More Things To Do?
Whether you're a local or a visitor in town, be sure to check out our Travel Blog for vacation tips, tricks and amazing destination the whole family will love.

RELATED ARTICLE:
At Westgate Resorts, when you Check-In, there's a LOT to Check-Out! Your vacation awaits! Start planning your next vacation today or talk with a vacation planner at 888-852-2959 or 407-355-2690.
* Westgate Resorts is in no way affiliated with the attractions featured in this article. Items or places listed are current as of the publishing date of this article. Please call or visit the respective website for the most up-to-date offerings and details.
When You Check-in, There's a Lot to Check Out
Sign up for our newsletter and check-in to great offers, secret stuff, and special events.