Branson Visitor's Guide: Your 7 Day Itinerary To The Outdoors, Local Flavor, And More!
Branson Visitor's Guide: Your 7 Day Itinerary To The Outdoors, Local Flavor And More!
"A lake is the landscape's most beautiful and expressive feature. It is earth's eye; looking into which the beholder measures the depth of his own nature." – Henry David Thoreau
Nestled in the heart of the beautiful Ozark Mountains, Branson, Missouri, boasts something for everyone! Outdoor enthusiasts will enjoy the myriad of recreational activities centered around scenic Table Rock Lake, which features nearly 800 miles of shoreline. Those visitors seeking entertainment will find the "Live Music Show Capital of the World" to be a veritable paradise with approximately 100 live shows that cover the gamut from comedy, magic and Broadway-style productions to country, rock 'n' roll, jazz, blues, gospel and swing. Thrill seekers will want to experience the amazing roller coasters at Silver Dollar City theme park. In addition, Branson offers an assortment of unique attractions, family-friendly eateries, spectacular outlet malls and championship golf courses, among many other vacation pursuits that the whole family will love!
Best of all, Westgate Branson Lakes Resort, which lies directly on the beautiful shores of Table Rock Lake and within a short drive to Branson's famed live entertainment district, serves as the perfect gateway to a fun-filled vacation getaway in Branson! Let the following guide serve as the definitive introduction to this amazing travel destination with a detailed 7-day Branson itinerary that covers the best outdoor recreational activities at Table Rock Lake, along with all the most popular live entertainment venues, theme parks, attractions, shopping opportunities and day trips to help you and your family make the most of your Branson vacation getaway: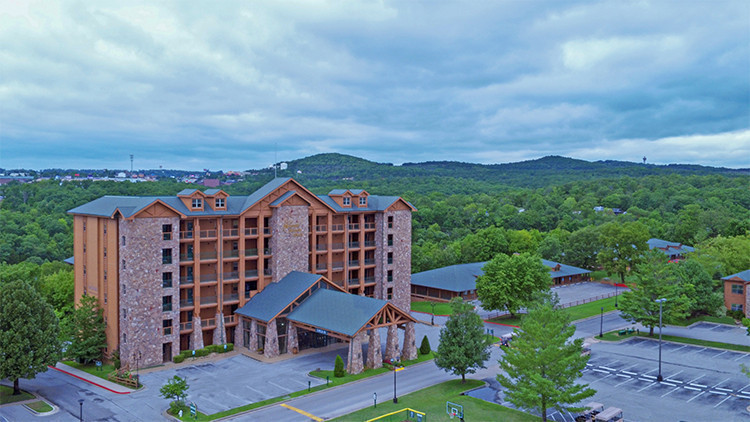 Arrival Day: Westgate Branson Lakes Resort. After you arrive in Branson, make a beeline to Westgate Branson Lakes Resort, which is located just off Highway 65 South and known as the "Gem of Table Rock Lake." After you check in, make sure to take a brief stroll through the Resort and get your bearings, grab some groceries for the week at the onsite Marketplace, or simply relax and take in the spectacular lake views (the sunsets here are truly awe-inspiring, by the way!). Westgate Branson Lakes Resort offers a variety of accommodation choices ranging from One-Bedroom Villas to expansive Two-Bedroom Deluxe Villas that contain 1,266 square feet of space with room for up to eight guests. Highlights of each villa include all the comforts of home such as a fully equipped kitchen, separate living and dining area, queen sleeper sofa and washer/dryer.
Day 2: Outdoor Recreational Activities at Table Rock Lake. Author Munia Khan once wrote, "Stay close to the serenity of a lake to meet your own peace of mind." Indeed, Westgate Branson Lakes Resort gives you direct access to the myriad of outdoor recreational activities available at Table Rock Lake and its crystal-clear waters. Whether you choose to swim, rent a boat, fish (the lake is renowned for its great crappie, bluegill and bass fishing), waterski, paddle board or wakeboard, picnic, hike, view wildlife or simply lounge around and sunbathe, Table Rock Lake is the place to be! Don't miss the opportunity to explore Table Rock Lake aboard the sensational Showboat Branson Belle, a wonderful paddlewheel riverboat with the capacity for 700 passengers. If your idea of outdoor recreation is a round of golf, don't miss the opportunity to tee off at one of Branson's championship golf courses that include Top of the Rock Golf Course, Branson Hills Golf Club, Ozarks National, Payne's Valley, Mountain Top, Pointe Royale Golf Course, Thousand Hills Golf Resort and the new Tiger Woods-designed golf course, Payne's Valley, just to name a few.
Day 3: Downtown Branson & Live Show. Explore Historic Downtown Branson, which features a multitude of great specialty shops, restaurants, live entertainment venues and attractions such as the Branson Scenic Railway (housed in a 1905 depot and offering 40-mile roundtrip train excursions through the Ozarks) and Branson Centennial Museum (houses rotating historical exhibits and a small gift shop), among others. Note that a free discovery trolley will transport you back and forth between Historic Downtown Branson and bustling Branson Landing, a huge dining, entertainment and shopping complex. Highlights of Branson Landing include a scenic boardwalk that runs along the 1.5-mile Taneycomo Lakefront, along with a spectacular Fountain show choreographed to light and music every hour (check online for daily schedule). Dining options at Branson Landing include Big Whiskey's American Restaurant & Bar, Paula Deen's Family Kitchen, Mellow Mushroom, White Water Fish House, Pie Five Pizza, Waxy O'Shea's Irish Pub, Famous Dave's BBQ, The Paddlewheel, Landshark Bar & Grill and Saltgrass Steak House, among others. After a fun-filled afternoon exploring Branson Landing, plan to catch one of Branson's amazing live shows that can be found along world-famous Country Music Boulevard. Choose from the likes of Dolly Parton's Stampede, The Haygoods, Acrobats of China, The Shoji Tabuchi Show, Baldknobbers, Presley's Country Jubilee, Legends in Concert, The Shepherd of the Hills Outdoor Drama and much more.
Day 4: Silver Dollar City Theme Park. Plan to spend the entire day at Silver Dollar City, an 1880's-style theme park that boasts 40 rides and attractions for all ages, 100 craftspeople, 60 specialty shops, 18 eateries, and a great lineup of live shows and concerts. Thrill seekers will want to check out such classics as the Thunderation wooden roller coaster, Giant Barn Swing, PowderKeg Roller Coaster, Time Traveler spinning coaster, Fire-in-the-Hole indoor coaster, Outlaw Run wood coaster and WildFire cobra-rolling coaster. Another must-see Silver Dollar City attraction is Marvel Cave, a National Natural Landmark and Missouri's deepest cave. By the way, Silver Dollar City's newest attraction, Mystic River Falls, a raft ride that features "the tallest drop in the Western Hemisphere," is scheduled to open during the summer of 2020. In addition, Silver Dollar City is known for its world-class annual events calendar that includes the likes of The Festival of Wonder, Bluegrass & BBQ, Star-Spangled Summer, Moonlight Madness, Southern Gospel Picnic, Harvest Festival and An Old Time Christmas. Note: A seasonal theme park, Silver Dollar City is typically open between mid-March and early January (check the official Silver Dollar City website for more information).
Day 5: Day Trip to Eureka Springs, Arkansas. Take a road trip to the charming town of Eureka Springs, Arkansas, which is located just 50 miles southwest of Branson. Believe it or not, Eureka Springs is the only town in the United States that boasts an entire downtown listed on the National Register of Historic Places! Founded in 1879, Eureka Springs was named for its upwards of 60 natural springs within its city limits that allegedly held healing properties. According to the Arkansas Times, the "seclusion of sleepy Eureka for much of the 20th century largely trapped its unique architecture and character in amber." Known as the "Little Switzerland of America," "The City That Water Built" and "The Stairstep Town," Eureka Springs also features an assortment of specialty shops and chic boutiques, art galleries, craft emporiums and downhome restaurants. Eureka Springs attractions include Turpentine Creek Wildlife Refuge ("big cat" animal sanctuary), Blue Spring Heritage Center (largest spring in Northwest Arkansas), The Great Passion Play (dubbed as "America's #1 Attended Outdoor Drama"), Quigley's Castle (billed as the "Ozarks' Strangest Dwelling"), Onyx Cave Park (a beloved tourist attraction since 1893), Thorncrown Chapel (a futuristic looking glass church), Eureka Springs Historical Museum (located in the historic 1889 Calif House), Beaver Lake (offers 487 miles of shoreline) and Basin Spring Park (legendary Native American healing spring), among others.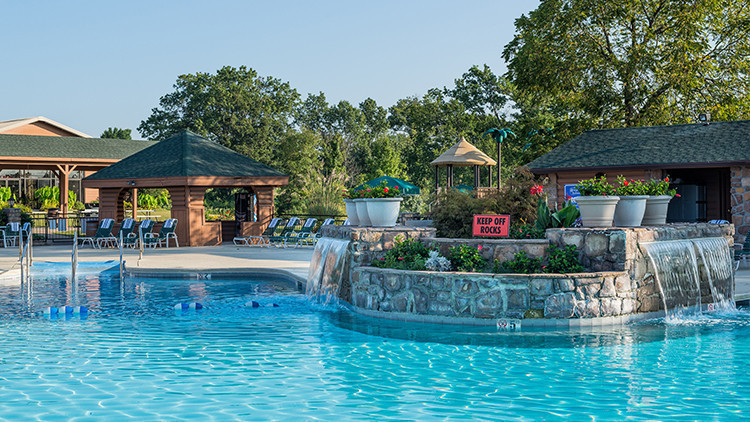 Day 6: Resort Amenities & Live Entertainment Venue. It's always a good idea to add a day of rest and relaxation to your Branson itinerary, so this is the day for you to just chill out at Westgate Branson Lakes Resort and enjoy all of the great onsite amenities. You may simply choose to lounge around the seasonal outdoor pool or heated indoor pool. Or you may wish to get your heart rate going at the state-of-the-art fitness center or with a game of competitive beach volleyball or hoops at the basketball court. Looking for more moderate activities? Opt for a round of miniature golf, shuffleboard or horseshoes. After a fun-filled day enjoying the Resort, plan to sample another one of Branson's sensational live entertainment venues along Highway 76 (aka the "Branson Strip") in the evening.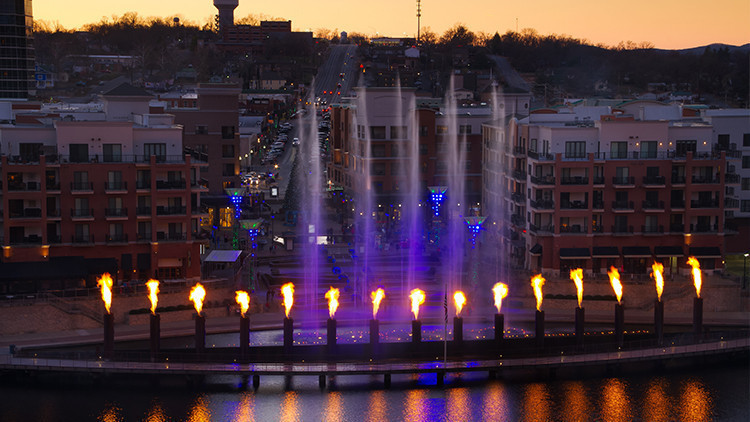 Day 7: The Eclectic Side of Branson. Spend your last day in Branson by visiting some of the more offbeat attractions and sites in the area such as the World's Largest Toy Museum Complex (featuring more than 1 million toys!), Talking Rocks Caverns (once called "Missouri's Most Beautiful Cave"), Ripley's Believe It or Not! (home to more than 450 unique artifacts, including genuine shrunken heads), Titanic Branson ("World's Largest Museum Attraction"), Shepherd of the Hills Fish Hatchery (free conservation center), the National Tiger Sanctuary (permanent home for exotic and domestic animals) in nearby Saddlebrooke and, last but not least, the legendary "Beverly Hillbillies Jalopy" from the 1960's TV sitcom that can be viewed in the Ralph Foster Museum at the College of the Ozarks in Point Lookout.
Westgate Branson Lakes Resort Offers Easy Access to All Things Branson!
All the best of Branson awaits! So, gather the entire family and plan for a Branson vacation getaway that will be so much fun you'll want to return year after year! Simply book your 7-day stay at Westgate Branson Lakes Resort today and enjoy access to amazing recreational opportunities, attractions and live shows, as well as spacious villas, an abundance of world-class onsite activities and true Missouri-style hospitality. Have an amazing trip!

RELATED ARTICLE:
At Westgate Resorts, when you Check-In, there's a LOT to Check-Out! Your Branson vacation awaits! Explore our Branson resorts today or talk with a vacation planner at 888-852-2959 or 407-355-2690.
* Westgate Resorts is in no way affiliated with the attractions featured in this article. Items or places listed are current as of the publishing date of this article. Please call or visit the respective website for the most up-to-date offerings and details.
When You Check-in, There's a Lot to Check Out
Sign up for our newsletter and check-in to great offers, secret stuff, and special events.