10 Things to do this Memorial Day Weekend
10 Fun Things to do this Memorial Day Weekend
Memorial Day is a time we all come together to remember those who fought so bravely for our freedom. Not only is it a day of remembrance but a day of fun! Celebrate freedom and the warm weather this Memorial Day by going outside and enjoying some outdoor activities. Not sure what your plans are for the long weekend? We are here to help with 10 fun, family-friendly ideas to make your Memorial Day memorable.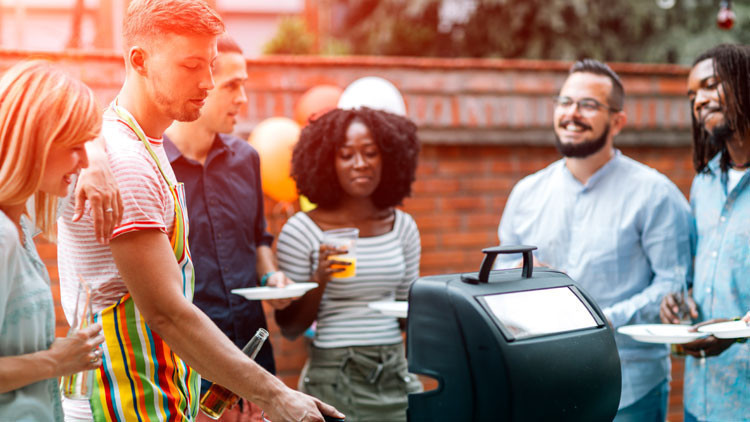 1 | Have a Cookout | Nothing says summer quite like a backyard barbeque. Fire up the grill and throw on some burgers and hotdogs. Invite some friends over for some outdoor fun! Don't forget to set the mood with a playlist full of fun, upbeat music. Queue the dance party!
2 | Stay Local | Be sure to check out your city's social media page to be up to date on all the Memorial Day events happening near you. Many towns host their own special events such as Memorial Day parades, block parties, firework displays, and military salutes or tributes. Get involved in your community this year and connect with your neighbors while having fun.
3 | Enjoy Water Activities | It's time to beat the heat and bust out the fun pool floaties. Whether it's the lake, river, springs, or the pool, splashing in the water is the perfect way to cool down on a hot summer's day! You can enjoy all sorts of fun water sports like kayaking, paddle boarding, waterskiing, or tubing. Don't forget to follow all the local safety regulations and always swim near a lifeguard station when possible.
4 | Go to the Beach | The sun is shining, a warm summer breeze is blowing, and there is no better time to take a trip to the beach. Just keep in mind, summer holidays, like Memorial Day, are known to be busier on the coast, so have a game plan before you head out and try to arrive at the beach earlier rather than later in the day, as beaches tend to fill up as the day goes on. Don't want to deal with the traffic while traveling to the beach? Consider staying at a beach resort, like the Westgate Myrtle Beach Oceanfront Resort, which is only steps from the beautiful Atlantic Ocean. Don't forget your beach umbrella and sunscreen!
5 | Go Shopping | Memorial Day is known to be a holiday when stores put on some awesome deals. Take advantage of some steep discounts on things for the home, including mattresses, appliances, furniture, and tools. There are also typically Memorial Day sales on outdoor gear like bikes and camping or hiking equipment. Invest in a backyard firepit or refresh your outdoor space with new patio chairs. Just be sure to steer clear of the TVs and electronics; those are not the best things to buy on Memorial Day weekend because you can typically find them at lower prices on Black Friday.
6 | Get Outside | Take a hike through the Ozarks at the Westgate Branson Woods Resort or ride a bike. Sit outside in a hammock and read a book. Take advantage of the warm weather and sunshine. With many people having an extra day off, take some time to do something for yourself. Taking the time for yourself will allow you to start the upcoming week feeling refreshed and recharged.
7 | Go Camping | Want to disconnect and unwind while enjoying the great outdoors this Memorial Day weekend? Consider going camping! There are numerous campsites across the country, many with spectacular views. What better way to reset than by getting out in nature. Want to experience camping but you're not sure about roughing it in the wild? Try "glamping" at the Westgate River Ranch & Rodeo, where you can experience the beautiful outdoors in luxury teepees and Conestoga wagons with all the modern conveniences.
8 | Go to the Movies | Not a fan of the outdoors or the weather putting a damper on your outdoor plans? Stay dry inside and watch a movie. Whether you plan to go to the box office this Memorial Day weekend or you're just staying at home, grab the popcorn and get ready to watch a sizzling summer blockbuster.
9 | Have a Bonfire | Nothing says summer nights, quite like a bonfire. And you can't have a bonfire without s'mores. Gather your friends and the firewood! Take advantage of the numerous firepits and amazing views of the Smokies at the Westgate Smoky Mountain Resort & Water Park. Just be mindful that summers can sometimes be a dry time so you'll want to check your local news for any burn notices that may be in effect in your area.
10 | Go on a Road Trip | Take an adventure somewhere new. Whether the mountains are calling you or you want to relax somewhere warm and sunny, there are endless travel destinations (and deals!) to choose from. With airlines notorious for raising ticket prices around the holidays, consider driving to your destination during the long weekend. Take advantage of this time to travel to somewhere you have always wanted to visit and create some awesome memories you will cherish for years to come.
Whether camping, shopping, road tripping or getting together with family and friends, make amazing memories this Memorial Day weekend. For more vacation ideas and fun things to do, keep reading the Westgate Travel Blog.

RELATED ARTICLE:
Happy Memorial Day! At Westgate Resorts, when you Check-In, there's a LOT to Check-Out! Come celebrate the unofficial start of summer with a vacation getaway! Your Memorial Day vacation awaits! Start planning your next vacation today by calling 800-435-0883.
When You Check-in, There's a Lot to Check Out
Sign up for our newsletter and check-in to great offers, secret stuff, and special events.