The 10 Best Stables to Find Horseback Riding Park City Locals Recommend
The 10 Best Stables to Find Horseback Riding in Park City, UT
Park City, Utah, is one of the most beautiful places to visit in the US. In fact, it has some of the most breathtaking views you'll ever see. Whether you're looking for mountain bike trails in Park City or the best places to go horseback riding, there definitely is no shortage of attractions in Park City. But if you're specifically headed to Park City for horseback riding, you're not going to be disappointed.
Park City Horseback Riding
From the gorgeous Herber Valley to the stunning Wasatch Mountains, Park City is a visual utopia. And if you're an equestrian looking to go horseback riding while you're in town, we've got a treat for you.
We've put together a list of the 10 best stables to go horseback riding in Park City. In fact, the hardest part will be deciding where to ride!
1 | Red Pine Adventures | Red Pine Adventures is conveniently located in the center of Park City. Depending on when you visit, you can take a personal tour around the Wasatch Mountains on horseback, or you can slosh down the slopes before taking time to watch deer graze in the snow. They also offer winter rides, but these need to be planned in advance.
This gorgeous privately-owned property has more than 1,000 trails to explore by yourself, with family, or in a group. Tours are offered at 9 am, 11 am, and 1 pm at varying price points. For 1.5 hours, the cost is $150 for groups. Private tours are also 1.5 hours in length and cost $200. This doesn't include tax or gratuity.
WHERE: 2050 White Pine Cyn Rd, Park City, UT 84060 | WHO: 435-649-9445
2 | North Forty Escapes | If you're looking to escape the hustle and bustle of the big city, why not channel your inner cowboy or cowgirl and head over to North Forty Escapes? During the late spring and summer, you can spend time enjoying trail rides with your own personal tour guide on horseback! Both new and advanced riders are both welcome to saddle up and enjoy the view. Novice riders are welcome as well. Prices start at $99 per hour (up to 3 hours) for adults and children over 13 years old. There's also lodging available, so feel free to book a cabin for the night or even the weekend!
WHERE: 1 Stillman Ranch Road, Oakley, UT 84055 | WHO: 435-631-4011
3 | Almosta Ranch | If trotting through trails and rolling hills is your idea of fun, you're going to love Almosta Ranch. Conveniently located only four miles from Park City's Main Street, Almosta Ranch offers a variety of trails for all types of riders. Rides range from 30 minutes to half day and cost $125 per hour/per person. If you're new to horsebacking, that's okay as well. Almosta offers lessons, so don't worry that you won't fit in. Even better is that Almosta also has a horse hotel where horses can spend the night for under $30. So, why not hitch up your trailer and spend a few days enjoying fresh air and mountain views?
WHERE: 5702 Old Ranch Road, Park City, UT 84098 | WHO: 435-962-2424
4 | Blue Sky Ranch | The Lodges at Blue Ranch offer personalized experiences you won't soon forget. Their equine adventures begin with education. Blue Sky Ranch teaches guests how to connect with horses through guided breathwork to help deepen their connection with their chosen horse. Afterward, you can choose between a Mountains and Meadows ride, Ranch Riding, or White Tail Trail Ride. Prices start at $650 per person over 8 years old for the Mountains and Meadow, $325 for Ranch Riding, and $500 per person for the White Tail Trail. Children must be always accompanied by an adult during rides on all trails.
WHERE: 27649 Old Lincoln Hwy Wanship, UT 84017 | WHO: 435-571-0349
5 | Park City Horse Experience | If you're looking for a horse riding experience like no other, Park City Experience is the place to be. Alejandra Lara, the founder of Park City Horse Experience, teaches riders the principles of mindful horsemanship. Riders who visit the ranch learn everything there is to know about the sentient nature of horses and how they can bond with their horse on many levels. With over 25 years of experience, Alejandra Lara now uses her in-depth knowledge to boost company culture through retreats and instill a newfound awareness of how horses can improve overall mental health. She also offers a kids summer camp program at the Equellness Center as well.
WHERE: Park City, UT| WHO: pchorseexperience@gmail.com
6 | Wind in your Hair | Catering to intermediate and experienced riders, Wind in your Hair believes every ride is an experience to be remembered. They offer rides all year long with Peruvian Pasos, Kentucky Mountain Horses, and Paso Finos. They also offer private horsemanship courses for beginners, however, they aren't allowed to ride on the trails just yet. Rates in spring, summer, and autumn are $90 for a minimum of two hours. In the winter, the hourly rate is $95 with a two-hour minimum. You can also book a lesson for $70 an hour, with lessons usually being a minimum of two hours. N Horses are the smoothest, most comfortable horses in the world.
WHERE: 46 Cherry Canyon Dr, Coalville, UT 84017 | WHO: 435-901-4644
7 | Boulder Mountain Ranch| At Boulder Mountain Ranch, you'll never not have a new ride to try. You can trot up Aspen Trail, where group rides are kept small for a more intimate ride. You can also spend the afternoon exploring the Oakley Ranch, where you'll get to see beautiful foliage, sparkling lakes, and plenty of wildlife in its natural habitat. Children are welcome, however, they must be at least six years old to ride the Aspen Trail and at least eight years old to enjoy Oakley Ranch. They also need to be always accompanied by an adult. Prices range from $99 to $125 per person.
WHERE: Deer Valley Marsac Ave, Park City, UT 84060 | WHO: 866-783-5819
8 | KB Horses | KB Horses at Red Ledges is another ranch where you'll be able to experience great outdoors like you've never done before. You can schedule a private ride that's customized to your riding ability. The staff at KB Horses starts each ride with a lesson about the ranch and how to build a relationship with their chosen horse. KB Horses also takes pride in pairing beginners or riders who are unsure of themselves with gentler horses. More experienced riders will fall in love with the freedom they have wandering freely over four unique trails. Prices start at $119 for 1.5 hours up to $419 for 4.5 hours. All prices are per person. You can also opt for add-on services such as ponying or walk-in-hand for small children.
WHERE: 3181 E Lake Creek Road Heber, UT 84032 | WHO: 435-315-9550
9 | Soldier Hollow | Located near Herber Valley at the Sundance Resort, Soldier Hollow Stables is where you can book an hour-long ride and take in the gorgeous views of Deer Creek Reservoir, stunning Herber Valley as you ride along the Wasatch Front. You can also choose to ride the Crow's Nest Trail, which is about 1.5 hours long, or you can ride along Mountain Meadows, which only takes about an hour. Private guides are available at your request. Prices vary according to ride length and time of year.
WHERE: 2002 Soldier Hollow Ln, Midway, UT 84049 | WHO: 435-395-5260
10 | Promontory Park City | The Equestrian Center at Promontory Park City offers avid horsemen a chance to train and perform. There's an outdoor corral, indoor arena, and breathtaking landscape that cover more than 7,200 acres. The Promontory also offers heated stalls, private horse stables, and washing and grooming areas. If you're new to riding, the barn manager can work with you to create a personalized program to help learn how to take care of your horse, groom, and ride like a pro.
WHERE: 8758 N Promontory Ranch Ln, Park City, UT 84098 | WHO: 888-458-6600
Use Our Handy Map to Find Your Way Around!
Last Tips for Horseback Riding in Park City
Park City, Utah, has come a long way since the days of only being a mining town. It's now one of the best places to ride horses, enjoy beautiful landscapes or simply take a much-needed vacation. In addition to having some of the best horseback riding trails in the country, Park City is also home to some of the most luxurious hotels as well. Westgate Park City Resort & Spa, for example, has everything you and your family would ever want on your vacation. From fine dining and pampering spa treatments to fun-filled activities that are sure to please the entire family, Westgate has it all.

RELATED ARTICLE: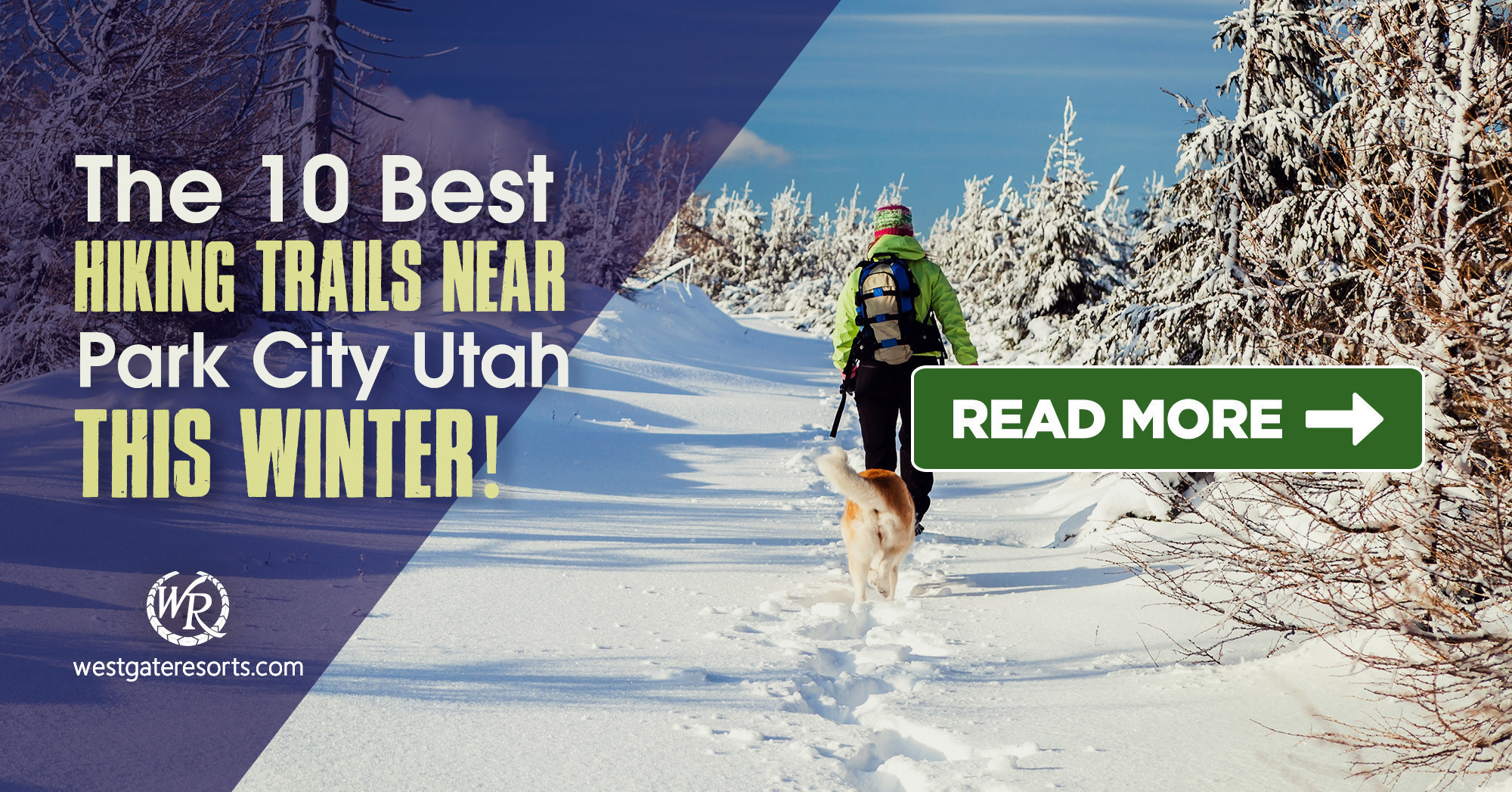 At Westgate Resorts, when you Check-In, there's a LOT to Check-Out! Your vacation awaits! Start planning your next vacation today or talk with a vacation planner at 888-852-2959 or 407-355-2690.
* Westgate Resorts is in no way affiliated with the attractions featured in this article. Items or places listed are current as of the publishing date of this article. Please call or visit the respective website for the most up-to-date offerings and details.
When You Check-in, There's a Lot to Check Out
Sign up for our newsletter and check-in to great offers, secret stuff, and special events.