10 Things Your Maintenance Fees Cover You Never Knew!
10 Things Your Maintenance Fees Cover You Never Knew!
Making vacation ownership easy, fun, and accessible for all our owners is our top priority at Westgate Resorts. Our owners are our extended family, and our team works around the clock to provide joyful vacation memories and stories to last a lifetime.
Our mission is to educate and empower owners with world-class resources and information to get the most out of owning with us. With so many different ways to vacation, we're happy and grateful that our owners choose us. So much goes into managing, maintaining, and operating large vacation properties that we want to share the main areas where the funds from owner maintenance fees are being invested with our owners.
Things Your Owner Maintenance Fees Cover
From room renovations and upgraded amenities to everyday support for resort operations, guest services, and activities, your owner maintenance fees help power our resorts and make ownership vacation experiences better year after year.
In this article, discover 10 ways your owner maintenance fees are spent that you might not already know!
1 | Team Member Services | A well-trained staff is paramount to operating our resorts. From landscaping and housekeeping to front desk team members, activity directors, food service staff, and those behind the scenes, it takes a village to provide all the services that power high-quality vacations. We provide the expertise and adequate resources to hire, train, and retain the highest level of hospitality professionals.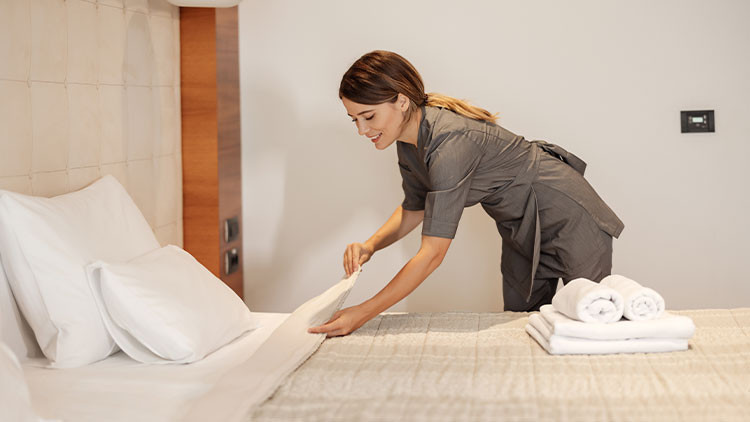 2 | Cleanliness | We have always prided ourselves on having the best health and safety standards in the business. From laundry services to the dedicated staff who take great care in cleaning our villas and common areas, Westgate Resorts strives to use the best staff, training, products, and equipment to ensure the best guest experience and safety.
3 | Security | A portion of owner maintenance fees goes toward covering the staff, equipment, and supplies needed to ensure our resorts are the safest they can be. That means more security guards, cameras, gates and so much more.
4 | Maintenance | Maintenance fees help cover the cost of the upkeep and repairs needed to bring our resort destinations to life. The funds directed to this area pay for the wages and benefits of our employees, as well as the supplies/equipment/services needed to complete their duties.
5 | Property Administration | A portion of the timeshare maintenance fees goes toward the cost of the accounting, IT services, owner support, reservations team, purchasing team (assuring our resorts are paying the lowest prices available for goods and services) and other support teams who work diligently behind the scenes to provide the best vacation experiences for our owners.
6 | Professional Management | Professional management protects our owners over time. A team of certified professionals ensures our resorts operate efficiently today and in the future by constantly tracking each resort's programs and preparing maintenance plans and budgets.
7 | Reserves | A portion of maintenance fees is directed to establish financial reserves for major expenses in the future. These funds are set aside every year to ensure there are enough funds to address any unexpected event that would interrupt the services of villas or amenities, as well as larger planned expenses for the update or renovation of any buildings or major equipment. These funds allow us to keep our resorts in top working order without increasing fees due to major expenses.
8 | Utilities | This is how we keep the lights on and water running at each of our resorts. Utility fees also include trash and waste removal, gas, electricity, cable, and Internet services – just to name a few.
9 | Insurance | Some maintenance fee funds are directed to pay several insurance premiums for resort buildings, including equipment and liability insurance coverage required by governing regulations and applicable statutes. This is just one more way a well-resourced and professionally operated resort takes care of its guests and ensures the safety and security of the vacation environment.
10 | Other Expenses | As in any other operation, resorts have multiple moving parts and smaller expenses that require funds to provide continued service to our owners and guests. Some include materials and supplies for the front office, on-site activities, guest services, and more.
Maintenance Fees Wrap-Up
It's important to understand that maintenance fees are never arbitrarily set. They are set to address operations and fiscal needs for today and in the future. Just like homeowners set aside money and build reserves in the expectation that they will need a new roof or have to upgrade certain aspects of their living space, we prepare, plan, and set money aside for such instances at our resorts.
We strive to foster genuine trust and confidence with our owners, allowing them to sit back, plan, and look forward to enjoying their next getaway with us.
We hope this article helps our owners better understand how their maintenance fees are used. Our top priority is ensuring you get the most out of your timeshare ownership. Thank you for choosing to be a part of the Westgate Resorts family!
For more information, please contact one of our vacation specialists at 888-852-2959 or check out our owner website at WestgateResorts.com/Owners.
When You Check-in, There's a Lot to Check Out
Sign up for our newsletter and check-in to great offers, secret stuff, and special events.