Seek and Discover BAR SAKE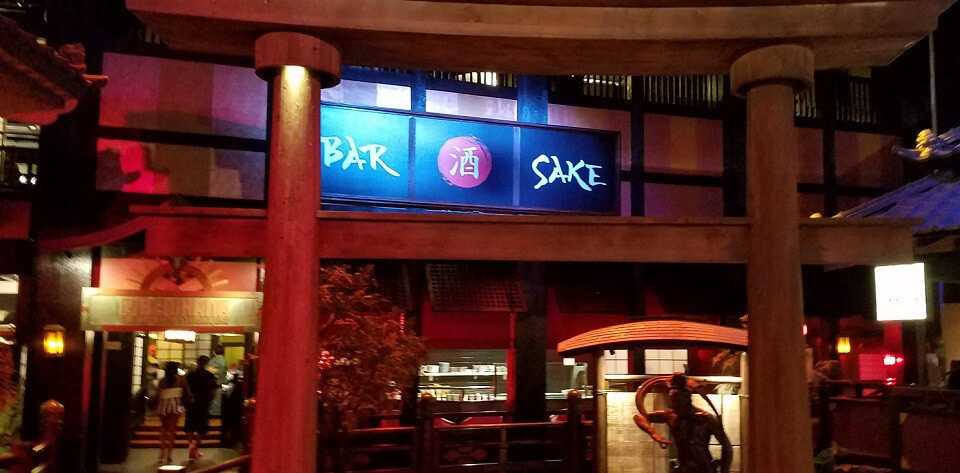 The concept of hotels-within-hotels may be lost on some, but it's been growing steam. Nobu of Caesars Palace, Delano at Mandalay Bay and SLS's new W partnership are examples of the latest in maximizing square footage while blending brand recognition with something new (and hopefully exciting).
Westgate Las Vegas recently rolled out a similar idea with Bar Sake. Tucked away inside "The Village", Bar Sake was a bit difficult to find. Silly me – it never crossed this writer's mind that there was more to Benihana's themed village than just Benihana.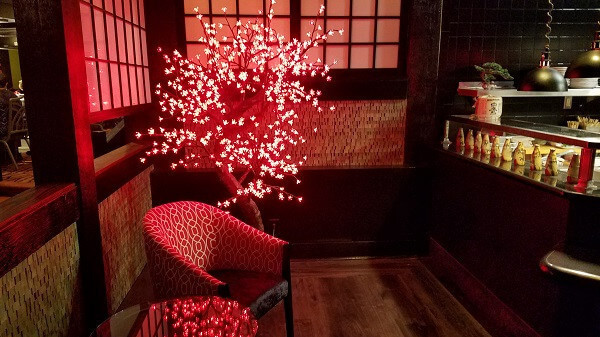 Not having been to Westgate's location before, I had no idea that there was an entire complex inside the familiar Japanese chain steakhouse. Among the ornate gardens and koi ponds is Rikki Tiki Sushi, with Silk Road Asian Bistro nestled to one side and the relaxing and lovely Bar Sake in the far rear.
Now in its third month of operations, Bar Sake is a bit of a hidden gem. Opened with minimal fanfare, it's one of those places that you hope just enough people will discover to make it successful…without losing the atmosphere of intimacy that made our "guys' night out" so satisfying.
The small dining and bar area is bathed in rose-colored hues. We took seats around a low table and were offered a welcome sake as once served to President Obama by Prime Minister Shinzo Abe in Tokyo. The smooth beverage set a wonderful tone for the prepared menu of food and drinks we were invited to sample.
My companions and I started with an assortment of Signature Cocktails, created especially for Bar Sake by Eddie Perales, GM of Beverages at the Westgate Resort. Perales is an award-winning mixologist who's been listed in the Guinness Book of World Records.
As a world-renowned flair bartender and ice sculpturist, Perales knows how to infuse his cocktail creations with a hearty slice of fun. He came to our table to share his enthusiasm for the Bar Sake cocktail list…and the excitement of trying out new creations in the weeks and months ahead.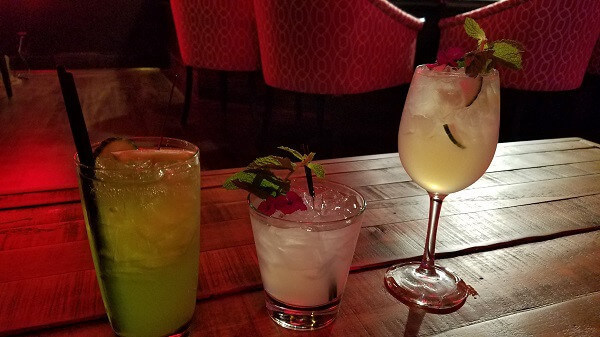 Much like Fresco Italiano's GM Angelo Cordero, Perales came to Westgate by way of Caesars properties. Whatever is luring these top-level experts to the off-Strip property, Westgate guests are all the better for it. The resort continues to please and surprise with superlative offerings, and Bar Sake is no exception.
As you might expect, the cocktail menu here is built around sake, the famed Japanese rice wine. Perales has whipped up unique creations like the Jaded Midori (Midori Melon Liqueur, Tyku Cucumber Sake and lemon juice) and the Ginger Kamikaze with Tykusoju, Tyku Cucumber Sake, Domaine de Canton, lime and simple syrup.
We also indulged in a Paris To Tokyo (ST-GERMAIN elderflower liqueur, Tyku Cucumber Sake and Mionetto Prosecco) and a Strawberry Coconut Mojito created with Tyku cucumber and coconut sakes, Southern Supreme Mojito Lime and Sweet & Sour. All were light, refreshing and absolutely delicious.
For those wishing to stick strictly to sakes, the list of options is divided into four sections: "Fun", "Expressive", "Pure" and "Classic". The beverage list also includes a wide variety of wines, whiskey, beers and non-alcoholic beverages. Fun note here, if you're looking for Las Vegas attractions for couples, hitting the Sake bar here is probably going to wind up in your top ten!
Despite the name, Bar Sake isn't strictly a "sake bar". It offers a wide variety a sushi and spectacular plates created before your eyes. Based on a centuries-old method of North Japanese food preparation called Robata, Chef Masa Shiga slow-grills his dishes on skewers over a high-heat charcoal "Robata" grill.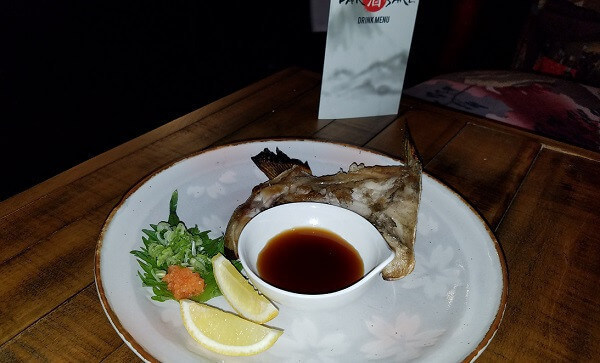 Hamachi Kama is Yellowtail Cheek, the most flavorful part ($12)…
Robata cooking originated with Japanese fishermen, who gathered to prepare their meals around a communal hearth. Sharing these delicious dishes with my friends carried on that tradition, albeit in extremely different surroundings.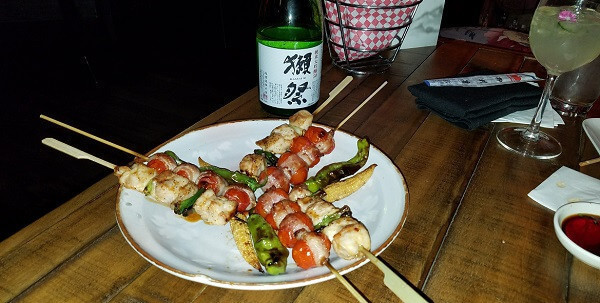 TOMATOMAKI ($4) are bacon-wrapped cherry tomatoes…
Robata skewers come three to a plate for $16. Choices include TSUKUNE (chicken meatballs), GYU filet, SAKE (Atlantic Salmon), SHITAKE, NISU eggplant and SHISHITO (a sweet Japanese pepper).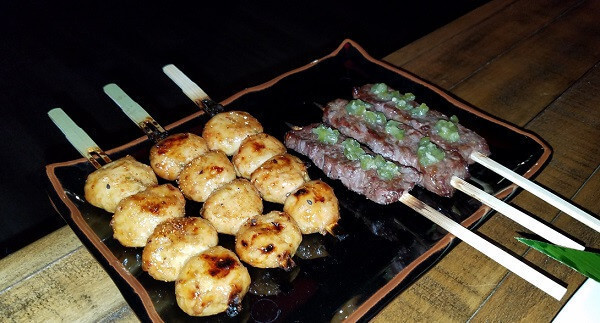 Tsukune chicken meatballs and Gyu fillet, each 3 for $16…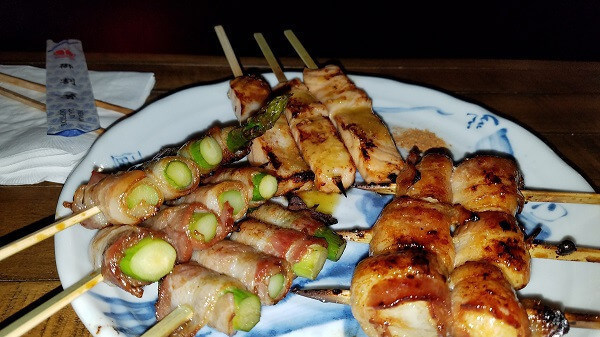 Bacon-wrapped asparagus (far left, $5) join two other Robata skewers at Bar Sake…
Small plates are broken up into four categories: poultry, vegetables, seafood and meat. They range in price from $4 for vegetable dishes to $18 for the likes of black cod, duck breast and lobster tail. All are presented with color, flair, and delicious seasonings like wasabi, Yuzu pepper paste and sweet miso.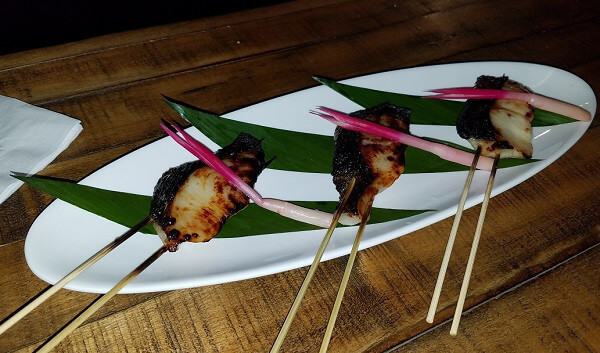 Gindara is a black cod seasoned with sweet miso ($18)…
Kohitsuji (above right) are soy/garlic-marinated lamb chops ($18)…
Sushi lovers can choose from a list of five, ranging in price from $12 to $18. Although we were tempted to try a few, our collection of macho gents decided to save any remaining taste buds and close out this magnificent meal with a couple of sweets.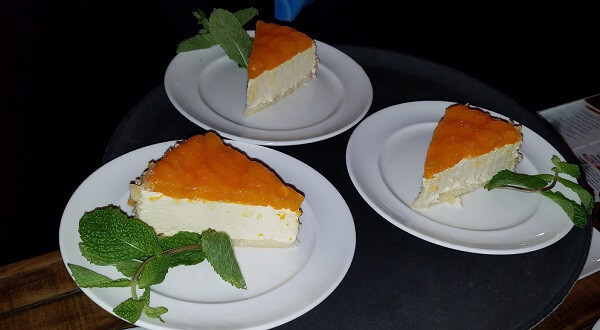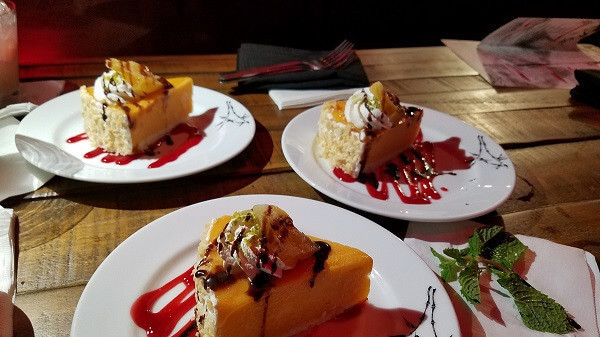 There are plenty of Asian-themed restaurants and bars in Las Vegas, making it difficult for one to stand out so distinctly. Our visit to Bar Sake was magnificent, worthy of the raves.
Unique in location, offerings and atmosphere, Westgate's Bar Sake is the perfect if your'e looking for things to do in Las Vegas for couples, little venue to gather at with friends, a loved one…or to discover all by yourself on your next Las Vegas getaway.

BAR SAKE is located within "Restaurant Row" of Westgate Las Vegas, inside the Benihana Village. It is open Friday and Saturday from 5 p.m. For reservations or info, call (702) 732-5755.
At Westgate Resorts, when you Check-In, there's a LOT to Check-Out! Your Las Vegas vacation awaits! Explore our Las Vegas resorts today or talk with a vacation planner at 888-852-2959 or 407-355-2690.
The original blog post can be found VegasUnfiltered.blog on 07-07-2017 and is reposted with permission.
When You Check-in, There's a Lot to Check Out
Sign up for our newsletter and check-in to great offers, secret stuff, and special events.