Top 10 Las Vegas Day Trips
Need to take a quick break from the hustle and bustle of the world-famous Las Vegas Strip – the endless neon, 24-hour casinos, extravagant live shows, nonstop partying and all-night buffets? Sometimes you need to relax and unwind before embarking on your next Las Vegas adventure and a quick trip outside Sin City is sure to do the trick! In fact, the surrounding area is full of amazing destinations, including Red Rock Canyon and the Hoover Dam. Looking for outdoor recreational activities or Las Vegas attractions for couples? Don't miss a visit to the Lake Mead National Recreation Area. More adventurous travelers may even wish to embark on the ultimate day trip to the Grand Canyon in Arizona. The possibilities are endless but here are 10 of our absolute favorite Las Vegas day trips to get you started on your way: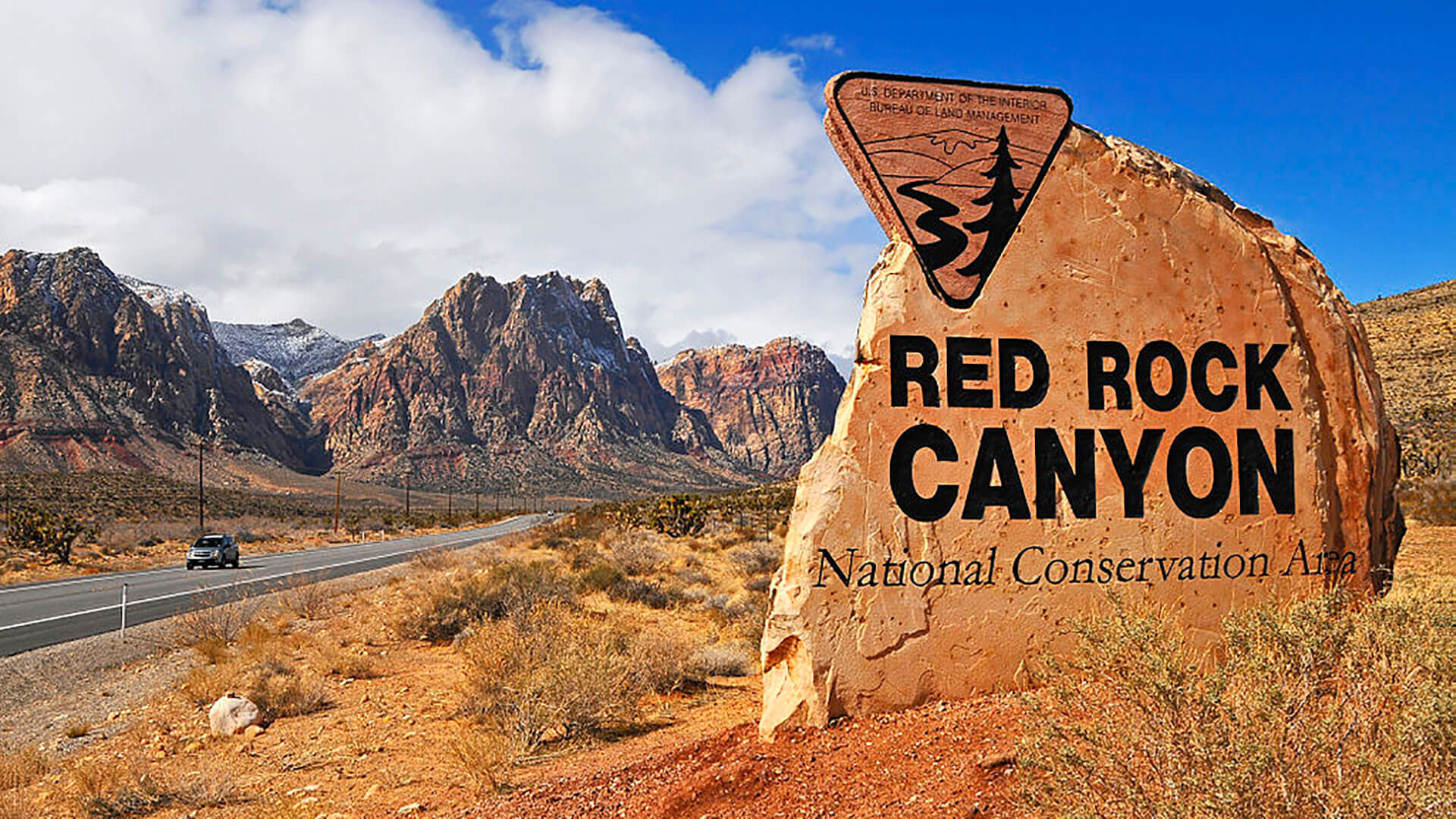 1. Red Rock Canyon: Designated a National Conservation Area, the 195,819-acre Red Rock Canyon lies just 15 miles West of Las Vegas. Take the 13-mile scenic loop drive and view fascinating geological formations and outcroppings (highlights include the colorful sandstone Calico Hills, the limestone Indian roasting pits and the petroglyphs at Willow Springs). Red Rock Canyon also features more than 30 miles of hiking trails, picnic areas and a Visitor Center that contains interesting exhibits and a bookstore. In addition to hiking, Red Rock Canyon offers biking and horseback riding opportunities, as well as rock climbing and backcountry camping (a permit is required for both activities). Red Rock Canyon is also home to a myriad of wildlife, including coyotes, wild burros, gray foxes, desert bighorn sheep, bobcats, mountain lions, rabbits, kangaroo rats, bats, shrews, snakes and lizards. The entrance fee to Red Rock Canyon is $7 per vehicle. The Red Rock Canyon Visitor Center is open daily from 8 AM to 4:30 PM.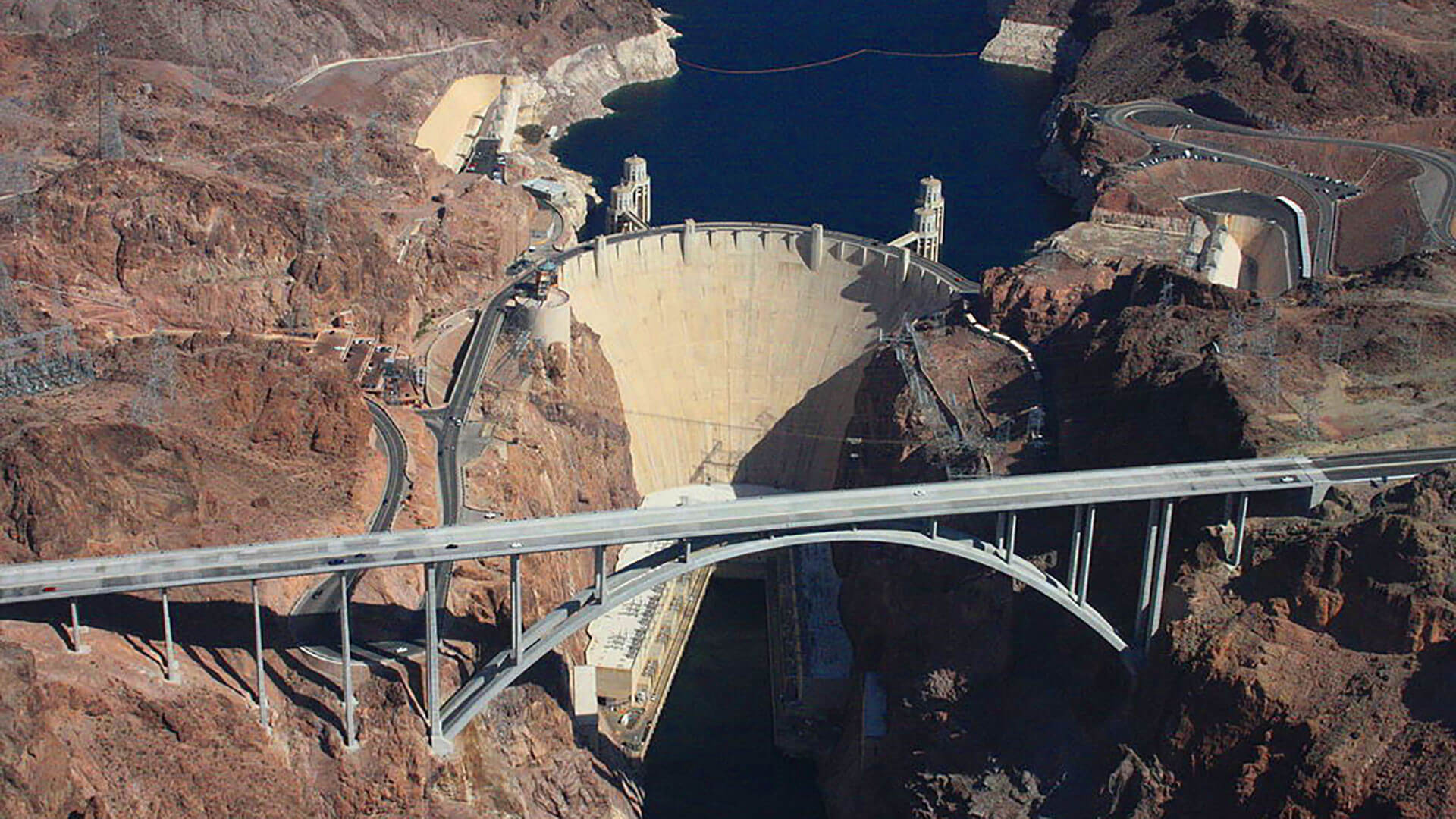 2. Hoover Dam: A National Historic Landmark, the majestic Hoover Dam, which created Lake Mead (the nation's largest reservoir), was built during the Great Depression and completed in 1936. Named after President Herbert Hoover, the Hoover Dam weighs more than 6,600,000 tons, is 726.4 feet tall and stretches 1,244 feet across Black Canyon. A total of 4.4 million yards of concrete were used in its construction (and contrary to popular legend, no workers were buried alive in the concrete as it was being poured!). The Hoover Dam is currently the second-tallest dam in the United States after the 770-foot-tall Oroville Dam in California. Nearly one million visitors tour the Hoover Dam annually. The Hoover Dam Visitor Center offers a variety of quality exhibits and is open daily from 9 AM to 5 PM (tickets sold until 4:15 PM) except for Thanksgiving Day and Christmas Day. The Hoover Dam is located approximately 30 miles Southeast of Las Vegas near Boulder City, a city originally constructed for workers on the dam project.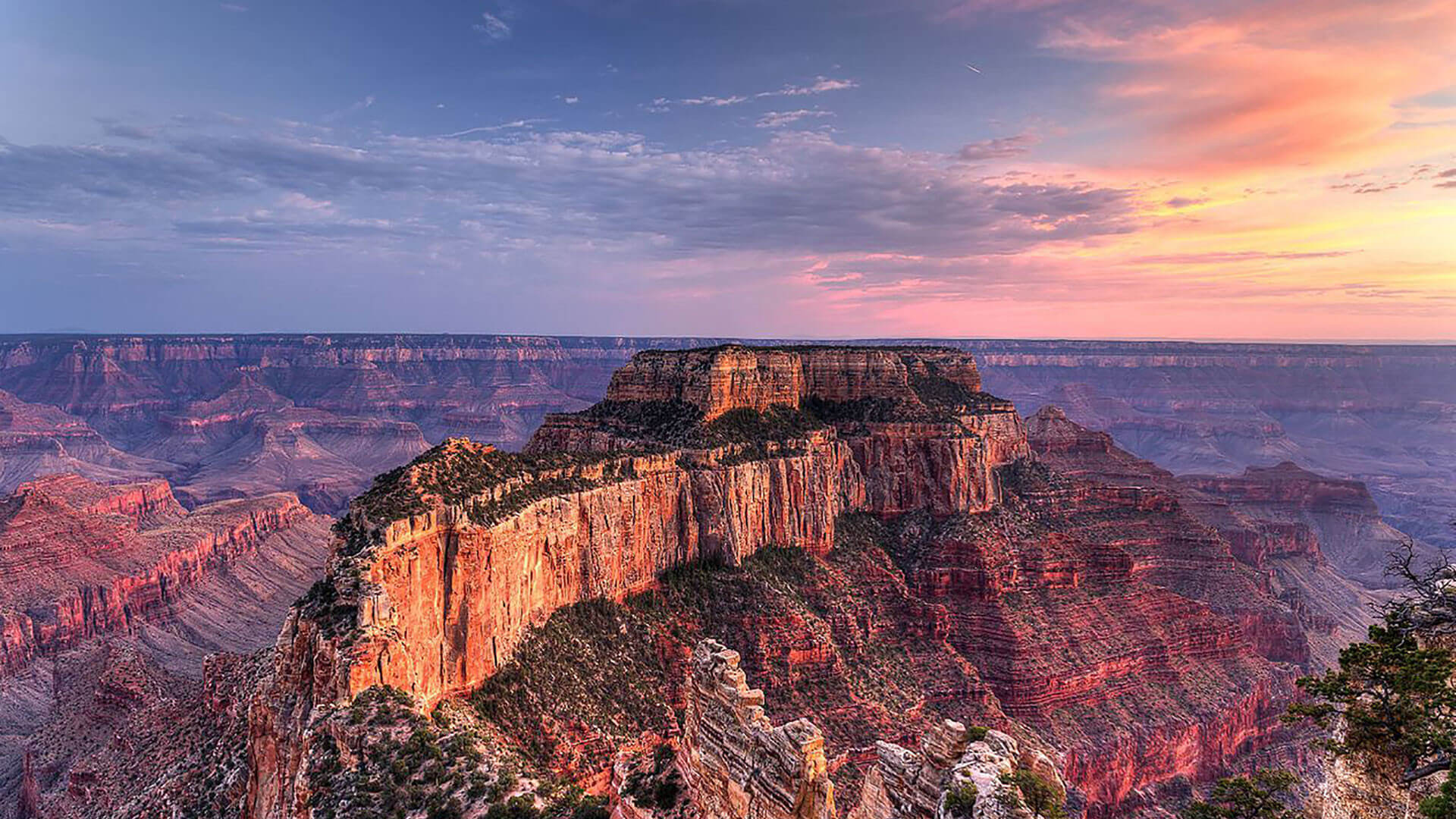 3. Grand Canyon National Park: In a 1903 speech, President Theodore Roosevelt remarked, "In the Grand Canyon, Arizona has a natural wonder which is in kind absolutely unparalleled throughout the rest of the world." Although the Grand Canyon lies approximately 300 miles from Las Vegas, a variety of airplane, helicopter and bus tours can be arranged to visit one of the "seven natural wonders of the world" (an impressive list of natural attractions that also includes Mount Everest, Paricutin Volcano in Mexico, Victoria Falls, Aurora Borealis, Harbor of Rio de Janeiro and Great Barrier Reef). Airplane and helicopter tours arranged from Las Vegas usually feature a bird's-eye view of not only the Grand Canyon but also the Las Vegas Strip, Lake Mead, Hoover Dam and the Colorado River as well. Some of the more pricey Grand Canyon tours combine a helicopter or airplane flight with a ground tour aboard a deluxe motorcoach. The Grand Canyon is 277 miles long, up to 18 miles wide and more than a mile deep in some places. Encompassing more than 1.2-million acres in Northwestern Arizona, Grand Canyon National Park provides a multitude of recreational opportunities such as sightseeing, hiking, biking and backcountry camping (permit required). Mule trips to the bottom of the Grand Canyon are also immensely popular. Wildlife that inhabit Grand Canyon National Park include mule deer, desert bighorn sheep, bobcats, coyotes, mountain lions, ringtail cats, beavers, gophers, rabbits, chipmunks, lizards, snakes, turtles, salamanders, frogs, toads, scorpions and squirrels. More daring travelers will not want to miss a chance to take the SkyWalk, the first-ever cantilever-shaped glass walkway, which suspends more than 4,000 feet above the Grand Canyon's floor and extends 70 feet from the Canyon's rim. SkyWalk is located at Grand Canyon West, a destination outside of Grand Canyon National Park owned by the Hualapai Tribe at the Grand Canyon's Western rim.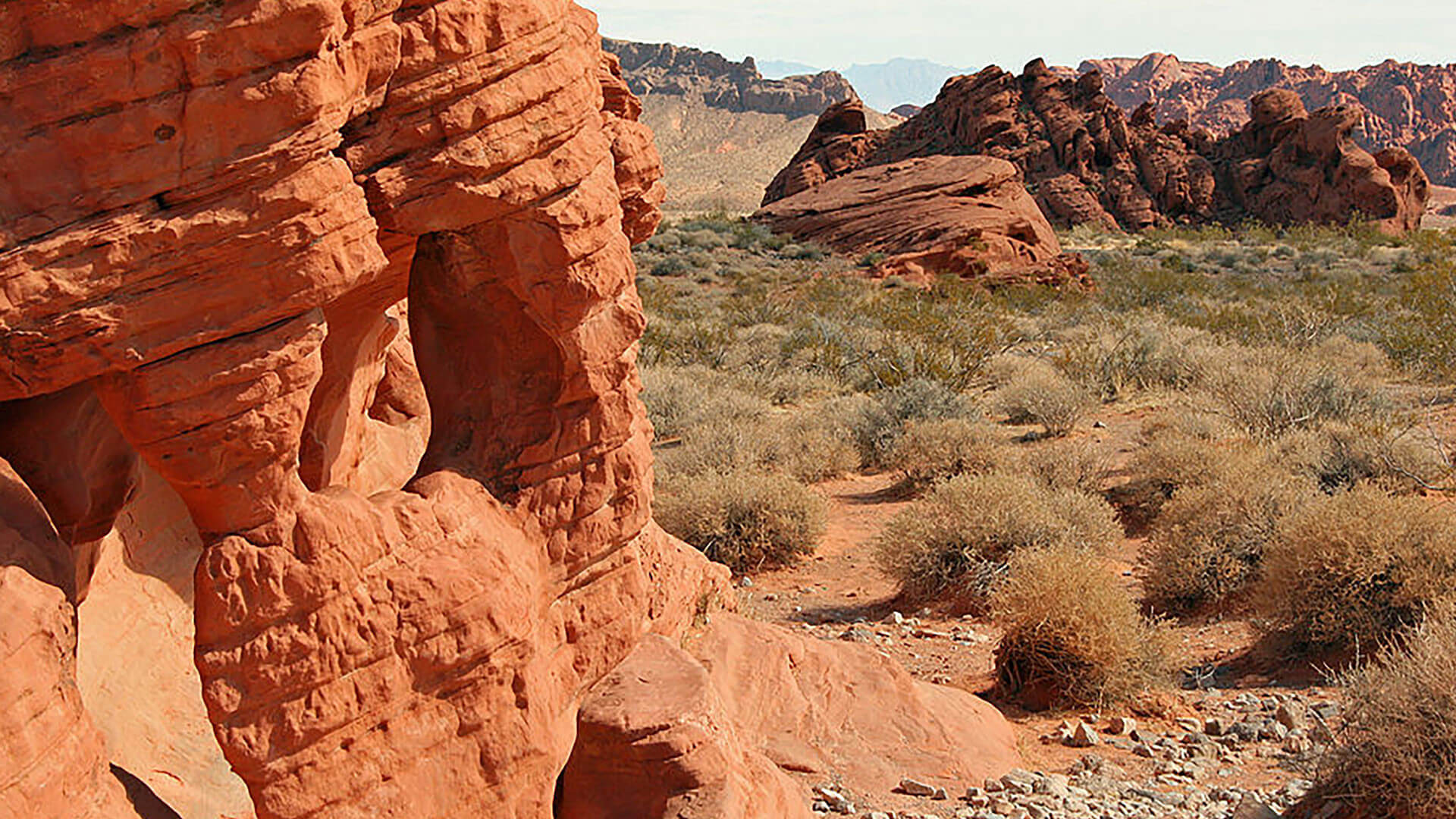 4. Valley of Fire State Park: Dedicated in 1935 and designated a National Natural Landmark in 1968, Valley of Fire State Park is Nevada's oldest and largest (34,880 acres) state park. Named for its amazing red sandstone formations, Valley of Fire State Park is home to a variety of wildlife, including the coyote, desert tortoise, kit fox, black-tailed jackrabbit, spotted skunk and antelope ground squirrel, as well as snakes and lizards. Legendary rock formations at Valley of Fire State Park include Atlatl Rock, Arch Rock, Beehives, Elephant Rock, Silica Dome, Mouse's Tank, Poodle Rock, Seven Sisters and White Domes, among many others. Popular recreational activities at Valley of Fire State Park include hiking, picnicking, nature photography and camping. Note: Campsites are available on a first-come, first-serve basis. Open daily from 8:30 AM to 4:30 PM, the Valley of Fire Visitor Center offers a variety of interesting exhibits related to the park. By the way, the racing scenes in the film Viva Las Vegas (1963), which starred Elvis Presley and Ann-Margret, were shot at Valley of Fire State Park, which is located about 50 miles Northeast of Las Vegas (via I-15 and Valley of Fire Road).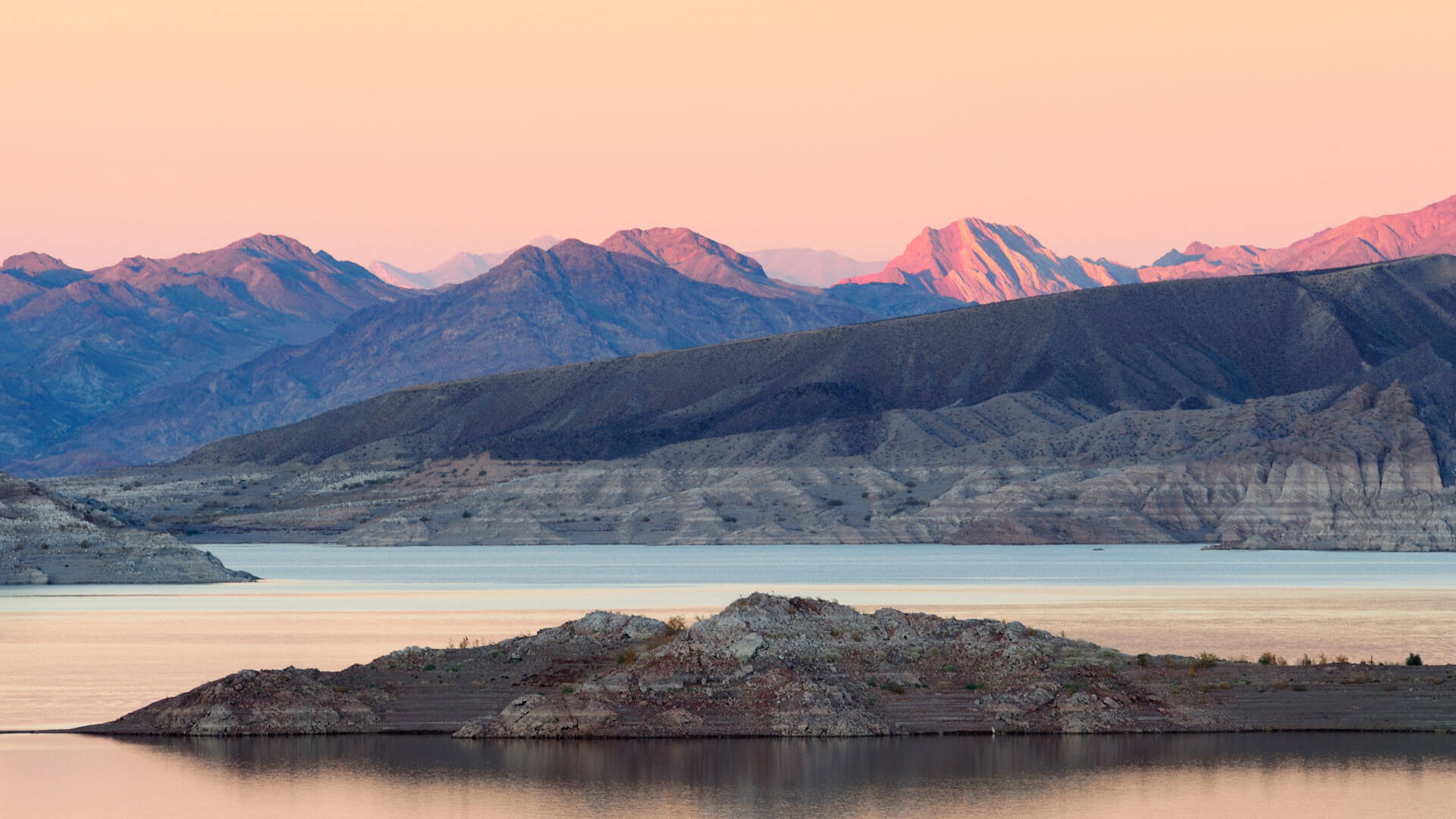 5. Lake Mead National Recreation Area: One of the largest man-made lakes in the world, Lake Mead was created by the Hoover Dam and today provides an oasis of outdoor recreational activities such as swimming, boating, waterskiing, scuba diving, fishing, hiking, biking and camping. Hike the Historic Railroad Trail for spectacular views of Lake Mead, Boulder Basin and Fortification Hill (bring plenty of water!). Other popular Lake Mead hiking trails include the River Mountains Loop, Owl Canyon, Bluffs, Callville Summit, Northshore Summit, Redstone, St. Thomas, Grapevine Canyon, Liberty Bell Arch, White Rock Canyon, Hot Spring Canyon, Lake View and Fisherman's. Lake Mead boasts approximately 550 miles of shoreline and is open 24 hours a day, seven days a week. The Alan Bible Visitor Center at Lake Mead is open daily from 8:30 AM to 4:30 PM. Lake Mead is just a short, 30-minute drive from Las Vegas.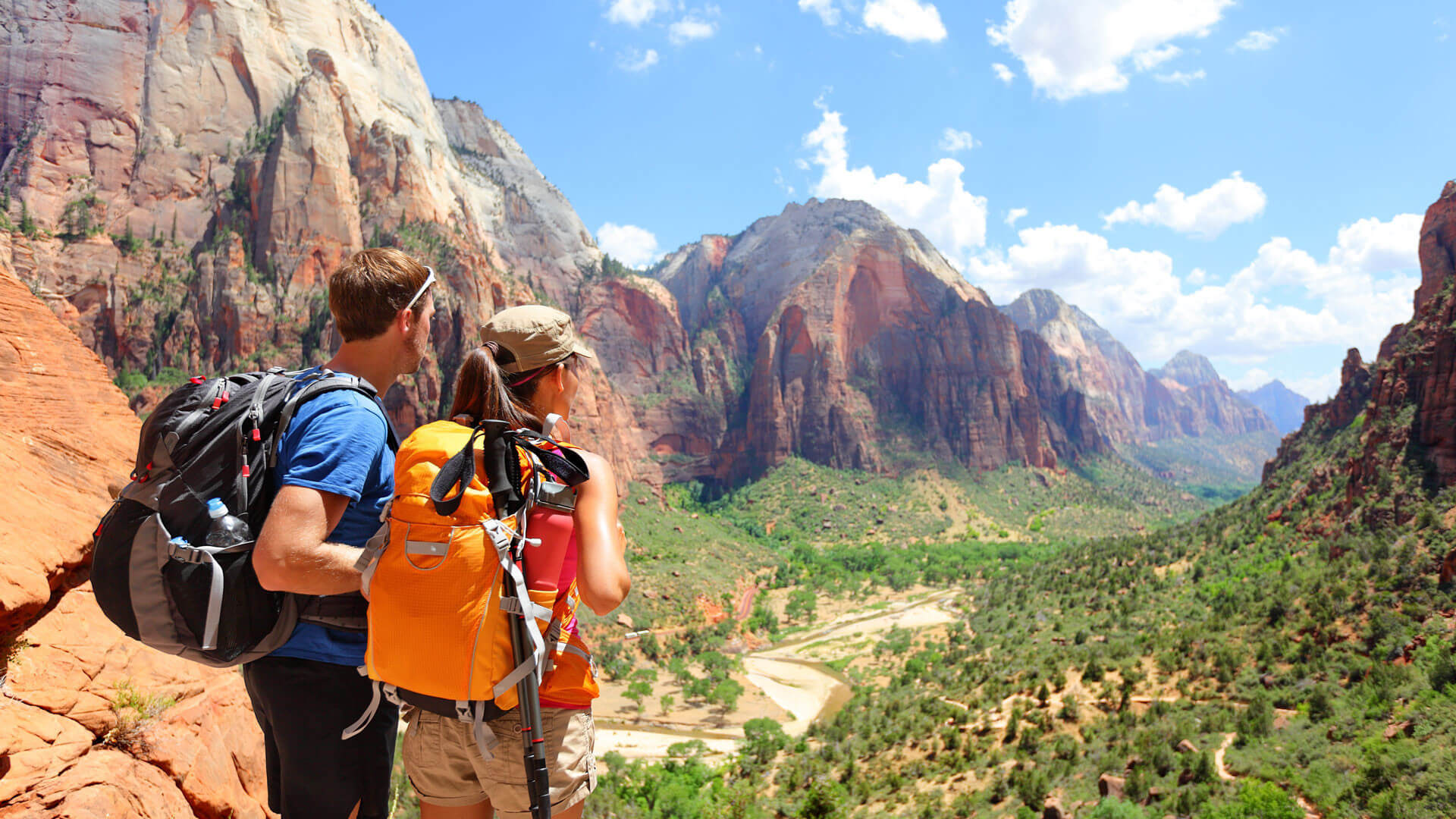 6. Zion National Park: Utah's first national park was established in 1919 and features amazing scenery in the form of high plateaus, striking towers, temples, mesas and the Earth's tallest-known sheer sandstone walls. Zion Canyon is the largest and most-visited canyon in the park. Popular recreational activities at Zion National Park include hiking, bicycling, canyoneering, backpacking (permit required), rock climbing (permit required) and river trips (permit required). By the way, "Zion" is a Hebrew word meaning "sanctuary" or "place of refuge." Scenes from the 1969 film Butch Cassidy and the Sundance Kid, which starred Paul Newman and Robert Redford, were shot at Zion National Park. The Zion Canyon Visitor Center is open daily from 8 AM to 5 PM and the Zion Human History Museum is open daily from 10 AM to 5 PM. Zion National Park is located approximately 160 miles Northeast of Las Vegas via I-15.
7. Bonnie Springs Ranch/Old Nevada: Gather the entire family and experience a taste of the Wild West at Old Nevada, a replica of an 1880's mining town, which is located at 115-acre Bonnie Springs Ranch. Built in 1843, Bonnie Spring Ranch once served as a stopover for wagon trains headed to California. Highlights of Bonnie Springs Ranch/Old Nevada include riding stables and guided horseback rides, petting zoo, pony rides, rock climbing, miniature train ride, museums, simulated gunfights and cemetery. Reportedly haunted, the Ranch was featured in an episode during the fourth season of the TV series Ghost Adventures in 2011. Enjoy a casual lunch or dinner at the Bonnie Springs Ranch Restaurant, which serves burgers, chicken, ribs and the famous authentic bison burger. Live entertainment takes place here on Friday and Saturday nights. Open Wednesday through Sunday from 10:30 AM to 5 PM (extended summer hours), the Bonnie Springs Ranch is about a 30-minute drive from Las Vegas off Highway 159 in the Red Rock Canyon area.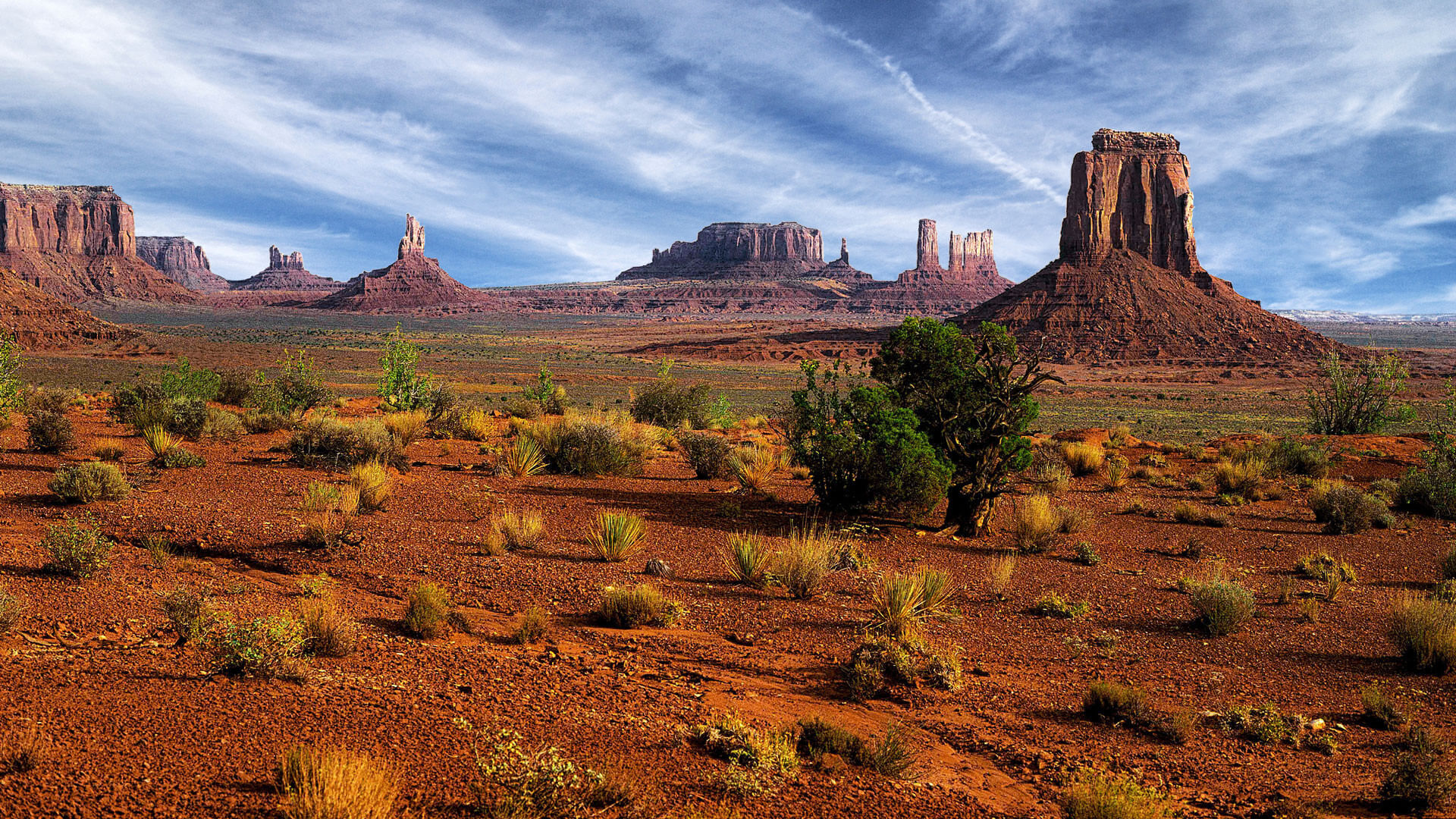 8. Death Valley National Park: Within a two-and-a-half-hour drive from Las Vegas just over the California border lies Death Valley, the hottest, driest and lowest U.S. national park. In addition, Death Valley, which comprises 3.4 million acres, is the largest national park outside of Alaska. Highlights of Death Valley include Dante's View, Devil's Golf Course, Zabriskie Point, Artist's Palette, Ubehebe Crater, Natural Bridge Canyon and Rhyolite Ghost Town. Don't miss a trip to Badwater Basin, the lowest place in North America at 282 feet below sea level. Popular recreational activities at Death Valley National Park include sightseeing, hiking, biking and camping (by permit only). The Furnace Creek Visitor Center & Museum at Death Valley is open daily from 8 AM to 5 PM. Travel tip: Bring plenty of water during your Death Valley excursion! Death Valley Trivia: Movies that feature scenes shot in Death Valley over the years include Star Wars (1977), Star Wars: Episode V – Return of the Jedi (1983), Zabriskie Point (1970), Spartacus (1960), National Lampoon's Vacation (1983), The Doors (1991), One-Eyed Jacks (1961), Greed (1925), The Hitcher (1986) and Robinson Crusoe on Mars (1964), among many others.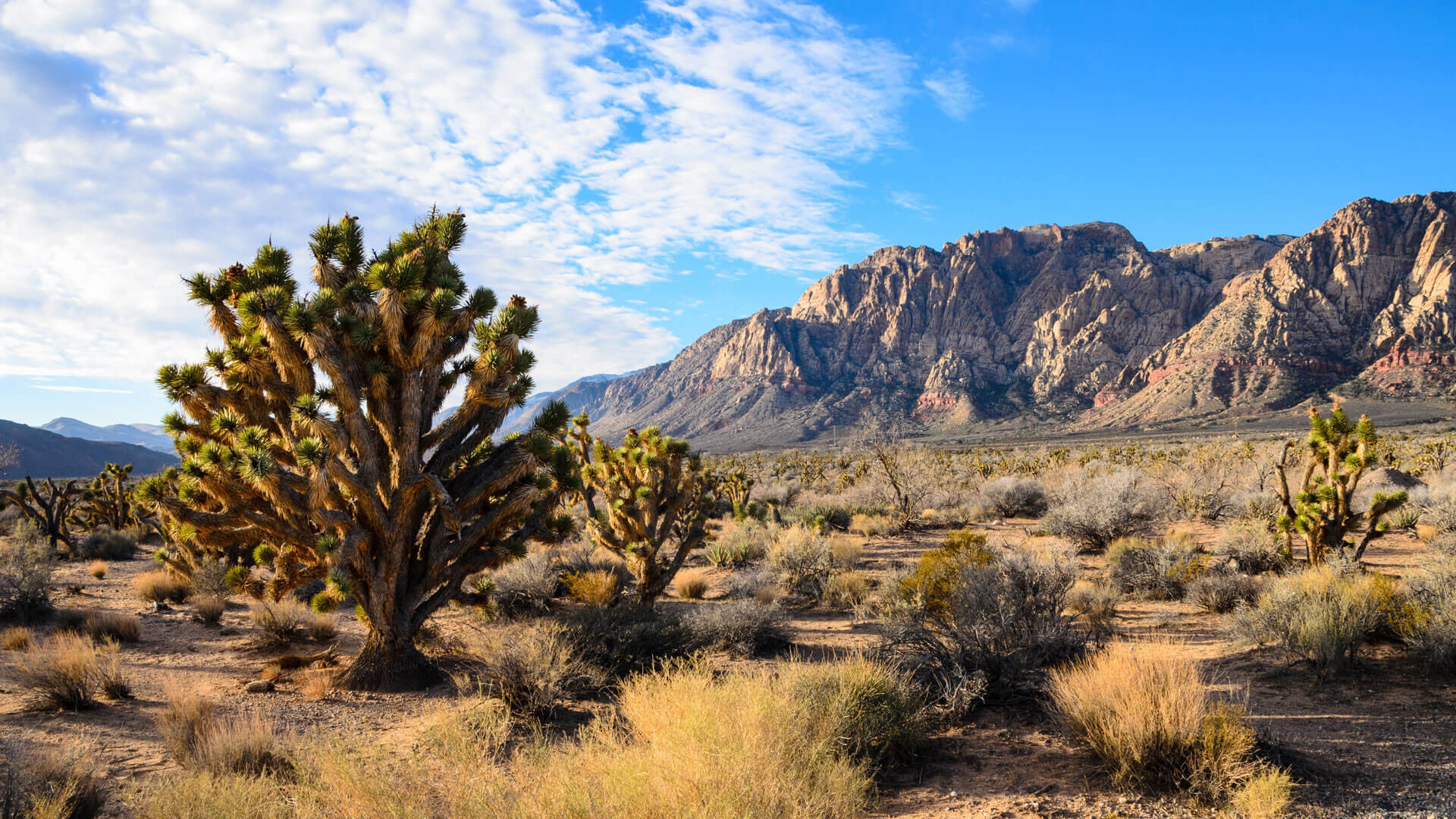 9. Spring Mountain Ranch State Park: Ideally located about 20 miles West of Las Vegas (via Charleston Boulevard) at the base of Red Rock Canyon, Spring Mountain Ranch State Park features a visitor center, picnic areas, hiking trails and historic sites such as the main ranch house, cabin and bunkhouse, blacksmith's shop, barn and corral, outhouse and family cemetery. Guided tours are available. Listed on the National Register of Historic Places, the actual Sandstone Ranch was established in 1876 as a working cattle ranch and at one time later owned as a luxury retreat by reclusive billionaire Howard Hughes (1905-76). Other past owners of the Ranch include Chester Lauck of the comedy team "Lum & Abner" and German actress Vera Krupp. In addition, outdoor concerts and other live events are scheduled on the grounds of the Spring Mountain Ranch State Park throughout the year.
10. Lost City Museum of Archeology: Established by the National Park Service in 1935 and originally known as the Boulder Dam Park Museum, the Lost City Museum of Archeology in Overton, Nevada, features a fascinating collection of Native American artifacts recovered from the Pueblo Grande de Nevada. The Lost City Museum also contains a research library and conducts numerous outreach programs throughout the year. A shaded picnic area and grill are also available for visitors on the premises. The Lost City Museum of Archeology is located about 65 miles Northeast of Las Vegas via I-15 and State Road 169. It is open daily from 8:30 AM to 4:30 PM (except Thanksgiving Day, Christmas Day and New Year's Day).
Feeling a romantic getaway to Las Vegas in your future? Check out these great things to do in Las Vegas for couples on Westgate's travel blog! Whether you're looking to stay off the strip at Westgate Flamingo Bay Resort or adjacent to the convention center at Westgate Las Vegas Resort & Casino, you can relax in a spacious villa as you get ready for tomorrow's perfect Las Vegas Day Trip.
At Westgate Resorts, when you Check-In, there's a LOT to Check-Out! Your Las Vegas vacation awaits! Explore our Las Vegas resorts today or talk with a vacation planner at 888-852-2959 or 407-355-2690.
When You Check-in, There's a Lot to Check Out
Sign up for our newsletter and check-in to great offers, secret stuff, and special events.