6 Ways to Make The Most of Your Next Universal Adventure!
6 Ways to Make the Most of Your Next Universal Adventure!
"It does not do well to dwell on dreams and forget to live." ― Albus Dumbledore
If you're looking for things to do in Orlando, chances are Universal Studios has hit your radar or search results on your mobile more than a few times! And let me tell you,... Universal Orlando Resorts, wow! If you haven't been in a while, be prepared for a delightful shock, there are several tantalizing new attractions that are a must to check out! Now, before you start flying around like a Dementor towards Hogwarts Castle, let's first go over 6 Ways to Make the Most of Your Next Universal Adventure!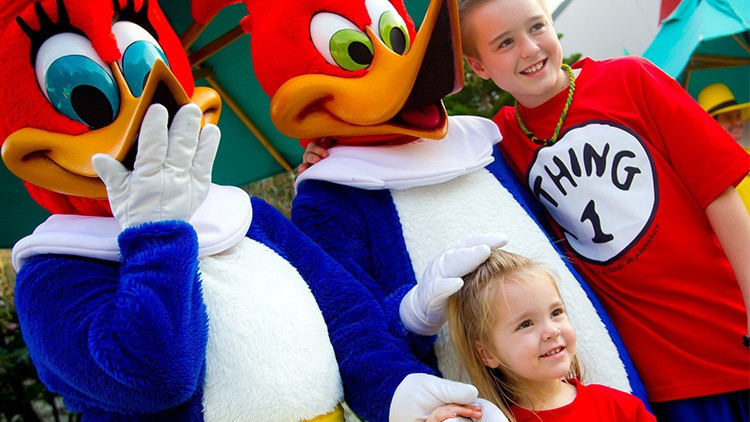 1. Universal Orlando Resort VIP Tour Experience
First things first, the extra coin for the Universal Orlando Resort VIP Tour Experience is worth every penny and I highly recommend it! The Universal Orlando Resort VIP Tour Experience is the coolest thing since sliced Butterbeer Fudge! The tour gives you the red-carpet treatment on a 5 to 7 hour behind the scenes, line cutting, taste testing tour of all things Universal Orlando Resort! With your tour guide you will be able to bypass long lines on a minimum of 8 attractions, which is epic! Remember to take full advantage of your tour guide as much as possible, when you want to get that awesome family/group picture you won't be the one left out of the priceless shot, instead just motion over to your tour guide and they magically become portrait photographer extraordinaire! Also, don't feel like you need to leave someone in your group watching your bags while the rest of you enjoy the ride, nope, that's what the tour guide is for, how great is that?!?!
2. Wand Experience at Ollivanders
Now if there are any young wizards or witches looking to join the ranks of some of the all-time greats in your party, then I suggest heading on over to Ollivanders! With two locations, one at Diagon Alley and the other at Hogsmeade, you will not want to miss checking out Ollivanders along with the opportunity to grab the coolest souvenir for any Harry Potter fanatic. Don't make the easy mistake of just going in and purchasing your favorite wand, make sure you show up for the wand experience, your little wizard might get picked to be the wizard for the show and have a very special wand choose them!
3. The Bourne Stuntacular
Located in what used to be the theatre for T2-3D: Battle Across Time, The Bourne Stuntacular is a no holds barred action packed stunt show blended together with innovative Broadway stage stylings. Sporting a 20-foot-tall 100-foot-wide ultra-high def screen acting as the backdrop, when the show starts your eyes will not believe what they see! With amazing stunts, car chases, and explosions throughout the show the Bourne Stuntacular is a stop you absolutely can't miss while on your visit at Universal. One last thing though, keep your eyes and ears alert and see if you can pick out those Easter eggs paying homage to T2-3D: Battle Across Time and the Terminator franchise!
4. The Incredible Hulk Coaster
If you are an adrenalin junkie then you might as well just stick with riding The Incredible Hulk Coaster for your entire visit, it is that good! With a total ride time a little over 2 minutes, being launched from 0 to 40 mph in 2 seconds and pushing you to a whopping 4 G's, that 2-minute travel time can feel like a Gamma Radiated eternity (which is a rarity these days when it comes to roller coasters)! With over 100-foot drops, loops, rolls, and tight turns around every bend, The Incredible Hulk Coaster is a multiple ride coaster if there ever was one!
5. Hagrid's Magical Creatures Motorbike Adventure
Lovingly known as just "Hagrid's" by Universal regulars, Hagrid's Magical Creatures Motorbike Adventure, is quite possibly my new favorite roller coaster, and I'll tell you why, for a decent coaster it's about as family friendly as they get! Harry Potter fans will love it too, Hagrid's does a great job of bringing the mythos and storytelling of Harry Potter to you and all your fellow muggle riders, taking you on an adventure that seamlessly fits into the Harry Potter cannon. Word to the wise though, I recommend getting to Hagrid's ASAP, if you can get on an early morning ride you will save yourself from a possible 300-minute wait in the afternoon!
6. Volcano Bay
While you're here in Orlando on your Universal Resorts escape, do not forget to take at least a day to visit Volcano Bay. Volcano Bay is equal parts Polynesian inspired relaxation mixed with erupting Volcanic water park excitement! For those looking to just chill on the beach (yes, there is sand on the beach!) and escape the summer heat, Volcano Bay has all you will need, just sit back in one of the many lounge chairs in the sand and order your favorite tropical cocktail, I recommend the Tiki Punch at the Kunuku Boat Bar to get that island tranquility started. On the other hand, if you need some aquatic adrenaline then Volcano Bay has your vice in spades! With epic water slides, such as the Krakatau Aqua Coaster and the Ko'kiri Body Plunge, along with the multi-directional wave pool at Waturi Beach and TeAwa The Fearless River, before you know it you will never want to leave your new favorite water park, Volcano Bay!
Beating Expectations
As you can see Universal Orlando Resorts continues to up the ante on what is expected from theme parks. Never resting on their laurels (as you can plainly see), Universal Orlando Resorts manages to always push the envelope to create new experiences that not only shock and awe, but also help build lifelong magical memories for vacationers from around the globe.
Now if you're interested in learning about the different safety measures the theme parks are taking to help keep people safe and healthy, I recommend checking out the Theme Park Roundup! 5 Parks Sound Off On Safety Policies Now In Place!

RELATED ARTICLE:
At Westgate Resorts, when you Check-In, there's a LOT to Check-Out! Your Orlando vacation awaits! Explore our Orlando resorts today or talk with a vacation planner at 888-852-2959 or 407-355-2690.
When You Check-in, There's a Lot to Check Out
Sign up for our newsletter and check-in to great offers, secret stuff, and special events.