Westgate Celebrity Chefs Las Vegas: Steve Young
Westgate Celebrity Chefs Las Vegas: Steve Young
As Executive Chef of Edge Steakhouse at Westgate Las Vegas Resort & Casino, Steve Young's exceptional passion for food comes through in every dish served at the award-winning eatery. According to Young, technique is the most important thing a chef must have to be successful. "You have to have technique first," remarked Chef Steve in a 2018 interview with Las Vegas Magazine. "If you don't have the technique, your dish will never be good. Whatever ingredient you use or whatever season it is, you have to have solid technique."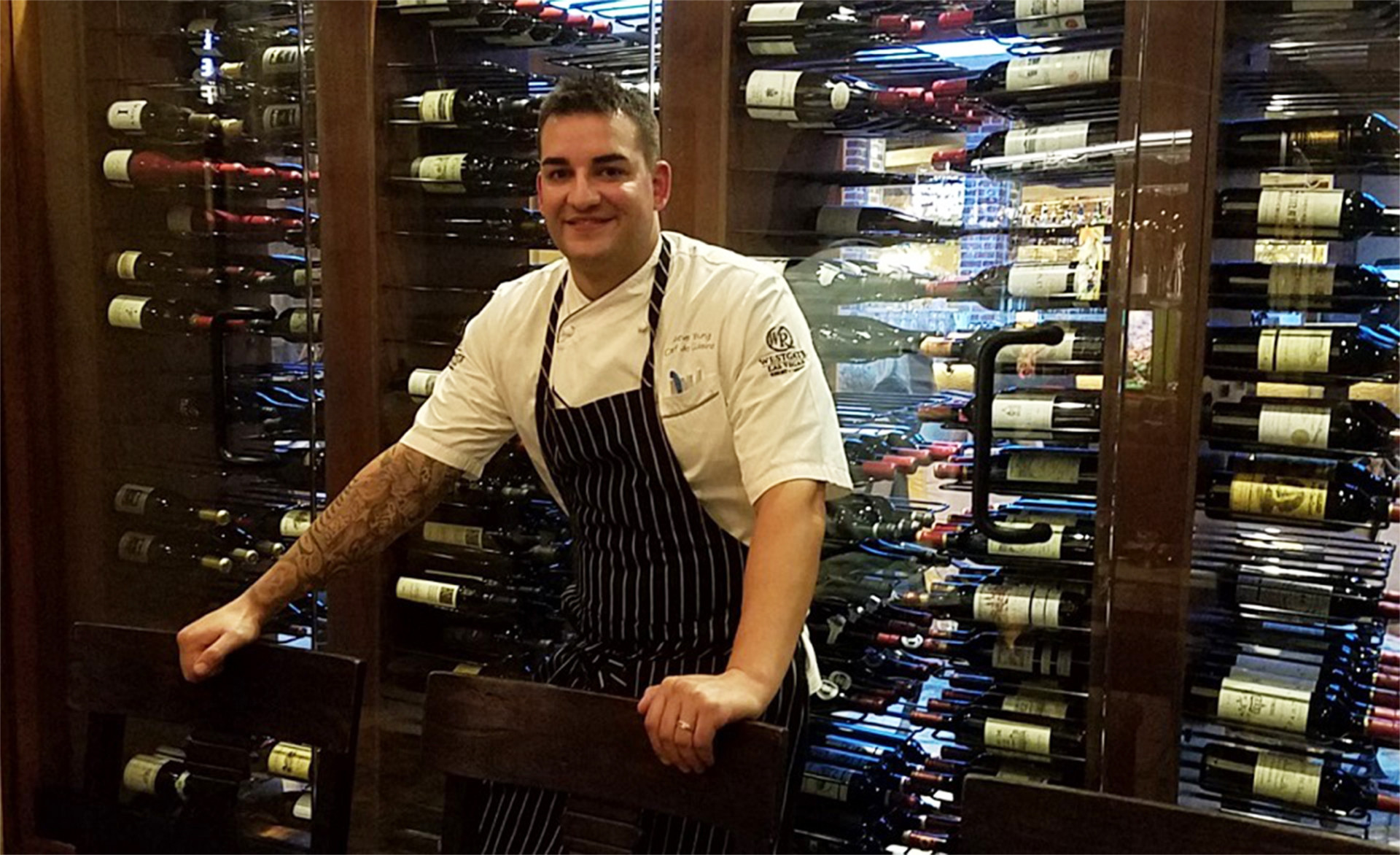 A native of New Jersey, Chef Steve began learning culinary techniques as a teenager, cooking authentic Italian food under the tutelage of his mother and grandmother. He soon found employment at the kitchen of a local country club where the cooks there showed him the ropes. In 2005, Young earned an associate degree in culinary and business management at The Art Institute of New York City and soon after served as sous chef at Due Mari/Due Terre in New Jersey. After moving to Las Vegas in 2008, Chef Steve honed his craft at several critically acclaimed hotel eateries, including Joël Robuchon at the MGM Grand and The Henry at The Cosmopolitan of Las Vegas.
In 2015, Chef Steve joined the award-winning culinary team at Westgate Las Vegas Resort & Casino and opened its signature restaurant, Edge Steakhouse. "I came in here ready to create one of the best steakhouses in town," remarked Young. "From training with the cooks, building the kitchen from scratch, to designing the menu. It was a large amount of work, probably the most challenging opening for just a restaurant that I've ever been part of, but without a doubt the most rewarding." Billed as "the cutting edge of perfection," Edge Steakhouse blends traditional American steakhouse favorites with an impressive array of specialty appetizers, creative entrees, innovative side dishes and an extensive wine selection. Chef Steve cites the lamb and sunchoke ravioli as two of the highlights of the diverse Edge Steakhouse menu, which includes top-quality USDA Certified Prime Aged Beef, Wagyu Beef, wild caught fresh fish and seafood flown in daily.
Chef Steve has received numerous accolades over the years for his culinary expertise that include being awarded the 40 under 40 of Las Vegas. Young was also awarded a "Top Chef Medal" at the 2016 Las Vegas Food & Wine Festival. In 2017, Chef Steve joined his fellow chefs from Westgate Las Vegas to cook at a Valentine's Day dinner event titled "Valentine's Day with a Vegas Kiss" for the prestigious James Beard Foundation in New York City. The following month, Young was named "Best New Chef/Rising Star" at the 2017 Silver State Culinary Awards. In accepting the award, Chef Steve remarked, "Passion for what you do comes from within. Work ethic grows throughout time, and integrity is what defines you!"
In a review of Edge Steakhouse, the Las Vegas Weekly raved, "the menu, directed by chef de cuisine Steve Young, is updated and ideal, and the service … simply sparkles. … It's a fine-dining experience with comparable prices where you get what you pay for – terrific food and total satisfaction." According to food blogger Dana Vento of Lavishly Living Life Out Loud, "Executive Chef Steve Young offers indescribable and unsurpassable culinary talent, with a charisma and passion that translates into everything he creates!" Stop by Edge Steakhouse at Westgate Las Vegas Resort & Casino soon and experience for yourself some of the brilliant culinary creations of Chef Steve Young.
At Westgate Resorts, when you Check-In, there's a LOT to Check-Out! Your vacation awaits. Start planning your next vacation today or talk with a vacation planner at 888-852-2959 or 407-355-2690.
When You Check-in, There's a Lot to Check Out
Sign up for our newsletter and check-in to great offers, secret stuff, and special events.