Westgate Resorts Creates Specialty "Ukrainian Lemon-Aid" Cocktail to Raise Money for Ukraine
Mar 08, 2022
$5 of each drink sold will be donated toward humanitarian efforts in Ukraine.
Orlando, Fla. – March 8, 2022 – Westgate Resorts, in a sign of solidarity with the people of Ukraine, announced today the creation of a new specialty cocktail with a cause "Ukrainian Lemon-Aid." This specialty cocktail will be sold at Westgate bars and restaurants across the country to assist with the humanitarian efforts underway in Ukraine to help those that have been impacted by this devastating war. The Westgate Foundation will donate $5 from each cocktail to World Central Kitchen, a charity serving meals prepared by world renowned chef José Andrés, to Ukrainians displaced from their homes by this terrible crisis.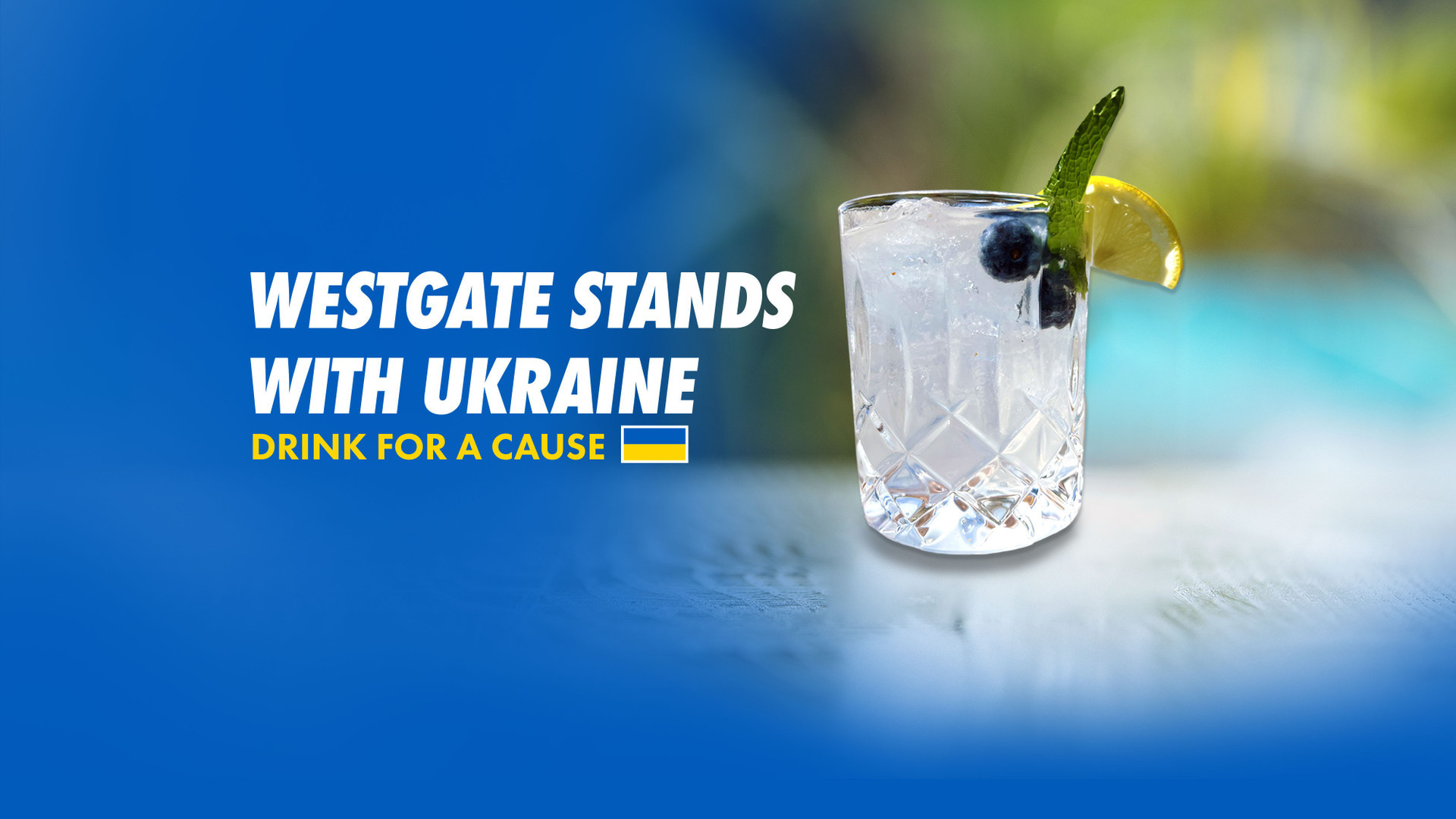 "Ukrainian Lemon-Aid" is made with Tito's Handmade American Vodka, lemonade, fresh mint and blueberries. "As the news pours in about Ukraine and what Ukrainian families and citizens are going through, we wanted to find a way to help," said Chief Operating Officer Mark Waltrip. "We came up with the idea of using an American-made vodka and incorporating the colors of the Ukrainian flag to show unity and financial support to ease suffering during this awful conflict. We know that drinking a cocktail can't change the world, but now it can at least help feed a Ukrainian family in need, and our American love and support can be felt." Westgate also announced today that it will not serve any products produced in Russia at its restaurants and bars in an additional sign of solidarity with the people of Ukraine.
The Westgate Foundation helps Westgate Team Members during struggles and times of need in their daily lives, while also giving back to our community through donations, grants, volunteer work and more. The Westgate Foundation will continue to monitor the situation in and around Ukraine and will pivot and adjust local efforts as necessary to ensure the greatest impact is made.
Participating resort locations include: Orlando: Westgate Lakes Resort & Spa, Drafts Sports Bar & Grill; Westgate Palace Resort, Drafts Sports Bar & Grill Express; Westgate Vacation Villas & Town Center Resort, Drafts Sports Bar & Grill, Villa Italiano Chophouse; Las Vegas: Westgate Las Vegas Resort & Casino, Edge Steakhouse, Fresco Italiano, Benihana, Silk Road Asian Bistro, Sid's, The International Bar, Rikki Tiki Sushi, Superbook Bar; Myrtle Beach: Westgate Myrtle Beach Oceanfront Resort, Drafts Sports Bar & Grill; Branson: Westgate Branson Woods Resort, Drafts Sports Bar & Grill; Park City: Westgate Park City Resort & Spa, Edge Steakhouse, Drafts Burger Bar; New York City: Westgate New York Grand Central, Tudor City Tavern; Gatlinburg: Westgate Smoky Mountain Resort & Water Park, Southern Comfort Restaurant & Lobby Bar; Pigeon Forge: Wild Bear Inn, Wild Bear Tavern; River Ranch: Westgate River Ranch Resort & Rodeo, Smokehouse Grill, River Ranch Cattle Company Chophouse & Bar.
About Westgate Resorts
Westgate Resorts is the largest privately-held timeshare company in the world and one of the largest resort developers in the United States. Founded in 1982 by David Siegel, the company is headquartered in Orlando with eight Orlando hotel resorts and 22 themed destination resorts nationwide, featuring more than 14,000 luxury villas and hotel rooms in popular vacation destinations throughout the United States such as Orlando and Cocoa Beach, Florida; New York City, New York; Park City, Utah; Las Vegas, Nevada; Gatlinburg and Pigeon Forge, Tennessee; Myrtle Beach, South Carolina; Williamsburg, Virginia; Branson, Missouri; and Mesa, Arizona. In 2022, the company launched the cutting-edge World of Westgate (WOW) Loyalty Program, an exclusive program that rewards Westgate Owners and Hotel Guests with prestigious perks and privileges at no added cost. The company has garnered many distinct accolades, including the 2022 ACE Project of Excellence Award from the American Resort Development Association (ARDA) for Westgate River Ranch Resort & Rodeo, recognition from Forbes Travel Advisor ranking Westgate Park City Resort & Spa as a recommended resort in its 2022 Star Awards and 73 Best of State Awards for Westgate Park City Resort & Spa after winning 10 years in a row. Westgate Resorts locations are known to feature a variety of unique restaurant, retail and spa concepts, including Los Amigos Mexican Grill & Tequila Bar, Villa Italiano Chophouse, Drafts Burger Bar, Edge Steakhouse, Westgate Marketplace & Deli and Serenity Spa by Westgate. For more information about Westgate Resorts, visit www.westgateresorts.com. Visit Westgate Resorts on LinkedIn, Instagram and Facebook.