Westgate River Ranch Resort & Rodeo Unveils Singer- Songwriter Series
Aug 19, 2021
LAKE WALES, FL: August 19, 2021 – Westgate River Ranch Resort & Rodeo announced today the launch of the Westgate River Ranch Nashville Singer-Songwriter Series, featuring a lineup of accomplished Nashville musicians set to perform at the Westgate River Ranch Saddle Back Pavilion starting Wednesday, Aug. 25.
Starting at 8:30 p.m., each concert is available to all guests and special packages are available. Shows will be hosted by Nashville-favorite Chris Weaver.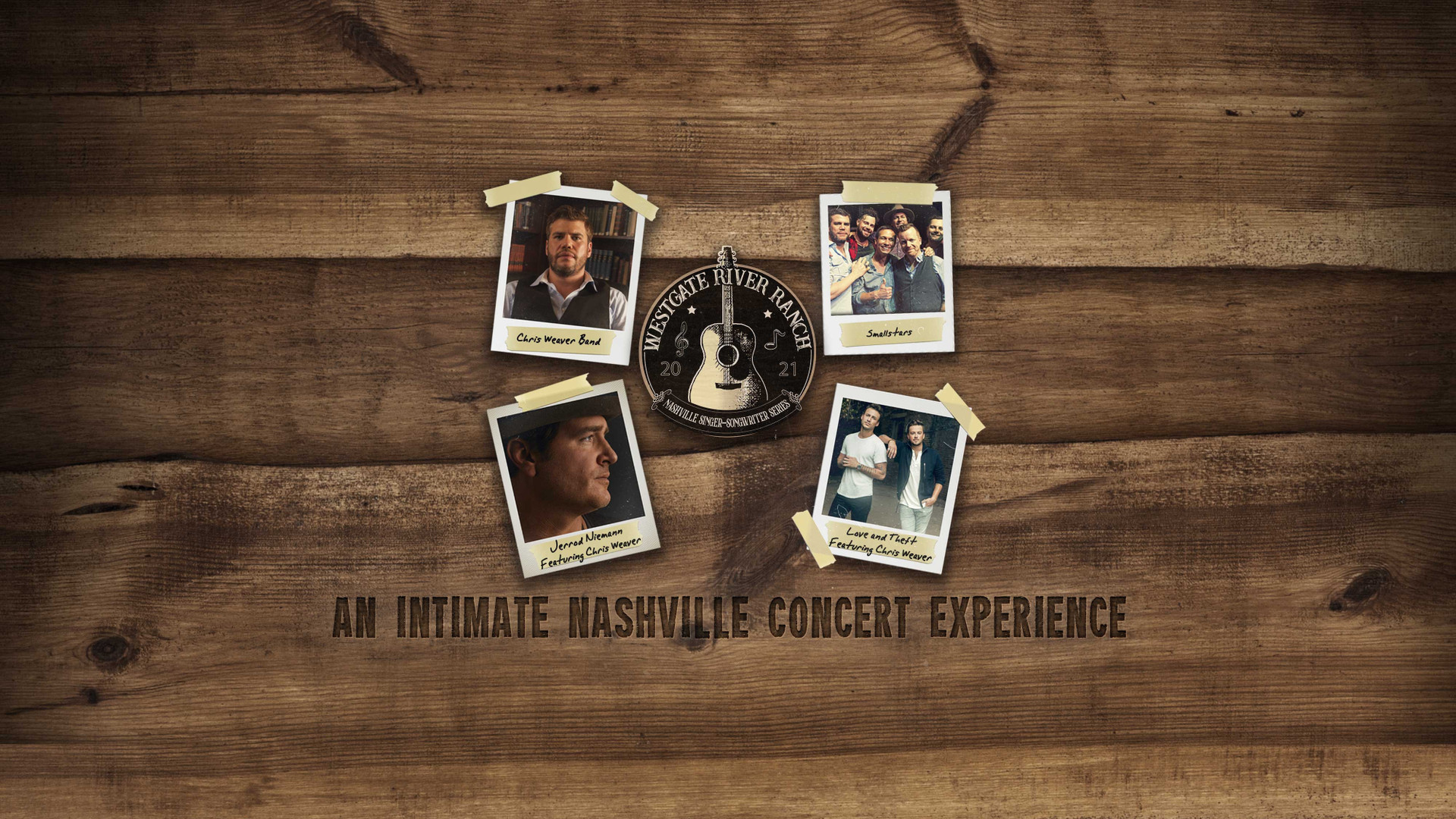 "This is going to be a really unique experience, allowing guests to have an intimate listening experience with these talented Nashville artists," says Chief Operating Officer Mark Waltrip. "The singers will interact with the audience and share their stories and inspiration behind their music."
Below is a full schedule of Westgate River Ranch's Singer-Songwriter Series
Wednesday, Aug. 25 – Chris Weaver Band. A Nashville favorite, the Chris Weaver Band has opened for headliners such as John Mellencamp and Chicago.

Wednesday, Sept. 22 – Love and Theft. Love and Theft have topped the country charts multiple times, reaching no. 1 on Billboard's Hot Country Songs for their single 'Angel Eyes'
Wednesday, Oct. 6 – Jerrod Niemann. An accomplished country artist with numerous platinum records under his belt, Jerrod Niemann is best known for his hit songs 'Drink to That All Night' and 'Lover, Lover'

Thursday, Nov. 18 – Smallstars. The Smallstars are an "all-star" group of songwriters and musicians who have come together in support of one another and their shared passion for music
Westgate River Ranch Resort & Rodeo is the largest dude ranch east of the Mississippi River, specializing in providing guests a one-of-a-kind Glamping experience in accommodations such as Luxe Teepees and Luxe Conestoga Wagons. Days at the Ranch are spent disconnecting from daily stress and diving into nature while guests ride horses, swamp buggies and airboats. Visitors can also take advantage of a wide range of outdoor activities, including archery, fishing, and the adventure park. On Saturdays, the Ranch offers a hayride dinner complete with a singing cowboy, followed by the one-and-only Westgate Rodeo.
ABOUT WESTGATE RESORTS
Westgate Resorts is the largest privately held timeshare company in the world and one of the largest resort developers in the United States. Founded in 1982 by David Siegel, the company is headquartered in Orlando with seven Orlando hotels, and 27 themed destination resorts nationwide, featuring more than 15,000 luxury villas and hotel rooms in popular vacation destinations throughout the United States such as Miami, Orlando and Cocoa Beach, Florida; New York City, New York; Park City, Utah; Las Vegas, Nevada; Gatlinburg and Pigeon Forge, Tennessee; Myrtle Beach, South Carolina; Williamsburg, Virginia; Branson, Missouri; Mesa, Arizona; and Tunica, Mississippi. Most Westgate Resorts locations feature a variety of unique restaurant, retail and spa concepts, including Drafts Burger Bar, Edge Steakhouse, Westgate Marketplace & Deli and Serenity Spa by Westgate. For more information about Westgate Resorts, visit www.westgateresorts.com.