10 Tips for Planning Your NYC Wedding with a Memorable 'I Do'
10 Tips to Make Your NYC Wedding Memorable
What does your dream NYC wedding look like? Perhaps you've been dreaming of a rooftop ceremony, or maybe a classic church wedding is more your thing. Whatever your preference, there's no shortage of wedding venues in NYC to help you achieve that memorable "I do." A wedding is the culmination of a lot of hard work. In order to make your special day as memorable as can be, careful research and preparation is an absolute must! Luckily, there are so many things to do in NYC, so you won't be short on choices.
Wedding Venues in NYC
It's true. There are so many amazing options for a NYC wedding to remember. The Big Apple offers wedding options for every taste, style and budget. We're going to be breaking down the NYC wedding scene and providing you with 10 top tips for planning some truly memorable New York City nuptials. So, whether you're after traditional or something a little bit unique, there's no time like the present to start that all-important wedding planning. Let's dive in!
1 | Pick Your Accommodation Wisely| When it comes to curating the perfect wedding ceremony and reception, it's about more than the event itself. You'll want to make sure that you and your guests have somewhere equally special to spend the night after the party is over. NYC has some of the most stunning hotels and resorts around. Finding your ideal resort or hotel will ensure that your day has every chance of being a glorious success. Westgate New York Grand Central is located in a truly romantic setting, complete with elegant guestrooms and suites with panoramic NYC views for you and your guests to enjoy. Plus, as a Westgate Resorts location, Westgate New York Grand Central offers a range of military discounts and group packages.
WHERE: 304 East 42nd Street, New York, NY 10017 | WHO: 877-878-9873
2 | Make the Most of The Big Apple | If you're lucky enough to be hosting your wedding in New York City, then make sure you're making the most of what this wonderful city has to offer. A New York wedding isn't just a wedding, it's an experience for all involved. Why not incorporate some classic New York activities into your guests' itinerary. This will make your wedding one of a kind and guarantee that everyone goes home with some fantastic memories. We recommend a trip to Brooklyn Bridge, Central Park or the Empire State Building – why not all three? – to top off your special day. The Empire State Building offers group discounts to groups with more than 20 people, so why not treat your wedding party to an experience they're sure to remember!
WHERE: 20 West 29th Street, New York, NY 10001 | WHO: 212-736-3100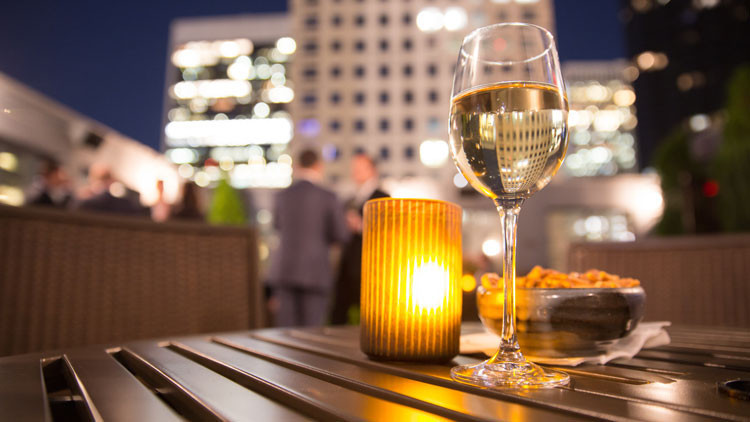 3 | Go All Out for The Rehearsal Dinner | There really is no better place than New York for a rehearsal dinner. With so many restaurants to choose from, this is your opportunity to celebrate and enjoy some amazing food before your big day. Whether you want something cheap and cheerful –New York Pizza never disappoints – classic cuisine or some international flavors, there's something for every set of tastebuds in this city. For an elegant New York dinner, we recommend 620 Loft & Garden at the Rockefeller Center. Here you and your guests can enjoy dinner with a striking view of Manhattan's city lights from this simply gorgeous outdoor events location.
WHERE: 620 5th Avenue, New York, NY 10020 | WHO: 212-632-5000
4 | Fresh Flowers are Always a Winner | Flowers are synonymous with weddings. And for good reason. They're the final touch that makes all the difference. With so many florists in NYC, it can be difficult to know where to start. You'll want to source an experienced wedding florist who can create custom bouquets to match the theme of your special day. Starbright Floral Design is one of the most sought after florists in New York and the business has created some truly breathtaking designs for their clients. But make sure you get in early, these guys get booked up fast.
WHERE: 140 West 26th Street, New York, NY 10001 | WHO: 212-229-1610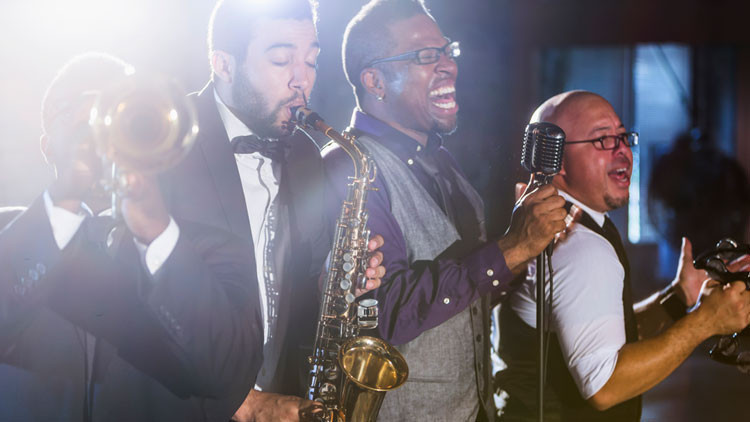 5 | Show Your Wedding Guests a Good Time | It's time to think about entertainment. After the ceremony is over and your guests have been suitably wined and dined, it's important to finish off the evening with some killer entertainment. Sourcing a wedding band isn't always easy, and the best acts tend to be booked far in advance, so make sure you get to this as soon as possible. Around Town Entertainment has been voted as one of the best wedding bands in NYC. The company works with a range of award-winning live bands and promises to create a magical atmosphere at any event.
WHERE: 141 West 54th Street, Suite 1F, New York, NY 10019 | WHO: 917-679-8636
RELATED ARTICLES
10 New York City Mansions That Are Worth A Visit
6 | Pick an Awesome Venue | One of the most important decisions you're going to make is the wedding venue itself. New York is brimming with places to tie the knot, but that doesn't mean they're all going to deliver that vibe and feeling that you're looking for. If you ask us, there's a clear winner for weddings in the Big Apple and that's the Tribeca Rooftop. The Tribeca Rooftop is totally mesmerizing and is arguably one of New York's premier event spaces. Located in the trendy downtown neighborhoods of Tribeca, this place wows in all respects. From the rooftop to the stunning glass atrium, your wedding party will be blown away. The location is a super chic 1920s printing press building, and the team here know weddings through and through. Stunning location? Check! Amazing food and drink? Check!
WHERE: 10 Desbrosses St, New York, NY 10013 | WHO: 212-625-2600
7 | Go All Out for the Bachelor/Bachelorette Party | No wedding experience is complete without a memorable bachelor/bachelorette night. If you're looking for an altogether classier affair, then we'd recommend heading to one of the city's many stunning rooftop bars. Here you can ride out your single years in style accompanied by friends, family and plenty of delicious beverages. Westlight is one of New York's finest. This rooftop bar is essentially a glass box at the top of Greenpoint's tallest skyscraper and offers panoramic views of the city skyline. It's a real winner!
WHERE: 111 North 12th Street, Brooklyn, New York, NY 11249 | WHO: 718-307-7100
8 | Visit the Botanical Garden as Newlyweds| When it comes to planning wedding ceremonies, the process tends to stop after the wedding day itself. But you're going to be in New York City, so why not make the most of it? The day after your wedding day is the perfect opportunity to spend some quality time with your new spouse. And, there's no better place to soak in the events of your big day than the New York Botanical Gardens. Take a romantic walk with your spouse and chat about all your favorite memories from the night before.
WHERE: 2900 Southern BLVD, Bronx, New York, NY 10458 | WHO: 718-817-8700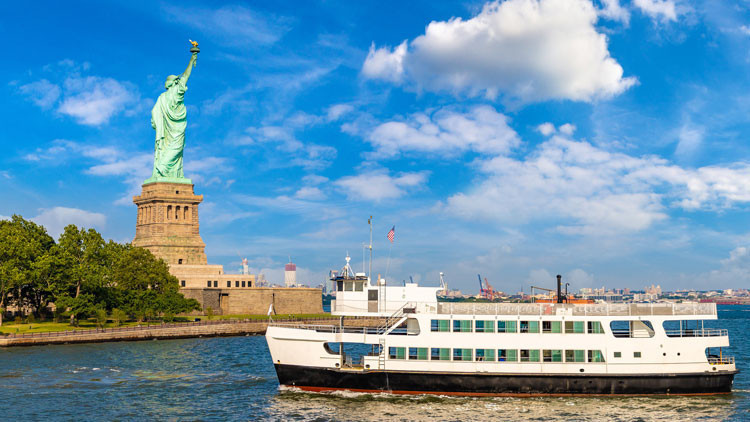 9 | Take a Cruise Along the Hudson River | After your romantic walk through the Botanical Gardens, why not take a romantic cruise along the Hudson River? Hudson River cruises are one of the best ways to see New York City's sights. Cruises last approximately two and a half hours and take you through all of the major historic sights and landmarks along the way. It's the perfect way to spend an afternoon with your new spouse while soaking up some New York City facts and culture. Plus, it's one of the many places to take pictures in NYC.
WHERE: 1 East Strand Street, Kingston, New York, NY 12401 | WHO: 845-340-4700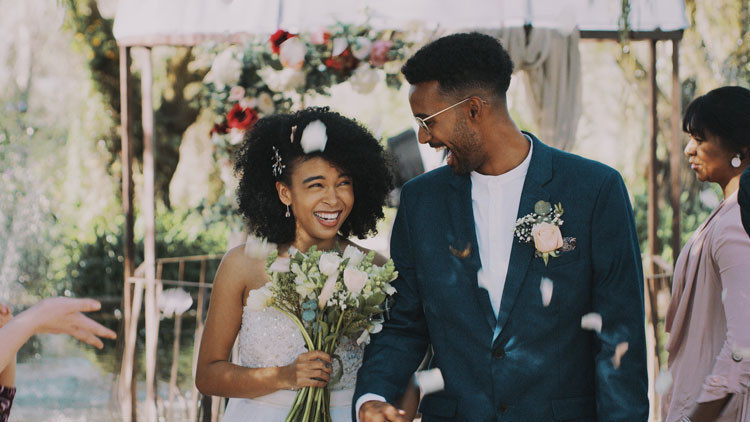 10 | Get the Perfect Pictures | Last but absolutely not least, let's talk about your wedding photographer. For a day this special, you'll want someone who can capture the true essence of your celebration. It's worth doing some research before picking a photographer for your wedding. Wedding photography is a matter of personal taste. Look for a photographer who understands your unique style and vision. There are tons of super talented photographers in New York City. One favorite seems to be Emma Cleary Photo and Video for stunning documentary-style photos.
WHERE: 245 East 35th Street, New York, NY 10016 | WHO: 646-662-7241
Use Our Handy Map to Find Your Way Around!
Last Tips for Planning Your NYC Wedding
Outside of this list, there are so many ways to create a magical New York City wedding to remember. The Big Apple is full of hidden gems, so take some time to think about the unique features that will make your wedding special to you. Luckily, New York has no shortage of amazing venues, restaurants, sights and entertainment that are sure to make your wedding one of a kind. For more wedding planning tips, visit the Westgate Resorts Blog.

RELATED ARTICLE: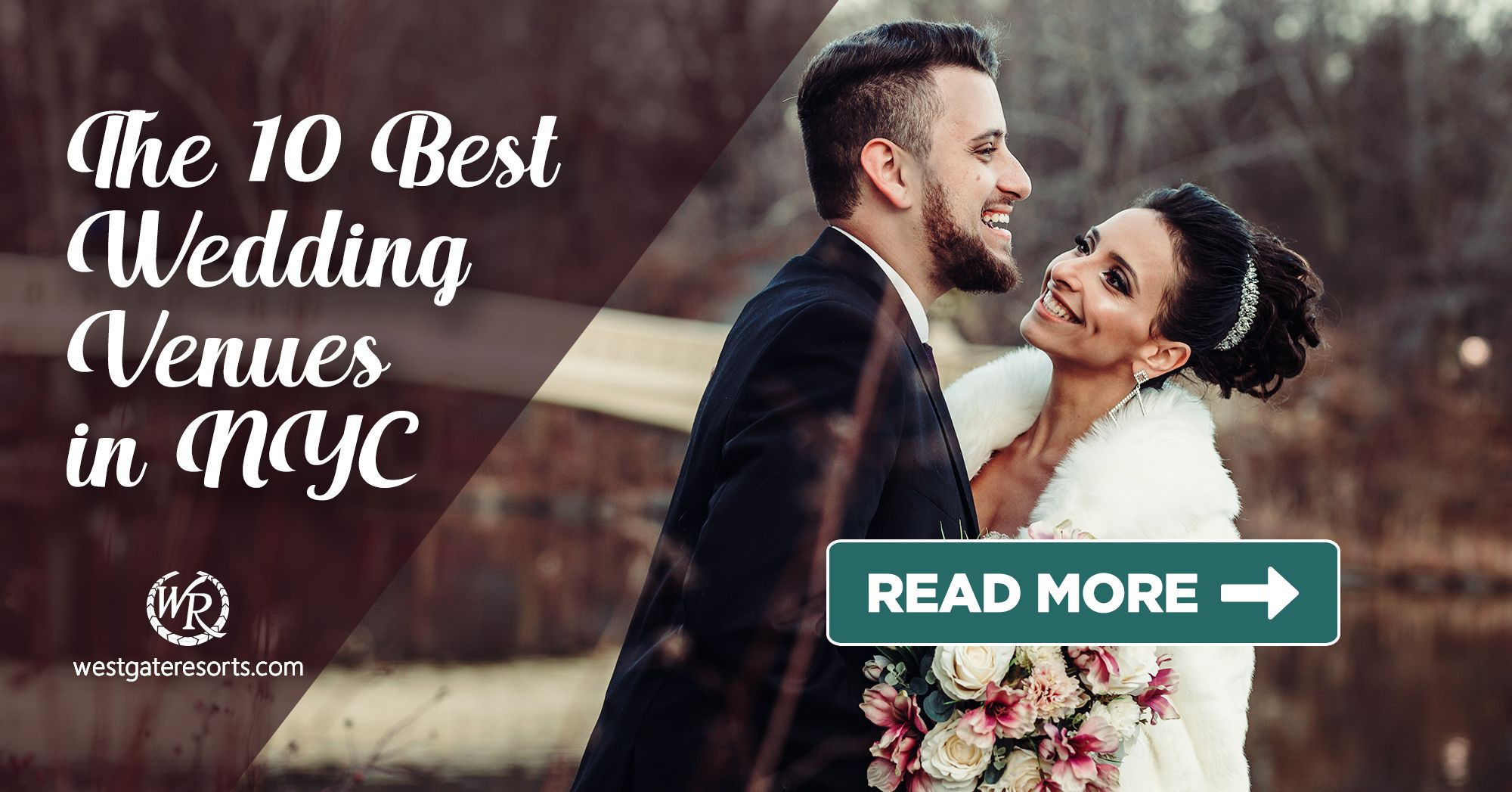 At Westgate Resorts, when you Check-In, there's a LOT to Check-Out! Your vacation awaits! Start planning your next vacation today or talk with a vacation planner at 888-852-2959 or 407-355-2690.
* Westgate Resorts is in no way affiliated with the attractions featured in this article. Items or places listed are current as of the publishing date of this article. Please call or visit the respective website for the most up-to-date offerings and details.