The Top 10 Rodeo Songs of All Time
The Top 10 Rodeo Songs of All Time
Need Some Country Hits to Get you Fired Up for the Summer Rodeo? Check Out the Top 10 Rodeo Songs of All Time!
It goes without saying that the rodeo and country music go hand-in-hand down here in Florida. Some of the biggest country hits of all time are all about riding horses, roping cattle, and bucking bulls. For good reason, there are few things more exciting than watching expert cowboys racing around barrels against the clock and fighting to hold onto that bull for just one more second longer. So, in the spirit of summer, we've put together this list of the top 10 rodeo songs of all time to get you fired up for the Westgate Resorts Rodeo.
1 | "This Cowboy's Hat" by Chris LeDoux | This is a classic that you're guaranteed to hear at almost every rodeo. The reason it remains so wildly popular is because of its incredibly powerful lyrics. The song is about a group of bikers in a coffee shop snickering at a Texan, threatening to rip the hat off his head. At first glance, the song appears to be about how you should never touch a cowboy's hat, but the true meaning runs a lot deeper. The song demonstrates that a cowboy's hat is a badge of honor that is earned and can never be taken away.
2 | "Much Too Young (to Feel This Damn Old)" by Garth Brooks | This one may tug at your heartstrings a little if you focus on the lyrics rather than just the great tune. The song is Garth Brook's debut single, released in 1989 and still relevant to this day. He sings about being a seasoned rodeo cowboy and being away from his loved ones. He's having a hard time keeping up as the industry is taken over by younger cowboys. He sings "And the white line's getting longer and the saddle's getting cold, I'm much too young to feel this damn old." Brooks even mentions the name of Chris LeDoux in the song, pointing out how he helped him in his career.
3 | "I Can Still Make Cheyenne" by George Strait | This classic was written by country music legend, George Strait. With 60 number one hits, he is one of the most successful and influential country artists of all time. This raw and emotional song about rodeo life undoubtedly helped propel him even further into stardom in 1996. He writes about the love of his life leaving him for another man while he's been away on the road with the rodeo. He sings "She said, don't bother comin' home. By the time you get here, I'll be long gone. There's somebody new and he sure ain't no rodeo man."
4 | "Mamma's Don't Let Your Babies Grow up to be Cowboys'' by Waylon Jennings & Willie Nelson | Are you in the mood for another widely loved song about tough rodeo life and cowboy culture? The hit was originally written by Wayne and Patsy Bruce in 1976, then skyrocketed to number one when it was covered two years later by Waylon Jennings and Willie Nelson. The duet remained at the top of the country music charts for four weeks and the tune is still used in commercials and movies many years later. The tough nomadic lifestyle of a cowboy is at the core of this song, warning mothers that their sons will never stay home and will always be lonely if they join the rodeo. It has deep lyrics and helps you appreciate the sacrifices cowboys make for the rodeo lifestyle.
5 | "Cowgirls Don't Cry" by Brooks & Dunn ft. Reba McIntyre | You're sure to hear this song a time or two at the rodeo this summer. The song was originally recorded by Brooks & Dunn but was re-released as a duet with country music artist Reba McIntyre. From falling off her pony as a little girl to being cheated on by her husband, the lyrics are all about a cowgirl staying strong and never shedding a tear. Yet, in the final verse when she discovers her father is passing away, he tells her over the phone "Cowgirl, don't cry." If that's not touching, we don't know what is.
6 | "Rhinestone Cowboy" by Glen Campbell | This one is an oldie but a goodie. "Rhinestone Cowboy" fuses country and pop, appealing to a wide variety of rodeo fans. It was released in 1975 and quickly skyrocketed to the top of the charts. The song is all about a cowboy getting through the hard times and rising from the dust while fighting to make it in his rodeo career. Downloads peaked once again in 2017 when Glen Campbell passed away and it remains a top rodeo song across several generations today.
7 | "Rodeo" by Garth Brooks | This traditional rodeo favorite had to make it onto the list, not only for its name but for how it gets fans to singing along. The lyrics show how passionate a cowboy is about the rodeo. The chorus says it all — "It'll drive a cowboy crazy, it'll drive the man insane. And he'll sell off everything he owns just to pay to play her game. And a broken home and some broken bones is all he'll have to show, for all the years that he spent chasin' this dream they call rodeo."
8 | "Hooked On An 8 Second Ride'' by Chris LeDoux | Want to skip the heartfelt songs and get straight to the upbeat music? You won't be able to help but sing along to Chris LeDoux's lyrics coupled with amazing instrumentals in this song. It's about being addicted to the thrill of bull riding despite how dangerous the sport is. It's sure to get you moving in the stands as you enjoy the excitement of the rodeo.
9 | "Rank Riders Anthem'' by Luke Kaufman | Are you in the mood for another song that always gets the crowd roaring? This bull riding anthem by country bad boy Luke Kaufman is a major pump-up song when it comes to rodeo music hits. Kaufman has a traditional twang coupled with the use of acoustic instruments and a drum machine that fans can't seem to get enough of.
10 | "Good Ride Cowboy" by Garth Brooks | There's no better song to end this list with than Garth Brooks' classic hit "Good Ride Cowboy." It simply wouldn't be a rodeo without encountering this song at least once or twice. The lyrics speak for themselves when Brooks sings "When that whistle blows, and that crowd explodes. And them pickup-men are at your side, they tell you Good ride, cowboy, good ride.'"
Use Our Handy Map to Find Your Way Around!
Last Tips on Enjoying Westgate Resort's Double K Rodeo!
Make sure to listen to each of these songs to get you in the barrel racing and bronco bucking spirit. We've included these top 10 rodeo songs of all time but there are plenty more hits that you'll hear all about cowboys and cattle. For more of the best rodeo music, we suggest saving these 10 songs to a playlist on YouTube. Once you do that, the platform will show you tons of songs just like these. Now, grab your cowboy boots and come have a wild time down at the Westgate Resorts Rodeo this summer!
WHEN: 7:30 PM every Thursday Night [June 17-July 29] & every Saturday all year long | WHERE: Westgate River Ranch Resort & Rodeo

RELATED ARTICLE: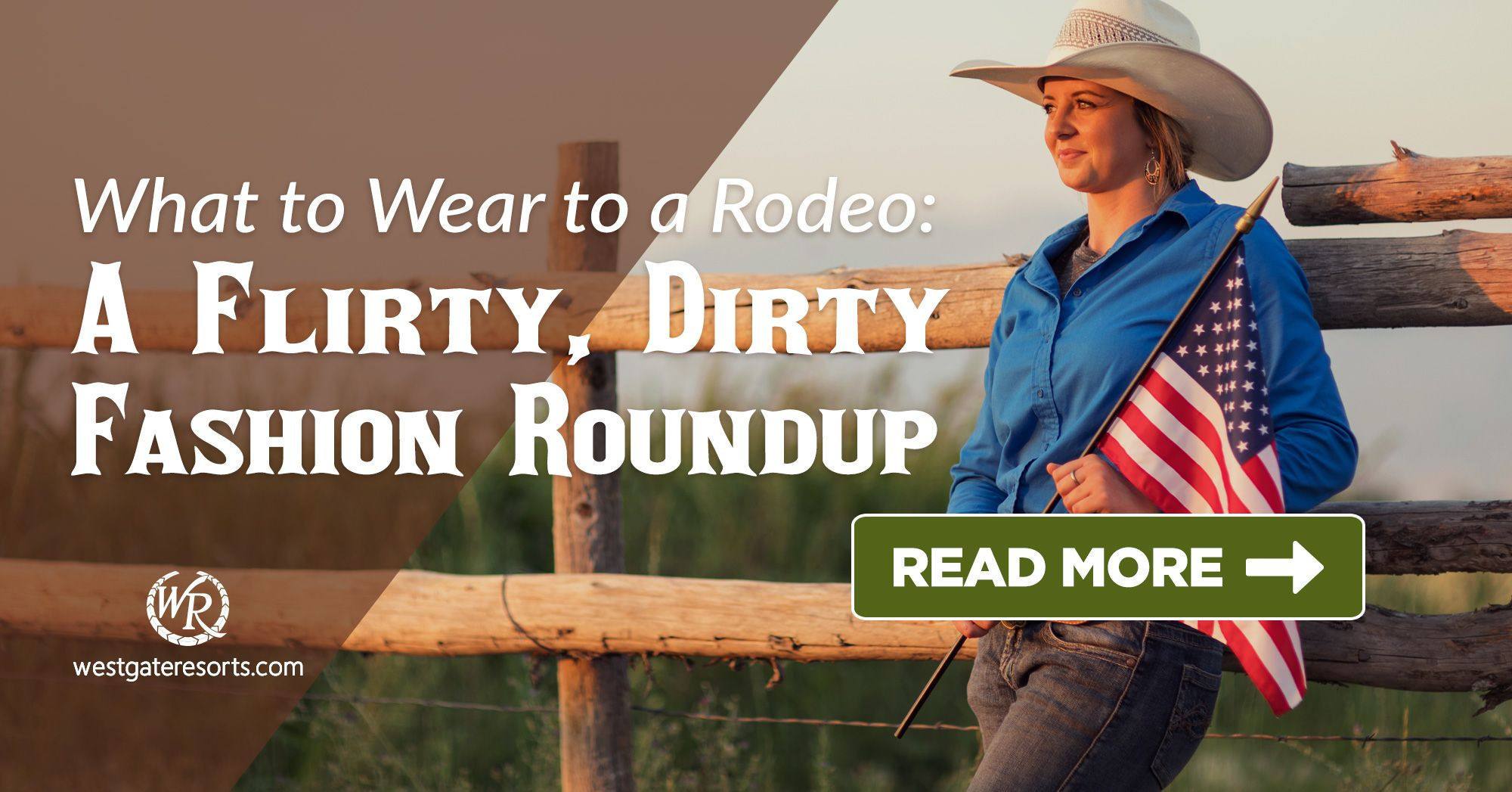 At Westgate Resorts, when you Check-In, there's a LOT to Check-Out! Your vacation awaits! Start planning your next vacation today or talk with a vacation planner at 888-852-2959 or 407-355-2690.
* Westgate Resorts is in no way affiliated with the attractions featured in this article. Items or places listed are current as of the publishing date of this article. Please call or visit the respective website for the most up-to-date offerings and details.
When You Check-in, There's a Lot to Check Out
Sign up for our newsletter and check-in to great offers, secret stuff, and special events.