12 Historic Buildings in NYC That Tell the Stories You've Only Read About
12 Historic Buildings in NYC That Tell the Stories You've Only Read About
There are plenty of things to do in NYC! In fact, The City That Never Sleeps is one of those exciting destinations with an adventure waiting around every corner! With over 700,000 buildings, from historic bars to accommodations at hotels near Grand Central Station, there are plenty of buildings that tell the story of its history and glory from yesteryear to today. Take for instance, the 20-story skyscrapers in the early 1900s to modern 100+ story skyscrapers, each building in New York City has a fascinating tale filled with unique anecdotes that shaped American history. Join us as we visit 12 historical buildings in NYC that tell stories you've only read about.
NYC Historical Building Photos
1| Westgate New York Grand Central | An impressive 23-story, 300-room hotel located in historic Tudor City is recognized by Historic Hotels of America that features gothic-revival architecture. The prime location of this marvelous hotel sets visitors across the street from Grand Central Station and steps from the United Nations building, while also within walking distance to Times Square, the Empire State Building, the Chrysler Building, and various other cultural landmarks in Manhattan. Having recently completed a $20-million renovation, this iconic Midtown hotel celebrates the décor of the 1930s featuring Herringbone wood floors, all-new period-specific art deco furniture and in-room desks made to look like an old radiator. With the impeccable location and impressive renovations, Westgate New York Grand Central is the hotel of choice when visiting Historic New York City.
Where: 304 E 42nd St, New York, NY 10017 | Who: 212-986-8800
RELATED ARTICLES
10 Historical Day Trips From NYC
10 Historical Jazz Clubs in NYC That'll Keep You Dancin'
10 Historical New York City Restaurants that are Finger-Lickin' Delicious!
2 | The Dakota | This historical landmark was completed in 1884 and fashioned after the contemporary French architectural trends popular in the 1870s-1880s. It was designed to be an up-scale cooperative apartment building catering to the well-to-do and was called home by a considerable number of actors, musicians, and other famous personalities. Some of the most notable residents have included Bono from U2, Boris Karloff, Judy Garland, Connie Chung, Maury Povich, John Madden, Joe Namath, and probably most infamously, John Lennon who was assassinated in the archway in 1980.
Where: 1 W 72nd St, New York, NY 10023 | Who: 212 362-1448
3 | Empire State Building | At a staggering 102-stories tall, The Empire State Building is the world's first 100+ story building and once held the record as the world's tallest building until 1970 when the World Trade Center was built. From roof to ground, this monolith stands 1,250 feet with an additional 254 feet when including the tower on top for a grand total of 1,454 feet. Construction began on March 17, 1930 and was completed in a record breaking speed of just a year-and-half with 4-and-half stories being erected each week. In 1933, the Empire State Building was a part of one of the most iconic moments in pop culture history when King Kong ascended the side of the building and put the building at the forefront of cinematic history. Offering the most stunning views of New York City, visitors can visit the 86th floor open air observatory for a view of such iconic spots of NYC such as the Brooklyn Bridge, Central Park, or the Statue of Liberty or the 102nd-floor observatory with a 360-degree view that extends up to 80-miles on a clear day.
Where: 20 W 34th St, New York, NY 10001 | Who: 212 736-3100
4 | Flatiron Building | When construction was completed in 1902, this was one of the original skyscrapers in New York City at a height of 285-feet, or 22-stories tall. The building, which was designed in a triangular shape, or like a flatiron used to remove the wrinkles from your clothes, converges at Fifth Avenue and Broadway with East 22nd Street running along the backend. The renowned Flatiron District derives its name from this iconic building as it is commonly known as the quintessential symbol of New York City.
Where: 175 5th Ave, New York, NY 10010 | Who: N/A
5 | Madison Square Garden | Superbly known as "The World's Most Famous Arena" and host to thousands of monumental events, such as the first Muhammad Ali vs. Joe Frazier boxing match, this arena routinely hosts upwards of 320 events per year. Behind only the O2 arena in London, the Madison Square Garden is the 2nd busiest concert venue in terms of ticket sales and has hosted the most high-profile concerts of any venue in New York City. Michael Jackson, Elvis Pressley, Elton John, Billy Joel, Phish, and countless others have held residencies, reunions, and sold-out concerts to create a list of historic moments in the history of New York City. The New York Knicks of the NBA and the New York Rangers of the NHL both play all home games at The Garden, while the NCAA's Big East Conference holds their annual Men's Conference Basketball Tournament. MSG is also known as the home for the World Wrestling Entertainment (WWE) hosting several of their marquee events such as the first Wrestlemania, Wrestlemania 10, and 20, as well as other pay-per-view events.
Where: 4 Pennsylvania Plaza, New York, NY 10001 | Who: 212-465-6741
6 | New York Stock Exchange | At first glance, the architecture of The New York Stock Exchange Building makes a bold impression with the classical features of a Greek Revival House. As your eyes follow the colonnade, the series of six 52.5-foot Corinthian columns, up to the pediment, the triangle area above the columns, the viewer is greeted with a series of ornamental figures that symbolize the nature of American capitalism. Integrity, the name of the classically robed female center-piece figure of the sculpture symbolizes honesty and sincerity with her outstretched arms and clenched fists. In total, the 110-foot pediment houses 11 figures, with each representing Science, Industry, Agriculture, Mining, and Realizing Intelligence.
Where: 11 Wall St, New York, NY 10005 | Who: 212-656-3000
7 | One Times Square | Once home to The New York Times when originally built in 1904, this 25-story skyscraper inspired, or rather was suggested by the owner, the naming of the world-famous Times Square district of New York City. The building sits at 1475 Broadway and is the Mecca of out-of-home advertising and is considered to be the most valuable advertising space in the world due largely to the amount of revenue the billboards generate. In 1995, the Lehman Brothers purchased the building and repurposed the façade with billboard adverts which began the cultural phenomenon of display advertising on the mostly vacant, but prime location of the building. While One Times Square is primarily known for the larger-than-life billboards and news ticker that was introduced in 1925, every year it becomes a large New Years Eve celebration with the annual ball drop.
Where: 1 Times Square, New York, NY 10036 | Who: N/A
8 | One World Trade Center | The tallest building in the United States and the 6th tallest building in the world, the One World Trade Center stands 1,776 feet tall, a deliberate insinuation to the year the United States Constitution was signed. The building shares the name of the former North Tower and stands on the former site of the original 6 World Trade Center, which were both destroyed in the 9/11 terror attacks in 2001. Construction of the building was meant to memorialize and rebuild after the devastating 9/11 attacks. The building is currently 94 stories with the top floor numbered 104.
Where: 285 Fulton St, New York, NY 10007 | Who: 844-696-1776
9 | Radio City Music Hall | Located within Rockefeller Center, this historic and expansive entertainment venue in Midtown Manhattan seats 5,960 patrons for legendary events that have been taking place since the building's completion in 1932. In the early days of operation, this historic venue played host to several cinema releases while also providing the venue for movie premiers such as King Kong, Breakfast at Tiffany's, To Kill a Mockingbird, Mary Poppins, and even the Lion King in 1994. The venue also tried its hand at stage performances with productions such as Snow White and Seven Dwarfs and The Rockettes Spectacular. However, these proved to be unsuccessful, and the venue transitioned to a music hall producing concerts, which would help the venue turn it's first profit in 30 years in 1985. Artists such as Pink Floyd, The Grateful Dead, Lady Gaga, Britney Spears, Christina Aguilera, Adele, and countless others have had successful performances to lead to the legacy of the stage. The venue has also hosted the NFL Draft, specials episodes of Jeopardy, Wheel of Fortune, and The Tonight Show with Jimmy Fallon.
Where: 1260 6th Ave, New York, NY 10020 | Who: 212-465-6741
10 | St. Patrick's Cathedral | Located directly across from the Rockefeller Center, this Catholic cathedral is located on prime real estate in Midtown Manhattan and surrounded by some of the most famous streets in New York. Fifth Avenue, Madison Avenue, 50th Street, and 51st street all surround the largest gothic revival in North America. The cathedral was built in 1978, after a construction halt during the American Civil War, to replace St. Patrick's Old Cathedral when the number of Archdiocese began to rise. The building was constructed with marble stone and features stained glass windows throughout. The spires facing Fifth Avenue rise an astounding 329 feet while the northern corner contains 19 bells, and the interior has two pipe organs.
Where: 5th Ave, New York, NY 10022 | Who: 212-753-2261
11 | United Nations Headquarters | Located just steps from the Westgate New York Grand Central, and one of the most unique situations in New York is the United Nations (UN) Headquarters located in Manhattan. The land The UN Headquarters sits on is technically in New York but not under US Government rule. The UN originally wanted to create its own independent city before settling at 760 United Nations Plaza in New York. The site of the UN Headquarters is considered extraterritoriality but remains under the jurisdiction of the United States.
Where: New York, NY 10017 | Who: 212-963-4475
12 | New York City Hall | Completed in 1812, New York City Hall is the oldest city hall in America that still serves as its original function with the office of the Mayor of New York and the New York City Council still conducting business from here. Joseph-Francois Mangin and John McComb, Jr. were both awarded a $350 first prize in 1802 for a competition for a new City Hall for New York City. Mangin also designed the St. Patrick's Old Cathedral. Construction was delayed several times due to labor disputes and an outbreak of Yellow Fever but would eventually be dedicated in 1811 and officially opened in 1812. The steps to City Hall are frequently used for press conferences and political demonstrations. Google maps uses City Hall as the geographic center for all maps as the zero-mile point, so when you use Google Maps to a destination, you are measuring the distance from City Hall.
Where: City Hall Park, New York, NY 10007 | Who: 212-639-9675
Use Our Handy Map to Find Your Way Around!
Last Tips on Historic Buildings in NYC
Ready to explore some of the most historical buildings in NYC? Many of these iconic buildings are just minutes away from your favorite historic NYC hotel when you are ready to add them to your must-see list the next time you're in New York.

RELATED ARTICLE: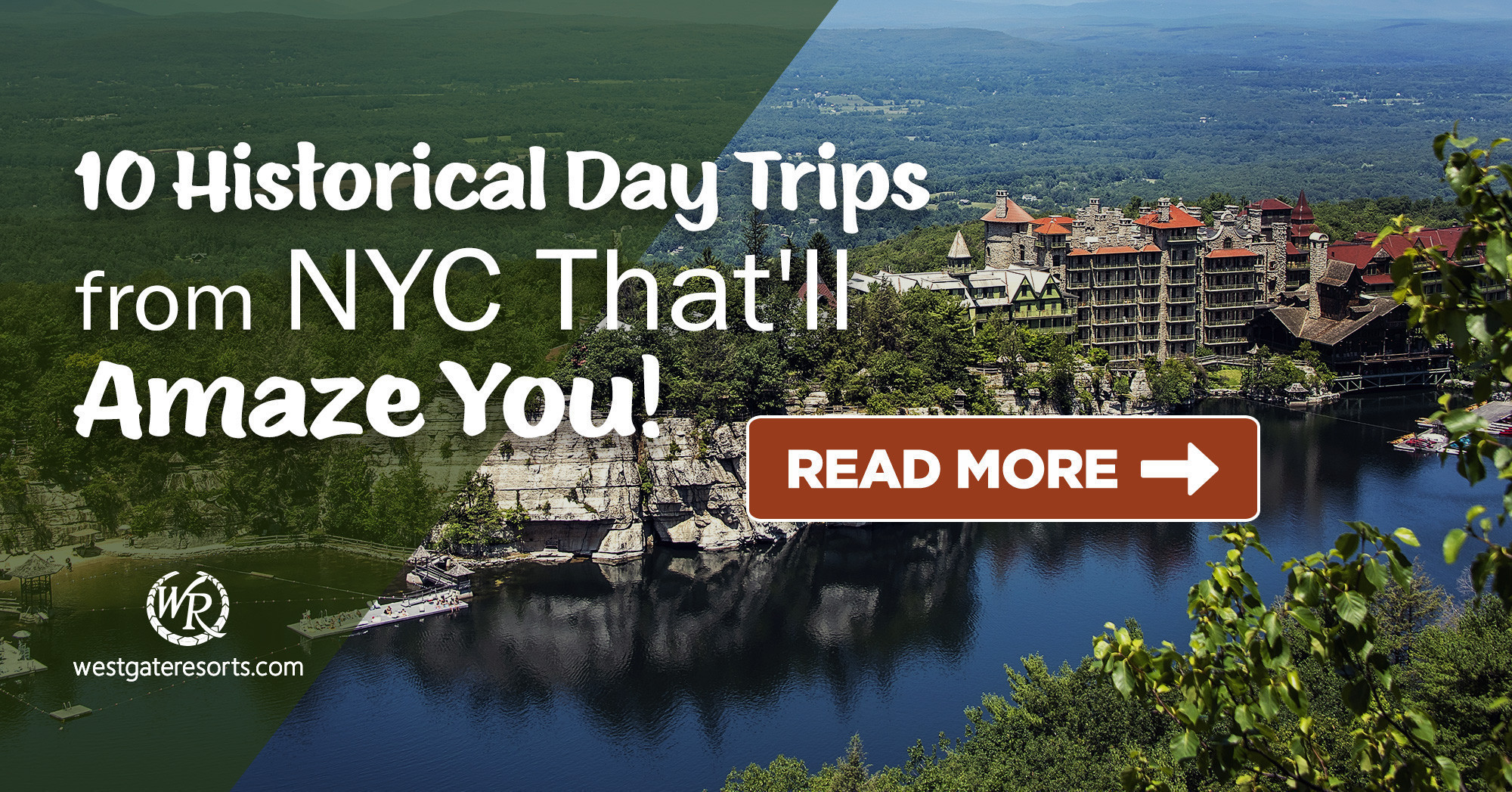 At Westgate Resorts, when you Check-In, there's a LOT to Check-Out! Your New York City vacation awaits! Explore our New York City hotel today or talk with a vacation planner at 888-852-2959 or 407-355-2690.
* Westgate Resorts is in no way affiliated with the attractions featured in this article. Items or places listed are current as of the publishing date of this article. Please call or visit the respective website for the most up-to-date offerings and details.
When You Check-in, There's a Lot to Check Out
Sign up for our newsletter and check-in to great offers, secret stuff, and special events.