20 Top Spots to Grab Breakfast in Gatlinburg
20 Top Spots to Grab Breakfast in Gatlinburg
What's better than waking up to the smell of bacon, eggs and pancakes sizzling on a skillet? Perhaps nothing can quite capture that special kind of magic, but eating homemade breakfast at one of these Gatlinburg restaurants sure comes close!
When you're looking for places to eat in Gatlinburg, you'll find plenty of downhome diners and BBQ joints. But what about gourmet donuts in Gatlinburg? You can find those, too, and so much more when you check out these amazing breakfast restaurants.
Grab a stack of pancakes, fried cinnamon rolls, loaded French toast or hearty bacon and eggs. You can't go wrong with anything on these restaurants' menus.
Where to Find the Best Breakfast Gatlinburg Locals Love
Pigeon Forge and downtown Gatlinburg are breakfast hot spots, and you'll find most of these joints situated in them. When you're ready to chow down, simply pick a number off this list and prepare to be amazed. We promise your tastebuds will thank you.
1 | Southern Comfort® | Located in Westgate Smoky Mountain Resort & Water Park, Southern Comfort® serves decadent meals inspired by the home-cooked meals beloved throughout Tennessee.
The menu here is all about making it like mama does. Her recipes have infused the menu with savory flavors that remind you no one does food better than the south.
Sip on a breakfast cocktail while you wait for your Great American Breakfast, complete with two eggs of any style and your choice of meat. If you prefer, you can build your own omelet or grab some famous cinnamon roll pancakes fresh off the griddle.
WHERE: 915 Westgate Resorts Road, Gatlinburg, TN 37738 | WHO: (865) 430-4800
RELATED ARTICLES:
The 12 Best Wineries in Gatlinburg to Sample
The 12 Best Mexican Restaurants in Gatlinburg [Recommendations Included]
7 Dangerously Delicious Gatlinburg Donut Shops Well Worth the Cheat
2 | Wild Bear Tavern | Get a taste of Germany right here in Gatlinburg. The Wild Bear Tavern brings a hint of Bavaria to the Smokies. You can kick off your day with some traditional pfannkuchen (pancakes) in exciting flavors like black forest or apple strudel.
The German spin on Texas toast is something you won't want to miss. Looking for a hardy start to the morning? Then, you'll want to try the traditional German Breakfast with three eggs, smoked sausage, Leberkäse, Brätwurst, Swiss cheese and a loaf of molasses bread.
WHERE: 4236 Parkway, Pigeon Forge, TN 37863 | WHO: (865) 868-0737
3 | Log Cabin Pancake House | This old-timey rustic restaurant looks like it was pulled straight out of an old western, and its breakfast hearkens back to simpler times when down-home cookin' was all you could find.
Log Cabin Pancake House has been a community staple since 1976. The line gets long, but it moves fast. You can't call ahead, so everyone waits their turn for a seat at one of the wooden tables.
This is the place to be if you're looking for a traditional Southern breakfast. The Plan Old-Fashioned Pancakes are a crowd favorite. They're fluffy, delicious and served with house-whipped margarine and signature syrup.
WHERE: 327 Airport Rd., Gatlinburg, TN 37738 | WHO: (865) 436-7894
4 | Crockett's Breakfast Camp | Crockett's Breakfast Camp has been around since the 1800s when David C. "Crockett" Maples, a soldier in the Tennessee cavalry, and his wife began serving home-cooked meals to travelers passing through the area.
Nowadays, a Crockett's breakfast is a living legend. Settle down into the historic restaurant, sip orange juice from a mason jar and enjoy one of the restaurant's iconic recipes. From fried cinnamon rolls covered in caramel to one-inch-thick buttermilk Aretha Franklin pancakes, you're destined to find a one-of-a-kind breakfast at this beloved restaurant.
The best part? Every meal is served with unmistakable Southern hospitality.
WHERE: 1103 Parkway, Gatlinburg, TN 37738 | WHO: (865) 325-1403
5 | Pancake Pantry | Since 1961, the Pancake Pantry has been making breakfast the best meal of the day for residents in Gatlinburg. You'll find locals that have been coming here for decades, and generations of families that still dine here every Sunday after church.
Tennessee's first pancake house opens early at 6 a.m. while the chef whips up 23 varieties of pancakes from scratch using the restaurant's secret recipe. Everything from the batter to fruit compotes are made fresh daily, so you'll always be guaranteed the absolute best taste and quality when you stop by.
If you can't decide what to try, go for one of Pancake Pantry's pancake meals. Each one comes with two buttermilk pancakes and Southern treasures like country fried steak or biscuits and gravy.
WHERE: 628 Parkway, Gatlinburg, TN 37738 | WHO: (865) 436-4724
6 | Flapjack's Pancake Cabin | Treat yourself to a breakfast hash like no other at the famous Flapjack's Pancake Cabin. Nothing will get you going in the morning quite like the promise of fresh-made hash browns, applewood smoked bacon and a cup of hot coffee on the table.
With over five million customers served and a feature in Southern Living magazine as some of the best flavors in the south thanks to its pecan pancakes, this place is a can't-miss spot. There are plenty of other local favorites you should try, including the famous sticky bun pancakes, chicken and waffles and corned-beef hash skillet.
Sweet tooths of every age will love the dessert-for-breakfast options with choices like the Reese's Peanut Butter Pancakes.
WHERE: 146 Parkway, Gatlinburg, TN 37738 | WHO: (865) 436-6473
7 | Little House of Pancakes | A friendly wooden sign shaped like a log cabin with a bear climbing up the side sets the tone for breakfast at the cozy Little House of Pancakes.
Open windows, wooden booths and wood-paneled walls make you feel right at home in this Tennessee diner. On the menu, you'll find a delicious array of specially designed pancakes like the Banana Royale and White Chocolate Strawberry plate.
Feeling particularly hungry? Order some all-you-can-eat pancakes with a side of fresh-fried bacon and eggs.
WHERE: 807 East Pkwy, Gatlinburg, TN 37738 | WHO: (865) 436-8784
8 | Timber's Log Cabin Restaurant | Breakfast in a cabin. It doesn't get much more Gatlinburg than that. This no-frills country restaurant is the perfect place to eat like locals do when you're visiting the Smokies.
An unassuming paper menu will reveal delicious home-cooked dishes like Log Cabin Flapjacks, the Morning Scrambler with three extra large eggs and bacon or sausage and Tavern Toast. Most dishes come with a side of house potatoes or cheesy grits.
Timber's is located in the Great Smoky Arts and Crafts Community of Gatlinburg. This charming little village celebrates 87 years of southern craftsmanship, and it's the largest independent artisan organization in the entire country.
Browsing the shops and wandering the beautiful eight-mile loop is the perfect way to spend a morning in Gatlinburg.
WHERE: 600 Glades Rd #10, Gatlinburg, TN 37738 | WHO: (865) 412-1303
9 | Bennett's Pit Bar-B-Que | BBQ for brunch? Might as well! You won't have to worry about booking an early table at the popular steakhouses in Gatlinburg. Just stop by Bennett's for some honest-to-goodness Tennessee cookin'. There's brisket, pulled pork, and, of course, wings – all packed with flavor and tossed in house sauces.
Doors open at 11 a.m., and from then on out, hungry hikers, mountain climbers and local residents flock to the BBQ joint for its delicious sandwiches and lunch platters. Whether you like sweet and smoky hickory or spicy barbeque, you'll find something good on the menu.
Oh, and if you've ever wanted to try a southern staple, fried catfish, then you've come to the right place. Order up!
WHERE: 714 River Rd, Gatlinburg, TN 37738 | WHO: (865) 436-2400
10 | Donut Friar | Donuts are breakfast done right. Sweet, sugary and oh-so fluffy, the melt-in-your-mouth pastries from Donut Friar are what dreams are made of. They're so good, tourists have made it their official breakfast spot whenever they're in town.
This family-owned-and-run establishment has proudly served up fresh pastries and coffee in the Village Shoppes since 1969. They make everything from scratch and have developed an extensive menu with donut flavors like the Chocolate Chipper, Cinnamon Twist and Coconut Delight.
There's also the Friar's Special, a signature donut you'll have to try for yourself. And if you fall in love with the restaurant like so many others before you, you can buy a souvenir T-shirt, mug or hat to show your support!
WHERE: 634 Parkway #15, Gatlinburg, TN 37738 | WHO: (865) 436-7306
11 | Tennessee Jed's | Jed's offers some of the most authentic southern breakfast in Gatlinburg, whether you want to order something off the breakfast menu or dive straight into the lunch.
Big breakfast sandwiches chock full of goodness await! We're talking about crispy bacon, tender ham, smoky sausage and eggs piled high on toast. The Breakfast Special is biscuits and gravy, a southern essential, that many argue make the best breakfast in Gatlinburg.
WHERE: 631 Parkway Suite A8, Gatlinburg, TN 37738 | WHO: (865) 412-1131
12 | Atrium Restaurant | Pancakes for breakfast, lunch, dinner or dessert — the choice is yours at Atrium. This modest eatery offers a relaxing atmosphere to eat breakfast in Gatlinburg with wide open windows and a simple interior design.
The menu includes the restaurant's famous Apple Pancake, oven-baked and topped with brown sugar and house apple syrup. You'll also find traditional buttermilk pancakes, as well as other flavors, including blueberry, strawberry, banana nut and even bacon.
Of course, the menu also includes plenty of Tennessee breakfast favorites, like home fries, omelets and scramblers.
WHERE: 432 Parkway, Gatlinburg, TN 37738 | WHO: (865) 430-3684
13 | Smoky Mountains Creperie | Enjoy this French delicacy down in Tennessee. Just a stone's throw from the Smoky Mountains, you can get fresh-made crepes topped with decadent Nutella sauce, powdered sugar and fresh fruit.
There are also amazing Frappuccinos, espressos and coffee drinks to help you get the morning started off on a high note.
Whether you like a simple crepe with sugar or an all-out banana bonanza, the Smoky Mountains Creperie is a must-try during your trip to Gatlinburg. Just be warned, the crepes are so good, you may just stop by again for dessert!
WHERE: 812 Parkway Suite 111, Gatlinburg, TN 37738 | WHO: (865) 325-6030
14 | Sawyer's Farmhouse Breakfast | With fast service and great food, Sawyer's Farmhouse Restaurant in Pigeon Forge is one of the best places to eat breakfast near Gatlinburg.
The generous portions are perfect for sharing, but you are likely going to want to finish the entire plate yourself. After all, who can resist a golden bed of buttery pancakes topped with whipped cream, fresh fruit or chocolate chips and powdered sugar?
Pancakes are the only breakfast gems you'll find at Sawyer's. There are thick, fluffy waffles, breakfast platters and decadent crepes topped with fruit compote.
WHERE: 2831 Parkway, Pigeon Forge, TN 37863-3315 | WHO: (865) 366-1090
15 | Lil' Black Bear Cafe | The Lil' Black Bear Cafe is known for its biscuits and gravy. This classic mom-and-pop-style restaurant is the perfect place to fuel up before hiking in the Smoky Mountains.
Grab yourself a southern breakfast with all the fixins, like a two-egg omelet, hash browns, country ham, eggs and cheese platter. Of course, there are plenty of grits to go around, and you can pair them with a two-stack plate of the eatery's hot and golden pancakes.
WHERE: 3068 Veterans Blvd, Pigeon Forge, TN 37863-3176 | WHO: (865) 366-1181
16 | Hillbilly's | Hillbilly's has everything you're looking for in a Gatlinburg breakfast restaurant: huge portions, a fun and rustic atmosphere and a friendly staff that will take care of you throughout your meal.
Whether you're a biscuits-and-gravy kind of diner or can never get enough pancakes, Hillbilly's folks have you covered.
The restaurant's pancakes all come served with bacon, sausage or ham, and you can order a two or four-stack to fill you up. Don't forget a jar of fresh orange juice on the side!
WHERE: 3275 Wears Valley Rd, Wears Valley, TN 37862 | WHO: (865) 446-4732
17 | Brick and Spoon | For a refined breakfast experience in Gatlinburg, visit the Brick and Spoon, which serves signature omelets, amazing breakfast potatoes and out-of-this-world apple-pecan French toast.
The doors open bright and early at 7 a.m., so you can stop by and fill up for a day of hiking, fishing or kayaking around the Smoky Mountains, or you can explore one of Tennessee's beautiful national parks.
Craving some southwestern flair in the morning? You won't have to go searching for a Mexican restaurant in Gatlinburg that opens early.
You can get amazing breakfast tacos at the Brick and Spoon, featuring spicy chorizo scrambled eggs, romaine lettuce, sour cream and Monterey jack cheese on a flour tortilla, topped with mango salsa.
WHERE: 136 Community Center Drive, Pigeon Forge, TN 37863 | WHO: (865) 410-1221
18 | Apple Barn Cider House | The welcoming staff at the Apple Barn Cider and Mill make breakfast even better. You'll find the restaurant tucked inside the General Store, and each meal starts with free apple fritters and dipping sauce to give you a taste of what's to come.
The menu includes everything from apple cinnamon pie to loaded apple dumplings filled with rich, cinnamon-sugar-coated chunks of farm-grown apples.
There's a great gift shop with plenty of jellies and jams to take home, as well as fresh cider. And if you decide to stay later, you'll be able to enjoy sipping on wine as the Apple Barn is a local winery in Gatlinburg.
WHERE: 230 Apple Valley Rd, Sevierville, TN 37862-5401 | WHO: (865) 453-9319
19 | Trish's Mountain Diner | Trish's is a peaceful, low-key, family-friendly diner with some outdoor seating and an open floor plan.
The menu serves up all the classic diner breakfast food you know and love, like stacks of pancakes with fresh berries, French toast and sausage and egg and hash brown platters.
Swing by for a chance to enjoy classic country food like biscuits and gravy, grits, country fried steak and breakfast sandwiches topped with mayo, lettuce and tomato.
WHERE: 3614 East Pkwy, Gatlinburg, TN 37738 | WHO: (865) 325-8093
20 | Reagan's House of Pancakes | Late-risers who always feel like they're missing out on delicious breakfast won't have to worry at Reagan's House of Pancakes. Breakfast is served until noon, so you can mosey on in and find a seat without having to lose any shuteye.
While Reagan's has a breakfast buffet, locals suggest ordering your meal from the menu. There's just nothing that can compete with made-to-order buttermilk pancakes or hearty plates of eggs, bacon, potatoes and country ham.
The red-and-white checkered tablecloths, friendly staff and cozy wood interior with cute art on the walls make this family-friendly establishment a great place to grab breakfast any day of the week.
WHERE: 2820 Parkway, Pigeon Forge, TN 37863-3316 | WHO: (865) 428-0652
Start Your Vacation Right with the Best Places to Eat Breakfast in Gatlinburg!
You won't have to miss out on the most important meal of the day when you visit Gatlinburg! There's an amazing array of friendly, rustic diners and family-owned restaurants serving up some of the best southern recipes you can find in Tennessee.
And when it comes time for lunch, why not check out our list of the top pizza places in Gatlinburg? You might not think this town near the Smokies has so much culinary variety, but it's full of surprises that never disappoint!
For more Gatlinburg travel tips, visit our Westgate Resorts Travel Blog.

RELATED ARTICLE: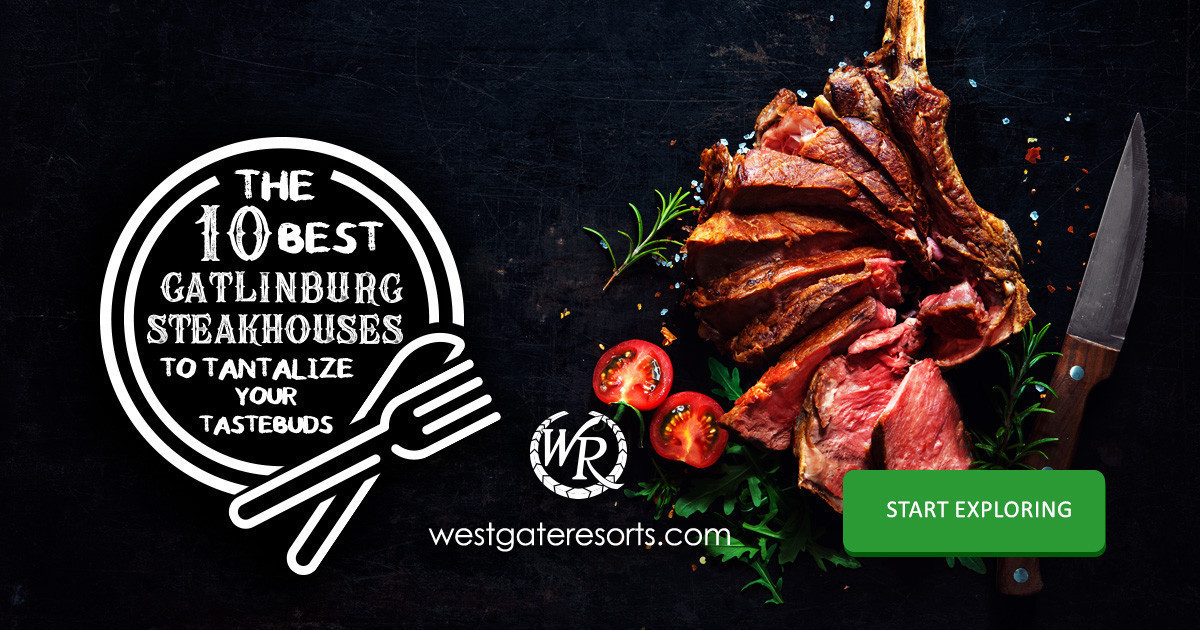 At Westgate Resorts, when you Check-In, there's a LOT to Check-Out! Your vacation awaits! Start planning your next vacation today or talk with a vacation planner at 888-852-2959 or 407-355-2690.
* Westgate Resorts is in no way affiliated with the attractions featured in this article. Items or places listed are current as of the publishing date of this article. Please call or visit the respective website for the most up-to-date offerings and details.
When You Check-in, There's a Lot to Check Out
Sign up for our newsletter and check-in to great offers, secret stuff, and special events.