Bride Guide: 6 Vintage Country Wedding Theme Ideas Right From the Ranch!
Country Wedding Ideas Right From The Ranch!
"It's all about tonight/Good times and the music and laughing and grooving to the band/Everybody's getting right" – Blake Shelton, "All About Tonight"
Before even broaching the subject of country wedding ideas,... let's ask this... would you prefer the southern-fried sounds of Rascal Flatts' "Bless the Broken Road" to the mind-numbingly traditional Pachelbel's Canon in D as you walk down the aisle on your wedding day? Are you and your beau more comfortable in cowboy boots than high heels and wingtips respectively? Is a cowboy hat more your style than an extravagant floral crown or tiara? How about the prospect of ditching the walk down the aisle altogether and opting to arrive on horseback? Do you prefer a special destination for your wedding in a picture-perfect natural setting instead of a sterile hotel banquet hall? If you answered "yes" to any of the above, you should consider a vintage country wedding at Westgate River Ranch Resort & Rodeo, which boasts a variety of romantic wedding sites, affordable wedding packages, facilities to suit any need, a variety of accommodation choices and an abundance of onsite recreational opportunities!
Country Wedding Ideas Anyone?
Whether you call it a vintage country wedding, rustic wedding, western-style wedding, down-home wedding or equestrian-themed wedding, Westgate River Ranch can accommodate your needs by creating a fun western feel and delivering the "Wow" factor to the wedding festivities. An authentic Florida dude ranch ideally located just one hour south of Orlando (and centrally located between the Atlantic and Gulf beaches), Westgate River Ranch serves as the perfect backdrop for your rustic wedding ceremony, allowing you and your wedding guests to return to the days of "Old Florida" when the state was home to cowboys and cattle ranchers. In fact, the Ranch has received the prestigious Gene Kilgore "World's Best Ranches Award" from RanchWeb.com, the No. 1 website for dude ranch vacations worldwide. You and your wedding guests will absolutely love the tranquil beauty of Westgate River Ranch, along with the simple charm and rustic elegance of its facilities and guestrooms.
So, explore these 6 vintage country wedding theme ideas right from the Ranch with our handy bride guide on rustic and country themed weddings! The country theme wedding ideas at Westgate River Ranch range from western-themed decorations and equestrian touches, to countrified cakes to personalized invitations, signs, bouquets, vintage wedding party favors and more! In fact, the experienced staff at Westgate River Ranch can handle all the details of your wedding day – from the special country-style wedding ceremony and reception to overnight accommodations (if you're really into the great outdoors, inquire about the availability of Glamping and Luxe Teepees) and special Ranch activities scheduled for your wedding guests – as well as coordinate entertainment for your wedding reception (singing cowboy, anyone?).
1 | Make a Grand Entrance on Horseback | For a truly show-stopping moment on your wedding day, why not arrive at the ceremony on horseback? It's the perfect photo opportunity (as long as you practice getting on and off the horse during the rehearsal, of course). If you are both avid riders, how about getting married on horseback (a very common request at the Ranch, by the way!)? However, if an equestrian-style wedding is not exactly your style, you can simply opt to get married in a picturesque wedding chapel or in a beautiful natural setting at a wedding gazebo under a 100-year-old oak tree with guests seated on bales of hay. Either way, Westgate River Ranch can help bring all your cowgirl and cowboy wedding dreams to life, regardless of whether you're into horseback riding or not! If you choose an indoor wedding ceremony, the charming Westgate River Ranch Chapel can accommodate up to 300 wedding guests and is available for rehearsals the evening before the wedding. The Ranch can provide a pastor, or you can simply make your own arrangements for an official to conduct the wedding ceremony. It's your choice – your vintage country wedding can be as formal and elegant or as laid back and low key as you like!
2 | Decorate with Western-Themed Floral Arrangements | Country-style floral arrangements can incorporate daisies, sunflowers, chrysanthemums and/or local seasonal wildflowers. The good news about vintage country weddings is that décor and floral designs can range from informal to formal – allowing you to personalize your theme however you like (such as even utilizing shotgun shells for an eclectic touch among the floral arrangements and centerpieces as shown above!). Believe it or not, custom-made boutonnières made with shotgun shells and wildflowers are also becoming quite common at country-style weddings. In addition, wedding centerpieces can utilize country and western themes such as howling wolves, cowbells, horseshoes, chili peppers – you name it!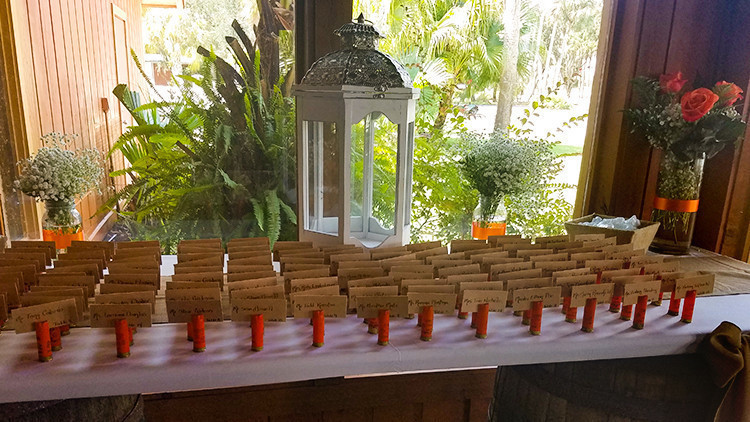 3 | Add Vintage Country Flair to Wedding Place Cards | As you can see with the shotgun shells used as place card holders in the above image, the possibilities are endless for adding country flair to all aspects of your wedding! Western-style place card holders also take the shape of tiny cowboy boots, cowboy hats, horseshoes, woodcarvings and wine corks, among others. In addition, popular western-themed wedding favors can incorporate wood heart-shaped picture frames, horseshoe keychains, shot glasses, antler bottle stoppers, cowboy hat-shaped cork coasters, mason jars full of gourmet popcorn, personalized beer can glasses, cowboy boot bottle openers, burlap "feed bags" full of candy and more.
4 | Countrify the Wedding Cake Display | Country-style wedding cakes can be as simple or as ornate as you desire. As an added touch, whiskey barrel tables make the perfect display for your wedding cake, as well as dessert selections and other edibles. In addition, you can consider changing the shape of the wedding cake to resemble a saddle or cowboy hat and/or decorated with horseshoes for good luck. For cake toppers, consider using cowboy/cowgirl figurines, his and her cowboy boots, horse(s), personalized initial wooden deer antlers or other western-related theme. Cake displays can be tricky, and country cake displays are no exception to that rule, so if you're leaning towards a ranch wedding with us, you'll be happy to know that we can take all the pain out of cake prep, ordering and decoration! At Westgate River Ranch Resort & Rodeo, our country wedding ideas come with the wedding team and resources to make your rustic wedding dreams into a reality, and priced perfectly for any wedding budget!
5 | Arrive and Depart in Style in an Elegant Horse-Drawn Carriage | Nothing says romance quite like a horse-drawn carriage for your wedding day. Brides can arrive at the wedding site in a horse-drawn carriage decorated with flowers for an amazing fairy-tale wedding experience! Following the ceremony, the newly married couple can take a short trip around the Ranch, providing extraordinary photo opportunities. The carriage will eventually make its way to the 2,500-square-foot Grand Hall, which features room for 200 guests (plus a dance floor) for a spectacular western-style wedding reception celebration. One bride who recently held her wedding at Westgate River Ranch commented on TripAdvisor, "It was absolutely beautiful. I came in on a carriage with white horses. They set everything up for me and they did it all exactly how I wanted it. All I did was show them pictures of what I was thinking and they brought it to life!" Photo opportunities are plentiful in the Grand Hall, which boasts a dual staircase and large fireplace. You and your wedding guests will enjoy (line) dancing the night away in the stunning Grand Hall – a delightful setting for an exceptional day! (Another great option for your wedding "getaway car" is to use a vintage pickup truck, which also makes for more amazing photo opportunities at your vintage country wedding.)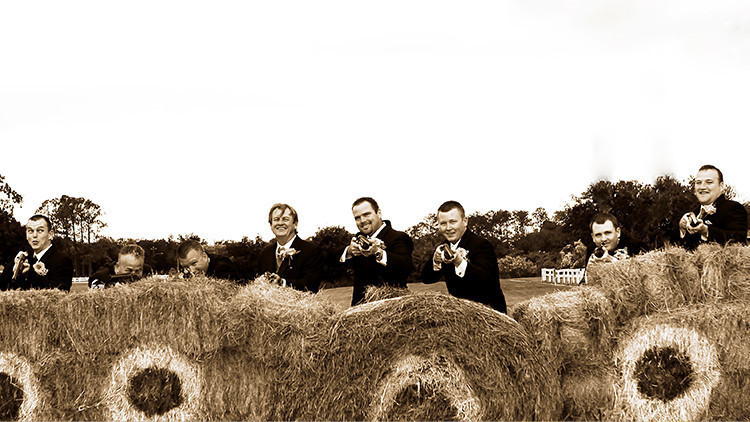 6 | Incorporate Ranch Activities into Your Festivities | Encompassing 1,700 beautiful acres (making it the largest dude ranch east of the Mississippi River!), overlooking the scenic Kissimmee River and surrounded on all sides by approximately 400,000 acres of state and federally protected wetlands, Westgate River Ranch is full of fun-filled outdoor wedding activities and fantastic photo ops for your wedding party (such as having all the groomsmen pose with firearms at the Trap & Skeet Range like in the image above). The multitude of recreational activities at Westgate River Ranch include horseback riding, hiking, fishing, boating, trap and skeet shooting, and swimming, as well as a nine-hole golf course (complete with driving range and putting green), airboat and swamp buggy rides, hayrides, mechanical bull, miniature golf course, archery range, zip line, bungee jumper, horseshoes, basketball and tennis courts, petting farm and pony rides. Thrill to the action of the Saturday night rodeo (the longest Saturday night championship rodeo in the United States), which offers trick riding, bull riding and barrel racing, as well as a patriotic tribute to our armed forces. Last but not least, Westgate River Ranch features a 4,950-foot paved and lighted air strip that allows pilots to easily fly-in for the wedding festivities. Make sure to explore all that the Ranch has to offer (but don't forget to get ready for the wedding in time!). By the way, the experienced catering staff at Westgate River Ranch can help you plan a one-of-a-kind rehearsal dinner that will be both distinctive and uniquely memorable. Rehearsal dinners can be formal affairs or take on the flavor of the Ranch by providing eclectic opportunities such as cookouts and hayrides.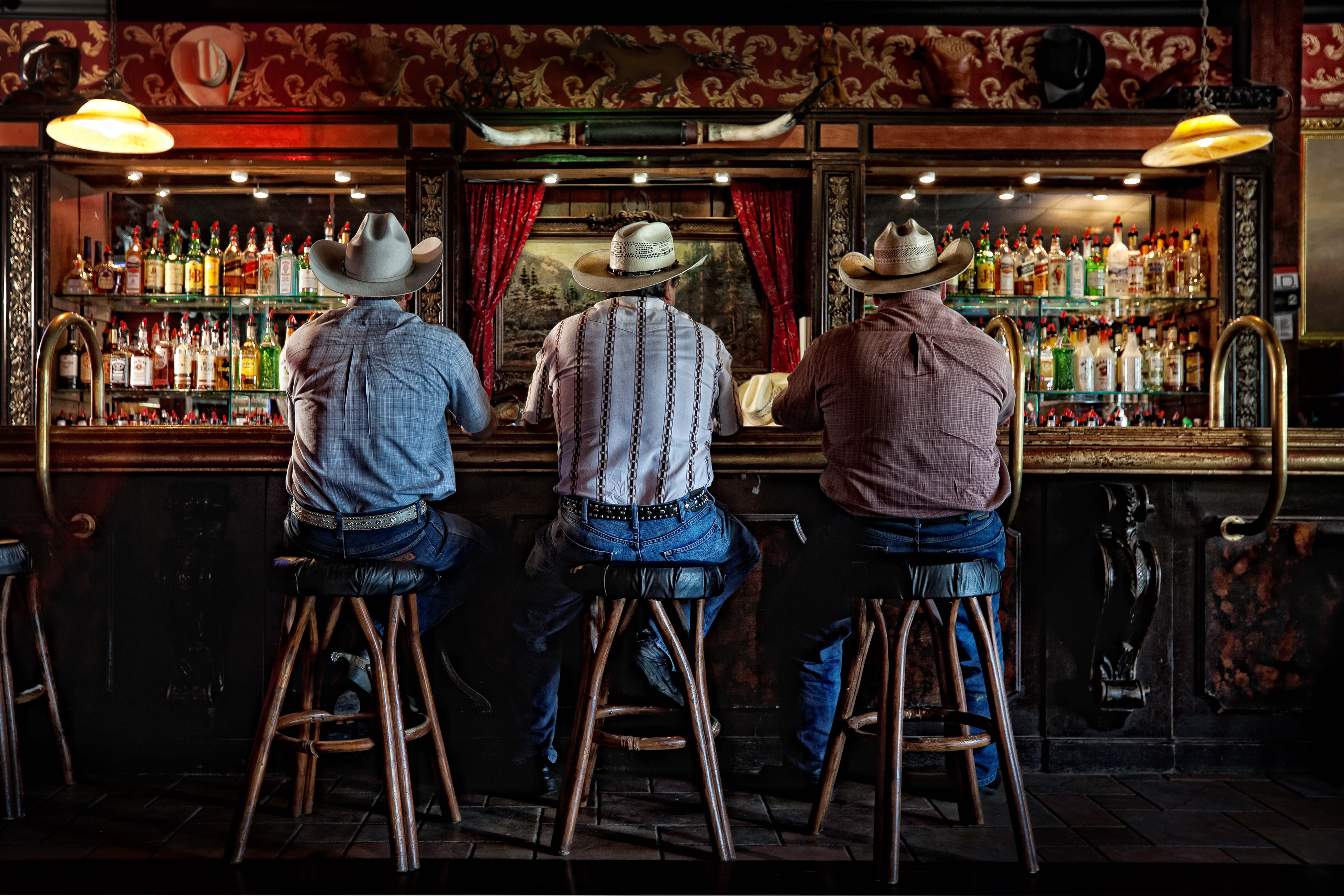 BONUS | Kick Up Your Heels at Your Very Own Wedding Saloon | Inevitably, the big day comes and after the ceremony comes the most coveted of all country wedding events - the wedding reception! And regardless of everything that's happened up to that point, one thing is for sure, it's time for your wedding guests to let their hair down and party with you in celebration of your new life decision (and maybe make a few good -or questionable decisions of their own) while mixing it up at the bar and on the dance floor. The perfect locale for the cocktail hour or simply a great gathering place to relax and unwind before or after the wedding, the River Ranch Saloon features a full bar and "live country-western foot-stompin' entertainment and line dancing" all weekend long. It's no wonder that hundreds of weddings have touted River Ranch Saloon as one of the best wedding after parties (or after-after parties, as the case may be) in all of Florida, when it comes to a rompin', rustic wedding, shindig after the main event. So, grab your cowboy hat, slip on your boots, shout "Yee-Haw!" and prepare for a rollickin' good time at the River Ranch Saloon as part of your wedding festivities!
Like what you're reading? Learn more about all inclusive Gatlinburg wedding packages in Tennessee, discover Cocoa Beach weddings like you've never seen them, check out our awesome Las Vegas wedding chapel, and our amazing ranch wedding venue at these links! Or, if you're a bride (or groom) planning fo the BIG day, and you'd like to tour one of our fantastic wedding venues, reach out to us now at 866-731-7259 and our wedding planning team can show you around. At Westgate, we love weddings!
Looking for more information on...
At Westgate Resorts, when you Check-In, there's a LOT to Check-Out! Visit Westgate River Ranch Resort & Rodeo to start planning your next dude ranch vacation. Or, talk with a vacation planner at 888-852-2959 or 407-355-2690.
RELATED ARTICLE:
When You Check-in, There's a Lot to Check Out
Sign up for our newsletter and check-in to great offers, secret stuff, and special events.