Top 10 Things to Do in Cocoa Beach
Top Things To Do In Cocoa Beach Florida!
A bustling beach town, Cocoa Beach, Florida, offers something for everyone – from themed Cocoa Beach hotels, to wind-swept, white-sand beaches, to historic fishing piers, from a myriad of outdoor recreational activities and tropically landscaped beachfront resorts to world-class dining and laid-back nightlife. In addition, it's the closest beach to Orlando and its world-famous theme parks! Planning a visit to Cocoa Beach in the near future? Here's our list of the Top 10 not-to-be-missed attractions in Cocoa Beach and the Space Coast:
Things To Do in Cocoa Beach
BONUS | Skydiving Santas | Kick off the holiday season with some high-flying excitement on Cocoa Beach between 10 AM and 3 PM on Saturday, December 14, 2019, as the highly talented Skydiving Santas descend upon world-famous Westgate Cocoa Beach Pier with an incredible performance of amazing aerial feats, along with a healthy dose of holiday cheer and magic for everyone! Known as the "ultimate fantasy skydive demo," the Skydiving Santas extravaganza is a free holiday celebration open to the public. Don't miss it!
WHERE: Westgate Cocoa Beach Pier, 401 Meade Avenue, Cocoa Beach, FL 32931 | WHO: (321) 783-7549
1. Westgate Cocoa Beach Pier: Billed as "the Ultimate Beach Adventure," the world-famous Cocoa Beach Pier is a historic landmark that stretches 800 feet over the Atlantic Ocean. In addition to great fishing and some of the best surfing on the East Coast, the Westgate Cocoa Beach Pier boasts gift shops, live musical entertainment, a game room, and restaurants and bars such as Pelican's Bar & Grill, Keith's Oyster Bar, The Boardwalk Bar, Sea Dogs and Rikki Tiki Tavern (currently closed for renovations). The Westgate Cocoa Beach Pier is the ideal locale for visitors who simply choose to relax or unwind, take a stroll and enjoy spectacular ocean views, dine on fresh seafood, enjoy a favorite cocktail, watch a rocket launch from nearby Cape Canaveral or shop for beach apparel and souvenirs.
WHERE: Westgate Cocoa Beach Pier, 401 Meade Avenue, Cocoa Beach, FL 32931 | WHO: (321) 783-7549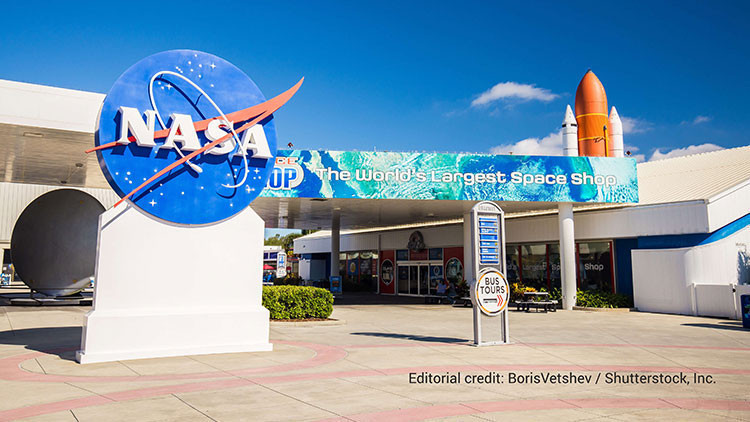 2. Kennedy Space Center Visitor Complex: Take an amazing journey through the fascinating history of American space flight at the Kennedy Space Center Visitor Center, which lies just 25 miles North of Cocoa Beach. Highlights of the Kennedy Space Center Visitor Complex include the Kennedy Space Center Tour, Space Shuttle Atlantis, Shuttle Launch Experience, A Beautiful Planet 3D and Journey to Space 3D IMAX films, Astronaut Encounter, Journey to Mars: Explorers Wanted, Science on a Sphere, Heroes & Legends, Rocket Garden and Cosmic Quest, among many other space-related exhibits. Don't miss the opportunity to purchase space-themed souvenirs at "The World's Largest Space Shop."
WHERE: Space Commerce Way, Merritt Island, FL 32953 | WHO: (855) 433-4210
3. Planetarium & Observatory at Eastern Florida State College: Recognized as one of the finest planetariums in the United States, the Planetarium & Observatory is ideally located on the Cocoa campus of Eastern Florida State College. The Planetarium & Observatory is home to the Star Theater (which houses the world's first combined Digital & Optical-Mechanical projection system) and the Discovery Movie Theater, which offers stadium-style seating. The premises include an art gallery, gift shop and mile-long nature trail.
WHERE: Eastern Florida State College, 1519 Clearlake Rd, Cocoa, FL 32922 | WHO: (321) 632-1111
4. Cocoa Beach Skate Park: Operated by the City of Cocoa Beach, this popular beachside skate park features a concrete bowl, full pipe, quarter pipe, manual pad, Jersey barrier and pyramid. Admission is only $3. Safety gear and signed liability waivers are required. Skateboard and helmet rentals are available onsite. The Cocoa Beach Skate Park is located at 450 Minuteman Causeway near Cocoa Beach High School.
WHERE: 1450 Minutemen Causeway, Cocoa Beach, FL 32931 | WHO: (321) 868-3238
5. Ron Jon Surf Shop: A true Cocoa Beach landmark, Ron Jon Surf Shop encompasses more than two acres full of surfboards, surfwear, sportswear, beach gear and much more. The world's largest surf shop, it is open 24 hours a day, 365 days a year. Other Ron Jon locales include Orlando, Ft. Lauderdale, Ft. Myers, Key West, Clearwater Beach and Panama City Beach, Florida; Ship Bottom, New Jersey (home of the original store that was founded in 1959); Myrtle Beach, South Carolina (Broadway at the Beach and Barefoot Landing); Ocean City, Maryland; and Orange Beach, Alabama.
WHERE: 4151 N Atlantic Ave, Cocoa Beach, FL 32931 | WHO: (321) 799-8888
6. Florida Surf Museum: Learn all about the "unique history and culture of East Coast surfing" at the Florida Surf Museum, which features such exhibits as Shortboard Evolution Revolution, The Florida Factor: Sidewalk Surfing, Locals Only and Florida Women of the Waves, among others. Browse through the Museum Store for one-of-a-kind surfing-related merchandise. The Florida Surf Museum is ideally located in the Ron Jon Surf Shop complex.
WHERE: 4275 N Atlantic Ave, Cocoa Beach, FL 32931 | WHO: (321) 720-8033
7. Exploration Tower at Port Canaveral: A spectacular architectural landmark located in the heart of Port Canaveral, Exploration Tower offers seven floors of exhibits and interactive play. Highlights of Exploration Tower, which opened in 2013, include indoor and outdoor observation decks, approximately 5,550 feet of exhibit space, an auditorium, café and gift shop. Exploration Tower is located within The Cove, a bustling waterfront dining and retail area at Port Canaveral.
WHERE: 670 Dave Nisbet Dr, Cape Canaveral, FL 32920 | WHO: (321) 394-3408
8. Lori Wilson Park: A popular regional beach park nestled amid sand dunes and maritime hammocks, Lori Wilson Park lies approximately a mile and a half South of S.R. 520. Highlights include a 1,000-foot boardwalk, covered pavilions, picnic tables, barbecue grills, restrooms, six dune crossovers, surf fishing, onsite vendors, sand volleyball court, playground, year-round lifeguards and dog park.
WHERE: 1500 N Atlantic Ave, Cocoa Beach, FL 32931 | WHO: N/A
9. Historic Cocoa Village: For an eclectic shopping and dining experience, stroll through Historic Cocoa Village, one of the premier shopping and entertainment districts in the Space Coast. Shopping options in Historic Cocoa Village include art galleries, antique stores, gift shops, bookstores, clothing boutiques and craft stores. Historic Cocoa Village also features such popular eateries as Brasas Brazilian Churrascaria, Café Margaux, Dog and Bone British Pub, From Olives and Grapes, Lazy Bean Coffee and Deli, Murdock's Southern Bistro & Bar, Norman's Raw Bar and Grill, Oleander Bakery, Ossorio Bakery & Café, Pub Americana and Blind Lion, Ryan's Pizza & Pub, The Tulip Restaurant & Lounge and Village Ice Cream and Sandwich. To reach Historic Cocoa Village, head West from Cocoa Beach on S.R. 520 and cross the Hubert Humphrey Causeway.
WHERE: Brevard Avenue, Cocoa, FL 32922 | WHO: (321) 631-9075
10. The Dinosaur Store: Ideally located just two blocks from the ocean and fun for all ages, The Dinosaur Store features "The Most Elaborate Array of Fossils in the World!" Dedicated to prehistoric history and culture, The Dinosaur Store is also home to an interactive and educational Adventure Zone, which features a digging area where families can uncover fossils in the Egyptian ruins, pan for minerals and control the movements of dinosaurs.
WHERE: 250 W Cocoa Beach Causeway, Cocoa Beach, FL 32931 | WHO: (321) 783-7300