Top Holiday Events at a Westgate Near You!
Top Holiday Events at a Westgate Near You
Let's face it! There's no better way to spend the holidays than enjoying a vacation with the ones you love. This year skip the baking and cleaning and plan a family vacation to celebrate the season at your favorite Westgate property. From Santa to Shamu, Winter lands to fireworks, there is plenty to do and fun to experience in family vacation spots all over the country. To break it all down and get you started, we have put together this handy list of the most popular holiday attractions and fun events happening in areas close to Westgate locations.
1 | Orlando, Florida
SeaWorld's Christmas Celebration
Come meet Rudolph the Red-Nosed Reindeer and pals as SeaWorld is transformed into a spectacular wonderland of three million twinkling lights to make the holiday spirits bright. Enjoy the spectacle with snowfall, music, shopping, delicious foods, stunning live shows and hours of memorable entertainment that the entire family will love.
WHEN: Nov. 11, 2022 – Jan. 3, 2023 | WHERE: 7007 Sea World Drive, Orlando, FL 32821 | WHO: 407-545-5550
Mickey's Very Merry Christmas Party
See the magic unfold and celebrate the season with Mickey and our favorite Disney characters in a holiday-themed celebration with joyful music and festivities. Enjoy a fireworks extravaganza with Minnie's Wonderful Christmastime Fireworks Show, a delightful and merry parade with Mickey's Once Upon a Christmastime Parade and a yuletide stage show called Mickey's Most Merriest Celebration. Also look out for Club Tinsel for the little ones to get their wiggle on, A Totally Tomorrowland Christmas for a rockin' good time and a Disney Junior Jingle Jam to dance with your favorite Disney Junior characters.
WHEN: Select nights from Nov. 8 - Dec. 22, 2022 | WHERE: Walt Disney World, 1180 Seven Seas Drive, Lake Buena Vista, FL 32830 | WHO: 407-929-5277
RELATED ARTICLES:
12 Top Las Vegas Restaurants with a View to Remember
The 15 Best Bars in Downtown Orlando
The Ultimate Guide to Westgate Excursions
Epcot® International Festival of the Holidays
Skip your holiday travel plans and experience how holiday traditions are celebrated around the world in the International Yuletide Extravaganza. The 11-world showcase of nations features a global tour with not-to-be-missed experiences. Enjoy spectacular dishes, flavors, sights and sounds celebrated by different cultures all in one area.
WHEN: Nov. 25 - Dec. 30, 2022 | WHERE: Walt Disney World, 1180 Seven Seas Drive, Lake Buena Vista, FL 32830 | WHO: 407-929-5277
Holidays at Universal Orlando Resort™
Treat yourself to a bit of mystery in your merry and experience extraordinary encounters with memorable fun as The Wizarding World of Harry Potter and Diagon Alley™ are transformed into a festive décor of lighting and fantastic holiday treats. See dazzling projections to celebrate the wondrous spirit of the season and enjoy Seuss Landing™ as it comes alive with Christmas charm and cheer while the Grinch himself retells traditional holiday tales with his signature sarcasm and charm in Grinchmas.
WHEN: Nov. 12, 2022 – Jan. 1, 2023 | WHERE: 6000 Universal Boulevard, Orlando, FL 32819 | WHO: 407-503-6000
Enchant St. Petersburg
Tropicana Field, the home of the Tampa Bay Rays baseball team, is transformed into a winter wonderland with a spectacular light maze, ice skating and dozens of vendors to shop from. The event boasts that it is "The World's Largest Christmas Light Maze & Village."
WHEN: Nov. 25, 2022 - Jan. 1, 2023 | WHERE: Tropicana Field, 1 Tropicana Dr., St. Petersburg, FL 33705 | WHO: N/A
2 | Branson, Missouri
Lights of Joy Christmas Drive-Thru
Enjoy an old-fashioned Branson thrill-of-the-season, Lights of Joy Christmas Drive-Thru. You will love the stunning scenery of brilliant LED lights showcasing Santa, the 12 days of Christmas and so much more.
WHEN: Nov. 1, 2022 - Jan. 2, 2023 | WHERE: 269 State Hwy 248, Branson, MO 65616 | WHO: 417-233-1769
Branson Landing's Winter Wonderlanding
Be sure to visit Branson Landing's Winter Wonderlanding as the town square lights up from the spectacular 63-foot Christmas tree, holiday décor, music, lights and so much more. Judge the holiday window contest, find Elfie to take a selfie and so much more.
WHEN: Dec. 1 - Dec. 31, 2022 | WHERE: 100 Branson Landing Boulevard, Branson, MO | WHO: 417-233-1769
Old Time Christmas Festival at Silver Dollar City
Enjoy a bigger and brighter Christmas at Silver Dollar City as the Joy on Town Square is illuminated with a 90-foot-high, custom-designed Christmas tree covered in 6.5 million high-resolution lights. Experience the color, music, and animation backed by high-tech lighting blended together to create a memorable show.
WHEN: Nov. 5 - Dec. 30, 2022 | WHERE: 399 Silver Dollar City, Branson, MO 65616 | WHO: 417-336-7100
3 | Las Vegas, Nevada
Bellagio Fountains
Whether you are visiting Vegas with your special someone or with the family in tow, take in the iconic Bellagio Fountains. The free water show features 1,200 dancing streams on a lake that spans 8.5 acres and is 460 feet high with special performances that feature holiday tunes by greats like Frank Sinatra and Andre Bocelli in an unending loop.
WHEN: Every 30 minutes on Monday – Friday, 3 p.m. to 8 p.m. After 8 p.m., the fountain goes off every 15 minutes. | On Saturdays, Sundays and holidays, the fountain runs every 30 minutes from noon to 8 p.m. Every 15 minutes, it goes off from 8 p.m. to midnight. | WHERE: 3600 Las Vegas Boulevard, Las Vegas, NV 89109 | WHO: 866-259-7171
Holiday Cactus Garden at Ethel M Chocolate Factory
Just imagine half a million twinkling stars draped over a cactus with chocolate houses, sculptures and demonstrations to enjoy!
WHEN: Nov. 4, 2022 – Jan. 1, 2023, from 5 p.m. - 10 p.m. | WHERE: 2 Cactus Garden Drive, Henderson, NV 89014 | WHO: 800-438-4356
Mystic Falls Winter Wonderland
Considered one of Vegas' most stunning attractions, Mystic Falls Indoor Park is transformed into a Winter Wonderland each year for the holiday season. You'll love the garland streams, wreath-adorned lamp posts, snow-covered trees and even get a glimpse into Santa's workshop with the elves working away.
WHEN: Monday - Thursday (6 p.m., 8 p.m., 10 p.m.) Friday - Sunday (4 p.m., 6 p.m., 8 p.m., 10 p.m.) | WHERE: 5111 Boulder Highway, Las Vegas, NV 89122 | WHO: 702-456-7777
4 | Mesa, Arizona
Las Noches de Las Luminarias at the Desert Botanical Garden
Take the family along for a stroll through 8,000 flickering luminaria bags with twinkling lights and an enchanted glow of Wild Rising by Cracking Art creatures. This scene is completed with electric tunes from the holiday season.
WHEN: Dec. 9 -11, 15 - 18, 20 - 23, 26 -31 | WHERE: 1201 North Galvin Parkway, Phoenix, AZ 85008 | WHO: 480-941-1225
5 | Myrtle Beach, South Carolina
Broadway at the Beach: New Year's Eve Fireworks Extravaganza
Get your front-row seat as the skies light up with a dazzling spectacle of fireworks to ring in the New Year. This once-a-year event promises to be even better than the year before. Treat your family to this annual holiday wonder.
WHEN: Dec. 31, 2022 | WHERE: 1325 Celebrity Cir, Myrtle Beach, SC 29577 | WHO: 843-444-3200
The Great Christmas Light Show
Come see this breathtaking display of lights heralding the holiday season. Drive through two million illuminations along 1.5 miles of the North Myrtle Beach Park & Sports Complex. You'll be dazzled by 20 enchanting animated figures and holiday scenes, plus Santa's Village where chocolate and s'mores are served. Get an up-close look at the lights on Santa's Express Train Ride and go through the Chris-maze to meet the big man himself.
WHEN: Nov. 21 - Dec. 30, 2022 (Closed on Thanksgiving Day, Nov. 24, and Christmas Day, Dec. 25) | WHERE: 150 Citizens Circle. North Myrtle Beach, SC 29582 | WHO: 843-280-5570
6 | Park City, Utah
Christmas Eve Torchlight Parade
If you are visiting Park City during the holiday season, be sure to stop by the Annual Torchlight Parade. See the lit torches carried valiantly down the snow-covered mountains, turn-by-turn by Park City's best ski and snowboard instructors as they ski in unison to lead Santa in an impressive procession through the town. Enjoy cookies, hot chocolate and plenty of merriment before he arrives.
WHEN: Dec. 24, 2022 (6:30 p.m. - 7 p.m.) | WHERE: 1345 Lowell Ave, Park City, UT | WHO: 800- 453-1360
Park City Holiday Spectacular & Sing-Along
This musical sing-along led by a spectacular Christmas choir is a traditional Park City family holiday event. It features local performers and talents that will get you into the spirit of the season.
WHEN: Dec. 15 - 18, 2022 | WHERE: 328 Main Street, PO Box 3119, Park City, UT 84060 | WHO: 435-649-9371
New Year's Eve Celebration & Fireworks
Start 2023 with a bang at the New Year's Eve Celebration and Fireworks at Canyons Village. Join the festivities with music and spectacular fireworks to ring in the start of an amazing new year.
WHEN: Dec. 31, 2022 | WHERE: 4000 Canyons Resort Drive, Park City, UT 84098 | WHO: 435-615-3336
7 | Williamsburg, Virginia
Busch Gardens® Williamsburg's Christmas Town
Watch one of the largest and most beautiful Christmas light displays in North America complete with food, drink and heartwarming holiday cheer. This is truly an amazing family-friendly event.
WHEN: Nov. 11, 2022 - Jan. 8, 2023 | WHERE: 1 Busch Gardens Boulevard, Williamsburg, VA 23185 | WHO: 813-884-4FUN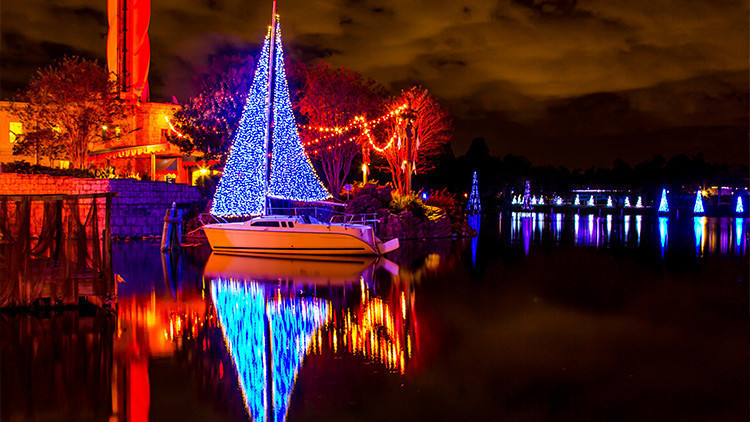 8 | South Beach, Florida
Santa's Enchanted Forest
With over 100 rides, games, shows and attractions, Santa's Enchanted Forest is a must-see event for the entire family. From kiddie rides, family rides and thrill rides, be sure to add this attraction to your list of holiday things to experience.
WHEN: Nov. 9, 2022 - Jan. 8, 2023 | WHERE: 7900 SW 40st Street, Miami, FL 33155 | WHO: 305-559-9689
9 | St. Augustine, Florida
Nights of Lights
The annual holiday event is celebrating 29 years in 2022! Nights of Lights has been listed among the top ten holiday light displays in the world by National Geographic. During this festival of lights, downtown St. Augustine glows from the ground to the rooftops. St. Augustine's Nights of Lights features millions of tiny white lights that create a magical atmosphere in the Nation's Oldest City, and it's free of charge.
WHEN: Nov. 19, 2022 - Jan. 31, 2023 | WHERE: St. Augustine, FL. | WHO: N/A
10 | River Ranch, Florida
Holidays at LEGOLAND
Deck the halls with holiday cheer brick-by-brick at LEGOLAND. Spend a jolly time with the family and watch twinkling lights, seasonal shows, and special treats. Don't miss LEGO Santa and Toy Soldier, and Santa's workshop complete with Elves and so much more.
WHEN: Nov. 25 - 27, 2022 & Dec. 3 - 4, 10 - 11, 17 - 18, 22 - 31 | WHERE: 1 LEGOLAND Way, Winter Haven, FL 33884 | WHO: 888-690-5346
Christmas at Bok Tower Gardens
Experience the magic of Christmas as Pinewood Estate is transformed into a holiday wonderland. Enjoy festive concerts, holiday foliage with walking tours and carillon concerts. The Peace on Earth Carillon Concert is happening on Dec. 27, 2022. The event is free for members and included in general admission for all other guests.
WHEN: Dec. 25, 2022 | WHERE: 1151 Tower Boulevard, Lake Wales, FL 33853 | WHO: 863-734-1222

RELATED ARTICLE:
At Westgate Resorts, when you Check-In, there's a LOT to Check-Out! Your vacation awaits! Start planning your next vacation today or talk with a vacation planner at 888-852-2959 or 407-355-2690. For more travel tips and guides, visit our Westgate Resorts Travel Blog.
* Westgate Resorts is in no way affiliated with the attractions featured in this article. Items or places listed are current as of the publishing date of this article. Please call or visit the respective website for the most up-to-date offerings and details.
When You Check-in, There's a Lot to Check Out
Sign up for our newsletter and check-in to great offers, secret stuff, and special events.