Westgate Resorts to Hire More Than 500 Seasonal Positions for the Upcoming Holiday Season
Oct 30, 2020
Increased demand for homestyle villa product & best-in-class safety measures lead to strong resort pre-bookings.
ORLANDO, Fla. October 30, 2020 – Westgate Resorts announced today that due to strong forecasts and pre-bookings of its timeshare owners and guests for the upcoming holiday months, the company is hiring over 500 seasonal Team Members in various departments across the company. Positions are available throughout resort operations and housekeeping, as well as support center areas throughout the company's corporate offices and resorts in the Central Florida-area. Individuals interested in hospitality careers at Westgate Resorts are encouraged to apply.
"All of our efforts to create a safe travel environment, complemented with socially distant activities and spacious villas, has led to a strong pace in pre-bookings for owners and guests," said Mark Waltrip, Westgate's Chief Operating Officer. "We have the best Team Members in hospitality and I am excited to welcome hundreds more to join our team and hopefully transition many of them to be a part of our team."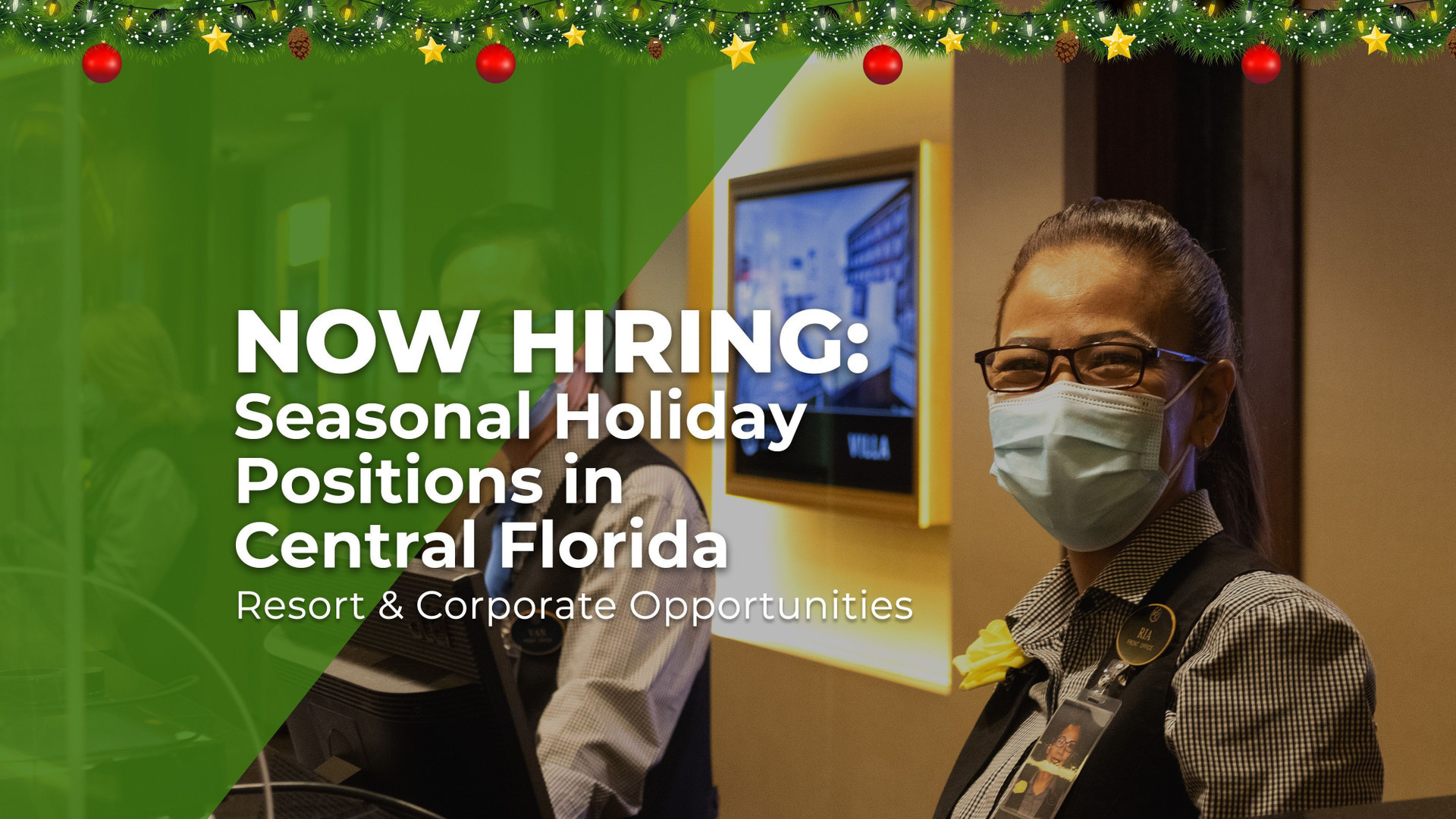 Timeshare owners and the vacation ownership product have shown incredible resiliency during the pandemic in large part due to the pre-paid nature of the vacation and the incredible benefits the product offers above traditional hotel-style and vacation rental accommodation, including spacious units with full kitchens.
This past May, Westgate Resorts launched its health and safety program, WestgateCARES. The program is an all-encompassing strategy on exactly how the company has safely reopened its resorts, hotels, restaurants, retail outlets, spas, casinos and other amenities. WestgateCARES details the specific procedures that meet, and in most cases, exceed all governmental directives.
"We've spared no expense to provide the safest environment possible for our Team Members and our guests," continued Waltrip. "We have also re-engineered our world-class activities and amenities program to make sure our guests have a fun and safe vacation experience."
For more information on seasonal hospitality jobs with Westgate Resorts please visit WestgateResorts.com/Careers/Seasonal/
About Westgate Resorts
Westgate Resorts is the largest privately held timeshare company in the world and one of the largest resort developers in the United States. Founded in 1982 by David Siegel, the company is headquartered in Orlando with 7 Orlando hotel resorts, and 24 themed destination resorts nationwide, featuring more than 14,500 luxury villas and hotel rooms in popular vacation destinations throughout the United States such as Miami, Orlando and Cocoa Beach, Florida; New York City, New York; Park City, Utah; Las Vegas, Nevada; Gatlinburg and Pigeon Forge, Tennessee; Myrtle Beach, South Carolina; Williamsburg, Virginia; Branson, Missouri; Mesa, Arizona; and Tunica, Mississippi. Most Westgate Resorts locations feature a variety of unique restaurant, retail and spa concepts, including Villa Italiano Chophouse, Drafts Burger Bar, Edge Steakhouse, Westgate Marketplace & Deli and Serenity Spa by Westgate. For more information about Westgate Resorts, visit www.westgateresorts.com.