The 10 Best Day Trips in South Florida You've Never Done
The 10 Best Day Trips in South Florida You've Never Done
When most people think of Florida, they think blue skies, beautiful beaches, warm weather, and never-ending vacation choices. Many of our northern neighbors even think of Florida as a perpetual vacation. Since no trip to the sunshine state can be complete without a visit to Miami and the South Florida area, we've put together a list of top day trip options to consider during your next visit.
Miami
"Party in the city where the heat is on. All night on the beach till the break of dawn. I'm goin' to Miami. Welcome to Miami."
- Will Smith
Miami has always been a magnet for celebrities, partygoers and visitors wanting to be part of the trendy scene. The Magic City has inspired the lyrics to songs, scenes in movies, hosted spectacular events and world-famous celebrities and ranks among the most travelled cities in the world. Outside of the city's spirit, so accurately portrayed in Will Smith's hit song, Miami has plenty more to keep you entertained 24/7.
South Beach is the epitome of beach, glamour and everything in between. Take a dip in the ocean, stroll along the sandy beach, people watch for celebrities, enjoy shopping, dining, nightlife, art deco architecture on Ocean Drive and make memories here you will find nowhere else.
LOCAL TIP: Get around Miami's notable traffic in a water taxi shuttle service. Water Taxi Miami has six hop-on-hop-off locations between Miami and Miami Beach-South Beach. The route passes through the Venetian Causeway, Monument Island, Hibiscus Island, and other well-known spots between Bayside Marketplace and Sea-Isle Marina every 90 minutes. On arrival at the beach, you can walk, bike, drive, or take a free trolley ride to Ocean Drive, South Beach, and other popular spots.
The Miami Sea Aquarium is perfect for a family-friendly trip. The 30-acre oceanarium offers an up-close encounter with marine life. Try the 30-minute-long Dolphin Odyssey and Dolphin Encounter – kiss, handshake, rub and feed the ocean's most beloved creatures. Swim with the seals during a 15-20-minute encounter, learn about African Penguins or experience life as a Trainer-for-a-Day with behind the scenes experiences.
LOCAL TIP: Buy your tickets online to save money and avoid long wait times at the aquarium. Ever wonder how it would feel to be up close or face-to-face with seals, penguins, dolphins, stingrays, and sharks, or walking underwater through a 300,000-gallon tropical reef? The Miami Sea Aquarium allows safe encounters, so you can swim with seals and dolphins, and come face-to-fin with stingrays and sharks. How's that for an experience to share?
There is always plenty to do at the Bayside Marketplace. The two-story open-air shopping center is an eclectic scene of popular stores and restaurants along the Bay. Cruise along the water, tour Millionaire's Row, enjoy waterfront dining, fishing, and more courtesy of local cruise operators such as Island Queen Cruises and Miami Aqua Tours located at the Bay.
LOCAL TIP: After you're done eating, shopping and playing at Bayside, head over to the marina area for a super fun boat ride along the waterway. There are several options to fit any wallet – pirate ships, party boats, yachts, charters, and sightseeing tours are all on the list. Bayside Marketplace is even a stop for the Miami Water Taxi!
Collins Avenue also has a plethora of things to do. From art galleries, museums, live performances, music and film, Miami's culture resonates on the scene.
LOCAL TIP: After you're done eating, shopping and playing at Bayside, head over to the marina area for a super fun boat ride along the waterway. There are several options to fit any wallet – pirate ships, party boats, yachts, charters, and sightseeing tours are all on the list. Bayside Marketplace is even a stop for the Miami Water Taxi!
Experience Miami Skydiving Center located at the Kendall Tamiami Airport. Here you can free-fall for 60 seconds at 120 miles per hour or see the skyline from a helicopter ride complete with breathtaking vistas as you soar over gorgeous sights.
LOCAL TIP: After you're done eating, shopping and playing at Bayside, head over to the marina area for a super fun boat ride along the waterway. There are several options to fit any wallet – pirate ships, party boats, yachts, charters, and sightseeing tours are all on the list. Bayside Marketplace is even a stop for the Miami Water Taxi!
If you are looking for another family-friendly stop, add Miami Children's Museum to your list. Since the museum follows the Miami-Dade County Public School curriculum, each exhibit offers educational insight into various topics in a fun and inspirational way. Exhibits include, All About Art, Castle of Dreams, Health and Wellness, Pet Central, My Green Home and other displays that offer hours of fun.
LOCAL TIP: Each exhibit coincides with the Miami Dade County Public School curriculum and serves as an extension of formal learning. Age appropriate learning handouts are also given out to kids of all ages. With the goal of this attraction to stimulate natural curiosity about the world and encourage life-long learning, you can rest assured that a visit here will be both entertaining and educational.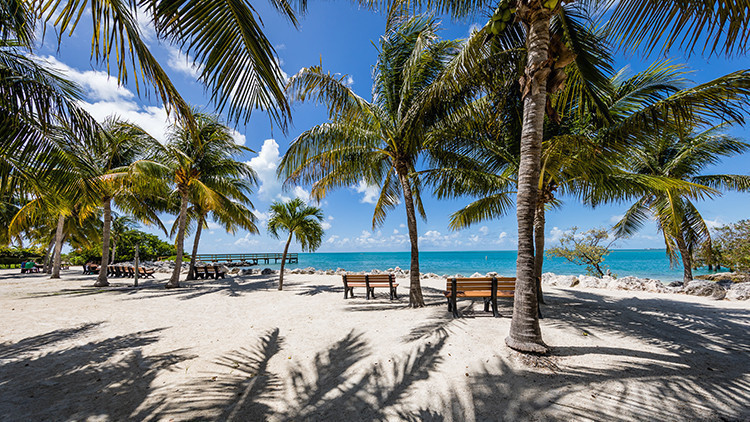 The Florida Keys
Known for snorkeling, boating, fishing and scuba diving, the Florida Keys are made up of tropical islands along the Southernmost tip of the United States. Your adventure will start even before your arrival to the Keys. The scenic drive along Overseas Highway comes with breathtaking views of the Atlantic Ocean on both sides of the path. This is the only road into the Keys, and while there are stretches with nowhere to stop, the sights along the way are definitely worth the journey.
The first Key you will hit along the way is Key Largo, an exotic allure that captivates thousands of visitors each year. Home to tropical hardwoods, winding creeks, one national park, two state parks, a national marine sanctuary, and magnificent botanical sights, Key Largo is one of the more popular Keys in the collection.
LOCAL TIP: There are plenty of family-friendly things to do in Key Largo – African Queen Cana Cruise, Florida Keys Wild Bird Rehabilitation, Island Dolphin Care, Dolphin Plus Marine Mammal Responder, Florida Keys Visitors Center, Harry Harris Park, Dagny Johnson Key Largo Hammock Botanical State Park, Key Largo Dry Rocks and the list goes on!
If you are a nature lover, stop by Dagny Johnson Key Largo Hammock Botanical State Park. Inside you will find over 80 species of protected plants and animal wild life. There are self-guided tours along six miles of trails as well as ranger guided tours that provide extra direction.
LOCAL TIP: Saved from becoming a condo development, the park is home to 84 protected species of plants, animals, and trees such as wild cotton, mahogany mistletoe and the American crocodile.
Dolphin Cove is another must-see hot spot. Guests may swim and interact with dolphins or take a 30-minute boat ride while learning about these amazing sea mammals.
LOCAL TIP: Meet the dolphins. Literally! The Shallow Water Dolphin Encounter allows you to meet dolphins up close in waist deep water.
If diving is your forte, you will love USCGC Bibb which offers epic diving adventures. Depending on your skill level, you may explore wreck sites around 95-130 feet deep, and see artificial reefs, sharks, goliath gropers, barracuda and smaller fishes with excellent visibility.
Jetpack Water Flights is an excellent pick for adrenaline junkies! Thrill seekers will experience the ride of their lives from jet packs that fast forward with intense speed. In-water instruction is also available from Hydro-Academy certified instructors as needed.
LOCAL TIP: Pricey depending on your budget, but definitely worth the thrill to feel like superman flying above the ocean! You will be trained by an insurance certified flight instructor, so you can learn how to control your height, speed, and do those super impressive turns that will impress everyone.
For a different tempo and more relaxed alternative, check out EcoSail for a peaceful eco-exploration cruise throughout the Everglades National Park and Florida Keys. EcoSail also offers activities like paddling through tunnels, snorkeling at the edge of mangroves to explore underwater forests and the opportunity to learn about the ecosystem.
LOCAL TIP: You'll learn everything you need to know about identifying the many species of local fish.
Visit the Kayak Shack located on Robbie's Marina on another Key Island, Islamorada. Here you will find everything you need to explore the waters around Indian Key State Park, Lignumvitae Key Botanical State Park and more by kayak. Jet ski, snorkeling and guided kayak tours are also available by appointment – there is even a peaceful sunset paddling tour through mangrove tunnels and saltwater flats for a relaxing experience.
LOCAL TIP: Be sure to check out the cool ice cream shack on the water!
Your next stop should be Indian Key Historic State Park. History and archeology enthusiasts will love the 11-acre island with relics from the 1800s. The island also offers canoeing, kayaking and fishing everyday starting at 8:00 am.
LOCAL TIP: Accessible only by boat and perfect for visitors who want to swim, sunbathe, and hike.
The beautiful two-story Keys History and Discovery Center dedicated to preserving the colorful history of the Keys is another popular stop to make. Sitting on the waterfront, this attraction offers a state-of-art movie theater, temporary and permanent exhibits related to geological and cultural topics, a research library and so much more.
LOCAL TIP: See permanent exhibits about the First People, Spanish Treasure Fleets, Pirate/Wreckers/Salvagers, and other relics that present the history of the Upper Keys.
Key West is the most famous island in the collection. Known for its sandy beaches, stunning views, historic sights, lively nightlife, tropical gardens, water activities and conch-style architecture, Key West is just 90 miles from Cuba, making it the southernmost city in the United States. There is always plenty to do in Key West!
Spend some time on Duval Street, and enjoy the lively strip of restaurants, shops, bars and cafes.
LOCAL TIP: Perfect for an adult only crowd, many of the streets are blocked off from vehicles to create a party scene with loud music and a mile-long bar crawl.
Just west of Duval Street is Mallory Square, a waterfront plaza facing west towards the Gulf of Mexico that is transformed into a festival each evening about two hours before sunset, when hundreds gather to watch the Sunset Celebration. The mix of jugglers, magicians, local musicians, clowns, street performers, food vendors, art and craft exhibits, and a flurry of activities, add a layer of excitement you should not miss.
LOCAL TIP: Mallory Square was named after one of the first female settlers in Key West. Its sunsets are legendary with a mixture of glowing pink and bright red sun sinking into the Gulf of Mexico.
Located in the middle of the hustle and bustle of Duval Street is the serene Key West Butterfly and Nature Conservatory. This tropical oasis houses an incredible collection with 60 species of butterflies and 20 species of exotic birds.
LOCAL TIP: Just imagine a magical tropical paradise with hundreds of stunning winged creatures, impressive collections of flowering plants, colorful birds, cascading waterfalls, and trees in a climate-controlled glass habitat.
Enjoy the sights up high from a sightseeing tour over the island with an experienced pilot at Key West Seaplane Adventures – many guests have reported spotting dolphins, porpoises, rays, sharks and turtles below.
If you like biking, join Lloyd's Tropical Bike Tour each morning for a two-hour ride throughout the island. With this experience, you'll stop at the Key West Wildlife Center, private secret gardens, fascinating old houses previously owned by celebrities and sample local fruit along the way.
Fort Lauderdale Beach
Fort Lauderdale's sun kissed beach and powdery sand sprinkled with seashells and other natural treasures, stretches along 23 miles of relaxing ocean water, making a lovely family-friendly day trip option. The area also offers shopping, dining, strolling, and jogging along the strip. If you like people watching, you will also get an eyeful as there is always something to see from the hundreds of tourists and locals who visit the beach each day.
Hallandale Beach
Hallandale Beach is the perfect getaway for the "active tourist." Take your pick from the list - golf, volleyball, swimming, boating, and salt-water fishing by day or the exciting nightlife when the sun goes down. Hallandale Beach is also home to thoroughbred horseracing, the Florida Derby and the Mardi Gras Racetrack and Gaming Center.
Hollywood Beach
Start this visit with a scenic stroll on the famous 2 1/2 miles long Boardwalk overlooking the gorgeous sandy beach – the area even has a dog beach for canine companions to play and have their own brand of fun. Whether you bike or stroll, you will love this tranquil excursion. The area also houses outdoor cafés for quick snacks and beverages and a nearby trolley that will take you to the epicenter of Hollywood.
LOCAL TIP: Best beach to skate, cycle, stroll, and take pictures along an iconic palm-lined brick paved boardwalk setting! For a fuller experience, head to the tiki bars, seafood restaurants, and enjoy free concerts that even South Florida locals recommend.
Redland/Homestead
Avoid the crowds in the more popular hot spots and head to the Redlands. If you love nature, you will be in the right zip code here. Known as the farmer's wonderland, the Redlands consists of countless farms that offer strawberry pickings depending on the season. There is also a bevy of exotic activities available to keep you entertained.
The 37-acre Fruit & Spice Park is the only botanical garden of its kind in the United States. Plan your trip to include this family-friendly outing. Guided tours are ongoing everyday based on the weather. Take pictures of the beautiful landscape, enjoy a picnic and learn about horticulture and native plants from the knowledgeable staff.
The Everglades National Park is the largest subtropical wilderness in the country. This fascinating park is made up of 1.5 million acres of wetlands and preserved habitats for rare and endangered species like the manatee, American crocodile and Florida Panther. During your visit, walk along the Anhinga Trail and spot turtles, heron and alligators in their natural habitat. Get a bird's eye view of the Glades from Shark Valley's 56-foot observation tower and tour the Florida Bay by boat or Kayak to see crocodile, manatee, and dolphins. The adventure doesn't stop there – bike through the pinelands, paddle among mangroves or tour the historic Nike Hercules Missile Base and so much more.
Visit the Everglades Alligator Farm, the oldest of its kind in South Florida. Located close to the Everglades National Park, the farm is home to more than 2,000 alligators. During your visit, take an airboat ride, watch an alligator and snake show, or sit in on a feeding demonstration.
Palm Beach
The Palm Beach Zoo is always a good option for a family day trip. Home to more than 550 animals including endangered species, the zoo runs a native wildlife rehabilitation program, conducts nutritional studies in multiple species, and manages other programs that fuel ongoing behind-the-scenes educational programs for guests and the community. Guests will also enjoy the always popular play fountain, where kids can frolic around water jets, and Kid Zone with exciting rides and sculptures, zoo events and so much more.
Make a stop to experience Lion Country Safari, voted Top Local Attraction by Palm Beach Post's Reader's Choice Awards. Just imagine a drive or walk through a safari with 900 wild animals; from giraffes, zebras, ostriches and rhinos to animals native to 6 continents roaming freely in the environment.
The Rapids Water Park offers a full-day of fun and amazing rides for the entire family! The 30-acre attraction includes 42 incredible water slides. There are thrill rides with accelerated drops, plunges into darkness, exhilarating drives and racing. Family rides are equally enjoyable with a more relaxing tempo, while kid rides offer hours of fun with age appropriate experiences.
The Palm Beaches is Florida's Golf Capital with more than 160 golf courses which have hosted golf royalty and premier events. Tee off at The Breakers Ocean Course, Florida's oldest 18-hole golf course, enjoy water views at Red Reef Executive Golf Course, or if you are a nature lover, choose Southwinds Golf Course. If you play golf, be sure to add this stop to your list of places to visit.
When You Check-in, There's a Lot to Check Out
Sign up for our newsletter and check-in to great offers, secret stuff, and special events.