10 of the Best Free Christmas Events in Orlando
10 Of The Best Free Christmas Events In Orlando
"I am sure I have always thought of Christmas time … as a good time; a kind, forgiving, charitable, pleasant time, the only time I know of, in the long calendar of the year, when men and women seem by one consent to open their shut-up hearts freely." – Charles Dickens, A Christmas Carol
Visitors looking for things to do in Orlando during the Christmas season almost invariably tend to gravitate exclusively to the amazing (and overwhelmingly crowded!) holiday celebrations at the world-famous theme parks such as Mickey's Very Merry Christmas Party at Walt Disney World Resort, Grinchmas Who-liday Spectacular at Universal Orlando Resort and the Christmas Celebration at SeaWorld Orlando. However, if you are leaning towards less boisterous and perhaps free or inexpensive things to do in Orlando Florida, and prefer your Orlando Christmas celebrations with fewer crowds, make sure to put a pin in some of these things to do in Orlando, Florida, for families. Without further ado, here are 10 of the best free Christmas events in Orlando annually:
1 | Deck the Downtown | Need a festive boost for the holidays? Just head to the free Deck the Downtown celebration (AKA Deck the DTO) at the central business district in downtown Orlando throughout December 2019 and experience all the festive lights and colorful window decorations emanating from the storefronts! You'll get in the Christmas spirit in no time at Deck the Downtown!
HOLIDAY TIPS | Focus on what is important. With so many items on your "to do" list during the Holidays, don't be afraid to say no or scrap something if it is just too much.
Holiday Tree Lighting by CityofStPete / Licensed under CC BY 2.0
2 | City of Orlando Tree Lighting Celebration | One of the highlights of the Orlando holiday season is a chance to view the 72-foot Christmas tree at Lake Eola Park in downtown Orlando. Although the free tree-lighting ceremony takes place annually in late November with live music and performances, along with an appearance by The Daily City's Food Truck Bazaar, the Christmas tree itself is available to view anytime throughout the holiday season (see No. 6). Give this stroll around the lake a go, and you'll agree that this scene really does make the season bright!
HOLIDAY TIPS | Don't go too overboard spending on gifts, create a budget and stick with it, so you're not stuck paying for the Holiday all year long.
3 | Holiday Concert at Lake Eola | The immensely popular Holiday Concert at Lake Eola Park takes place in early December and features the talents of the Florida Symphony Youth Orchestra performing holiday-inspired classics. Although the performance is free to the public, attendees are encouraged to bring a new, unwrapped toy to support the Salvation Army's Angel Tree program. The Holiday Concert at Lake Eola is also broadcast live by WKMG Local 6. Formed more than 62 years ago, the Florida Symphony Youth Orchestra serves nearly 300 students and consists of seven ensembles: three symphonic orchestras, one string-trained orchestra, two jazz orchestras and a chamber orchestra.
HOLIDAY TIPS | Stop and smell the Figgy pudding. Only literally if Figgy pudding is part of your tradition. So, take a deep breath and enjoy all the special things that the Holidays bring.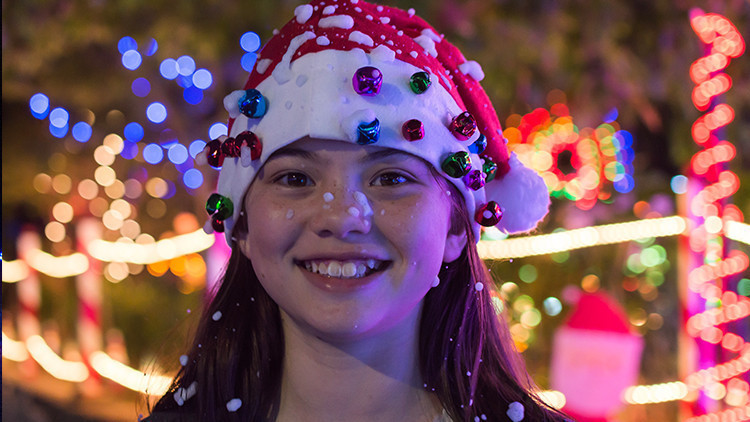 4 | Now Snowing in Celebration | Billed as "Florida's original and premier 'snowing' event," Now Snowing in Celebration runs nightly until December 31 and features one of Central Florida's only synthetic ice rinks, live performances, strolling carolers, horse-drawn carriage rides, photos with Santa Claus, train rides and nightly snowfalls at 6 PM, 7 PM, 8 PM and 9 PM. Note that only the nightly snowfall is free, while there are charges for the other activities connected with the event. A true winter wonderland spectacular, Now Snowing in Celebration takes place at the master planned community originally founded by the Walt Disney Company located off Highway 192 just east of Walt Disney World Resort. Whatever your taste in holiday happenings, fun day trips in Florida start with snow during Christmas!
HOLIDAY TIPS | Give your Mom a hug, if you can't, give her a call on the phone and tell her how much you appreciate her. This might seem obvious during the Holidays, but a simple reminder always helps.
5 | Holiday Movies at Lake Eola Park | Grab a blanket and head to downtown Orlando on select evenings to get your Christmas movie fix with a free screening of such holiday classics as Elf (2003) starring Will Ferrell and screening on December 13, 2019; How the Grinch Stole Christmas (2000) starring Jim Carrey and screening on December 20, 2019; and National Lampoon's Christmas Vacation (1989) starring Chevy Chase on December 27, 2019. All holiday movies will begin promptly at 7 PM.
HOLIDAY TIPS | Don't drink too much! It can be easy to overindulge in the Holiday "Spirit," so try your best not to - it'll work out better for everyone.
By Ron Cogswell / Licensed under CC BY 2.0
6 | Eola Wonderland Christmas Tree Show | Even if you happened to miss the City of Orlando Tree Lighting Celebration (see No. 2), you can view the free Eola Wonderland Christmas Tree show near the Walt Disney Amphitheater at Lake Eola Park in downtown Orlando and watch the 72-foot Christmas tree come alive with a spectacular light and music extravaganza nightly at 5:45 PM, 6:45 PM, 7:45 PM, 8:45 PM and 9:45 PM. Don't miss it!
HOLIDAY TIPS | Keep your workout routine. If you have a workout routine, keep it going strong to help you stay healthy during the Holidays.
By aagay is / Licensed under CC BY-SA 2.0
7 | Holidays at Disney Springs | Few places in Central Florida are more festive than the 120-acre Disney Springs shopping, dining and entertainment complex at Walt Disney World Resort – and best of all there is no charge to wander around and join in all the holiday cheer! Highlights include "a sleigh full of festive experiences" such as live entertainment, seasonal treats, falling snow, brightly decorated Christmas trees, Santa's Chalet and more. By the way, Disney Springs first opened in 1975 as the Lake Buena Vista Shopping Village amind the cluster of family hotels in Orlando Florida and was known for many years as Downtown Disney before morphing into its present form with four distinctive areas: The Landing, Marketplace, West Side and Town Center.
HOLIDAY TIPS | Dress to impress! Wear that Ugly Sweater with pride and enjoy every moment of the Holidays!
8 | Light Up Mount Dora | Each holiday season, the charming town of Mount Dora, which lies just northwest of Orlando, is illuminated with two million sparkling Christmas lights! Known as the "Festival City," Mount Dora lives up to its name with a myriad of holiday-related events (some free and some not), including Light Up Mount Dora, Mount Dora Christmas Walk, Mount Dora Christmas Parade, Christmas Lighted Boat Parade and Christmas Tour of Homes. If you can't make any of these specific holiday events, simply head up to Mount Dora on any night in December and marvel at the holiday lights. It's well worth your time and will surely be one of the highlights of your holiday season!
HOLIDAY TIPS | Don't just give presents, be present! Put down that smartphone!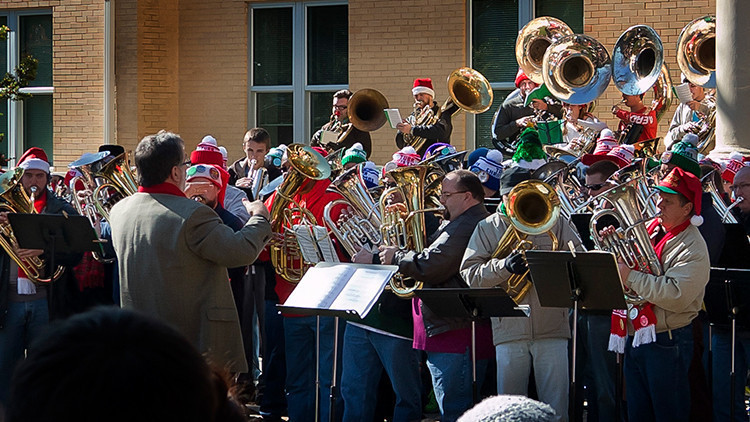 By mckinney75402 / Licensed under CC BY 2.0
9 | Fort Christmas Cracker Christmas | A Central Florida holiday tradition since 1979, the free Fort Christmas Cracker Christmas takes place during the first weekend in December at the Fort Christmas Historical Park in Christmas, Florida. Highlights include pioneer demonstrations, craft fair, Civil War artifact displays and Southern-style cuisine. Don't miss the opportunity to get an official Christmas, Florida, postmark on your Christmas cards! By the way, Christmas served as the birthplace of noted American sculptor James Hughlette "Tex" Wheeler (1901-54), best known for his famous sculpture of the racehorse Seabiscuit, which can be found at Santa Anita racetrack in California. Christmas is also home to Jungle Adventures animal park, home to the "World's Largest Gator!"
HOLIDAY TIPS | Don't feel guilty indulging in those delicious Holiday treats, it's only once a year!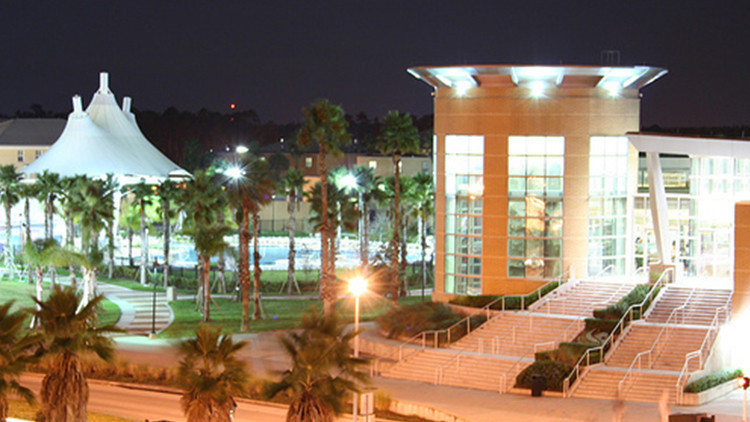 By keone / Licensed under CC BY-SA 2.0
10 | Light Up UCF Holiday Film Festival | One of the most highly anticipated Orlando holiday events each year, Light Up UCF features a free Holiday Film Festival where guests can enjoy classic holiday films screened outdoors on a huge two-story movie screen. The 2019 holiday film lineup includes A Christmas Carol and How the Grinch Stole Christmas (November 26, 2019), Home Alone and The Santa Clause (December 6, 2019) and The Polar Express and Elf (December 23, 2019). But the film festival is really only the beginning of festivities as you explore what it's like to live a 'Wonderful Campus Life' on the decked out campus-turned-techno-light-show of UCF's impressive holiday event.
HOLIDAY TIPS | Give, give, give! Remember in the Season of Giving, it is always better to give than to receive.
Jump into the middle of the merriment with a college campus Christmas-illuminated attraction that's both fun and family-friendly! Billed as "Central Florida's Ultimate Winder Wonderland," Light Up UCF also boasts ice skating, live entertainment, holiday light show, amusement rides and more (separate fees charged for certain activities).
BONUS | Jingle Jam | Fun for all ages, the free Jingle Jam Community Holiday Party will take place between 4 PM and 10 PM on Saturday, December 7, 2019, in historic Downtown Sanford. Highlights of this fun-filled holiday event for all ages will include live music on five stages, gourmet food trucks, holiday arts & crafts vendors, a kids zone, giant snow globe, magic show, carnival games, pictures with Santa Claus and even live wrestling acts!
The city beautiful is certainly no stranger to holiday fare, whether it's at the house of mouse, or tucked away in the rustic, rural townships that dot the outskirts of Orlando proper like ornaments on a tree. No matter what you're looking for, there's no shortage of Christmas spirit in the area, so whatever event you head out for this month, we wish you a very Merry Christmas and Happy Holiday Season!
Craving Christmas In Orlando?
Love these super-sweet blog guides to local events going down in your destination of choice? Find out more about our incredible resorts in Orlando, discover Orlando getaway deals you've never seen before, explore an Orlando resort and spa that's to-die-for, and learn about Orlando timeshare promotions with Universal tickets,.... PLUS... read more great travel tips and guides to our destination cities on best travel blog for 2019, all at these links!
RELATED ARTICLE:
At Westgate Resorts, when you Check-In, there's a LOT to Check-Out! Your Orlando vacation awaits! Explore our Orlando resorts today or talk with a vacation planner at 888-852-2959 or 407-355-2690.
Other tagged pages of interest: orlando hotels near disney, resorts near universal studios orlando, lake buena vista resort, kissimmee resorts, kissimmee hotels, hotels orlando, orlando resorts, resort hotels, staycations