Planner Perks: The 10 Best Team Meeting Activities for Small Groups
Planner Perks: The 10 Best Team Meeting Activities for Small Groups
"The strength of the team is each individual member. The strength of each member is the team." – Phil Jackson
Have you noticed the state of employee morale lately looking like a nightmare scenario from Office Space (sans the red Swingline stapler and TPS reports)? Perhaps it's time for a corporate retreat as a great way to improve the overall office environment. In fact, according to a recent study profiled by Fortune magazine, company retreats serve to refocus employees, encourage team building and bonding, show that employers value their employees and give everyone in the company or department a time to reflect. According to Anne Mulcahy, former CEO of Xerox Corporation, "Employees who believe that management is concerned about them as a whole person – not just an employee – are more productive, more satisfied, more fulfilled. Satisfied employees mean satisfied customers, which leads to profitability." And if you're a groups and meetings planner, you know the allure of team meeting activities for small groups all too well! Which is why we decided to dive into this topic and lend a helping hand when it comes to planning these particular small group events.
Exploring Team Building Activities for Work Small Groups
Regardless of whether you're looking for hotels with meeting rooms that fit your small group, or a more wide-open corporate retreat in the great outdoors, there are many tried-and-true methods for team building and bonding that are not only educational, but also immensely entertaining and can be effortlessly incorporated into your next company retreat. These innovative team meeting activities also go far beyond typical team-building clichés – such as the dreaded trust fall or the disastrous "booze cruise" on freezing cold Lake Wallenpaupack as hilariously depicted in The Office – and focus instead on activities that serve to enhance communication, leadership and problem-solving skills. According to Forbes, "Effective team building means more engaged employees, which is good for company culture and boosting the bottom line. It can also be adventurous and enjoyable if you do it with a little pizzazz." Therefore, explore these 10 team meeting activities for small groups with Westgate Groups & Meeting Series on the most highly effective meeting planner tips and tricks! Whether you're a corporate meeting planner, small meeting planning professional or just getting your meeting certification, these amazing team meeting activities for small groups are sure winners!
by fab de nice / Licensed under CC BY 2.0
1 | Hiking in the Woods | Henry David Thoreau once remarked, "I took a walk in the woods and came out taller than the trees." Indeed, hiking can encourage team bonding and improve communication skills, while employees enjoy the added bonus of experiencing nature and getting some exercise in the process. Do some research online to find out some of the most popular hikes in your area such as nature preserves, wildlife sanctuaries, rail trails and state parks. Remember that you want to choose a hike that will be appropriate for all skill levels. Other somewhat more intense variations on the outdoors adventure theme include rock climbing and caving excursions, as well as geocaching, ziplining and trap & skeet shooting.
by TikTik / Licensed under CC BY 2.0
2 | Karaoke Night | One of the most popular team-building activities, Karaoke Night allows employees to step outside their comfort zone and bond together, while sharing their singing talents (and plenty of laughs to boot!). In fact, according to a recent study published in the University of Oxford's academic journal Open Science as reported in Yahoo! Finance, "[S]inging with your colleagues at work may allow you to bond with them faster and more effectively in comparison to doing many of the other ice breaker-type activities." Whether they choose Frank Sinatra's "My Way," Barry Manilow's "Copacabana," Queen's "Bohemian Rhapsody," Beyoncé's "Pretty Hurts" or Carly Rae Jepsen's "Call Me Maybe," each of your employees will be able to show off their talent and individuality in a fun-filled environment during Karaoke Night.
by Christina / Licensed under CC BY 2.0
3 | Kayaking/Canoeing in the Great Outdoors | Nothing says team building like an exhilarating kayaking or canoeing excursion surrounded by natural splendor! Just scout out the nearest river, lake or ocean, grab a paddle, relax, unwind and leave the stress of the work environment behind for a couple of hours. Kayaking or canoeing as part of a team meeting activity is a superb opportunity to experience nature, while working together in a fun and scenic environment outside of the confines of an office cubicle. In addition, a variety of team-building games can be added to the kayaking or canoeing itinerary such as a relay race, tug of war, blindfolded navigation challenge (somewhat like the "Night Trail" activity in No. 4) and commando raid (an exciting race between teams of employees that each utilize two kayaks and one paddle).
4 | Night Trail | Set up an outdoor obstacle course by winding a rope around trees, and over rocks and other outdoor impediments to perform the Night Trail challenge. One employee will be blindfolded and attempt to navigate through the course with the help of fellow employees on his or her team shouting out instructions. Night Trail is a team meeting activity that focuses on leadership, trust and especially communication to accomplish the task at hand. Other variations on this popular team-building activity include Blindfold Maze, Blindfold Tent Build and Circle of Silence.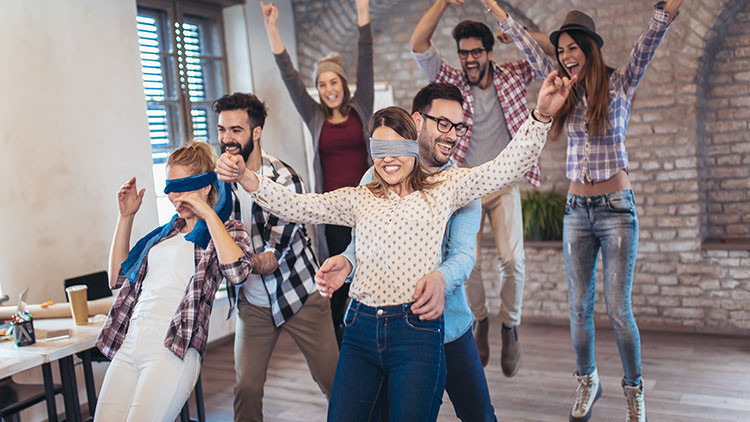 5 | Minefield Escape | Similar to Night Trail, the objective of Minefield Escape is to enhance communication among employees. Minefield Escape involves creating teams of two employees and placing several obstacles such as chairs, boxes, water bottles and backpacks indiscriminately on the floor of a large room. One of the employees in each group is blindfolded and the other employee guides him or her to the other end of the room without stepping on any of the "mines" scattered about the floor.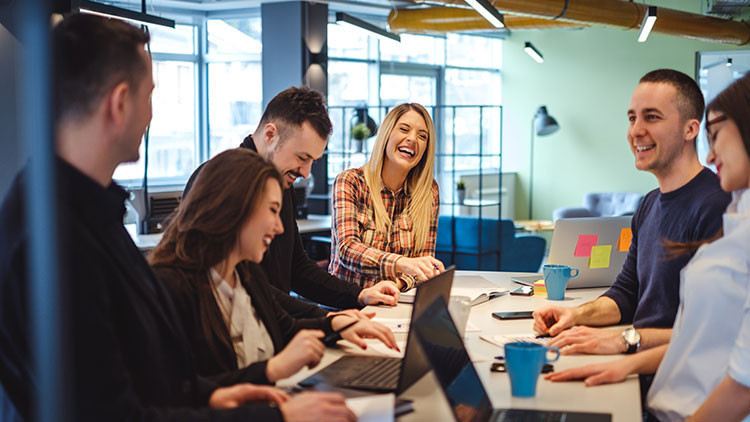 6 | Designing a New Company Logo | Separate your team of employees into groups of 3 to 5 people, gather some office supplies and coins (along with any other found objects in the room) and have each group create a new company logo using the materials at hand. The leader of each team then must explain the creative thought process behind the logo and how it is a better reflection of the company than the current logo. Other variations on this creative team-building activity include designing a new logo for your company on a T-shirt and creating a team or personal logo out of found materials.
7 | Hosting a Cook-Off | Nothing beats a culinary team-building experience that involves picking food categories, dividing your group into smaller teams and challenging employees to come up with something both eclectic and delicious! In fact, many local cooking schools offer team-building activities for smaller groups. So, throw on your apron, get ready to bake and pretend like it's an amateur version of Top Chef (or Hell's Kitchen for that matter!). The Cook-Off team-building activity makes use of teamwork and creativity among your employees while also providing them with new and innovative cooking techniques that they can bring home with them. Variations on the cooking challenge include having each team create their culinary masterpiece using at least one of the same ingredients or even having teams create foods in specific shapes.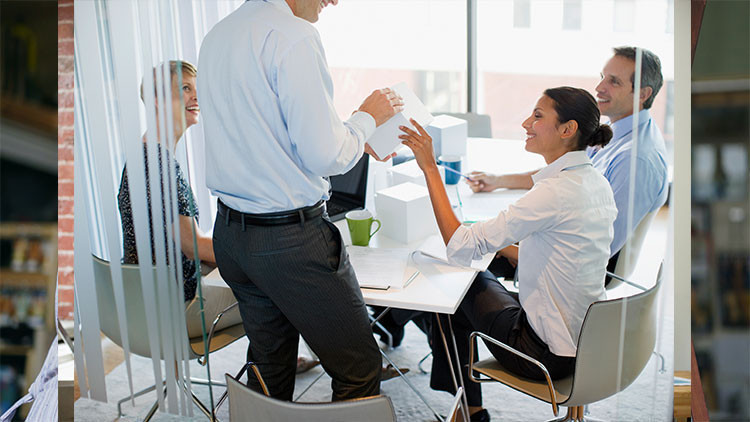 8 | Sneak a Peek | The ideal activity for a team-building challenge, Sneak a Peek, which involves recreating objects from memory, helps employees communicate more effectively and solve problems in a group setting. Separate your employees into teams of 4 and give them an identical set of Legos or any other type of building blocks. Pick a group leader, who will build a structure for the rest of the group to recreate by having one member of the group "sneak a peek" at the creation (which is hidden from view) for 10 seconds and then describe it to the rest of the group so they can attempt to recreate it. Group members will take turns sneaking a peek at the object until the entire group is confident that they have successfully recreated it and then compare the original to the copy.
9 | Two Truths & A Lie | A classic team-building activity for small groups, Two Truths & a Lie serves as an ideal icebreaker exercise for employees to learn more about one another. Employees will sit in a circle and not only introduce themselves but tell the rest of the group three things about themselves (only two of which are actually true). The other employees must guess which of the stated "facts" is actually a lie. Good luck convincing your fellow employees that you once served as an extra on The Walking Dead, scaled Mount Kilimanjaro without a guide or appeared as a session musician on the last Daft Punk album. A variation of Two Truths and a Lie is "Two Truths and a Dream," where participants replace the lie with a wish of something they'd like to accomplish in the future.
10 | Facilitating a Painting Class | Iconic painting instructor Bob Ross once remarked, "All you need to paint is a few tools, a little instruction and a vision in your mind." Ideal for smaller groups, this team meeting activity involves scheduling a group painting class so that employees can express their creativity and channel their inner Van Gogh, Picasso or O'Keeffe (some painting studios even offer "paint and sip" classes featuring the bonus of adding wine to the mix!). A nice variation on this team-building activity is to take your team of employees to a pottery studio and challenge them all to a good old-fashioned pottery throw down.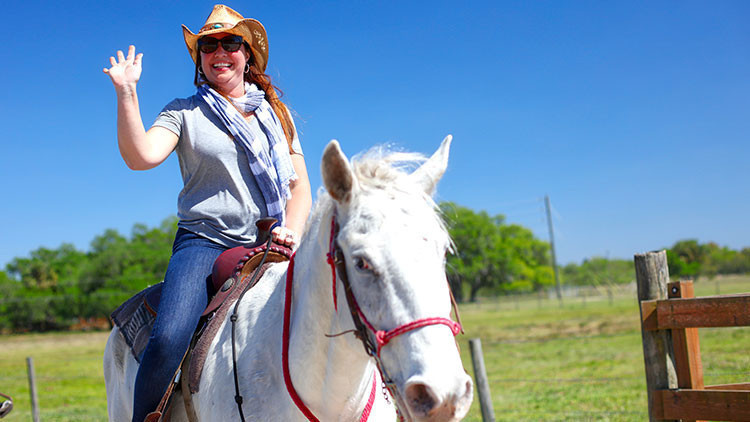 BONUS | Horseback Riding at a Dude Ranch | For a truly unforgettable team meeting activity, head out to an authentic dude ranch and saddle up for a horseback riding adventure through scenic wooded trails! Trail rides are typically led by experienced wranglers, so even beginning horseback riders can quickly learn the ropes and feel like real cowboys or cowgirls for an afternoon. Various team-building exercises can be incorporated in your horseback riding excursion such as blindfolding a selected employee and having them navigate an obstacle course with the help of their teammates and/or using problem solving skills to assemble a Western-style saddle. Some dude ranches even offer customized team-building Cattle Drives. Yee-haw!
Like what you're reading? Learn more about weddings in Gatlinburg, discover a Cocoa Beach wedding venue like you've never seen it, check out our awesome conference venue for your next Las Vegas convention center event, and our ranch wedding venues in Florida at these links! Or, if you're a meeting planner, and you'd like to tour one of our fantastic group venues or you're interested in a meeting planner fam trip, reach out to us now at 866-731-7259 and our Westgate Groups and Meetings team can show you around. At Westgate, we love meeting planners!
If you are a Westgate Owner, call 800-925-9999 option 3 or log into your owner account to learn more. Non-owners, call 407-992-7827 about becoming a Westgate Owner.
RELATED ARTICLE:
When You Check-in, There's a Lot to Check Out
Sign up for our newsletter and check-in to great offers, secret stuff, and special events.