10 Fabulous Travel Dresses For Fall You'll Fall In Love With!
Take A Walk On The Wild Side
10 Fabulous Dresses To Find Your Fall Looks For Travel!
The cooler weather may already be on the horizon, but that doesn't mean you have to stop considering wearing dresses once the season completely changes. Whether you're dreaming of floor-grazing hems, shiny fabrics or cascading ruffles, there's a gorgeous fall dress out there that will leave you looking and feeling your very best! We've put together a list of cold-weather appropriate frocks you can rock throughout Autumn.
Preview the trendiest designer dresses to wear in a range of chic hues and eye-catching details here!
Take A Walk On The Wild Side
We Are Leone's bold take on the leopard print will have you standing out wherever you go. It's one of the prints that transcends across seasons and it sure looks like it's going to continue to trend for seasons to come. Check out their Leopard Wrap Front Maxi Dress that provides a perfect way to embrace all-over leopard print in the sexiest and most stylish way possible. It's an ankle-length hem, with a deep V neckline and long sleeves that elevate a subtle retro vibe while keeping you covered. Cinching the dress in at the waist will give you a slimming silhouette.
Styling Tip: Wear it with a pair of big toe sandals or pumps and you're good to go! You can also wear it open over a spaghetti-strap top and ribbed black leggings with ankle boots for a modern edge.
Navy Is The New Neutral
Navy blue is universally flattering on all skin tones and perfect for a fall wardrobe. This wearable shade found its way towards the covetable Lotta Dress by AMUR. The contrasting matte and shiny silk fabrics come together to create a twice-cinched dress with ruching details made from sustainably sourced materials. Deep V neckline and wide shoulders can be adjusted for a customized fit that adds feminine chicness. The flowing silky fabric makes for the comfiest dress you're going to want to wear multiple times this season.
Styling Tip: Wear it with an off-white envelope clutch, with barely-there sandals or wedges and classic pearl earrings.
Light Up The World
If the Flor et.Al Bowie Gunmetal Ruffle Dress won't leave you breathless, it's hard to say what else will. This head-turning midi dress in an ultra-metallic gunmetal grey color scatters light across the tiered ruffles cascading down the dress. With every move, it will leave you looking like you're twinkling from head-to-toe. The relaxed fit guarantees ultimate comfort. The shoulder of the dress on one side features a thin spaghetti strap while the other side is carefully shrouded in ruffled pleats that go right down the elbow - the perfect balance to this gorgeous dress!
Styling Tip: Wear it with high heels and keep the rest as subtle as possible. You have to let those metallic ruffles speak for themselves!
Shine Like The Stars
Fall is the best time to update your dress game! If you're going to opt for chic, dark-coloured dresses but still want to have that element of 'fun' in your overall look, the Star-Embroidered Maxi Dress from Rococo Sand is your best bet. This black maxi dress boasts an all-over sequin embroidery - a whimsical detail that bursts with never ending charm! It has elasticized neckline, waist and sleeve opening for that easygoing elegance.
Styling Tip: Wear it with a neutral, strap sandal to elevate its sophisticated factor. Try wearing it with chunky boots for an enchantingly fun night out with the girls.
Carefree Boho Vibes
The 70's-inspired boho trend that we've seen on and off through the years is back on everyone's radar this season. The classy, carefree bohemian aesthetic of the Aarya Dress by Hemant & Nandita features all over delicate spotted prints that can be both dressy and casual, depending on the shoe and accessories you'll pair it with. It has a fitted, shirred waist that will define your figure and loose-fit long sleeves and cinched cuffs offer soft-touch coverage that adds a veiled allure. Its floaty skirt is adorned with tiered seams that feature a black lace-trim hem.
Styling Tip: Pair it with black ankle boots and fringed crossbody bag if you wish to achieve a street style-worthy look. Wear it with strappy sandals and twisted knot clutch to dress it up.
Printed Persuasion
Here's another animal-printed dress to enjoy this season. The multiple leopard prints on the Jaylah Dress by AMUR will instantly get you attention from onlookers - and for a perfectly good reason, of course! The short puff sleeves emphasize one shoulderless side of this airy chiffon dress while the wrapped bodice flatters the figure. The tiered handkerchief skirt and flouncy hem will follow your every movement.
Styling Tip: Wear with a pointy toe pump or ankle strap sandals and a black WOC for a romantic date night.
Wear Your Greens
Amp up your glam game with the bright green pleated chiffon Mimi Mini Dress by AMUR. You will fall in love with its delicate accordion pleats that create fluid movement. This halter style mini dress is bestowed with ruffles that go around the shoulders all the way to its open back. This fall party frock oozes with elevated charm with the way it sweetly sways with each and every lovely step. Perfect for galas and luncheons!
Styling Tip: Pair it with a strappy sandal and a crystal-embellished clutch. A 'no makeup' makeup look and a chignon will make your entire look very put together.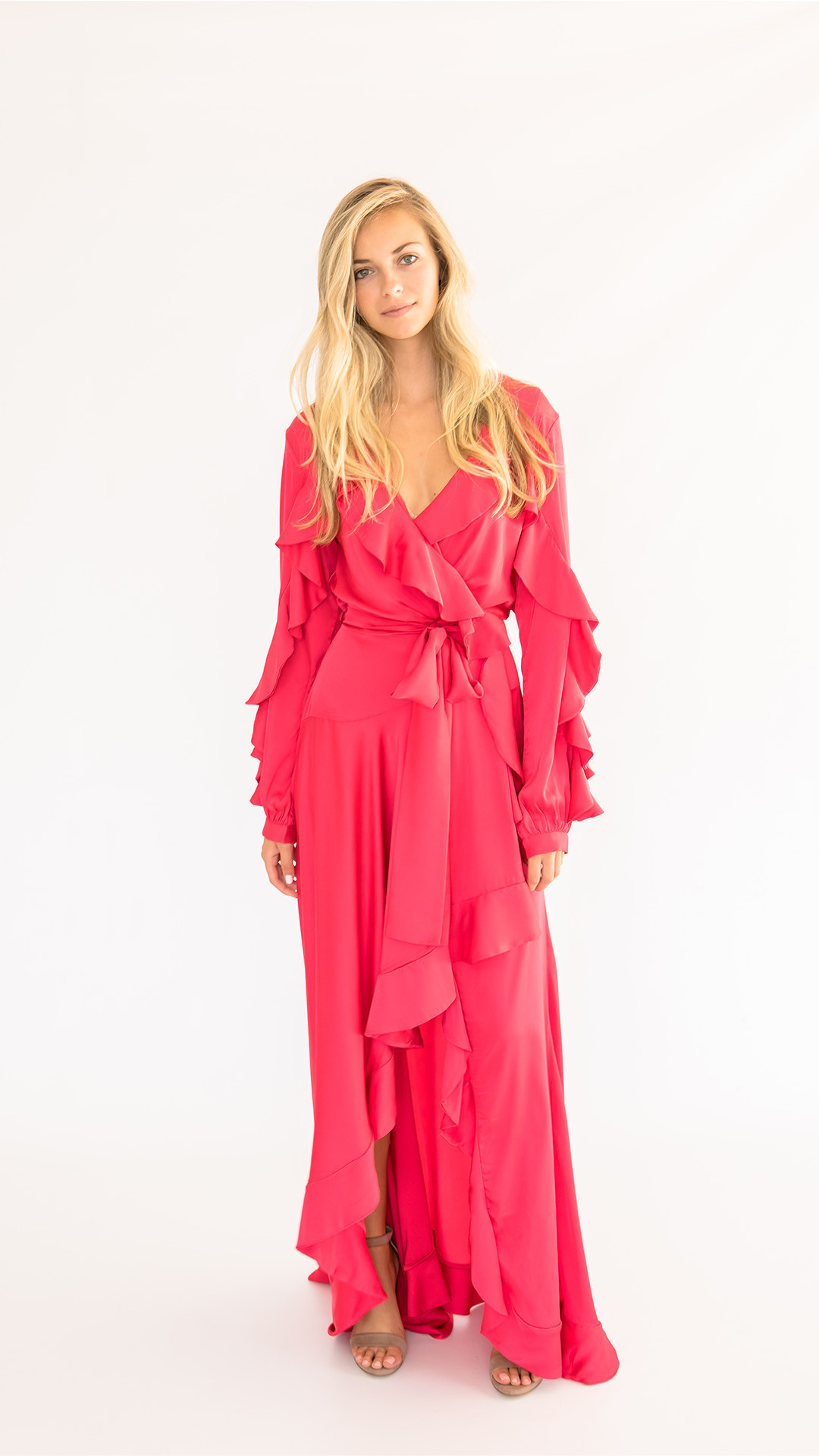 Ravishing Ruffles
The one dress to enthral them all! This Ruffle Sleeve Maxi Wrap Dress by PatBo is all about highlighting femininity from top to bottom. Pretty ruffles around the waist, down the sleeve and the ankles magnify every gorgeous movement. Its bold raspberry pink color and cheeky thigh slit give this dress a playful and fanciful vibe. Long sleeves are perfect for chilly evening events that require a little coverage.
Styling Tip: Wear it with earrings bearing gold accents and metallic wedge shoes.
One-Shoulder Silhouette
The off-the-shoulder trend perseveres towards the fall season! It's hard not to fall in love with the collarbone-flaunting silhouette it provides the wearer. Embrace the season's most distinguished neckline with AMUR's Odessa Maxi Dress. It's cut from an airy silk-chiffon with polka dots all over. The head-turning off-the-shoulder silhouette is framed in cascading ruffles with high-low hem and fluted sleeves that move when you move.
Styling Tip: Wear open toe pumps or high heel sandals to keep the hem elevated. Pair with an understated woven clutch to exude elegance.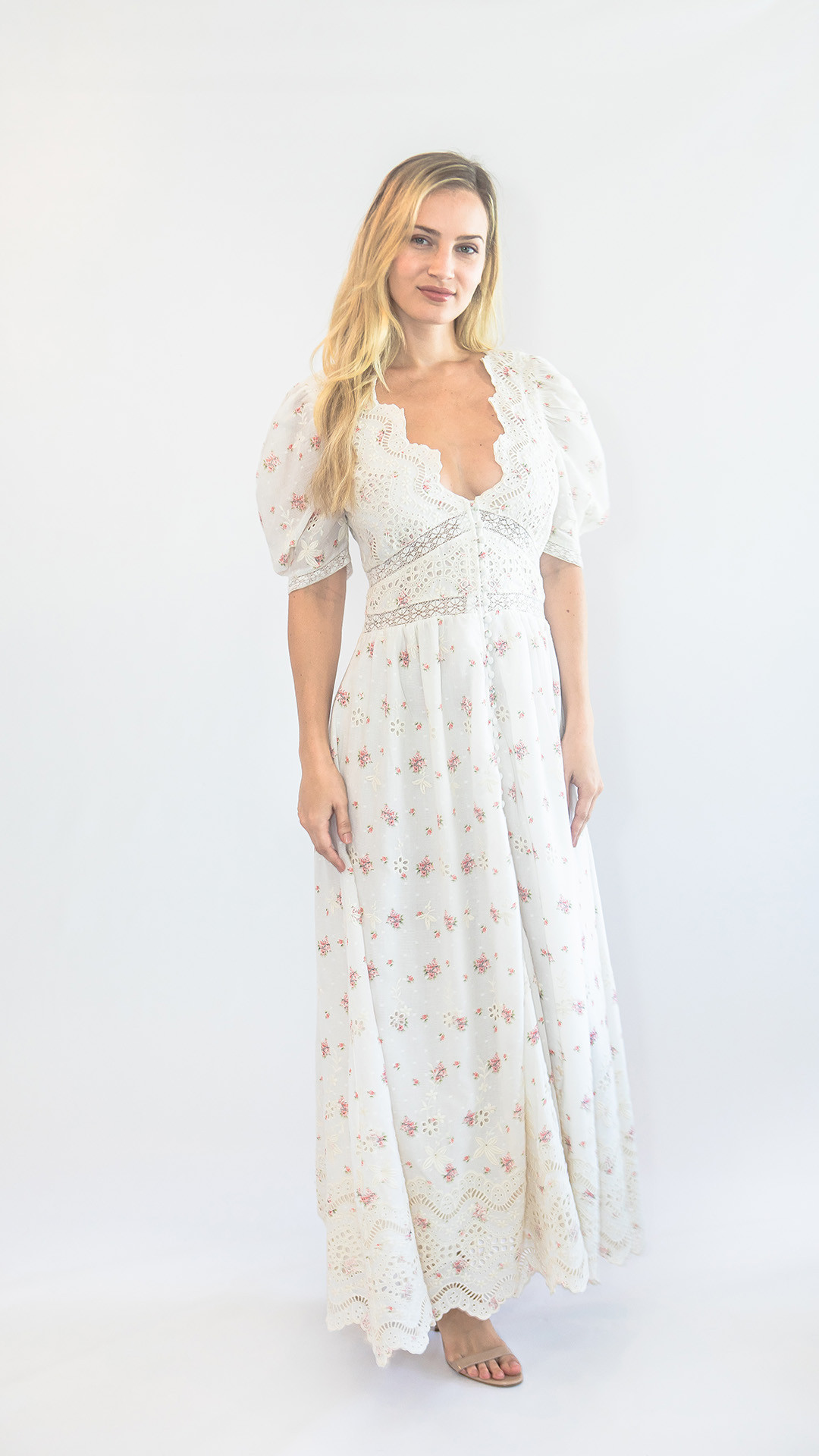 Lace It Up
Lace has always been regarded as a timeless classic fabric for special event gowns and dresses. Touted as the emerging street style trends this fall, edgy lace dresses are beginning to show up on our feeds! Start embracing this dress with Love Shack Fancy's Stacy Dress. The classic and vintage appeal of this dress is attributed from the delicate rose trim, covered loop buttons and eyelet details. Bold and puffy sleeves have elastic cuffs and can be cinched.
Styling Tip: To give this classic feminine lace dress a hint of edge, throw a leather moto jacket over it and pair with boots.
Still Looking To Fall Into Something New?
Summer might be over, but there's always room to look your best with these incredible fall fashions from our travel partners at Lady Jetset. Gettin ready for an autumn excursion? Or maybe you've got a big travel event (such as a wedding?) coming up and you need to look the part - get into the swing with these top, trendy looks and outfits so you can take your best selfie spot to the next level, and wave goodbye to summer with the perfect selfie caption,... for the perfect fashion! One thing is for sure, whether you're trolling the hipset on the Park City coffee shop scene, or simply enjoying some casual downtime with the fam at one of our family friendly Orlando hotels, looking your best was never this easy (or fun)!
Want To Know More About These Great Fall Fashion Trends?
Reach out today and see how Lady Jetset is helping to put first-foot-forward moments on point for travelers, hipsetters, social media influencers, and fashion conscious travelers across the world!

RELATED ARTICLE:
At Westgate Resorts, when you Check-In, there's a LOT to Check-Out! Your vacation awaits. Start planning your next vacation today or talk with a vacation planner at 888-852-2959 or 407-355-2690.

Other tagged pages of interest: hotels, Park City hotels, things to do in park city, things to do in park city utah in summer, things to do in park city in winter, fun things to do in park city with kids, free things to do in park city utah, things to do at night in park city utah, romantic things to do in park city utah
When You Check-in, There's a Lot to Check Out
Sign up for our newsletter and check-in to great offers, secret stuff, and special events.