10 Slammin' Ways To Say Goodbye To Summer With A Selfie!
The Selfie That Doesn't Look Like a Selfie

The "I LOVE WESTGATE" Selfie
Summer Selfie Captions Ahead! 10 Ways to Say Goodbye to Summer with a Selfie!
"To not be photographed daily, even by oneself, to not be recorded and videoed and dispersed into the turbulent winds of the net, was to court nonexistence." – David Cronenberg
For most people, Labor Day weekend signals cookouts, holiday travel and shopping for bargains, as well as the departure of summer and the imminent arrival of fall. However, technically speaking, summer doesn't officially end until Saturday, September 22 for 2019, so we have a couple more weeks to revel in the season, soak up the warm sun and longer days, and shoot som sweet summer selfie captions to our social media menagerie as we wave goodbye to summer! And nothing says sayonara to summer quite like a selfie – not just any old ordinary selfie, mind you, but a totally creative selfie that avoids all the clichés and blows your Instagram followers away!
In fact, selfies have become part of daily life for many Americans no matter what time of the year. If you haven't joined the selfie "revolution," don't worry – it's never too late to get in on the fun! Believe it or not, according to a recent study, the average Millennial is expected to take more than 25,000 selfies during their lifetime. In addition, approximately one million selfies are taken every day by the 18- to 24-year-old population around the world. Although much has been written about the self-absorbed nature of selfies, positive aspects of selfie culture include not only creativity and self-expression, but also the possibility to "increase human connection and engagement," according to U.S. News & World Report.
In addition, Chandra Steele in PCMag writes, "Self-portraiture isn't inherently self-involved. It's a form of communication driven by a desire for people to see us for who we think we are or want to be." According to Psychology Today, "From a psychological perspective, the taking of selfies is a self-oriented action that allows users to establish their individuality and self-importance; it is also associated with personality traits such as narcissism." As author Chloe Thurlow has written, "A selfie has nothing to do with ego. It is a constant search for perfection." That being said, once you've determined your picture-perfect locale, sorted through your absolute best travel dresses for fall (shameless, self-promoting hat tip to our post over here on the most instagrammable places in NYC, for those about to visit Midtown Manhattan), you'll also need to consider a few other things.
When attempting the perfect selfie to end the summer in style, think about such important factors as:
the optimum use of natural lighting

the proper use of flash when necessary

whether or not you prefer to enhance your selfie through the use of filters (see No. 3)

finding your most flattering pose

the use of unique and eye-catching backgrounds (nothing ruins a selfie quite like a terrible background such as a messy bedroom or dirty bathroom!)

accessorizing your selfie with sunglasses, hats and/or scarves

avoiding selfie clichés such as making duck faces or peace signs, holding up a passport, etc.

paying attention to framing techniques

discovering the best supplementary equipment such as selfie sticks (see No. 5), tripods (see No. 6) and ring lights
Looking for some great selfie ideas that are inspiring, or a quick primer on tricks to taking the perfect selfie? Here's a must watch!
After you master the basics of taking a selfie, step up your selfie game with these 10 slammin' ways to say goodbye to summer with these summer selfie ideas and summer selfie captions: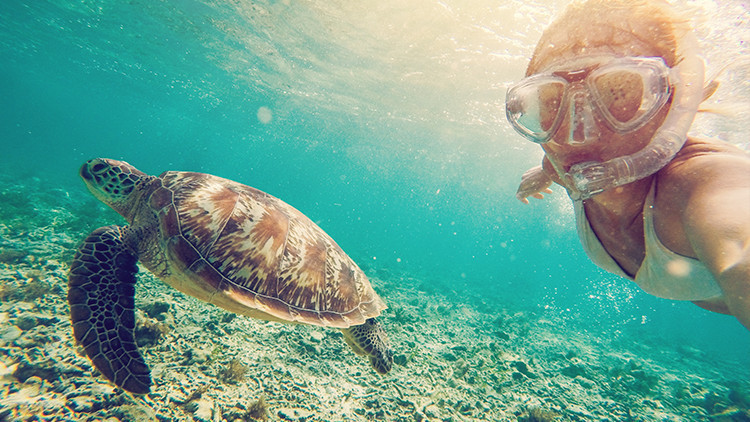 1 | The Shadow Selfie | Looking for a creative selfie to celebrate your last trip of summer to the beach, lake or mountains (as well as work on your photography skills in general)? Nothing beats an Instagram-worthy Shadow Selfie that shows off your artistic flair! In order to take the optimum summer Shadow Selfie, make sure that the sun is directly behind you and experiment with all possible angles to get the perfect Shadow Selfie. PRO TIP: You can really use this to great effect for underwater shots! Turtle watch anyone?
2 | The Cover Up Selfie | Author Munia Khan has remarked, "A selfie is nothing more than just an external reflection of yourself." By covering up one of your eyes or even part of your face, you can create a selfie that exudes a sense of mystery and intrigue. To achieve the perfect Cover Up Selfie, you can use a blanket or simply crop half of your face for an original, artistic look to your selfie. Bottom line: The Cover Up Selfie is another great technique to add to your selfie arsenal.
3 | The Silly Face Selfie | By utilizing the immensely popular Snapchat lenses feature that uses state-of-the-art face-detecting technology to add animated filter effects to your face, you can create some personalized Silly Face Selfies that will be a hit with your friends and family. Classic Snapchat lenses include Dog with Tongue Hanging Out, Face Swap, Extreme Sad Face, Golden Butterfly Crown, Puking Rainbow, Warp Your Face, Hip Glasses, Heart Eyes, Nerd Glasses and Pink Glow Flower Crown, among many others. Just imagine your silly face with the brankdrop of NYC at night or a scary face from your escape room in Myrtle Beach!
4 | The G.O.A.T. Selfie | We "kid" you not, one of the most popular selfie trends lately is to get a selfie with a goat at a petting zoo or farm. Why exactly is the Goat Selfie a trend, you might ask? Because goats are freaking awesome, that's why! Be careful though – you don't want the misfortune of getting headbutted by a surly goat like a certain unsuspecting photographer experienced that became a highly popular viral video recently! (yeah, don't end up like this poor girl!)
But barring a potential headbutt hangover, who knows, with the right setup, the perfect goat selfie could turn out to be your personal G.O.A.T. ("Greatest of All Time") selfie!
5 | The Selfie Stick Selfie | Everyone tends to make fun of selfie sticks, but they definitely come in handy when you're seeking the perfect "goodbye to summer" selfie image. Selfie sticks are ideal when:
you're traveling and you need to capture some beautiful background scenery;

you need to capture multiple friends or family members for a group selfie (known informally as a "wefie");

you don't want to get your arm in the selfie;

there are no strangers around to take a group photo; or

you simply want to get more creative with your selfies
Best of all, you don't have to splurge when it comes to purchasing a quality selfie stick – with a little research, you can find a quality selfie stick in the $20 to $25 range. Once you master the Selfie Stick Selfie, you will be taking perfect selfies in no time!
6 | The Selfie That Doesn't Look Like a Selfie | Travel lifestyle blogger Anamika Mishra once exclaimed, "A good selfie is when you successfully capture the feeling of that very moment!" Some selfie aficionados have found creative ways to reimagine how they take selfies – leading to several methods of taking selfies that don't look like selfies through such means as using bendable tripods combined with self-times on cameras or smartphones. The possibilities for such selfies are endless with a little experimentation (and a lot of patience!). For example, "selfie queen" Kylie Jenner reportedly takes approximately 500 selfies before she finds one that meets her standards to actually post (but you certainly don't need to go to those extremes, of course!).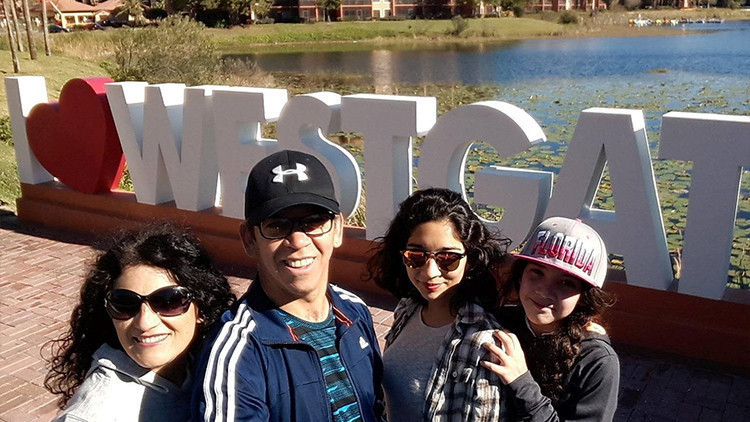 7 | The "I LOVE WESTGATE" Selfie | If you are lucky enough to be staying at one of the Westgate Resort properties located in premier travel destinations throughout the United States such as Orlando, Miami, Las Vegas, New York City, Gatlinburg, Myrtle Beach, Park City, Williamsburg and more, be sure to seek out the huge I LOVE WESTGATE signs – the perfect locale for a "Westgate Wave" goodbye to summer selfie! Each of the I LOVE WESTGATE signs at select Westgate resort properties features beautiful backgrounds such as scenic lakes to enhance your I LOVE WESTGATE selfie.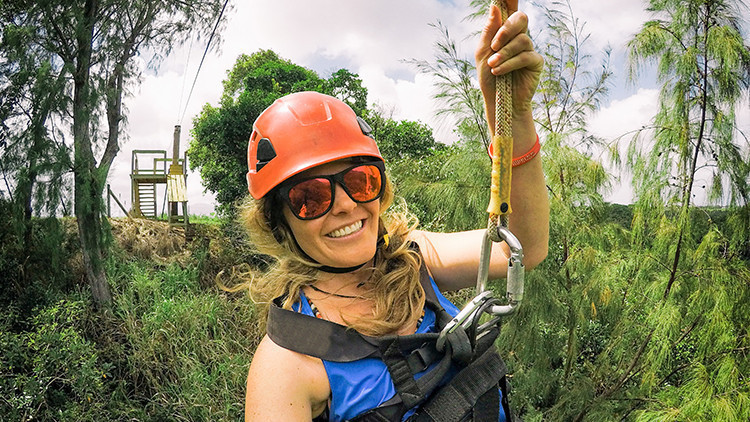 8 | The Zipline Selfie | Are you a thrill seeker looking for a heart-pounding experience that will be memorialized by the perfect summer selfie? If you're visiting Central Florida, don't miss the opportunity to experience the thrilling Zip Line at Westgate River Ranch Resort & Rodeo, the Screamin' Gator Zipline over alligators and crocodiles at Gatorland in Orlando or the Zip Line at Orlando Tree Trek Adventure Park in Kissimmee. If you're visiting the Great Smoky Mountains in Gatlinburg, opt for the Flying Bear Zipline at Westgate Smoky Mountain Resort & Spa or Zip Gatlinburg in downtown Gatlinburg. Note: Don't get too carried away with capturing the perfect Zipline Selfie that you forget to simply experience the adrenaline-filled zipline adventure in real time!
9 | The Swan Boat Selfie | The peaceful waters of a scenic lake provide the ideal opportunity for a Swan Boat Selfie that stands out from the crowd this summer! In Central Florida, swan-shaped paddle boats can be rented by guests at Westgate Vacation Villas Resort and Westgate Town Center Resort in Kissimmee or visitors to Lake Eola Park, which is nestled in the heart of downtown Orlando.
10 | The Snowfall Selfie | Just because the waning days of summer are upon us doesn't mean that you can't go ahead and start making plans for a dream winter vacation in the mountains! In fact, ski season will soon be upon us and nothing says the arrival of winter quite like a Snowfall Selfie taken at a luxury mountain resort – whether you're in Gatlinburg at one of our Smoky Mountain resorts or looking for things to do in Park City Utah in the summer while surrounded by the scenic Wasatch Mountains! Whether you're on the ski lift or at the top of the slopes surrounded by beautiful mountain scenery, be sure to capture the perfection of the moment with a Snowfall Selfie!
Summer's End Selfie Captions
And now for the good stuff! Here's some sweet, end-of-the-summer captions you can use for your next summer selfie, before the days of summer run out!
The tans will fade but the memories will last forever.

You are so much sunshine in every square inch. — Walt Whitman

Friends, sun, sand and sea. That sounds like a summer to me.

Sunshine on my mind love how summer just wraps its arms around you like a warm blanket

I could never in a hundred summers get tired of this. — Susan Branch

I find my happiness where the sun shines

Summer should get a speeding ticket.

Every summer has it's own story.

I'm ready for the summer nights

There is always that one summer that changes you.

Ready for summer! Who's with me?

Girls just wanna have sun *insert sun and music emoticons*

Hey Summer, I'm waiting for you...

The summer night is like a perfection of thought. — Wallace Stevens

I'm just a beachy kinda girl/guy.
A Last Roundup Of Summer Selfie Ideas
Let's face it, there's a lot to see and do out there when it comes to summer beach vacations and pet friendly weekend getaways (don't forget to give your pooch some facetime this summer!), and not nearly enough time to snap all the selfies you'd want to! If you're searching for other scenic, interesting environments that prove selfie-worthy, check out Cocoa Beach, the most haunted places in Florida, or some of the best nature trails Orlando has to offer, if you happen to be staying at one of our family friendly hotels in Orlando! Or, if your selfie-persuasions run towards the culinary side, check out the absolute best breakfast Orlando has to offer, or let your camera meet cocktail at these bars on International Drive Orlando, or craft a cool shot at one of these Cocoa Beach restaurants on the water - the sky's the limit when it comes to social media wile on vacation!
At Westgate Resorts, when you Check-In, there's a LOT to Check-Out! Your vacation awaits. Start planning your next vacation today or talk with a vacation planner at 888-852-2959 or 407-355-2690.

RELATED ARTICLE:
Other tagged pages of interest: orlando hotels near disney, resorts near universal studios orlando, lake buena vista resort, kissimmee resorts, kissimmee hotels, hotels orlando, orlando resorts, resort hotels, staycations
When You Check-in, There's a Lot to Check Out
Sign up for our newsletter and check-in to great offers, secret stuff, and special events.