10 Most Haunted Places in Florida to Spook Your Summer Vacation!
10 Most Haunted Places in Florida to Spook Your Summer Vacation!
"We ask only to be reassured/About the noises in the cellar/And the windows that should not have been opened." – T. S. Eliot
Let's admit it. Florida is chock full of activities and attractions. I mean, the number of things to do in Orlando alone boggles the mind, right? But what if your path diverges a little towards the spooky side? Are you looking for a good dose of haunted Florida to spice up your upcoming getaway? Good news! Thrill seekers don't have to travel all the way to notorious haunted hotspots such as the LaLaurie Mansion in New Orleans, Eastern State Penitentiary in Philadelphia, Trans-Allegheny Lunatic Asylum in West Virginia, Pine Barrens in New Jersey (home of the legendary "Jersey Devil" as well as the locale for a memorable episode of The Sopranos) or The Stanley Hotel in Colorado (inspiration for Stephen King's The Shining) to get spooked this Halloween season. Florida offers its own blood-curdling thrills in the form of a myriad of haunted cemeteries, lighthouses, bridges, forts, theaters, schools and hotels, as well as haunted campgrounds and forests (most notably Ocala National Forest). Here are the 10 most haunted places in Florida to spook your summer vacation:
1 | The Haunting of River Ranch - Polk County | Get into the spooky season with brand-new experiences coming to Westgate River Ranch Resort & Rodeo. Our haunted ranch is getting a makeover to reflect the season. If you dare to venture to our authentic dude ranch, located in Polk County, you'll experience a haunted hayride that might just chill you to the bone as you bump along a spooky path, a winding corn maze that will confuse and delight you, plus a pumpkin patch to choose your very own gourd and take those coveted social media pictures. It's a fun and spooky event for Halloweenies of all ages! There's something for everyone to enjoy fall in Florida. And remember, not all trails are happy, so don't come alone. Why would you want to?
WHERE: 3200 River Ranch Blvd, River Ranch, FL 33867 | WHO: 863-692-1321

RELATED ARTICLES:
10 Spooky Things to Do for Halloween at a Westgate Near You!
The 6 Scariest Florida Corn Mazes To Get Lost In This Halloween!
6 Ways to Survive Halloween Horror Nights Wait Times in Orlando [2022]
2 | St. Augustine Lighthouse – St. Augustine | Founded in 1565 and considered the oldest city in the United States, St. Augustine has also earned a reputation as the most haunted city in Florida. One of the most legendary haunted sites in St. Augustine happens to be the 165-foot-tall St. Augustine Lighthouse, which was constructed in 1874 and features 219 spiral steps to the top. Some visitors to the haunted lighthouse have reported hearing children's laughter and footsteps (two teenaged children of a lighthouse worker reportedly drowned in the adjacent bay in the late 1800s), while others have heard mysterious voices, smelled cigar smoke, viewed a shadowy figure at the top of the lighthouse and/or run into the so-called "Man in Blue" in the basement of the former lighthouse keeper's house. The St. Augustine Lighthouse even made several appearances on the now-defunct paranormal reality TV series Ghost Hunters. In addition, Country Living magazine listed the St. Augustine Lighthouse among "25 of the Most Haunted Places in America That Horror Fans Need to Visit." Other alleged haunted sites in St. Augustine include Castillo de San Marcos, Old Jail, Spanish Military Hospital, Casa Monica Hotel, Flagler College, Oldest Wooden Schoolhouse, Huguenot Cemetery, Casablanca Inn and Harry's Seafood Bar & Grille, among others.
WHERE: 81 Lighthouse Avenue, St. Augustine, Florida 32080 | WHO: (904) 829-0745
3 | Biltmore Hotel – Coral Gables | A massive luxury hotel that first opened its doors in 1926, the Biltmore Hotel in Coral Gables later served as a military hospital during World War II, a VA hospital after the war and even the campus of the University of Miami medical school before reverting back to a luxury hotel in 1987. Guests of the Biltmore during the early years included everyone from President Franklin Delano Roosevelt to gangster Al "Scarface" Capone (in addition, Johnny "Tarzan" Weissmuller served as a swim instructor here before achieving fame). The Biltmore was also a favorite among Jazz Age revelers. Designated a National Historic Landmark in 1996, the Biltmore is considered one of the most haunted hotels in Florida. One of the ghosts reportedly haunting the Biltmore is none other than notorious gangster Thomas "Fatty" Walsh, who was murdered on the 13th floor of the Biltmore over a gambling dispute in 1929. Guests have experienced such phenomena as lights switching on and off, elevators taking them to the wrong floors, inexplicable sounds and cryptic messages discovered scrawled on mirrors. Other alleged haunted sites in the Miami area include the Deering Estate, Coral Castle, Miami City Cemetery, Coconut Grove Playhouse, Anderson's General Store, Villa Paula Mansion and Pinewood Cemetery, among others.
WHERE: 1200 Anastasia Avenue, Coral Cables, Florida 33134 | WHO: (855) 454-0196
4 | The Devil's Chair, Lake Helen-Cassadaga Cemetery – Cassadaga | Nestled just off Interstate 4 between DeLand and Deltona, the charming community of Cassadaga is known for its haunted history – especially the so-called "Devil's Chair," an allegedly haunted Florida landmark at Lake Helen-Cassadaga Cemetery. According to legend, if you sit in the huge brick chair at midnight, the Devil himself will make an appearance (and if you leave a can of beer on the Devil's Chair, it will reportedly be empty the next morning!). A much less interesting (but significantly more plausible) story about the origins of the Devil's Chair is that it was simply constructed as a "mourning chair" so visitors to the cemetery could sit and pay respects to their dearly departed loved ones. Listed on the National Register of Historic Places and widely considered "The Psychic Center of the World," Cassadaga was founded as a spiritualist community by George Colby in 1875. Other alleged haunted sites in Cassadaga include the landmark Cassadaga Hotel, which was constructed in 1928 and houses Sinatra's Ristorante and a Psychic Center.
WHERE: Kicklighter Road & Root Street, Lake Helen, Florida 32744 | WHO: N/A
5 | Robert the Haunted Doll, Fort East Martello Museum – Key West | Built during the Civil War and listed on the National Register of Historic Places, Fort East Martello in Key West is also home to Robert the Haunted Doll, one of the creepiest dolls in existence. The allegedly haunted doll once belonged to eccentric Key West artist Robert Eugene Otto (1900-1974), who used to blame the doll (which was reportedly given to him by a Bahamian servant girl) for all kinds of mischief. Visitors to the museum have reported not only seeing Robert the Doll move and change facial expressions, but also make giggling noises (don't even think of taking a photo of Robert without asking his permission or you will experience bad luck, according to legend). In addition to Robert the Doll, Fort East Martello boasts such eclectic artifacts as the scrap metal junk sculptures of Stanley Papio and the Key West folk art of Mario Sanchez. By the way, the former home of Robert Otto now operates as a bed & breakfast called The Artist House (which is also believed to be haunted!). Other alleged haunted sites in Key West include the Key West Cemetery, Captain Tony's Saloon, La Concha Hotel and Fort Zachary Taylor.
WHERE: 3501 South Roosevelt Boulevard, Key West, Florida 33040 | WHO: (305) 296-3913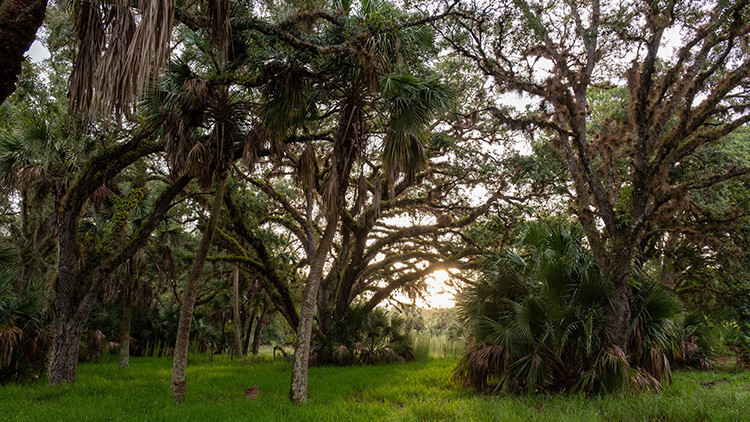 6 | The Devil's Tree, Oak Hammock Park – Port St. Lucie | A large and mysterious oak tree lies down a dirt nature trail in the corner of Oak Hammock Park in Port St. Lucie. Known as "The Devil's Tree," it was the site of a series of gruesome murders in the early 1970s and today believed to be possessed by evil spirits. According to legend, several failed attempts have been made to cut down the tree over the years and some visitors to the park at night have reported seeing figures in dark hooded capes performing satanic rituals near the tree (the park closes at dusk, by the way). A local priest even allegedly attempted to perform an exorcism here back in the early 1990s. Other park visitors claim to have viewed ghosts hanging from the branches of The Devil's Tree. In addition to its infamous oak tree, Oak Hammock Park, which was established in 2000, features a boat and canoe launch, two fishing piers, three miles of hiking trails, pavilion, butterfly garden and playground.
WHERE: Oak Hammock Park, 1982 S.W. Villanova Road, Port St. Lucie, Florida 34953 | WHO: (772) 344-4389
By maiabee / Licensed under CC BY 2.0
7 | Greenwood Cemetery – Orlando | Originally known as Orlando Cemetery and opened in 1880, Greenwood Cemetery encompasses 86 acres and is well known for its haunted history. Visitors to the cemetery have reported seeing ghostly children playing and laughing among the tombstones, as well as the ghosts of Confederate soldiers roaming aimlessly among the huge live oak trees. Moonlight walking tours of Greenwood Cemetery are available. Don't miss the chance to view the creepy Fred Weeks mausoleum (the ghost of Weeks himself is said to occasionally wander through the cemetery at night). By the way, Thomas Jefferson's grandson, Francis Wayles Eppes (1801-1881), is buried in Greenwood Cemetery. Other alleged haunted sites in the Orlando area include Lake Lucerne (home to the "Lady in White"), Orange County Regional History Center, Hamburger Mary's, Rogers Building, Lake Eola (home to the "Ghost Dog"), Harry P. Leu Gardens and the infamous Interstate 4 "Dead Zone."
WHERE: 1603 Greenwood Street, Orlando, Florida 32801 | WHO: (407) 246-2616
8 | The Devil's School – Jacksonville | Widely considered the "most haunted place in Jacksonville," the so-called "Devil's School" near I-95 and I-10 in Jacksonville has been the source of numerous outrageous urban legends over the years such as a crazed janitor who burned students alive in the boiler room and even a cannibalistic school principal! First opened in 1918 as Riverside Grammar School (AKA Public School No. 4), which later became Annie Lytle Elementary School, the school closed in 1960 and the abandoned building was left to decay. In addition to being defaced by graffiti artists and vandals, the building was also allegedly used for satanic rituals. Designated a historic landmark by the Jacksonville City Council in 2000, the allegedly haunted school building is strictly off limits to visitors and fenced in with "Keep Out" signs, although curious sightseers can view the outside of the Devil's School simply by driving by it on Chelsea Street. Other alleged haunted sites in Jacksonville include Florida Theatre, Evergreen Cemetery, Jacksonville Beach Lifeguard Station, Ginger's Place and Casa Marina Hotel (reportedly haunted by silent film star Fatty Arbuckle).
WHERE: 699 Chelsea Street, Jacksonville, Florida 32204 | WHO: N/A
9 | Capitol Theatre - Clearwater | A historic theater that first opened in 1921 with the silent film Dinty (a precursor of the popular "Our Gang" series), the Capitol Theatre (AKA Royalty Theatre) is not only one of the oldest operating theaters in the Sunshine State, but also allegedly one of the most haunted. In fact, the Capitol Theatre is reportedly the home of three spirits: an old sea captain, a former theater manager named Bill (who was reportedly murdered in the balcony) and a young girl known to play tricks on visitors. In 2013, the 750-seat Capitol Theatre underwent an $11 million renovation and is managed by Ruth Eckerd Hall. Other alleged haunted sites in Clearwater include Sylvan Abbey Memorial Park, home of the infamous "Ghost Shack."
WHERE: 405 Cleveland Street, Clearwater, Florida 33755 | WHO: (727) 791-7400
10 | Fort Pickens – Gulf Islands National Seashore | Named after American Revolutionary War hero Andrew Pickens (1739-1817), Fort Pickens is located on Pensacola Beach at Gulf Islands National Seashore. Designed by French engineer Simon Bernard and completed in 1834 with a total of 21.5 million bricks, Fort Pickens was later used as a prison for legendary Apache Chief Geronimo (1829-1909) and his confederates (whose arrival here created somewhat of a sideshow spectacle among the local citizenry). Visitors have reported spotting mysterious lights, hearing footsteps and viewing the ghosts of soldiers, as well as the spirit of Geronimo wandering around Fort Pickens. Other alleged haunted sites in Pensacola include Saenger Theatre, The Gray House, Seville Quarter, St. John's Cemetery and Pensacola Lighthouse (considered one of the most haunted lighthouses in the United States).
WHERE: 1801 Gulf Breeze Parkway, Gulf Breeze, Florida 32563 | WHO: (850) 934-2600
BONUS #1 | The Cuban Club – Tampa | Listed among the Travel Channel's "Top 10 Most Haunted Places," the Cuban Club (AKA Circulo Cubano de Tampa) lies within Tampa's bustling Ybor City neighborhood. Built in 1917, the Cuban Club evolved into an immensely popular hangout for Cuban immigrants. Listed on the National Register of Historic Places, the Cuban Club is allegedly haunted by several ghostly spirits, including an actor who reportedly committed suicide on stage, a theater board member murdered during an argument, an elegant lady in a "misty dress" and a young boy playing ball on the theater steps. The Cuban Club is one of several stops on the Ybor City Ghost Tour. Other alleged haunted sites in the Tampa/St. Petersburg area include Florida Brewery Company, Tampa Theatre (home of the ghost of former projectionist Foster "Fink" Finley), Don CeSar Hotel (aka "The Pink Palace"), University of South Florida Library, Fort De Soto Campground and Plant Hall at the University of Tampa (formerly the Tampa Bay Hotel). And while some of these might not hold a candle to Orlando's haunted hay rides, they're still filled with spooks a'plenty!
WHERE: 2010 North Avenida Republica de Cuba, Tampa, Florida 33605 | WHO: (813) 248-2954
BONUS #2 | Bellamy Bridge – Marianna | An 0.5-mile trail located just off State Road 162 and west of the Chipola River near Marianna leads to haunted Bellamy Bridge, which is known as "Florida's Most Haunted Bridge." Built in 1914, the steel-frame bridge is the oldest of its kind in Florida and the site of multiple ghostly occurrences over the years. Some hikers along the Bellamy Bridge Heritage Trail claim to have witnessed the ghost of a woman haunting the bridge. The ghost is allegedly that of Elizabeth Jane Bellamy, who died on her wedding day after her dress caught fire in the 1830s, according to legend (others claim that she less dramatically succumbed to an illness). Elizabeth's husband Dr. Samuel Bellamy reportedly committed suicide several years later by slitting his throat with a razor. Other alleged haunted sites near Marianna include Arrowhead Campground, Tate's Hell State Forest and the entire town of Monticello, which is known as the "Most Haunted Town in the South."
WHERE: 4057 Bellamy Bridge Heritage Trail, Marianna, Florida 32446 | WHO: (850) 482-8061
BONUS #3 | Ashley's – Rockledge | Originally known as Jack's Tavern, Ashley's in Rockledge may very well be Florida's most haunted restaurant (or at least the "Most Haunted Restaurant on the Space Coast"). The Tudor-style restaurant and bar first opened in 1934 and the following year a young woman named Ethel Allen, a tavern regular, was murdered nearby on the shores of the Indian River. Ghostly occurrences that have been reported at Ashley's include objects moving on their own, lights going on and off, glasses and dishes breaking mysteriously, burglar alarms setting off randomly, diners being shoved by an unseen force, voices whispering after hours and the appearance of a woman in 1930's-period clothing (could it be Ethel?) glaring back at them in the restroom mirror. Over the years, the restaurant has been known variously as Cooney's Tavern, the Mad Duchess, the Loose Caboose, Sparrow Hawk and Gentleman Jim's before becoming Ashley's Restaurant in 1985.
WHERE: 1609 U.S. 1, Rockledge, Florida 32955 | WHO: (321) 636-6430
BONUS #4 | Witch's Grave, Old City Cemetery – Tallahassee | The Old City Cemetery, Tallahassee's oldest public cemetery, which was established in 1840, serves as the final resting place of Elizabeth "Bessie" Budd-Graham (1866-1889), known to locals affectionately as the "White Witch." The mysterious and elaborate gravestone (which faces west unlike all of the other markers in the cemetery) features an excerpt from Edgar Allan Poe's classic 1843 poem "Lenore," a haunting ode to a dearly departed young love (Bessie was just 23 years old when she died): "Ah, broken is the golden bowl! The spirit flown forever! Let the bell toll! – A saintly soul floats on the Stygian river – Come! let the burial rite be read – the funeral song be sung! – An anthem for the queenliest dead that died so young – A dirge for her, the doubly dead in that she died so young." According to the Tallahassee Democrat, "Goth rockers, clairvoyants and the curious alike are drawn to the Witch's Grave in Tallahassee's exquisitely spooky Old City Cemetery, which neighbor's sorority row on the Florida State campus."
WHERE: 400 West Park Avenue, Tallahassee, Florida 32301 | WHO: (850) 891-8711
Final Thoughts On Frightful Fun In Florida!
It's true, some of these places can get a bit spooky, and there's no telling where you'll wind up for the evening after a long day's journey (and perhaps a few close encounters of the ghoulish kind in one of the haunted houses in Orlando)! And whether you're just in the state for an extended getaway, or making a Florida day trip to get the lead out, you're going to want to flop for the night somewhere after getting all the ghostbusting in you can handle! Luckily, we've got all the best info and resources on HHN wait times for Halloween Horror Nights 2019 and summer vacation ideas for 2019 you can possibly handle! Or, maybe you're a Florida native looking for a sweet staycation? Check out some of these great picks for Orlando hotels, learn more about fun agritourism Florida has to offer, keep the spirit of Halloween going by exploring these haunted Halloween corn mazes in Florida, grab some cheap Disney tickets, before trick or treating for the evening or make the fun last longer on International Drive! Whatever your taste for the spooktacular - we've got you covered with an amazing collection of themed resorts, and tons of things to do in Florida, as well as FREE things to do in Orlando, right here on our travel blog!
At Westgate Resorts, when you Check-In, there's a LOT to Check-Out! Your Florida vacation awaits! Explore our Florida resorts today or talk with a vacation planner at 888-852-2959 or 407-355-2690.


RELATED ARTICLE: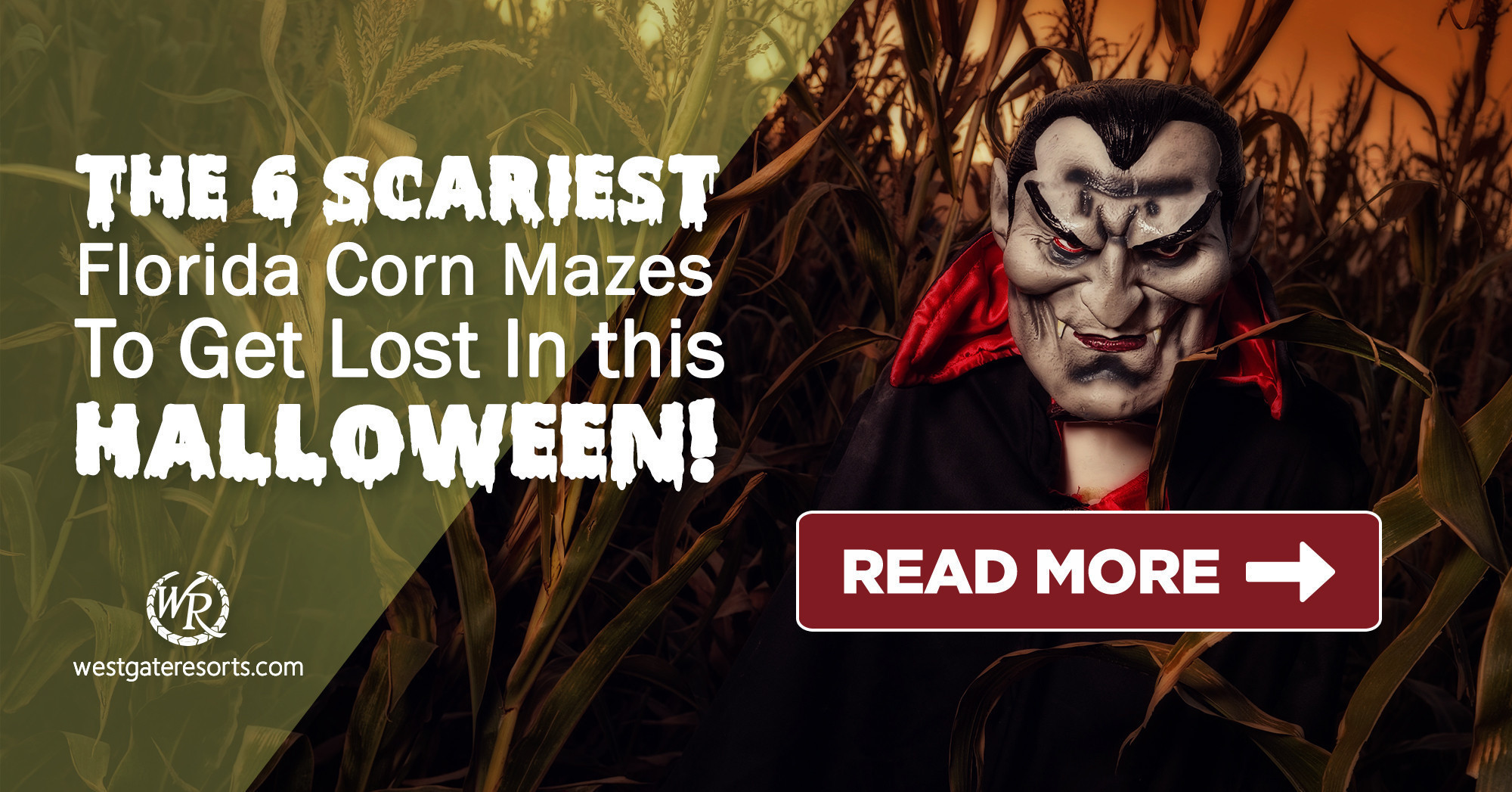 Other tagged pages of interest: orlando hotels near disney, resorts near universal studios orlando, lake buena vista resort, kissimmee resorts, kissimmee hotels, hotels orlando, orlando resorts, resort hotels, staycations
When You Check-in, There's a Lot to Check Out
Sign up for our newsletter and check-in to great offers, secret stuff, and special events.