The 6 Scariest Florida Corn Mazes To Get Lost In This Halloween!
The 6 Scariest Florida Corn Mazes to Get Lost in This Halloween!
"I imagined a labyrinth of labyrinths, a maze of mazes, a twisting, turning, ever-widening labyrinth that contained both past and future and somehow implied the stars." – Jorge Luis Borges
Tired of sitting around carving pumpkins, watching It's the Great Pumpkin, Charlie Brown for the umpteenth time and taking haunted trails to nowhere every Halloween? Ready to brave the six most original and scariest Florida corn mazes you've ever seen in your life? Start a new Halloween tradition this year and join us as we take a corny adventure to highlight the scariest collection of haunted corn mazes across Florida! These spectacular Florida corn mazes will provide a fun-filled and freaky Halloween experience you and your entire family won't want to miss!
1 | The Haunting of River Ranch - Polk County, FL | A new spooky tale emerges about Westgate River Ranch Resort & Rodeo, located in Polk County. Come visit our haunted ranch and see what or who haunts the property. Enjoy a thrilling day or night as you experience a not-so-happy hayride with winding trails and chilling stories, a corn maze that will have you questioning which way to turn and a pumpkin patch for those perfect fall family photos. The event is fun for all ages and Halloween-lovers at heart.
WHERE: 3200 River Ranch Blvd, River Ranch, FL 33867 | WHO: 863-692-1321
RELATED ARTICLES:
15 Haunted Houses Near Orlando For Frightful Fun!
10 Most Haunted Places in Florida to Spook Your Summer Vacation!
10 Spooky Things to Do for Halloween at a Westgate Near You!
2 | Smith Family Ranch CornFusion Corn Maze – Lakeland, FL | There's more than a 'kernel' of truth to the legend that says the dead will rise and walk among us on Halloween! The Smith Family Ranch, which is located on the outskirts of Lakeland, pays homage to this fact, and offers an amazing CornFusion Crop Maze & Fall Festival each year around Halloween, during Florida corn season, with an eight-acre corn maze, pumpkin patch and pumpkin carving station, bounce pillow, farm animals, hayride, mini maze and much more. However, truly adventurous zombie-slayers (who are at least 48 inches tall) can opt for the adrenaline-fueled Zombie Farm Paintball Hayride, where they are armed with a paintball gun and given the goal of taking out as many zombies as they can during a terrifying nighttime hayride! It's simply one of the most popular Florida Halloween events in the area and an experience you'll never forget.
WHERE: 13444 Moore Road, Lakeland, FL 33809 | WHO: 863-559-9952
3 | Newberry Corn Maze – Newberry, FL | At the immensely popular Newberry Corn Maze just outside Gainesville, you can take your pick of non-scary or scary Halloween thrills since this Florida corn maze operates as a "playful maze" during the day and transforms into a "walk of terror" full of goblins and ghouls at night! Once you've conquered the corn maze, don't miss the opportunity to visit the horrifying haunted house on the premises. At the Newberry Corn Maze, activities include a Haunted Hayride, Kids Area with carnival-like games, Mechanical Bull, Bonfire, live DJ and more. In addition, a concession stand sells snacks and drinks, which makes this one haunted corn maze that really has some "meat on its bones".
WHERE: 20015 W. Newberry Road, Newberry, FL 32669 | WHO: 352-354-5118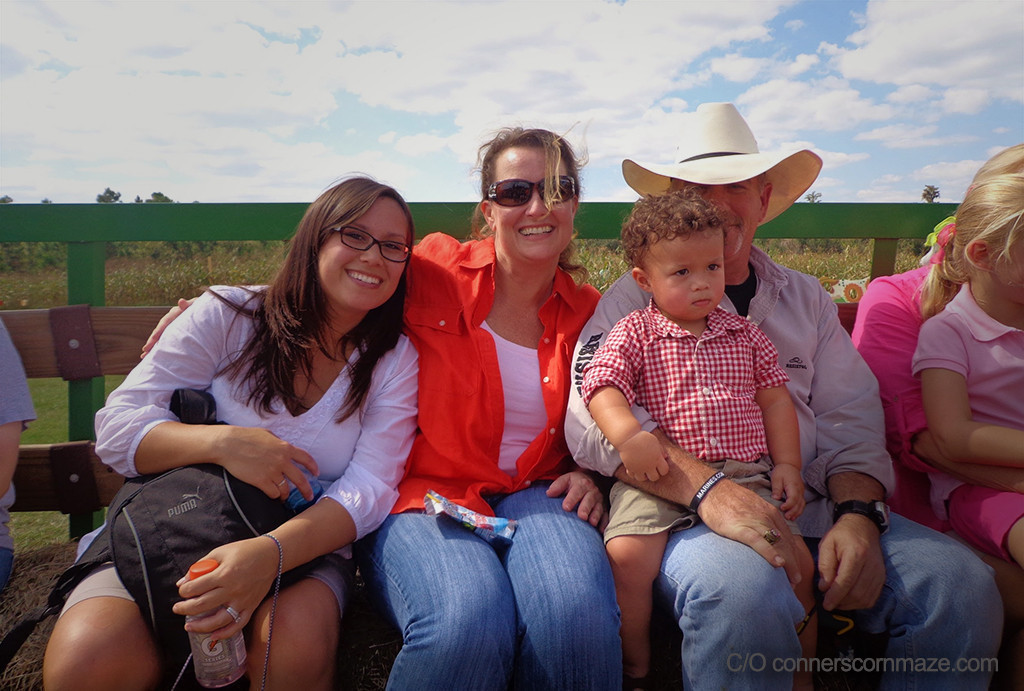 4 | Conner's A-Maize-Ing Acres – Hilliard, FL | Just northwest of Jacksonville, at the crossroads of screams and dreams, lies a fifth-generation family farm that is home to Conner's A-Maize-Ing Acres, a Florida corn maze that attracts 20,000 visitors annually during Halloween and features fun for all ages – including the Field of Screams, Haunted Trail, Nighttime Wagon Ride and much more. The annual Fall Family Fun Fest Day with a Scavenger Hunt, Costume Contest and Haunted Trail takes place here on the Saturday before Halloween on October 27, 2018, but plenty of fall activities abound during the days leading up to and afterwards,... just beware of the Creeper, they just might follow you home after you're ghoulish night of horrors!
WHERE: 19856 County Road 121, Hilliard, FL 32046 | WHO: 904-879-5453
5 | Harvestmoon Farm – Masaryktown, FL | Billed as the "Biggest and Best Maze in Hernando County," the five-acre Florida Corn Maze at Harvestmoon Farm consists of the Traditional Corn Maze (which features a new design every year), Flashlight Maze and Pumpkin Patch, as well as a Hill Slide, Jumping Pillow, Cow Train, Petting Farm, Pony Rides, and Barnyard Playground and Games. Last but not least, kids will enjoy the opportunity to meet "Spookley" the square pumpkin. By the way, Masaryktown (population: 1,040), which is an unincorporated community in Florida located approximately 35 miles north of Tampa, was founded in 1924 and named after Tomáš Garrigue Masaryk (1850-1937), the first president of Czechoslovakia, which I suppose is as close as you can get to Transylvania in the state of Florida. Chuckle if you want to, but be warned! The jump scares at this maze make it anything BUT square.
WHERE: 15990 Stur Street, Masaryktown, FL 34604 | WHO: 800-373-4811
6 | Long & Scott Farms Corn Maze – Mount Dora, FL | Family owned and operated, Long & Scott Farms opened its first corn maze (Statue of Liberty) in 2003. Over the years, the Long & Scott Farms Corn Maze attraction, also known as Scott's Maze Adventures, has become one of the premiere corn mazes in Orlando during the fall and Halloween season. It has continued to evolve and today boasts two Florida corn mazes (the design and theme change annually - think 'The Shining' minus the life-sized carnivorous topiaries,... are maybe not?), as well as a permanent tree maze, rope maze, mist maze, labyrinth/rock maze, 60-foot super slide, jumping pillow, small kids zip line, massive fort-like playground, tot lot, sand tires, tether ball, hayrides and covered picnic areas,... for when you're done screaming your brains out and need to dig into your zombie victuals ("Mmmmmmm,... Brainssss!"). The premises includesthe Country Market & Café, which features locally grown produce, and lots of great room to move, groove and (mercifully) get tuckered out for the kids. Lots of great scares here in and around Halloween especially at nightfall,... because,... they mostly come at night,... mostly.
WHERE: 26216 County road 448A, Mount Dora, FL 32757 | WHO: 352-383-6900
BONUS #1 | Harvest Holler Corn Maze | The Harvest Holler Corn Maze is located in Polk City. It features a slower-paced look at a real-working farm with animals and, of course, a corn maze. The farm provides families a chance to relax and take in the twists and turns of the maze while enjoying the farm itself. If scary is your thing, this one might not be for you, but if you're a family looking for a family-friendly activity, check this one out. The farm's tagline is, "Where Family Meets Farm."
WHERE: 950 Tavares Rd, Polk City, FL 33868 | WHO: 352-895-8687
BONUS #2 | Fox Squirrel Corn Maze | Located in Plant City, the Fox Squirrel Corn Maze offers plenty of fall family-friendly activities to do in Florida, as well as activities for adults. It features free hayrides, horseback riding and the musical stylings of a free bluegrass band. There's also great southern food and a pumpkin patch to pick out your favorite gourds. There's also duck races, bounce houses, a giant slingshot to hit a scarecrow, a butterfly garden and lots of cows to see.
WHERE: 6151 Varn Rd, Plant City, FL 33565 | WHO: 813-245-0234
BONUS #3 | Sykes Family Farms | Sykes Family Farms is fun for all ages and could be described by some as "a-mazing." According to organizers, the maze at the farm is nine acres and consists of four different phases. At the entrance of the maze, everyone will have to fill out a form of 10 questions that will help guide them through the maze. Each phase takes a different amount of time, with some being quicker and geared more toward little ones and their families. If you're looking for a traditional, family-friendly fall activity, check this one out if you're in the area.
WHERE: 5995 Brough Rd, Elkton, FL 32033 | WHO: N/A
Use Our Handy Map to Find Your Way Around!
FREQUENTLY ASKED QUESTIONS ABOUT FLORIDA CORN MAZES
What is the largest corn maze in the United States?
The World's Largest Corn Maze at Richardson Adventure Farm in Spring Grove, Illinois.
What is the corn season in Florida?
Florida sweet corn is in season is from October to June. Florida ranks first in the production and value of fresh market sweet corn.
What is the scariest corn maze?
These rank as some of the scariest corn mazes in the U.S.
• Night of Terror in Mullica Hill, New Jersey
• Hysteria at Connors Farm in Danvers, Massachusetts
• Heap's Haunted Corn Maze in Minooka, Illinois
• Kersey Valley Spookywoods Haunted Attraction in Archdale, North Carolina
• The Bates Motel and Haunted Hayride in Glen Mills, Pennsylvania
Where is the world's largest corn maze?
The World's Largest Corn Maze at Richardson Adventure Farm in Spring Grove, Illinois.
How do you survive a haunted corn maze?
Keep your head up and keep breathing. Don't panic. Go in pairs or more. You'll get out alive. Always visit a maze with at least one friend.
Do You Have The Guts to Be Corny?
So, are you ready to enter a maze and find your way out? Remember, never go alone, but always have fun. For more Halloween guides this haunt season, visit our Westgate Resorts Travel Blog.
RELATED ARTICLE:
At Westgate Resorts, when you Check-In, there's a LOT to Check-Out! Your Florida vacation awaits! Explore our Florida resorts today or talk with a vacation planner at 888-852-2959 or 407-355-2690.
When You Check-in, There's a Lot to Check Out
Sign up for our newsletter and check-in to great offers, secret stuff, and special events.