4 Cocoa Beach Restaurants on the Water You Need to Try
4 Cocoa Beach Restaurants on the Water You Need to Try
"Smell the sea and feel the sky/Let your soul and spirit fly …" – Van Morrison
In addition to its beautiful white-sand beaches and longstanding reputation as the "East Coast Surfing Capital," Cocoa Beach, Florida, is known for its incredible seafood eateries and laid-back tiki bars. Seeking the absolute best restaurants in Cocoa Beach on the water with breathtaking ocean views? Look no farther than the amazing dining establishments and bars located at the world-famous Westgate Cocoa Beach Pier – where you and your family and friends can enjoy excellent grub along with a prime oceanside seat to all the action on the beach! In fact, the Westgate Cocoa Beach Pier, a historic landmark that stretches 800 feet over the Atlantic Ocean, boasts the finest selection of Cocoa Beach restaurants on the water for both visitors and locals alike.
Here are four great Cocoa Beach restaurants on the water that you definitely need to check out during your next road trip to Florida's Space Coast:
1 | Havin' Some Fun at The Boardwalk Bar
Home to the "Best Happy Hour on Cocoa Beach," The Boardwalk Bar at Westgate Cocoa Beach Pier also boasts delicious cuisine and an extensive selection of specialty cocktails, along with spectacular beach and ocean views. Relax, unwind and savor the ocean breezes as you sip on your favorite cocktail at this immensely popular open-air eatery. Start your seaside feast with an enticing appetizer such as Lobster Bisque, Crab and Seafood Dip, Jumbo Battered Onion Rings, Chef's Killer Wings or Sea Salt & Vinegar Sidewinders. Save room for one of the hearty entrees, including Seafood Jambalaya, Grilled Shrimp Skewers, Baked Stuffed Clams and Fresh Maine Lobster. Enjoy refreshing and innovative cocktails with distinctive names such as The Original Pieradise, A Russian Monkey, The Key Lime Drink, Berried Pleasure and Build Your Own Mojito, among others. If you're craving a beach atmosphere in a comfortable setting, The Boardwalk Bar definitely hits the spot!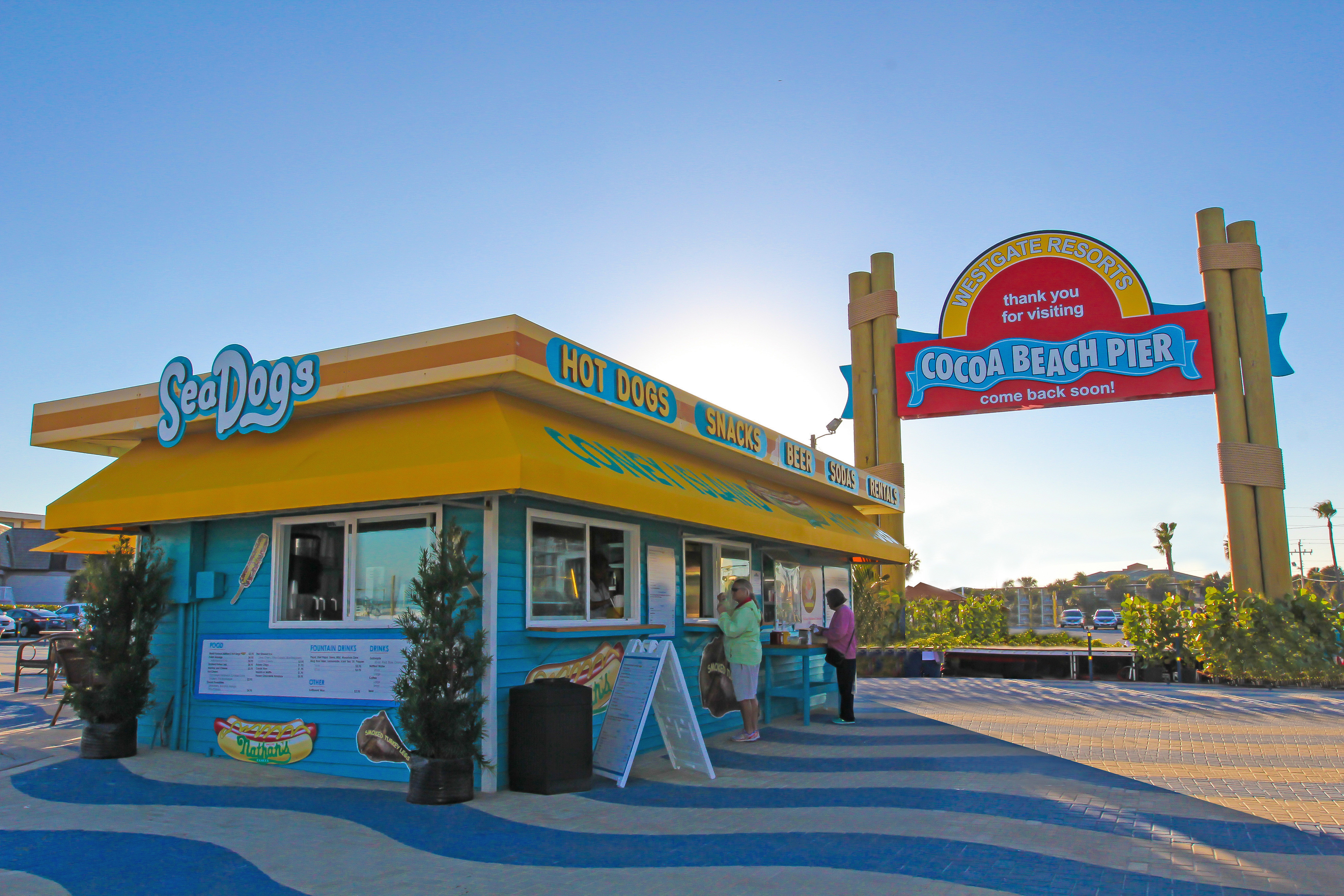 2 | Sea Dogs
If you're looking for a carnival food type setting, Sea Dog is where you should go! This spot is perfect after a fun day at the beach or for a quick grub after surf lessons at the pier. The laid back eatery sells delicious Nathan's Hotdogs, fries, chips, popcorn, nachos, smoothies, turkey legs - and of course, soft serve ice cream cones with toppings! Guests rave about the big portions that are served.
Sea Dogs is more than just your typical beachside food shack. You'll love the atmosphere, fast and friendly service, and delicious food that's served here.
3 | Feasting Beachside at Pelican's Bar & Grill
A casual oceanside eatery at Westgate Cocoa Beach Pier, Pelican's Bar & Grill soars high with its extraordinary menu full of fresh seafood and burgers, tropical cocktails, friendly service, a relaxed atmosphere and panoramic ocean views. Bring a hearty appetite to Pelican's and enjoy such favorites as Lobster Mac & Cheese, Nori Tuna Steak, Tuna Poke, Chicken Piccata, Baked Stuffed Clams, Southern-Fried Gator, Pier Burger, Salmon BLT, Piled High Pastrami Sandwich, famous Creamy Clam Chowder and signature Cocoa Beach Tacos. Wash it all down with one of the refreshing handcrafted drinks at Pelican's such as Cool as a Cucumber, Castaway Rum Punch or Cocoa Set Sail. Pelican's also features several flat-screen TVs tuned to local, national and international sporting events. You'll want to return again and again!
4 | Chillin' Out at Rikki Tiki Tavern
For the ultimate tiki bar experience, you no longer have to venture all the way down the Overseas Highway through the Florida Keys. Rikki Tiki Tavern at Westgate Cocoa Beach Pier has it all – whether you desire to relax and unwind with your favorite cocktail or ice-cold beer, feast on a tender Lobster Club Sandwich or juicy Pier Burger, listen to laid-back live music or simply marvel at the spectacular panoramic ocean view! Just stroll the entire length of the Pier and mosey up to the bar at the Rikki Tiki Tavern where you will be greeted like an old friend. Enjoy live entertainment from talented local musicians several nights a week at Rikki Tiki Tavern, which also serves as the ideal locale to catch a beautiful sunset or one of the frequent SpaceX launches from nearby Kennedy Space Center. Rikki Tiki Tavern is definitely the coolest place on the beach!

Escape to Cocoa Beach Today!
To fully enjoy the laid-back Cocoa Beach experience with its delicious cuisine, white-sand beaches, tropical vibe and endless outdoor activities, why not make it a weekend getaway? The new Westgate Cocoa Beach Resort lies just one mile from the Westgate Cocoa Beach Pier and features spacious two-bedroom suites in Cocoa Beach and the state-of-the-art Wakulla Falls Water Park, for those looking for Cocoa Beach resorts with water parks. In addition, Westgate Cocoa Beach Resort offers complimentary scheduled transportation to and from the Pier. See ya at Happy Hour!
At Westgate Resorts, when you Check-In, there's a LOT to Check-Out! Your Cocoa Beach vacation awaits! Explore our Cocoa Beach resort today or talk with a vacation planner at 888-852-2959 or 407-355-2690.
When You Check-in, There's a Lot to Check Out
Sign up for our newsletter and check-in to great offers, secret stuff, and special events.