10 Things to Look for When Choosing a Family Reunion Hotel in Orlando
10 Things to Look for When Choosing a Family Reunion Hotel in Orlando
When it comes to locations for your next big family reunion, Orlando, Florida is nothing short of a perfect choice! Warm, sunny weather, world-class attractions, and an abundance of hotels and resorts to choose from make it the ideal destination for large family gatherings. With all of the fun things to do in Orlando, it's no wonder it's one of the most popular vacation spots for families from all around the world. Plus, if you're all theme-parked-out, there are tons of day trips Orlando options just outside of the city.
Family Reunions
Orlando has entertainment options for every age and interest, restaurant options for the pickiest of eaters, and hotel and resort options for every budget and need. Wondering if the hotel you have in mind is going to make the cut when it comes to satisfying everyone at the big reunion? Here are the 10 things you need to look for when choosing a family reunion hotel in Orlando!
1 | Ample Meeting Space | Big family? Fear not! Westgate Lakes in Orlando has over 15,000 square feet of flexible meeting space, allowing you the perfect level of customization when planning your retreat. A beautiful lakeside venue, enjoy a comfortable meeting space for 10 to 1,200 people, along with spectacular views of the city atop seven floors. They even have an on-site water park, great for casual gatherings. With complimentary parking, complimentary Wi-Fi, and enough space for everyone to show up and spread out – you can't go wrong!
2 | Activities to Keep Your Group Entertained | Keeps the kids (and the adults) entertained with a packed itinerary of fun activities. Just outside of Orlando, a short hour and a half drive from the Orlando International Airport, lies the not-so-hidden gem that is Westgate River Ranch Resort & Rodeo. Sitting on 1,700 acres of old Florida wilderness on the scenic Kissimmee River, the Ranch features a large list of family-friendly activities including horseback riding, archery, airboat rides, bungee jumping, trap and skeet shooting, fishing and so much more. They even have a rodeo on Saturday night, featuring expert riders and tons of fun. It's the ideal destination for an unforgettable family reunion!
3 | Phenomenal On-Site Restaurants | No need to pile the whole family into that far-too-small rental car you picked up at the airport – choose a hotel that has tasty dining options right on site. From casual eateries serving burgers, fries, salads, and sandwiches, to more upscale options to satisfy the foodies in your family, Westgate Orlando has a restaurant to please every member of your family's taste buds. Enjoy an authentic Italian meal paired with your favorite wine at Villa Italiano Chophouse, located at Westgate Vacation Villas & Town Center Resort in Kissimmee, FL. House-made recipes containing the freshest locally sourced ingredients celebrate Italy's love of food – and family!
4 | Luxurious Accommodations | After a long day of activities, you'll need somewhere comfortable to crash. With so many room types out there, how do you know what's best for your group? At Westgate River Ranch, all of their Luxe Teepees are grouped together under a canopy of shady oak trees, providing ultimate exclusivity, privacy, and comfort for your whole family. Each teepee comes with a golf cart, picnic table, grill, hammock, patio – oh, and a personal concierge to fulfill your every need – plus so much more! Or, for a truly unique and extraordinary experience, try the Luxe Conestoga Wagons, which sleep up to six. No matter what luxe accommodation you choose, once the sun goes down…the fires are lit and the s'mores are roasting!
5 | Event Venues | Looking to host a catered dinner or need a contained space for bonding activities? Westgate River Ranch has you covered! Centrally located on the property, the Saddleback Pavilion is the perfect shady, outdoor spot for large group breakout sessions, outdoor meals, team building scenarios, and any other type of large event that you would like to host outdoors. Enjoy the Florida weather from the comfort of this pavilion with room for your whole family.
6 | Special Group Rates | If you're organizing a trip for a large group needing 10 or more rooms, take the stress out of group travel with a hotel that offers special group rates for large parties. Westgate Resorts offers discounts on some of their best room nights for groups and meetings. Just fill out a group request form online today to see how much your group could be saving!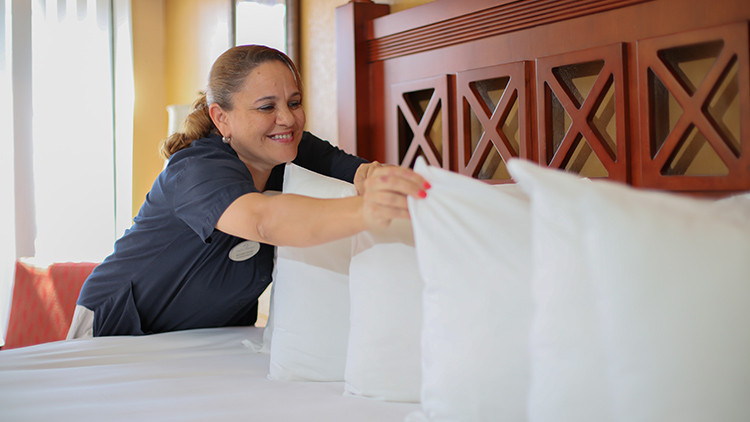 7 | Top-Notch Staff | Make sure your family is greeted with a smile by choosing a resort with an exceptional staff! At Westgate Resorts, our staff is fully committed to safety and work hard to implement WestgateCARES, our enhanced health and safety plan to ensure the well-being of all our guests, team members, and community to create a safe resort environment.
8 | Amenities for Fun and Relaxation | Everyone should come out of a family reunion relaxed and renewed, with a deeper appreciation and love for their family. What better way to do so than to unwind during your reunion with amenities that will bring the entire family together. Look for a resort that has plenty to do – Westgate's Orlando hotels offer spa treatments, a multitude of pools and hot tubs, mini golf, on-site movies, boat and bike rentals and so much more. Last Spring, Westgate Lakes Resort & Spa opened a brand-new, state-of-the-art pirate-themed water park! Treasure Cove Water Park features 60 feet of dueling water slides, a 575-foot lazy river, 258-foot wave pool, a pirate-themed splash pad, an aquatic jungle gym, and a tiki bar!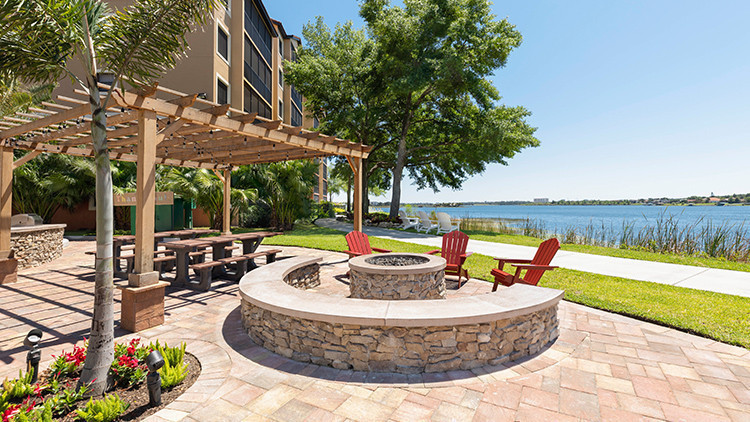 9 | Plenty of Outdoor Space | From theme parks to pools, a family reunion in Orlando calls for lots of time spent outside enjoying the warm Florida weather. You don't want to spend all of your time inside, no doubt soaking up the cool AC, so choose a venue that allows your family to reunite in the fresh air. From the shady oaks and acres of open ranch space at Westgate River Ranch Resort & Rodeo to the lakeside Westgate Lakes, boasting 7 pools/hot tubs and a water park to boot – don't forget to pack a bottle (or two) of sunscreen! You'll even be able to enjoy the great outdoors as the day winds down, giving way to warm evenings and stunning sunsets.
10 | Proximity to Local Attractions | Did you know that Westgate Vacation Villas & Town Center Resort is mere minutes from the entrance to Walt Disney World? If your family is a fan of the mouse and the magic, you'll want a resort that puts you close to the action. Matching Disney t-shirts here we come! If your family is looking for even bigger thrills, Westgate Palace Resort is less than 2 miles from the entrance to Universal Orlando, and less than a mile and a half from all of the incredible dining and entertainment options found on International Drive.
Choose a hotel that gives your family the freedom to customize your reunion to your specific needs. Whether your group wants a jam-packed schedule of activities or room to spread out and relax in the sun, your Orlando family reunion is sure to be the best one ever!
Be sure to check out the Westgate Resorts Travel Blog for tips and ideas to make your reunion amazing.

RELATED ARTICLE:
At Westgate Resorts, when you Check-In, there's a LOT to Check-Out! Your Orlando vacation awaits! Explore our Orlando resorts today or talk with a vacation planner at 888-852-2959 or 407-355-2690.
* Westgate Resorts is in no way affiliated with the attractions featured in this article. Items or places listed are current as of the publishing date of this article. Please call or visit the respective website for the most up-to-date offerings and details.
When You Check-in, There's a Lot to Check Out
Sign up for our newsletter and check-in to great offers, secret stuff, and special events.