10 Tips For Your Best RV Camping Trip in Florida!
10 Tips for Your Best RV Camping Trip in Florida!
RV Camping is one of the most popular ways to travel across America in the summertime! You can save money by avoiding expensive flights, travel with all the comforts of home, and keep your family safe — all while seeing and experiencing some of the best travel destinations in the country. From the panhandle to the Florida Keys, Florida RV camping is a favorite pasttime of The Sunshine State, and believe me,... there's a lot to see and do in just this state alone! If you are thinking of taking a road trip in Florida, or just using it as the starting point on your cross-country journey, there are certain things you can do to ensure your trip is as smooth as possible. Here are our 10 tips for your best RV camping trip in Florida!

Florida RV Camping
1 | Keep Safety Top of Mind | Packing your family into an RV and hitting the road for your summer vacation puts you in control. You get to bypass densely populated airports and large crowds. One of the reasons why "the great American road trip" became so popular in the 1950s and 1960s, is because the construction of our national highway system allowed families to see popular landscapes and landmarks across the country without ever leaving their car! Renting an RV only enhances that experience. Pack ample cleaning supplies like disinfecting wipes, hand soap, and hand sanitizer, as well as face masks and a first aid kit, and you'll be good to go. It's also a good idea to hit the road with a co-pilot ⁠— someone who can safely take over the wheel when you are feeling tired or less than your best.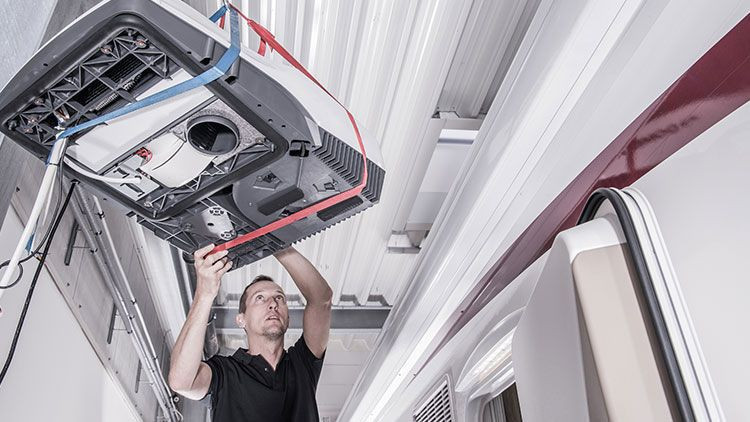 2 | Research, Research, Research! | You'll definitely need to do your research to ensure you understand how your vehicle operates, especially if this is your first RV adventure. Driving an RV is different than driving a car! It's a lot bigger and more difficult to back up, maneuver on the road, and park. But it can be done! Make sure you research a few scenarios that could occur while on the road, so you can be ready to make any quick repairs or adjustments. Also decide what tools you may need to pack in case of an emergency. It's a good idea to pack duct tape, a tire pressure gauge, a hammer, zip ties, pliers, a pocket knife as well as a flashlight and extra batteries – to name a few.
3 | Map Out Your RV Adventure | Hitting the open road can be both fun and intimidating. Take the time before your trip to map out your route. Consider the distance you're looking to tackle, as well as the timeframe. It's not recommended to drive more than 350-400 miles a day. Look for campgrounds on your route that are near national parks or other destinations you want to visit. You'll also need to pay attention to the gas tank— while you may be used to driving until you're nearly on empty, gas stations may be hard to come by in rural areas, so don't let your tank get too low! It's also a good idea to bring a physical map of the area with you, as you may often find yourself in areas with slim-to-no cell service.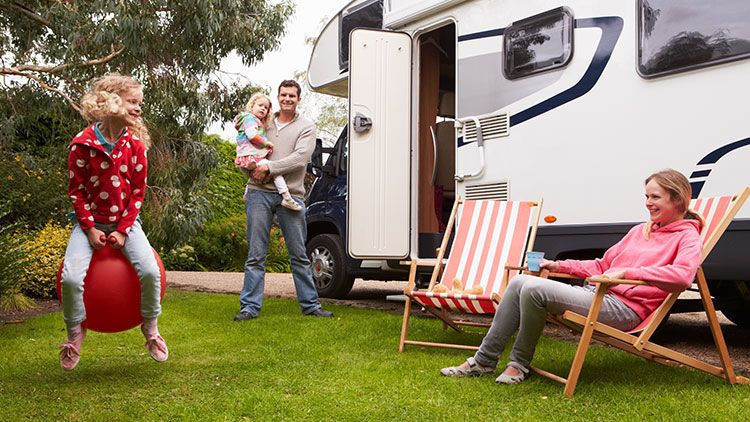 4 | Stock Your RV with Essentials Before Heading Out on the Road | It can be hard to think of all the things you might need on your journey. Your RV is your mini-home during your trip and there is a lot to bring. You should already have your safety supplies and tools packed and stored in an easy to reach location. While packing the rest, consider the following areas: home, kitchen, outdoor, and fun. While not an exhaustive list, let the following inspire your packing endeavors!
Home: clothes, swimwear, pajamas, sheets, blankets, pillows, toilet paper, shower supplies

Kitchen: pots, pans, utensils, small trash can, trash bags, paper towels, paper plates, cups, refillable water bottles, dish soap, sponges

Outdoor: bug spray, sunscreen, citronella candles, lighter

Fun: pack of cards, board games, speaker, radio, DVDs, sports equipment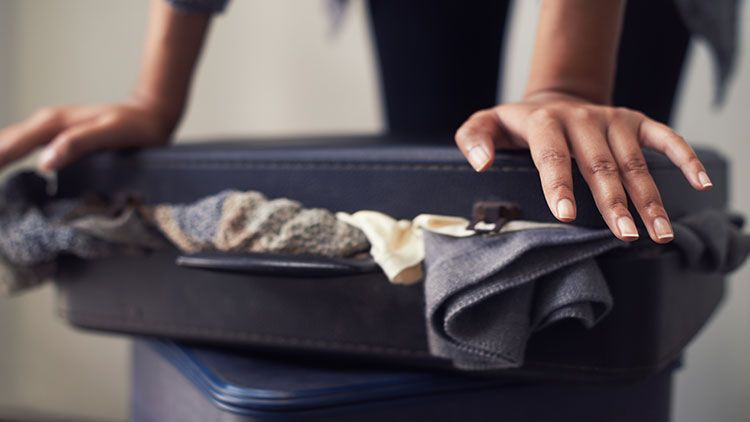 5 | Pack with Purpose: Avoid Overpacking | With all that being said, let's talk overpacking. Overpacking will cause you to struggle to find the things you need in a pinch and can make your RV feel too crowded. Once you've stocked your RVs main storage areas, like the kitchen cabinets and drawers, try and use clear, plastic storage containers. If it doesn't fit in the container, leave it behind! Many RVs will have space to store bins under the seats. Utilize hanging adhesive utility hooks on the backsides of doors and cabinets to give you extra space throughout the RV. You can even craft makeshift door pockets using a few pieces of wood and some mesh to store your dirty shoes. Get creative and utilize your space!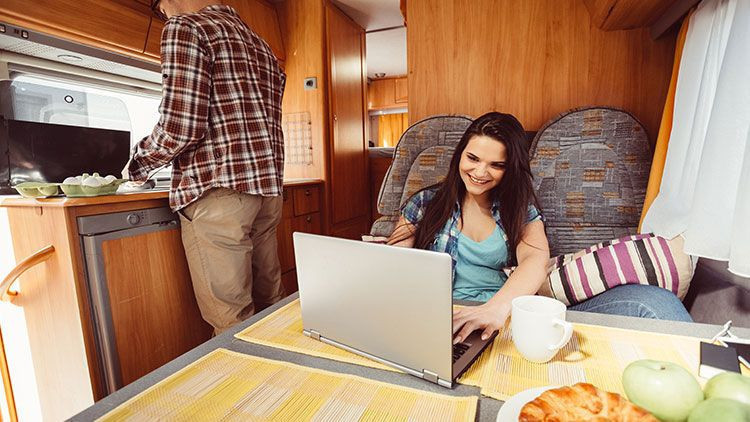 6 | Plan Out Your Meals Ahead of Time | Your kitchen on the road will be much smaller than you're used to, with much less storage. Save yourself the stress of overpacking food that may go to waste and plan out some of your meals ahead of time. That way, you can make sure you pack all the ingredients you'll need. Stick to simple meals that require few ingredients and pre-packaged elements — like a box of spaghetti and your favorite jar of sauce! You'll also need to bring some seasoning. Try to limit it to 3 or 4 of your most-used, plus salt and pepper. While stopping at local diners or eateries is a road trip staple, you'll be glad you have simple meals to prepare when you're too tired to go out or if you can't find a place nearby with space for RV parking. Whatever you do, don't forget to pack graham crackers, marshmallows, chocolate bars and sturdy sticks for s'mores!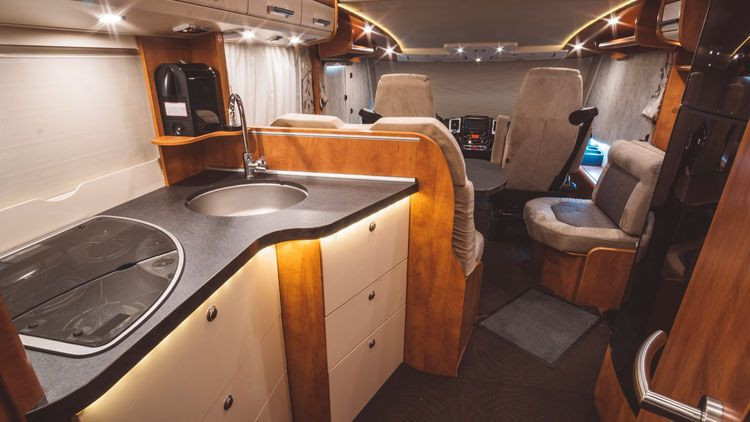 7 | Keep Your Mobile Home Clean | Treat your RV like you would your home and keep it clean and comfortable! It's a good idea to keep some floor mats with you. You can even pop into a store like Home Depot or Lowes and pick up a few carpet samples. These are great to keep at the entrance of your mobile home to avoid tracking in dirt and moisture from the great outdoors. You'll also want to keep a broom handy to quickly sweep out any loose sand, gravel or dirt that makes its way inside.
8 | Don't Forget Your "Outdoor Living Room" | After some long hours on the road inside your RV, you'll want to spend some time enjoying the fresh air once you reach your destination. After all, that's probably one of the reasons you decided to go camping! Once your RV is parked for the evening, you can set up your outdoor living space! Invest in a large, artificial grass rug to frame your outdoor living room and give your family some space to walk and hang out without tracking around dirt. Add some outdoor chairs, a small folding table, a portable speaker or radio, and some citronella candles ⁠— which repel mosquitos. You may also want to pack some battery-operated LED lanterns and some stainless-steel travel cups, which are made to keep your drinks cold for hours.
9 | Leave Room on Your Itinerary for Some Fun, Unexpected Stops Along the Way | One of the best parts about camping in an RV, is that you're always on the go. You are never stuck in one spot, at one hotel, in one city ⁠— so you never know what you may stumble upon during your travels! While it's super important to plan out a safe and manageable route, and some must-see stops along the way, it's also nice to practice spontaneous vacationing! Pay attention to road signs for quirky attractions or small, local dining spots. Don't be afraid to make an unexpected stop along the way! You'll likely be pleasantly surprised by what you find and who you meet.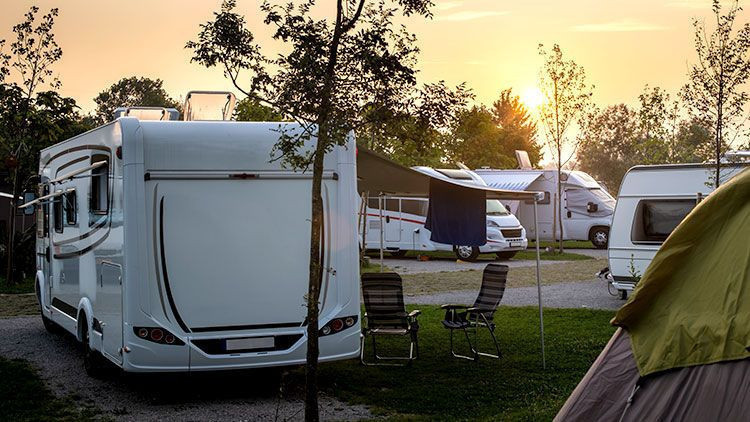 10 | Look for An All-Inclusive RV Camping Solution | A great Central Florida RV Camping partner, RV Rentals of Orlando has everything you need to make your next RV camping trip a smooth success. RV Rentals of Orlando has a wide variety of RV options to suit every family. If your in need of an RV for your next Florida vacation; they are the best that Orlando has to offer.
WHERE: 1758 S US Hwy 17 92, Longwood, FL 32750 | WHO: 407-473-9311
We hope this post inspires you to hit the open road! RV Camping with your family is one of the best ways to explore the vast and beautiful American landscape, while creating lasting memories with your loved ones. Stay safe & happy travels!

RELATED ARTICLE:
At Westgate Resorts, when you Check-In, there's a LOT to Check-Out! Your Florida vacation awaits! Explore our Florida resorts today or talk with a vacation planner at 888-852-2959 or 407-355-2690.
* Westgate Resorts is in no way affiliated with the attractions featured in this article. Items or places listed are current as of the publishing date of this article. Please call or visit the respective website for the most up-to-date offerings and details.
When You Check-in, There's a Lot to Check Out
Sign up for our newsletter and check-in to great offers, secret stuff, and special events.