The 12 Best Places to Kayak in Florida For a Perfect Paddle!
The 12 Best Places to Kayak in Florida For A Perfect Paddle!
Have you ever been kayaking? This is an amazing and ancient adventure that connects you to the water and the natural environment around you. The first kayaks were actually created by the Inuit peoples of the Arctic regions thousands of years ago, and several hundred years ago people in other regions became interested in them as a sporting vessel. Today, you can participate in recreational kayaking on calm, gentle waters called flat water, or on fast-moving, treacherous whitewater. The type of kayak you will use depends on the water. Kayaks are not to be confused with canoes! The most obvious difference between the two is that you use one paddle with a blade at each end for kayaking, and two paddles with one blade at the bottom end for canoeing.

Florida Kayaking Spots
Florida has hundreds of interesting places to go kayaking, so it can be hard to choose where to go. The location you choose might depend on what sights you want to see, and what type of kayaking you want to do. Do you want to see diverse wildlife and have a leisurely afternoon paddle down a lazy river? Or are you looking for a more perilous whitewater experience to get your heart pounding? To help you decide, here is a list of the 12 best places to kayak in Florida, including contact information and optimal launch sites.
1 | Winter Park Chain of Lakes | Winter Park offers a unique kayaking opportunity: elegant man-made canals wind through the historic city and between impressive estates while simultaneously offering a glimpse of natural Florida wildlife. Lush aquatic plants thrive along the banks. Wading birds nest in the shoreline trees. The canals connect six large freshwater lakes that are home to fish and turtles, which in turn provide food for osprey and herons. You can spy all of this from a kayak within the city! The sheltering shade of the canals provides relief from the sun and wind and makes for an incredibly pleasant and relaxing cruise.
KAYAKING TIPS | Dress Appropriately | Dress according to the temperature of the water, so if you take a dip, you'll be prepared.
WHERE TO LAUNCH: Dinky Dock: 410 Ollie Ave, Winter Park, FL 32789 | WHO: 407-212-7306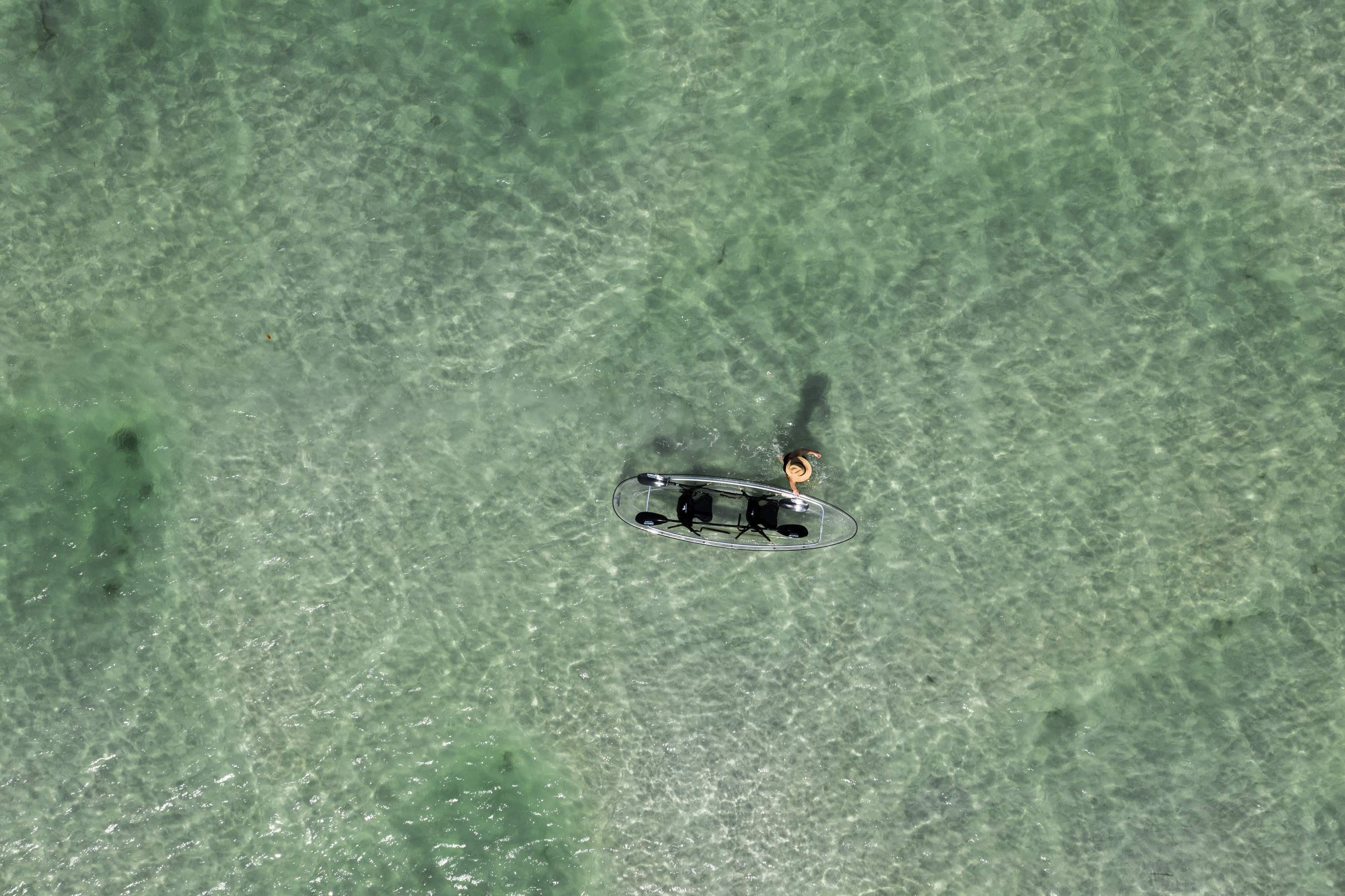 2 | Tampa Bay: Shell Key Preserve | Shell Key Preserve is a 1,828-acre preserve with a 195-acre barrier island located in the Tampa Bay area. In this untouched, marine environment, you can see dolphins and manatees, paddle through mangrove forests, and enjoy pristine white beaches! These beaches do not have public access except from the water, so kayaking is one of the only ways to reach these shores. Try using a clear kayak and you will be able to discover the sea creatures beneath you! Fish, starfish, and crustaceans are abundant in these clear, sparkling waters.
KAYAKING TIPS | Rent First | For obvious reasons, rent and try out the experience before you invest in any expensive kayaking equipment.
WHERE TO LAUNCH: Billy's Stone Crab: 1 Collany Rd, Tierra Verde, FL 33715 | WHO: 727-265-2268
3 | Tampa Bay: Tarpon Springs | The Bayous of Tarpon Springs are home to dolphins, manatee, stingrays, and of course tarpon! If you have never seen one of these big fish, you are in for a surprise! Also, the seasonal tours are offered during manatee season, meaning you'll meet these gentle giants up close! In addition to the wildlife, there are also historical sites to view while exploring the waterways of Tarpon Springs, including the Victorian-styled homes from the early 1900's. After your paddle you can visit the waterfront shops and Greek restaurants that this town is famous for.
KAYAKING TIPS | Physical Maps | Bring a physical map of the area you're kayaking, so you don't have to be at the mercy of your cell connection.
WHERE TO LAUNCH: Tarpon Springs Yacht Club: 1 Bayou Blvd, Tarpon Springs, FL 34689 | WHO: 727-265-2268
4 | Fort Pierce | If you want to try an evening excursion, Fort Pierce has some unique creatures you won't find in other places. If you are lucky, you might encounter bioluminescent comb jellies that will light up the dark waters beneath your kayak. Paddling the coves and navigating the mangrove tunnels in the dark with a flashlight or glow-in-the-dark lantern is sure to be a very different experience from a daytime trip, maybe even a little spooky.
KAYAKING TIPS | Check the Weather | Keep an eye on the weather and future forecasts, you don't want to be kayaking in any heavy storms.
WHERE TO LAUNCH: Little Jim Bridge Park: 601 N Causeway, Fort Pierce, FL 34949 | WHO: 772-206-0337
5 | Jupiter | The blue-green, brackish waters of the Indian River are filled with fascinating marine animals, and you can meet them face to face in a kayak. These intracoastal waters are also lined with beautiful wild beaches that kayakers can stop and wade ashore to enjoy. There are many shallow water spots and a large sandbar to explore and look for smaller animals such as sea stars, puffer fish, and conch. You can also hop out of the kayak and enjoy the cool water on a hot day.
KAYAKING TIPS | Duct Tape| Use it just like MacGyver would, on anything and everything!
WHERE TO LAUNCH: Jupiter Pointe Club and Marina: 18701 SE Federal Hwy, Jupiter, FL 33469 | WHO: 561-203-9477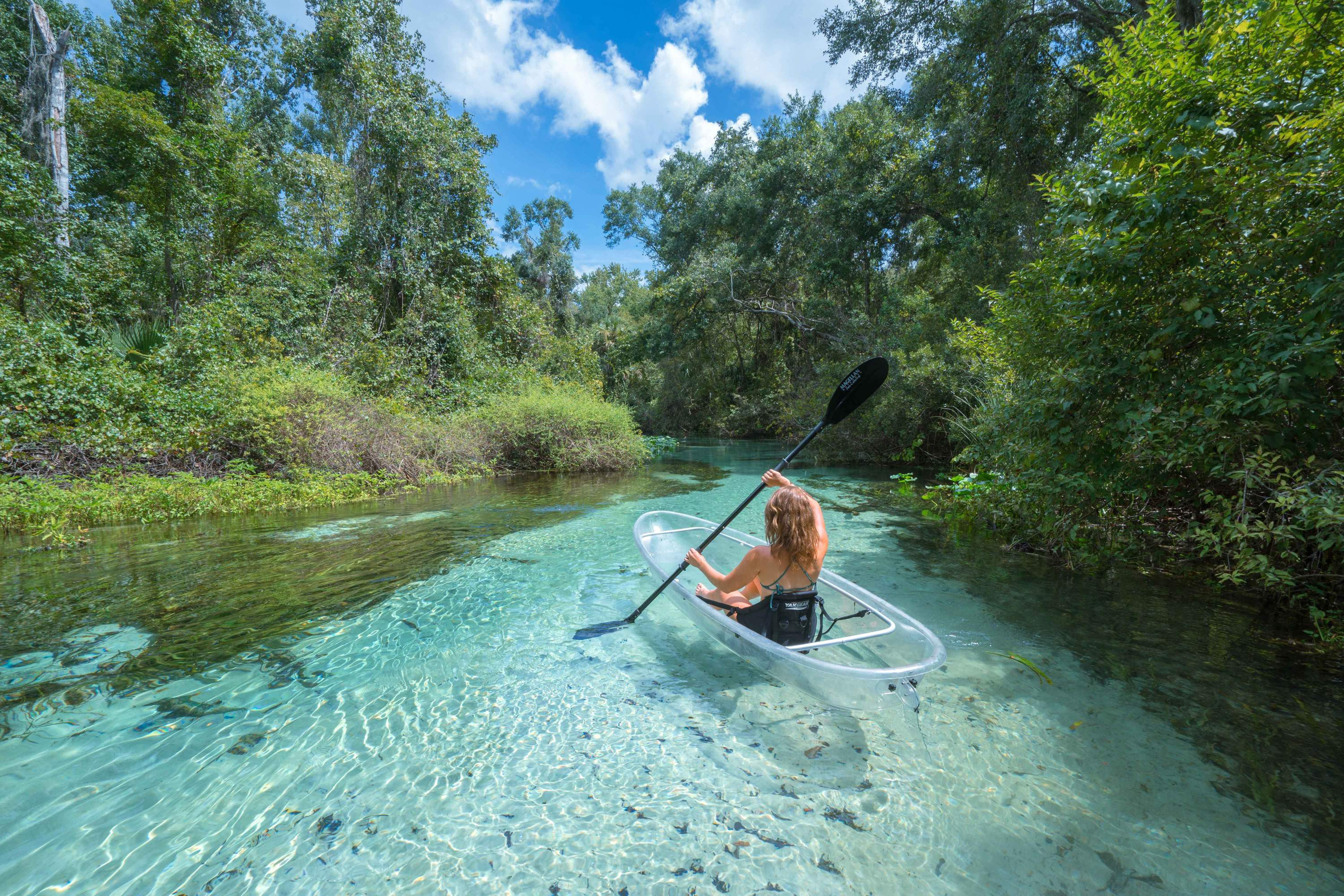 6 | Rock Springs | Rock Springs Run is a natural, scenic waterway formed by a series of artesian springs. It has slow-moving, crystal-clear water where you can see freshwater species such as alligators, otters, turtles, and fish, and also birds and deer along the shore and in the pine flatwood forests. In one direction, you will be paddling against the current, and in the other direction, you won't have to paddle at all! This gentle paddling trail is excellent for beginners.
KAYAKING TIPS | Pace Yourself | Take it easy, don't burn yourself out while out on the water.
WHERE TO LAUNCH: King's Landing: 5722 Baptist Camp Rd, Apopka, FL 32712 | WHO: 407-212-7306
7 | Crystal River | The serene water of the Crystal River flows into the Three Sisters Springs, Jurassic Springs, and Hunter Springs in the Crystal River National Wildlife Refuge. Kayaking is only allowed from April 1st to November 14th. The rest of the year, the springs are off limits because endangered manatees flock here for sanctuary.. The waters are naturally warmed and this is why the manatees choose to make this their winter home. During the season when the springs are open to kayaks, these iconic, turquoise waters are considered some of the prettiest in Florida.
KAYAKING TIPS | Water-Proof Storage | If you are bringing anything with you that you would like to remain dry i.e. wallet, food, or clothes, make sure you invest in some water-proof storage.
WHERE TO LAUNCH: Kings Bay Park: 268 NW 3rd St, Crystal River, FL 34428 | WHO: 352-834-1556
8 | Rainbow Springs State Park | Before Rainbow Springs became a state park, it was a private outdoor park. You can see the evidence of this in the ornamental gardens and man-made waterfalls that still flow. However, beyond these lovely attractions, there still remains the beauty of the natural springs and the surrounding mossy hammocks. Visitors to these incredibly blue waters can view dozens of species. If you get hot while paddling, you can just hop into the springs for a refreshing swim!
KAYAKING TIPS | Stay Alert | You are out in the wild, so make sure to keep your head on a swivel, just in case a gator swims on by. You wouldn't want to miss that!
WHERE TO LAUNCH: KP Hole Park: 9435 SW 190th Avenue Rd, Dunnellon, FL 34432 | WHO: 352-541-0115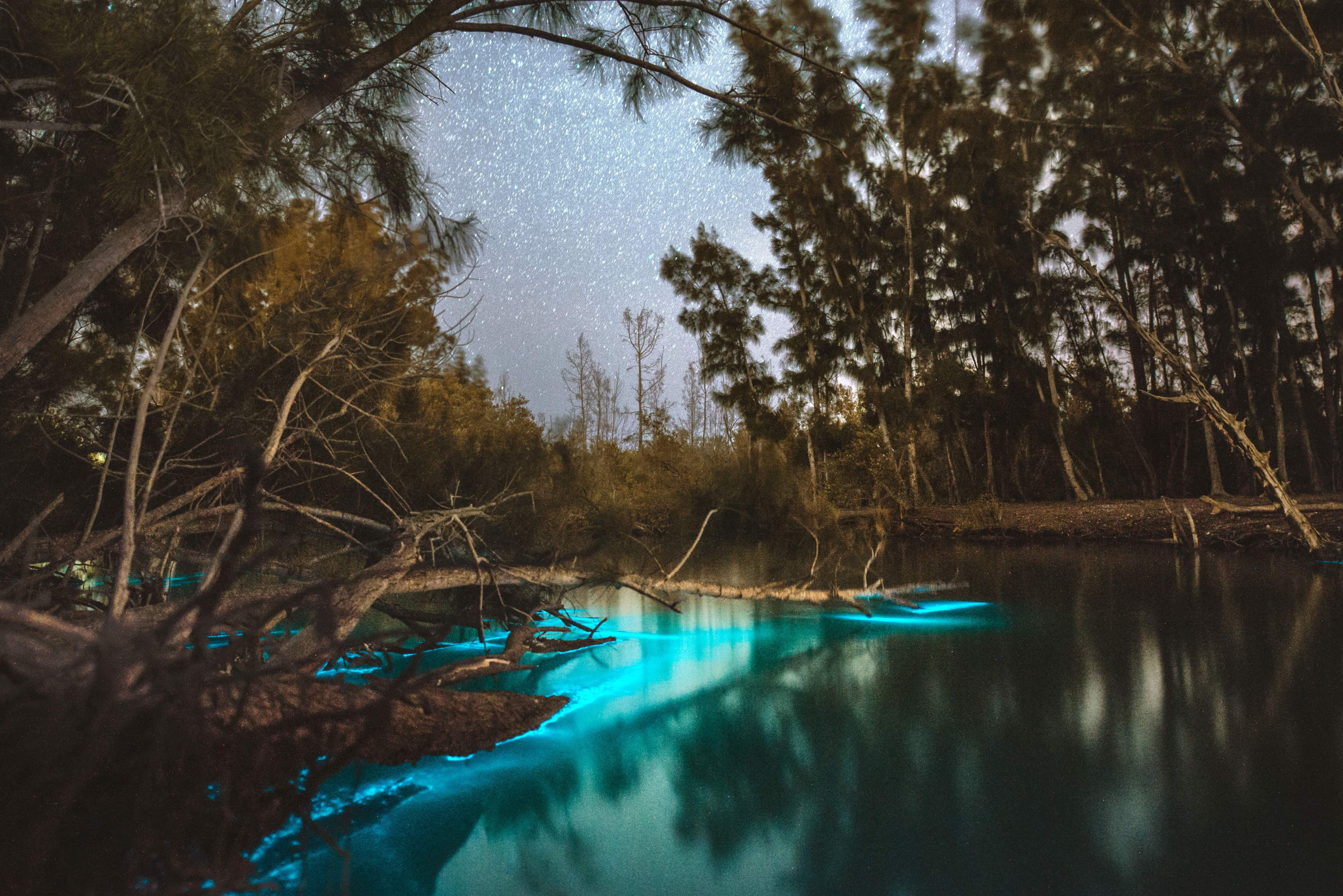 9 | Merritt Island National Wildlife Refuge | Merritt Island is Florida's largest barrier island, and is home to both NASA's Kennedy Space Center and 140,000 acres of natural preserve. The waterways within the Refuge provide an unparalleled view of coastal Florida ecosystems. You may see alligators, dolphins, and manatees in these intracoastal waters. Additionally, this site is also one of the most popular locations in America for bioluminescence kayaking. Billions of bioluminescent plankton glow in the dark when the water is disturbed, such as when a paddle enters the water, creating an eerie and breathtaking sight that is best viewed on the darkest of nights.
KAYAKING TIPS | Maintain Close Contact | If you're traveling with a group, make sure to stay in contact, so that no one gets left behind. The group should stay an earshot away from each other.
WHERE TO LAUNCH: Merritt Island National Wildlife Refuge:1987 Scrub Jay Way, Titusville, FL 32782 (NW Haulover Canal) | WHO: 407-212-7306
10 | Suwannee River | The Suwannee River, at 246 miles long, is a famous river for multi-day paddling trips. This blackwater river is mostly slow, natural canals passing through forested swamps and wetlands. However, if you are a very experienced kayaker, and you are interested in some whitewater kayaking, there are some wild sections of this river. The largest whitewater rapids in Florida start at the Big Shoals Tract of the river and are rated class I-II (and sometimes III) for difficulty. The waters above Big Shoals are very calm and flat, and there is a trail on the shore beside the rapids for portage, so it is possible to put in and take out at the same spot. To reach the launch site, some hiking will be required.
KAYAKING TIPS | Dry Off | After a long day kayaking, make sure you dry off your gear before you put it in storage, so that it doesn't get ruined with mold or rust.
WHERE TO LAUNCH: Big Shoals Hiking Trail Entrance: 18738 SE 94th Street, White Springs, FL 32096 | WHO: 386-397-4331
11 | Weeki Wachee Springs State Park | The Weeki Wachee mermaids aren't the only reason this park is famous. This spring has a freshwater cave system that is the largest in the county! While you are peacefully paddling the Weeki Wachee River system, know that there is a vast underwater realm hundreds of feet below you, lit only by lairlight and the dreams of the dwellers of the deep. The surface waters of the river are a gorgeous sapphire blue and are fed by multiple springs along the 6-mile run. You can even see small springs bubbling up and feeding the river from within the surrounding floodplain forest.
KAYAKING TIPS | Bring Binoculars | Out in the wild and on the water, there is so much to see and with a good pair of binoculars you'll be able to get a closer view.
WHERE TO LAUNCH: 6131 Commercial Way, Weeki Wachee, FL 34606 | WHO: 352-592-5656
12 | Pine Island | The Great Calusa Blueway is 190 miles of paddling trail that begins in the coastal waters of Pine Island Sound near Fort Myers, travels through Estero Bay, and up the Caloosahatchee River. The trail is clearly marked by brown signs to keep paddlers in the shallow waters and away from motorboat traffic along the coast. You can spend a few hours or a few days exploring the beaches, estuaries, tidal creeks, mangrove islands, and tributaries that empty into the bay. Many of these intimate natural sites can only be reached by paddle boat.
KAYAKING TIPS | Double Check Your Gear | Before you load up all your gear to head home from your day of kayaking, make sure you double check your gear for any damage that needs to be fixed before your next kayaking adventure!
WHERE TO LAUNCH: Pineland Monument Park: 13643 Waterfront Drive, Pineland, FL 33922 | WHO: 239-229-7367
Use Our Handy Map to Find Your Way Around These Great Kayak Launches in Florida Off The Beaten Path!
Don't waste time hunting and pecking all over the internet boards when you should be jumping ON board for a great day of kayaking! Here's a handy map to all launch points below!
All Aboard For Kayaking in Florida!
There are all kinds of kayaking opportunities in Florida. From marine kayaking along the beautiful Florida beaches and between barrier islands, to river kayaking with gentle currents to do most of the work for you, then whitewater kayaking on fast sections of river or creek, and even urban kayaking for those who don't want to leave the comfort and convenience of the city, there is something for every paddler. You could spend every day of the year exploring different waters and never put your paddle in the same water twice!
RELATED ARTICLE:
At Westgate Resorts, when you Check-In, there's a LOT to Check-Out! Your Florida vacation awaits! Explore our Florida resorts today or talk with a vacation planner at 888-852-2959 or 407-355-2690.
When You Check-in, There's a Lot to Check Out
Sign up for our newsletter and check-in to great offers, secret stuff, and special events.