8 Great Family Vacations to Take with College Students
8 Best Family Vacations to Take with College Students
Family vacations can be a time for bonding and making memories with your children as they grow up. Children will remember the places they go and the events they experience their whole lives. These precious moments don't have to end when your kids go off to college! You can still take vacations with your college-aged children, and there are lots of places to go that you and they would find fun and exciting. There are options for all kinds of travelers, from those looking for beautiful natural scenery and restful retreats to those looking for high velocity thrills and social scenes.
Ready to Getaway With Your College Grad?
The best family vacations to take with college students are fun, hip, and insta-worthy! Activate camera mode on your smartphone and get ready to snap some shots at one of these great destinations!
1 | Orlando - The Theme Park Capital of the World | If you are looking for thrills and chills, then Orlando has it all. Disney World is fun for the young and the young at heart, with many experiences designed with an older crowd in mind (think La Cava Del Tequila, at Epcot's Mexico Pavilion). The Disney parks also offer plenty of extreme roller coasters for the speed enthusiast. In addition, Disney Springs offers many mature shopping and dining options. If you want spooky, consider Universal Orlando Resort during the Halloween season. They put on a terrifying event clearly targeting audiences of older teenagers and up. The rides at Universal are heart pounding at any time of year. Don't forget the aquatic adventure at SeaWorld Orlando. Mako at SeaWorld is the fastest, tallest, and longest roller coaster of all the theme parks in Orlando. With so many Orlando hotels it will be easy to find accommodations during your thrill ride chasing adventure.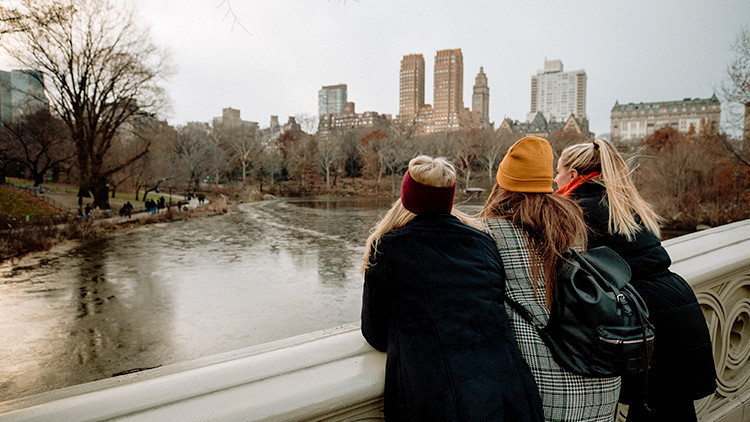 2 | New York City - Urban Adventures in the Big City | There is so much to see and do here, where to even begin? You could take the educational route and visit the world renowned art museums and national landmarks. Statue of Liberty? Check. Guggenheim? Check. You could hit 5th avenue for a "shop til you drop" bonanza. You could eat a different international cuisine every night of the week, and still be on the same block! You can grow your cultural awareness and take in a play, a musical or an opera. This big city even has something for the nature lover. The famous Bronx Zoo and Central Park Zoo will give you your exotic animal fix. Central Park itself offers miles of trails to explore, with unique animals living amongst people. The High Line is a garden built on disused train tracks elevated above the sidewalks and streets. You can do all of these things in the same week, and with convenience and ease! Finding an affordable and attractive New York City hotel that is close to all your interests will be no more trouble than finding bed bugs in your hotel mattress, and hundreds of activities to do in the city that never sleeps.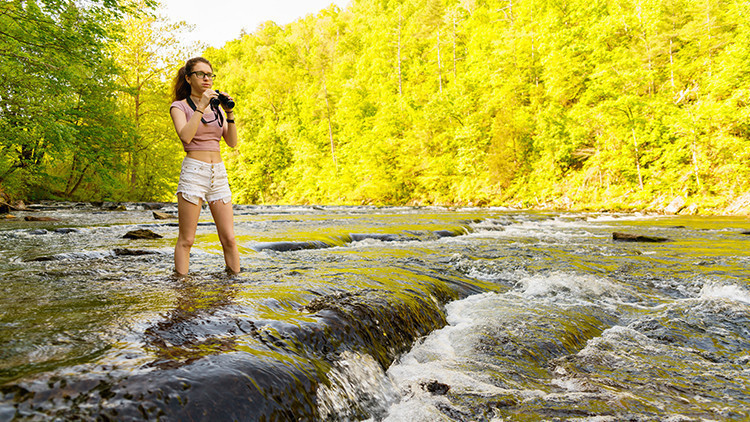 3 | The Smoky Mountains - Mountain Retreat | The Smoky Mountain rain keeps on falling! Just like Ronnie Milsap, you'll be longing to return to the Smoky Mountains over and over again once you lay eyes on the haunting beauty of these timeless hills. The Great Smoky Mountains National Park is the most-visited national park in the United States. There are things to see and do here year-round and in all seasons. There are over 800 miles of hiking trails within the park, 71 of which belong to the world famous Appalachian Trail. The hiking here is considered by many to be the best of mountain hiking in the eastern part of the country. If you want to take in the sights, but don't want to hoof it, take the scenic route in your car! There are over 300 miles of paved roads that you can travel by car to see everything the park has to offer, from waterfalls to the changing leaves of fall. Other activities include horseback riding, fishing, camping, and skiing. The visitor center for the national park is located in Gatlinburg, Tennessee. Gatlinburg itself has several attractions from which to view the park, including the Space Needle observation tower and an aerial cable car called Sky Lift that travels between Downtown Gatlinburg and the local ski resort Ober. To see everything in this charming mountain town, you'd likely need to stay at least overnight and find a hotel in Gatlinburg.
4 | Williamsburg, Virginia - A Historic Hiatus | For a taste of colonial-era America, visit historic Williamsburg in Virginia. This centuries-old town has preserved the look and feel of a 1700's colony in their Colonial Williamsburg district, which is essentially a living museum with costumed actors carrying out daily exhibitions for the public to view and participate in. You can take part in an archeological dig, examine colonial artifacts that are currently being restored at the laboratory of The Wallace Collections and Conservation building, and you can even sign up to learn how to throw an axe or fire a musket. Williamsburg is one of the cities that make up the Historic Triangle which also includes Yorktown and Jamestown. These towns in Virginia are also close enough to visit and experience. Yorktown has the American Revolution Museum where most of the exhibits are interactive. At Jamestown, you can visit the re-creation of the Jamestown Settlement, which includes replicas of the ships that sailed from England in 1607 and the fort that was built there. Once you are done touring the historical, you can take in the thrillogical. Both Busch Gardens and Water Country USA are located within greater Williamsburg. Williamsburg made it onto the New York Times list of "52 Places to go in 2019."
5 | Park City, Utah - Ski Vacation | Although there are many recreational activities year round, Park City is best known for its winter snow sports. It is surrounded by ski resorts boasting slopes fit for the professionals. In fact, Utah Olympic Park hosted the 2002 Winter Olympic Games. This outdoor athletic complex was built right on the edge of town specifically for this purpose, and today can be used by the public for a variety of activities and by those wishing to experience the Olympic dream. If you are interested in skiing, snowboarding, or snowmobiling, then where better than a Park City hotel to snuggle up and plan your icecapades? But snow isn't the only thing Park City has to offer. The Sundance Film Festival is held here every winter. For those who love independent movies and original stories, this festival offers new and fresh visual and auditory delights. Founded in the 1970's, today it is the largest independent film festival in the United States. One of the most iconic venues showcasing the offerings of the festival is the Egyptian Theatre in Park City.
6 | Branson, Missouri - Nature's Wonders in the Midwest | Have you ever wondered if red ferns really do grow in the hills and forests of the Ozark Mountains? The hiking trails, fishing spots, waterfalls, caves and caverns around Branson offer numerous opportunities for exploration to see if you can find it secretly growing. The natural scenic beauty of these plateau features is breathtaking. If you would rather save your breath and relax beside a crystal clear lake that does not contain piranhas, Table Rock Lake is perfect for enjoying the sun, swimming, and boating. After a day of exploring what nature has to offer, you can see what all the fuss is about and have dinner at Dolly Parton's Stampede, the world's most visited dinner attraction. Or grab dinner at another venue along 76 Country Boulevard, the busiest and most famous street in Branson. You can also visit Silver Dollar City, an 1800s-themed amusement park, or the Titanic Museum, which contains over 400 artifacts and a reconstruction of the Grand Staircase based on the original plans of the Titanic itself, or even hop on the iconic, giant Branson Ferris Wheel. There are dozens of theaters, museums, and themed attractions to visit along this five-mile strip of roadway.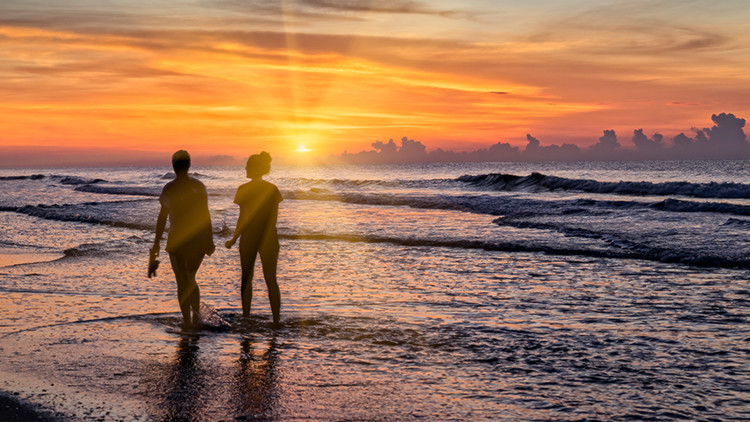 7 | Myrtle Beach, South Carolina - Beach Break | There are hundreds and hundreds of miles of beautiful beaches along the southeastern Atlantic coast of the United States, but only a handful of them are internationally known. Myrtle Beach is one of these beaches of renown, and when you feel the sand beneath your feet, you'll see why. This is an excellent walking beach, because the sand is soft and firm, and there are many shells and shark teeth to collect along the shoreline. In addition to swimming and sunbathing on the beach proper, there are many activities on the boardwalk. The Myrtle Beach Boardwalk and Promenade was ranked the third best boardwalk in the United States by National Geographic, and the second best boardwalk by Travel and Leisure. The boardwalk spans over a mile and features the impressive SkyWheel, the towering observation wheel from which you can get a bird's eye view of miles of scenery up and down the beaches, as well as restaurants, bars, live music, and family friendly entertainment. Many hotels and area attractions offer summer vacation deals that would satisfy the most miserly penny pincher.
8 | River Ranch, Florida - Rodeo and Ranch Experience | If you can convince your kids to take a dude ranch family vacation, you will reconnect as a family. And now that your kids are practically grown ups, you don't have to worry so much about them getting stepped on by the horses. Yes, you can ride horses, and feed baby goats, and sleep in a luxe teepee or glamping tent. Check out Westgate River Ranch and Resort for the largest, most glamourous, cowboy hipster, outdoor ranch adventure in Florida. This resort lies along the banks of the rolling Kissimmee River and is surrounded by acres and acres of natural Florida habitat. Since Florida is the Australia of the United States, you will be sure to see a broad range of diverse plants and animals while exploring the open flatlands and the wooded trails. River Ranch is one of the trailheads of the Florida Trail, which is one of eleven designated National Scenic Trails in the United States. The resort has a menagerie of pettable animals on site, and hosts a rodeo every Saturday night. You'll finally have an opportunity to wear your boots and cowboy hat out in public.
Final Thoughts on Vacationing with Your Adult Children
Did I just imply that college students are nearly adults? Well, in principle they should be adults at 18, but we all know that isn't the case - wink,wink ;). They still expect presents for their birthdays and holidays, you still buy clothes for them, and you still pay their cell phone bill. All this is to say is, that just because they are adult-sized, doesn't mean they don't still want to hang out with their parents. BUT... although they might not say it, they still want to go on vacation with you... even if most of the time they're off in exploration mode meeting new people and trying new things! And, when push comes to shove, many of us experience the fact that they still want to be around you and make memories with you. Family time with your children doesn't have to end with childhood. And a vacation might be just the thing everyone needs during the long summer and winter breaks when college kids have nothing better to do than raid your fridge.
At Westgate Resorts, when you Check-In, there's a LOT to Check-Out! Your vacation awaits. Start planning your next vacation today or talk with a vacation planner at 888-852-2959 or 407-355-2690.
* Westgate Resorts is in no way affiliated with the attractions featured in this article. Items or places listed are current as of the publishing date of this article. Please call or visit the respective website for the most up-to-date offerings and details.

RELATED ARTICLE:
Other tagged pages of interest: orlando hotels near disney, lake buena vista resort, kissimmee resorts, kissimmee hotels, hotels orlando, orlando resorts, staycations
When You Check-in, There's a Lot to Check Out
Sign up for our newsletter and check-in to great offers, secret stuff, and special events.