The 10 Top Beaches in Florida
The 10 Top Beaches in Florida
Have you been planning a relaxing trip to beautiful, sunny Florida, but still haven't decided on which one of the many fantastic beaches to place your flag and stake your claim when you arrive? With so many great beach options here in Florida, like the best shark tooth beach in Florida and popular spots you can access through Florida Fishing Charters, the task of deciding on which beach to choose can be daunting at best. You might be struggling with the choice between one of the many quaint beachy towns in Florida or the exciting nightlife of a large city on the beach like Miami? No matter what is keeping you from making a choice, we all can agree the struggle is real.

Top 10 Beaches in Florida
Well, struggle no more, because we've put together a comprehensive top 10 list of beaches in Florida that will make your decision easy! Whether you're looking for a quiet beach town to relax and unwind with your friends or family or a city that never sleeps on the beach that you can shake your tail feather at night and splash and sun during the day, we've got you covered. So, without any further ado, here are the 10 Top Beaches in Florida!
1 | Cocoa Beach | Due east of Orlando on historic A1A is World-Famous Cocoa Beach. Known most notably for its gnarly surfing scene, in recent years, Cocoa Beach has also become a wonderful place to view the on-going Space-rocket launches from neighboring Cape Canaveral. With so many great options for you and the family to enjoy while at Cocoa Beach, like surfing, fishing, grabbing a delicious bite to eat at the famous Cocoa Beach Pier, or visiting the Kennedy Space Center, it's easy to see why it is number 1 on our list.
Where: 401 Meade Ave, Cocoa Beach, FL 32931
2 | Clearwater Beach | Another wonderful family-friendly beach here in Florida is Clearwater Beach. Located on Florida's West Coast, Clearwater Beach offers a ton of fun attractions for all ages, like speed boat rides, fishing charters, great local eateries, a playground at the pier, just to name a few. The powdery white sand and crystal clear turquoise water make Clearwater Beach an excellent choice for any beach getaway dreamer!
Where: 160S S Gulfview Blvd, Clearwater, FL 33767
3 | Lauderdale Beach | Back to Florida's East coast North of Miami is Lauderdale Beach in Fort Lauderdale. Lauderdale Beach offers beachgoers the best of both worlds with a seemingly beachy town, family-friendly vibe on the beach, with the comforts and amenities of a not so beachy, modern city off the beach. With Lauderdale Beach's warm waters for swimming and beautiful weather year-round, you'll be hard-pressed to find a better beach for a relaxing getaway.
Where: 3698 NE 27th St, Fort Lauderdale, FL 33308
4 | Panama City Beach | Located in Florida's Panhandle, Panama City Beach offers beachgoers beautiful white sand and clear waters in the northern part of the Gulf of Mexico. With loads of exciting attractions in Panama City, conveniently located on Front Beach Road, you and your family will have a blast checking out all that there is to do after a relaxing day getting your vitamin sea at the beach!
Where: 9900 S Thomas Dr #1106, Panama City Beach, FL 32407
5 | South Beach | Located at the Southern point of Miami Beach, hence the name, South Beach is the beach for those that want to get away and be seen. South Beach offers a sense of decadence that is rivaled at few other places. From trendsetting restaurants, couture clothiers, extraordinary nightlife, South Beach is perfect at being the glamorous beach of Florida. The art deco architecture and lively art scene tie the proverbial bow on South Beach, making this beach the ideal package for those looking for what it has to offer.
Where: South Beach, Miami Beach, FL 33139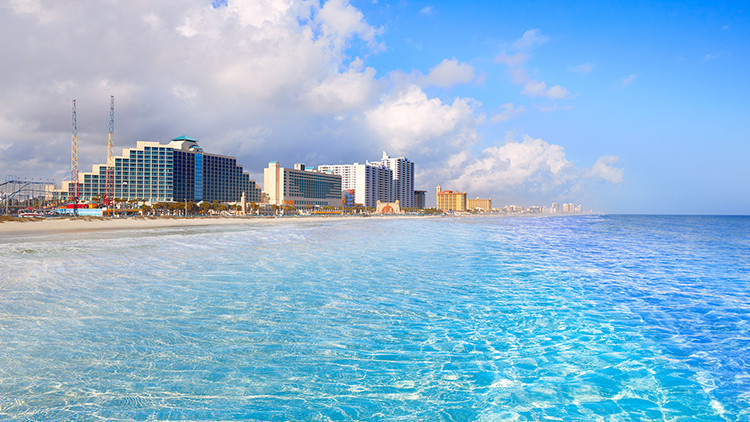 6 | Daytona Beach | Now where South Beach is what it is, Daytona Beach is equally as special, but on an entirely different scale. Case in point, you can drive your car on the beach; how cool is that! Located on the Atlantic coast and known as "The World's Most Famous Beach", Daytona Beach offers all kinds of history and coolness. From the birth of "The Great American Race" now known as the Daytona 500 to all the fantastic beach activities one would expect, you can't go wrong with a sun soaked getaway to Daytona Beach!
Where: 219 S Atlantic Ave, Daytona Beach, FL 32118
7 | Sanibel Island | West of Fort Myers in the Gulf of Mexico is the lovely Sanibel Island. Both relaxing and family-friendly, Sanibel Island offers something for everyone of all ages. Do you enjoy fishing? Check. Do you like combing the beach for shells and treasure? Check. Do you enjoy white sand beaches? Check. Looking for a quiet beach town? Check. How about fantastic restaurants to dine at? Check! Sanibel Island checks off a lot of boxes and is a great option for a beach paradise getaway.
Where: Sanibel Island, FL 33957
8 | Pensacola Beach | Located on the Gulf Coast barrier island of Santa Rosa, Pensacola Beach offers some fantastic white sand beaches at the end of the Florida panhandle. You and your family will enjoy shopping and grabbing some delicious local grub at the Pensacola Beach Boardwalk. After an exciting day at the beach make sure to make a stop at the Pensacola Beach Pier, which stretches a whopping 1,471 feet over the Gulf of Mexico!
Where: 41 Fort Pickens Rd #2005, Pensacola Beach, FL 32561
9 | Siesta Key Beach | Located just west of Sarasota, Siesta Key Beach offers beautiful white quartz sand that amazingly stays cool, no need to do the hot sand dance at this beach. With crystal clear Gulf Coast water, you'll will be in absolute paradise taking a dip to cool from the hot sun, here at Siesta Key. Thanks to the proximity to Sarasota, you'll have no problem finding things to do once you've finished up your time at Siesta Key Beach.
Where: 948 Beach Rd, Sarasota, FL 34242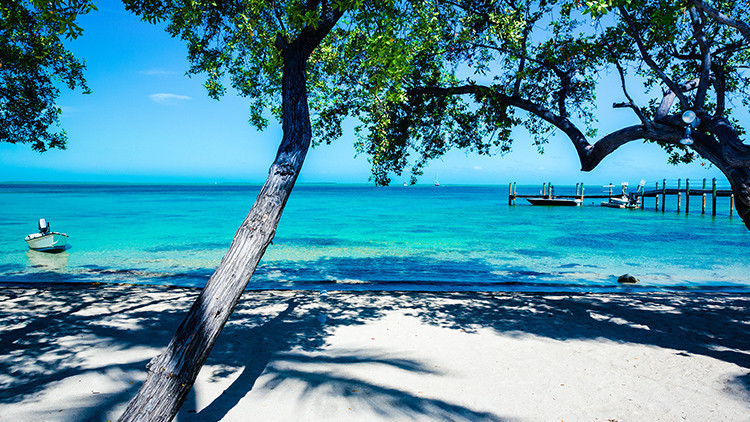 10 | Bahia Honda Key | Now if you're are looking to get away from it all, and I mean from it all, then Bahia Honda Key is the place to be. Located in the lower Florida Keys and Largely uninhabited, Bahia Honda Key is home to some of the world's most beautiful beaches. The Bahia Honda Florida State Park offers some of the best snorkeling around, so if that is your jam, then this is your spot. You will soon find that all the natural beauty of Bahia Honda Key will have you asking, "Do I really need to ever leave?".
Where: Overseas Hwy, Big Pine Key, FL 33043
Check Out This Trusty Beach Finder!
Lather Up!
With so many great options for a fantastic beach getaway here in Florida, the only hard part is picking the one that you want to go to. No matter what beach you choose to visit, make sure you lather up good and often with a quality sunscreen, an easy way to ruin a beach getaway is with a nasty sunburn.
RELATED ARTICLE: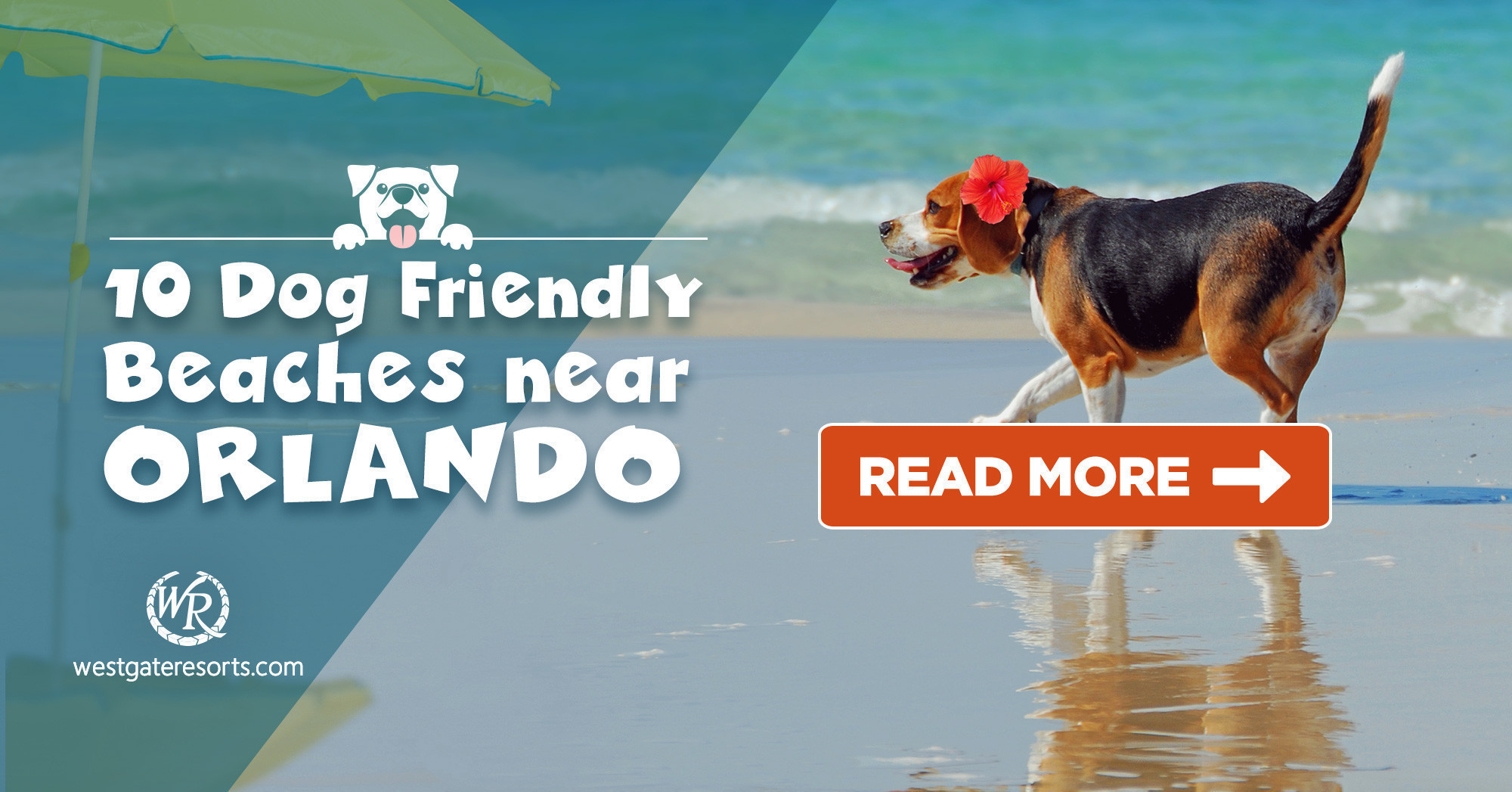 At Westgate Resorts, when you Check-In, there's a LOT to Check-Out! Your Orlando vacation awaits! Explore our Orlando resorts today or talk with a vacation planner at 888-852-2959 or 407-355-2690.
* Westgate Resorts is in no way affiliated with the attractions featured in this article. Items or places listed are current as of the publishing date of this article. Please call or visit the respective website for the most up-to-date offerings and details.
When You Check-in, There's a Lot to Check Out
Sign up for our newsletter and check-in to great offers, secret stuff, and special events.