15 Historical Sites in NYC That'll Blow You Away!
15 Historical Sites in NYC That'll Blow You Away!
When you hear New York City, what do you think about? Personally, for me it naturally evokes all kinds of thoughts, but probably the most prevalent thought is that of history. Try thinking about New York City without thinking about history and all the historic things to do in NYC, all the monuments, the events, and relics that call it home… it is impossible. From the Statue of Liberty, the historic Skyline, Tudor City, historic bars, all of the historic citizens, to the nearly countless historic events that have occurred within its limits, New York City is quite possibly the most historic modern city in the world.
Best Historical Sites in NYC
But before you run off and look for things to do outside NYC , let's take a little time and visit some of the best historical sites inside the City That Never Sleeps, that way the next time you're in town visiting you'll be well prepared to check out these Historical Sites in NYC That'll Blow You Away!
1 | Westgate New York Grand Central | Checking out all these historical sites in New York City is going to take more than a few New York minutes, in fact, it will probably take more than a few days! But you're in luck, since number-1 on our list is the number-1 Historic Hotel in the City that never sleeps… the Westgate New York Grand Central! Coming off a recent $20 million renovation, the former Hotel Tudor in Tudor City is the perfect spot to play as your historic launch pad as you rocket around the city on an unforgettable back to the future adventure!
WHERE: 304 E 42nd St, New York, NY 10017 | WHO: 212-986-8800
2 | Liberty Island | No historic NYC site seeing visit is complete without visiting Liberty Island, home of "Liberty Enlightening the World" better known as the Statue of Liberty. With the recent addition of the all new Statue of Liberty Museum, there is more to see and learn about our beloved Lady Liberty. Liberty Island truly is a can't miss stop for inspiration that only its iconic resident can offer.
WHERE: Liberty Island, New York, NY 10004 | WHO: 212-561-4588
3 | Grand Central Terminal | Just a 7 minute walk from Westgate New York Grand Central, is one of the busiest commuter train terminals in the United States, servicing roughly 67 million passengers a year and averaging around 750,000 visitors every day. But it's not just the sheer number of people that frequent Grand Central that makes it special, it is also the unimaginable amount of history that is incased in its hallowed 108 year old walls. If you're of age, make sure to stop at the Campbell Bar inside Grand Central for a top shelf cocktail or two.
WHERE: 89 E 42nd St, New York, NY 10017 | WHO: 212-340-2583
4 | Carnegie Hall | Located in Midtown Manhattan, this historic music hall has been resonating its walls with sound waves since 1891. Designed by William Tuthill and funded and constructed by philanthropist Andrew Carnegie for which it is named, Carnegie Hall opened its doors officially on May 5th, 1891 with a concert conducted by non-other than Pyotr Ilyich Tchaikovsky. With such wonderful sounds filling this great hall since day one, it's no wonder that it's walls have listened to scores of historic musical moments while thrilling sold out audiences' night after night
WHERE: 881 7th Ave, New York, NY 10019 | WHO: 212-247-7800
5 | Federal Hall National Memorial | Located on the grounds where George Washington was sworn in as the first president of the United States of America, Federal Hall National Museum is jam packed full of history. Once home to New York's City Hall from 1699 to 1703, later rebuilt as the Federal Hall where the 1st Congress met. After various reincarnations, such as the United States Sub-Treasury where it held upwards to $530 million worth of gold and coinage (So much gold that the marble floors have been permanently warped by bags of the precious metal being dragged over it), Federal Hall became a National Memorial on August 11, 1955.
WHERE: 26 Wall St, New York, NY 10005 | WHO: 212-825-6990
6 | St. Patrick's Cathedral | With over 143 years of history and architectural beauty combined in these hallowed halls, St. Patrick's Cathedral is a must see no matter what your faith or back ground may be. Funded by parishioners of the other churches in the Archdiocese of New York, who were mostly poor Irish immigrants, this marble marvel was finally completed in 1879 after roughly 21 years from when the cornerstone was first laid. While visiting make sure to take advantage of St. Patrick's daily multi-lingual headphone tours offered from 9:00am to 1:00pm.
WHERE: 5th Ave, New York, NY 10022 | WHO: 212-753-2261
7 | National September 11 Memorial & Museum | Honoring the heroes and lives lost during the horrific 9/11 terrorist attacks, the National September 11 Memorial & Museum offers visitors a place to reflect upon the most tragic day in our Nation's history. Located at the sight of where the World Trade Center once stood, the memorial's museum offers a collection of more than 40,000 images, 14,000 artifacts, 3,500 oral recordings, and over 500 hours of video giving insight to the Nation's most tragic day.
WHERE: 180 Greenwich St, New York, NY 10007 | WHO: 212-312-8800
8 | Merchant's House Museum | Located in Greenwich Village, this National Historic Landmark is can't miss for sightseers and history buffs alike. The Merchant's House Museum offers a look inside what domestic life of a wealthy merchant family and their four Irish servants was like during the mid-19th century. This fully restored 1832 landmark building and has been a museum for the last 85 years, preserving all the amazing history and artifacts that call its walls home.
WHERE: 29 E 4th St, New York, NY 10003 | WHO: 212-777-1089
9 | Central Park | A trip to NYC isn't complete without a stop at historical Central Park. Surrounded by the Upper West and Upper East sides of Manhattan, this urban park offers an escape from the city's relentless pace. Completed in 1876, Central Park offers guests 843 acres of respite along with the opportunity to visit the Jacqueline Kennedy Onassis Reservoir, the Central Park Carousel, and the Central Park Zoo. Plus, during the winter months guests can lace up their skates and glide along the ice at the Wollman Rink, which doubles as an amusement park, Victorian Gardens, during the summer.
WHERE: New York, NY | WHO: 212-310-6600
10 | 69th Regiment Armory | Originally built as a National Guard armory, the 69th Regiment Armory has played host to all kind of events, most notably the 1913 Armory Show, which was the first large-scale modern art show in the U.S. With great contemporary artists of the time such as Van Gogh, Picasso, Matisse, Dufy, Duchamp, and more exhibiting their artworks. The 69th Regiment Armory has also been the venue for athletic events such as New York Knicks basketball games as well as various musical concerts. Plus, if you are a military veteran or active duty be sure to check out the Garryowen Club at the Armory for a drink or two.
WHERE: 68 Lexington Ave, New York, NY 10010 | WHO: 646-424-5500
11 | Chrysler Building | Just up the road from the historic Westgate New York Grand Central, in the Turtle Bay neighborhood, is one of New York City's most iconic skyscrapers, the Chrysler Building. Donning the title of "Tallest Building in the World" for just under a year from May 27, 1930 to May 1, 1931 when the Empire State Building was completed and took the title. Losing out to the Empire State Building in the height competition can't take away the cool factor that the Chrysler Building has in spades. With 77 floors of historic art deco motor city machismo adorning its exterior, this NYC skyscraping showoff is an absolute can't miss.
WHERE: 405 Lexington Ave, New York, NY 10174 | WHO: 212-682-3070
12 | The Dakota | Opened in 1884, this historic apartment building has been home to more than just a handful of creative and artistic citizens of the World. From past tenants such as actress Lauren Bacall, the talented Rosemary Clooney, Judy Garland, to television power couple Maury Povich & Connie Chung, even the late great Jack Palance called the Dakota home. But as full of wonderful creativity that the apartment building has held, there will always be a dark shadow surrounding the Dakota, stemming from the fateful day John Lennon was assassinated outside its doors.
WHERE: 1 W 72nd St, New York, NY 10023 | WHO: 212-362-1448
13 | Woolworth Building | Flying high above City Hall Park, the national landmark Woolworth Tower is one of New York City's most iconic skyscrapers. Another former tallest building in the world, holding the title from 1913 to 1930 until the Chrysler Building was completed. This historic gothic revival tower is a must visit while in Manhattan, with its gargoyles, flying buttresses, and stunning patinaed crown, just viewing the tower's outer facade takes you on a journey to some far off place. Plus, if you're in the market for a Penthouse, the Woolworth Tower's very own five-story, 9,680 square-foot Pinnacle Penthouse is on the market for a cool $79 million.
WHERE: Woolworth Bldg, New York, NY 10007 | WHO: 212-233-2720
14 | Metropolitan Museum of Art | If you're looking to view historic artwork and antiquities from around the globe while in NYC, look no further than the Metropolitan Museum of Art. Better known simply as the Met, this iconic museum was built in 1874 and houses over 2 million works in its massive private collection. With a historic collection spanning works from nearly the entire world's collective creative experience. The oldest human made creation that now calls the Met home is a set of Archeulian flints from Deir el-Bahir, located in the Egyptian collection, that date all the way back to the Lower Paleolithic period, somewhere between 300,000 and 90,000 BC…doesn't get much more historic than that.
WHERE: 1000 5th Ave, New York, NY 10028 | WHO: 212-535-7710
15 | Hamilton Grange National Memorial | Our last historic stop was originally located on a 32 acre estate in Upper Manhattan but made a few journeys before returning home. After being moved from its original location twice, once being rescued from demolition to make way for the Manhattan street grid system, and secondly to be placed in a more prominent free standing location among the original 32-acre estate that its original foundation laid, the Hamilton Grange National Memorial was the home of U.S Founding Father Alexander Hamilton. Now located in St. Nicholas Park in Manhattan, the Grange has been fully restored to its former glory offering the public the opportunity to see and visit the only home Alexander Hamilton ever owned.
WHERE: 414 W 141st St, New York, NY 10031 | WHO: 646-548-2310

Use Our Handy Map To Help Navigate Your Way Through History
No Shortage of History
No matter if you're visiting on your own or with the entire family, NYC is the perfect city to get your historical fix.
With professional tours running practically all day long at most historic sites, it is easier than ever to learn and expand your appreciation of the Big Apple.
So, whether you're looking to experience the city's historic architecture, museums, event sites, or all the above, one thing is for sure, there is no shortage of history in the City That Never Sleeps.

RELATED ARTICLE: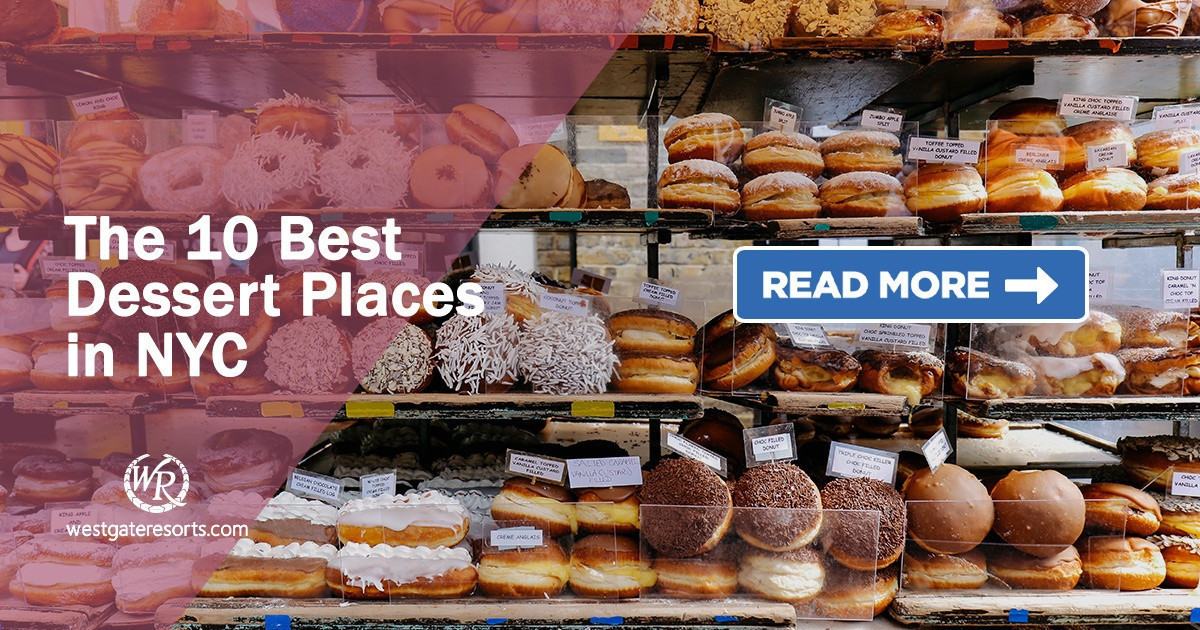 At Westgate Resorts, when you Check-In, there's a LOT to Check-Out! Your New York City vacation awaits! Explore our New York City hotel today or talk with a vacation planner at 888-852-2959 or 407-355-2690.
* Westgate Resorts is in no way affiliated with the attractions featured in this article. Items or places listed are current as of the publishing date of this article. Please call or visit the respective website for the most up-to-date offerings and details.
When You Check-in, There's a Lot to Check Out
Sign up for our newsletter and check-in to great offers, secret stuff, and special events.