The 20 Best Smoky Mountain Hiking Trails To Level Up Your Trek!
The 20 Best Smoky Mountain Hiking Trails to Level Up Your Trek!
Wedged between Tennessee and North Carolina, in the majestic smoky mountains, there's no question that there are plenty of things to do in Gatlinburg Tennessee and amazing Gatlinburg hiking trails that offer a front row seat to the awesomeness of Mother Nature! Whether you choose to camp in the park, stay in a hotel in picturesque Pigeon Forge, or make your base in another small local town, there's a lot to see in these mountains!

Best Hiking Trails in Smoky Mountains
The Smoky Mountains are known for abundant wildlife, beautiful landscape, pristine wilderness – and tons of breathtaking trails that come with a unique adventure around every corner. Whether you are a seasoned adventurer, restless wanderer or a lover of nature, you will be spoiled with so many choices that will make your head spin. To get you started, and help you prep ahead, here are some of the best trails to start you off right.
1 | Alum Cave Trail to Mount LeConte | This challenging trail takes you out and back along nearly 11 miles of wilderness near Gatlinburg Tennessee. The trail is best suited for the experienced Smokey Mountain trail hiker, but the remarkable views and trailside waterfall make it well worth the trek!
2 | Rainbow Falls Trail | The Rainbow Falls trail is another difficult trail for experienced hikers, but at just over five miles, making it relatively short. The waterfalls along the trail make it all worthwhile but be prepared to work for the view – you will climb over 1,600 feet over the course of it all!
3 | Chimney Tops | As the name suggests, the Chimney Tops trail near Gatlinburg is high in the mountains which means, it's challenging, but the views are amazing. It's a little over 3.6 miles long, so it's relatively short but packs a punch.
4 | Laurel Falls | If you prefer an easier trail, Laurel Falls near Gatlinburg is a great choice. It's a little less than 2.5 miles, with a very gradual rise, and this out and back trail also features a waterfall. So, you get all the rewards with less hard work! Perfect for families.
5 | Grotto Falls | The Grotto Falls trail near Gatlinburg is another out and back trail with a waterfall and it boasts beautiful wildflowers in season. This is a moderate 2.6-mile trail that is a favorite with hikers.
6 | Alum Cave Bluffs Trail | The Alum Cave Bluffs Trail is a moderate hiking trail that climbs nearly 1200 feet over nearly 4.5 miles. It's steep, but not exactly a sheer cliff. The effort you put in will be rewarded when you reach the rocky overhang known as Alum Cave and see the remarkable view from the top!
7 | Clingmans Dome Observation Tower Trail | At nearly 1.2 miles, the Clingmans Dome Observation Tower Trail is one of the shorter options, but also one of the most popular. It's located near Bryson City, North Carolina, but it takes you to the highest point in Tennessee. This is a gentler trail that's perfect for running and walking but won't challenge avid backcountry hikers.
8 | Charlies Bunion via Appalachian Trail | If you're looking for a challenging hike, this eight-mile stretch of the Appalachian trail is a great choice. It's an out and back trail that spans nearly 1,900 feet over its length and takes you across Mount Kephart, Mount Ambler, and Masa Knob until it reaches Charlies Bunion.
9 | Abrams Falls Trail | The Abrams Fall trail is located near Townsend Tennessee and is about 5.5 miles of moderate out and back hiking that ends at a beautiful waterfall and pool. The trail doesn't gain too much elevation, but since it does go through the woods, there are some roots and rocks along the way.
10 | Myrtle Point and Mount LeConte via Alum Cave Trail | Myrtle Point and Mount LeConte via Alum Cave Trail is nearly 13 miles long, crosses a river, and climbs over 3,000 feet over that length. It's an out and back trail best suited for fit and experienced hikers.
11 | Ramsey Cascades Trail | The Ramsey Cascades Trail is an 8-mile-long trail that starts out along an old logging trail packed with beautiful scenery. The tail end of this out and back trail is quite steep, rocky, and narrow towards the end of the walk. The last part of this trail is definitely for experienced hikers.
12 | Spruce Flats Falls Trail | Spruce Flats Falls Trail is a short trail at just 1.8 miles, but it does rise quite sharply at some points and may require some scrambling or climbing. The waterfall that you find at the end of this out-and- back trail near Townsend makes it all worthwhile and puts it on our list of the best Smoky Mountain hiking trails.
13 | Andrews Bald Trail | Another shorter trail near Bryson City, North Carolina. This trail is just 1.8 miles long and doesn't gain too much elevation. It does feature some beautiful wildflowers in season, and there are some fantastic viewing areas, including the Clingman's Dome Observation Area.
14 | Appalachian Trail to Icewater Spring Shelter | Appalachian Trail to Icewater Spring Shelter is a classic Smoky Mountain hiking trail, rising over 1,400 feet over 6 miles near Gatlinburg Tennessee. The trail is popular with hikers and campers, and winds around and over several prominent peaks.
15 | Gatlinburg Trail | If you're looking for family friendly Smoky Mountain hiking trails, then the nearly 4-mile out and back Gatlinburg trail is a great choice. It's relatively flat and easy to navigate and is even wheelchair and stroller accessible, so you really can take the whole family out to see the beautiful wilderness of the Smoky Mountains!
16 | Low Gap Trail to Mt. Cammerer | As far as Smoky Mountain hiking trails go, it doesn't get much more challenging than this. It's nearly twelve miles of steep trail, and you'll gain nearly 3,200 feet as you climb to the peak. The challenge (and the view) still draws lots of people to hike, bike, ride horses and camp.
17 | Cucumber Gap and Little River Loop Trail | Not all Smoky Mountain hiking trails are kid-friendly, but this one near to Gatlinburg is perfect for families. It's also horse-friendly and features a river along one side of the loop. At a little over 5.4 miles, it's a bit of a walk, but isn't very steep and makes a pleasant day hike.
18 | Big Creek Trail to Mouse Creek Falls | Located near Hartford Tennessee, this easy, family-friendly trail only spans 540 feet over its nearly 4-mile length. This trek is worth it as you can expect to see waterfalls and rivers along the way and choose to walk as much or little as you like.
19 | Cataract Falls | Cataract Falls trail is partially paved and spans just over a mile long, which makes it one of the most accessible hiking trails in the Smoky Mountains. It's easy to reach from Gatlinburg and there's very little gradient to navigate making it a perfect option for families.
20 | Deep Creek Loop Trail | Deep Creek Loop Trail is located near Bryson City, North Carolina. At nearly 5 miles long, expect to see a waterfall along the way. You'll hike in an easy loop with only moderate elevation gains which make it great for nature walks and family-friendly fun.
Final Tips About Smoky Mountain Hiking Trails
Aside from the twenty we've mentioned here, there are hundreds of Smoky Mountain hiking trails of all kinds of lengths and for all skill levels. Some areas are accessible from Tennessee, and others from North Carolina, but all are beautiful, and the scenery can't be beat!
As always, when you are visiting the wilderness, remember that there might be wildlife around, so take the necessary safety precautions you see fit.
Ready for your next adventure? Dig into our Travel Blog for vacation tips, tricks and ideas for your next super awesome getaway!

RELATED ARTICLE: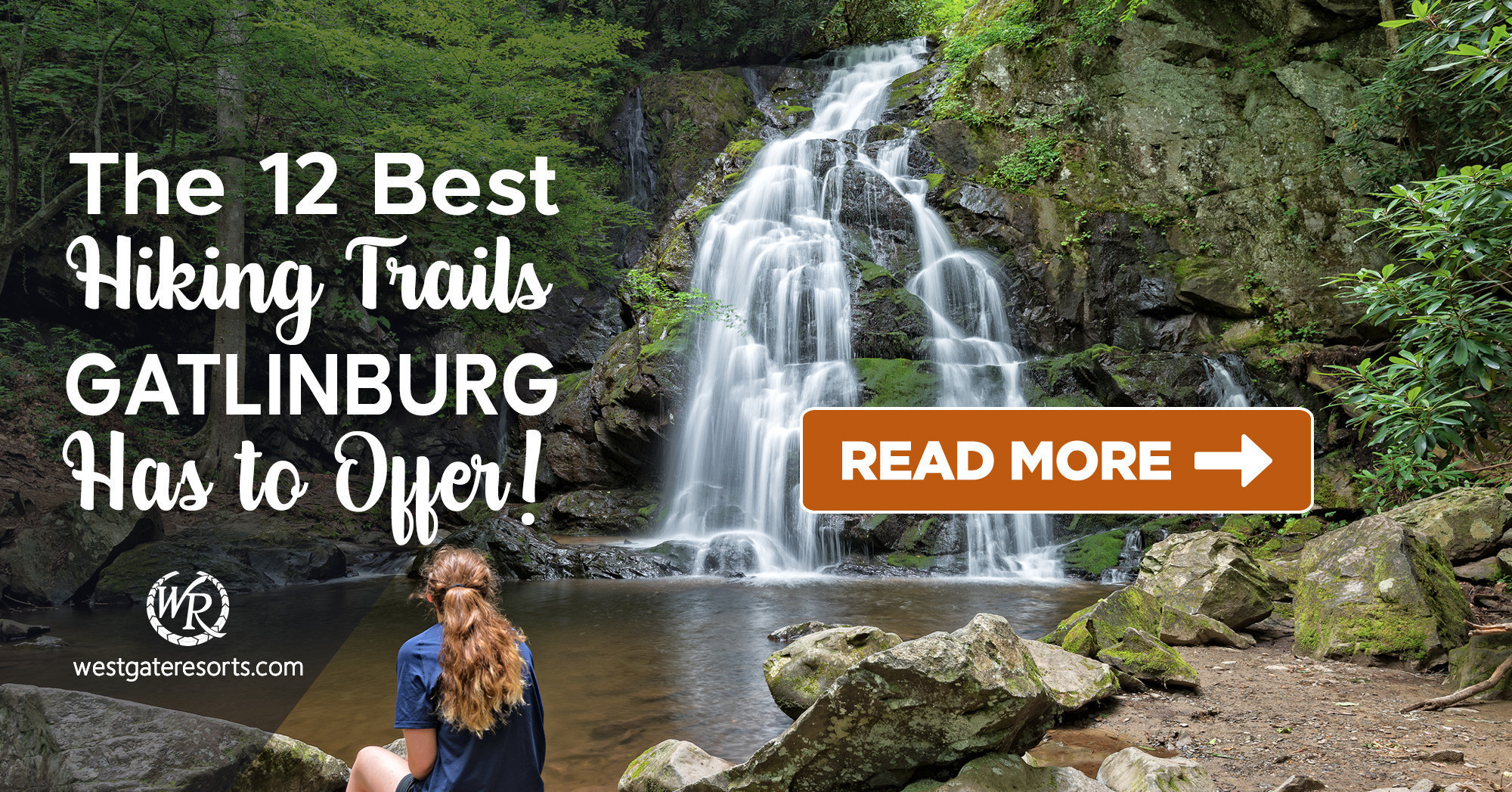 At Westgate Resorts, when you Check-In, there's a LOT to Check-Out! Your Gatlinburg vacation awaits! Explore our Gatlinburg resorts today or talk with a vacation planner at 888-852-2959 or 407-355-2690.
* Westgate Resorts is in no way affiliated with the attractions featured in this article. Items or places listed are current as of the publishing date of this article. Please call or visit the respective website for the most up-to-date offerings and details.
When You Check-in, There's a Lot to Check Out
Sign up for our newsletter and check-in to great offers, secret stuff, and special events.