Your Handy Guide to the Best White Water Rafting Near Gatlinburg TN
Your Handy Guide to the Best White Water Rafting Near Gatlinburg TN
Did you know Gatlinburg's motto is, "Always say yes to new adventures!"? Well, it may not be the town's official motto, but it sums up everything you need to expect during your upcoming trip to the Smoky Mountains. From discovering hidden waterfalls on one of the best Gatlinburg hiking trails to enjoying mountain views on one of the best mountain coasters in Gatlinburg, the Smoky Mountains are the perfect place to unleash your wild side! And while you'll find the best restaurants in Gatlinburg, hiking the Smokies and touring historic downtown Gatlinburg are adventures you should list on your itinerary, there is one heart-pumping, blood-rushing, thrill-riding adventure you don't want to miss out on—White water rafting, of course!

White Water Rafting Gatlinburg TN
Add a little excitement to your trip and stay cool under the Tennessee sun with a rocking and rolling white water raft excursion! With thrilling class-III and class IV rapids, there's nothing like riding the rapids in the Great Smoky Mountains! White water rafting is one of the best experiences you can enjoy with your family, and it's a great activity for beginners and pros alike. To help you find the right white water raft trip for you and your family, we've put together a guide to white water rafting in the Great Smoky Mountain so you don't have to and can just sit back and ride the wave of excitement:
1 | Types of White Water Rafting | The Big Pigeon River offers several white-knuckle rides on untamed waters, with names like "After Shave and "Razor Blade." Don't know the difference between the class of rapids? Class III rapids include narrow passages with high waves, which normally require swift maneuvers. Class IV rapids can be more difficult due to their longer rapids with tight passages, which require quick thinking on turbulent water. Aside from the class of rapids, there's also a difference when you're rafting lower or upper river.
Upper River Rafting—The upper region of the Pigeon River is about a 5-mile trip of wet n' wild fun! Fast, adventurous, this is the rafting trip every adrenaline junkie dreams of! Some of the favorite upper river class III and IV rapids are the Roller Coaster, the Powerhouse, and Big Rock.

Lower River Rafting— If you're looking to bring even the youngest member of the family along for the wild ride, the lower region of the Pigeon River is perfect for kids and those wanting a more relaxing float. Perfect for becoming one with the scenery, the easy-going 5-mile trip offers two and a half hours of quiet serenity among the Great Smoky Mountains.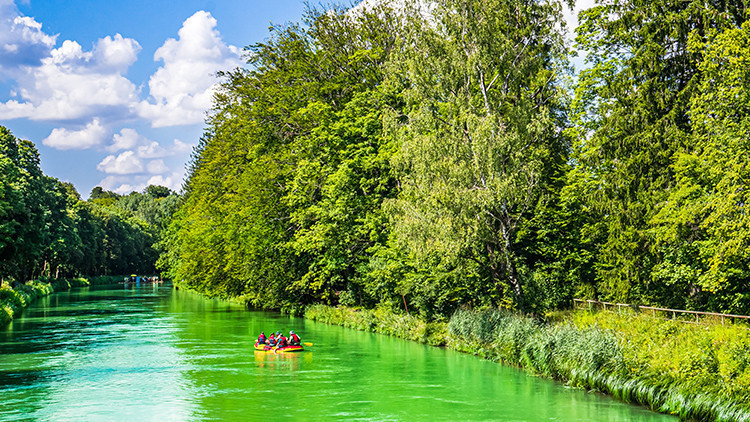 2 | Best Times to Raft in Gatlinburg | After the snow melts following winter, late May to late June is the best time to raft in the Smokies. Due to springtime runoff, the water will be cooler, and the crowds will be smaller before summer is in full swing. Since water levels on the Big Pigeon River are dam controlled, it's easy to know the water schedule and when to catch the best rides. The dam is scheduled for water release from Memorial Day to Labor Day every Tuesday, Wednesday, Thursday, and Saturday.
3 | Get to Know the Safety Tips | Even the most extreme adventure seekers know safety comes first! When white-water rafting rushing tides or mellow water, there are always several safety tips to follow and keep in mind to ensure you have the best trip down the Pigeon River:
Always Wear Flotation Device— All rafts will be provided with a type 5, Coast Guard approved lifejacket or personal flotation device. Even if neon orange isn't your color, lifejackets should always be worn during the trip!

Be Sure to Dress for Adventure— Nothing is worse than looking forward to a fun excursion and being uncomfortable the entire time! Rafters are always encouraged to wear loose-fitting tees and bathing suits, no jean or denim fabrics, and secure fitting shoes (no flip flops or bare feet.) Packing a towel and a dry change of clothes is always a good idea because rest assured, you will be soaked by the end of the trip!

Hold the Paddle Properly— The raft paddle can become a safety hazard if not held correctly. One hand should always be near the bottom at the base of the paddle, and the other gripping the 'T' of the handle. The 'T" is made out of hard plastic that can potentially cause chipped teeth or a black eye if not held correctly. Pretty cute, huh?

Stay in the Boat—That's it, that's the tip. Even though the idea of playing man overboard sounds like fun, the reality is leaving the boat is extremely dangerous.

Learn Swim Techniques— Even though rafters aren't expected to know how to swim, knowing the proper swim techniques will come in handy if you end up off the raft. The first is the "Down River Swimmers" position, where you lie on your back with your toes and nose pointed towards the sky with your head up. This allows you to see where you're headed in the water. The second technique is lying on your stomach, point your body to where you want to go and swim until you're out of the river. The first technique is great for rafters that don't know how to swim, and the second is for experienced swimmers.

Know the Commands— One of the most popular commands your instructor may use is "High-Tiding." If a raft is on the verge of capsizing, this command is the final effort to keep the raft from flipping. Remember to stay calm if you hear this and go to the downstream section of the raft. Shifting the weight to follow the stream of the water (downstream) will keep the raft from sidling and tipping.
4 | Choose the Right Rafting Outfitter |
Even knowing all of the best tips and tricks of white-river rafting does not compare to having a licensed, and experienced outfitter with you during your thrilling ride! With so many white-water rafting outfitters in the Pigeon Forge and Gatlinburg area, how do you pick the one that is right for you? Here are a few of our favorite outfitters in the Smoky Mountain Area:
Raft Outdoor Adventures | Great for first-time rafters, the Outdoor Rafting Adventures offers a serene and calm place for lunch and story sharing after the thrilling ride. The outfitter also offers multiple discounts for groups and parties, so it's great for big groups!
WHERE: 3635 Trail Hollow Rd, Hartford, TN 37753 | WHO: 866-333-7238
Wild Water Rafting | Not only is Wild Water Rafting experienced in both Upper and Lower River rafting, but also offers zip-lining over the Pigeon River, Jeep tours along the river, and cabin lodging! Offering several different packages, there's definitely the right one for you and your family!
WHERE: 3555 Hartford Rd, Hartford, TN 37753 | WHO: 866-319-8870
Rafting in the Smokies | Known as a pioneer outfitter on the Big Pigeon River since 1978, Rafting in the Smokies even helped name some of the rapids! All trips include expert certified guides excited to show you Gatlinburg the white water rafting way!
WHERE: 813 East Parkway, Gatlinburg, TN 37738 | WHO: 800-776-7238
Nantahala Outdoor Center | With over 120 river and land-based adventures, the Nantahala Outdoor Center has an itinerary that's perfect for every type of explorer! White water rafting experiences included in the outfitter's adventures are tour the Nantahala River, Ocoee River, Chattooga River, Pigeon River, French Broad River, and the Chattahoochee River.
WHERE: 1138 Parkway, Gatlinburg, TN 37738 | WHO: 828-785-5120
Smoky Mountain Outdoors | Located only 45 minutes from Gatlinburg, the Smoky Mountain Outdoors a short drive from the hustle and bustle of the Gatlinburg-Pigeon Forge area and offers a scenic white water rafting excursion through the breathtaking Great Smoky Mountains.
WHERE: 3299 Hartford Rd, Hartford, TN 37753 | WHO: 800-771-7238
Use Our Handy Map to Find Your Way Around!
Ready to ride some rapids?
There are so many opportunities for exciting adventures in the Smoky Mountains, and whether your searching for adrenaline-pumping thrills or a few fun things to do in Gatlinburg Tennessee, white water rafting in the Great Smoky Mountains is a great way to enjoy the gorgeous mountain views when you're not hanging out at your favorite Gatlinburg resorts. If you still need some ideas of ways to spend your time in the Gatlinburg-Pigeon Forge area, be sure to check out our Travel Blog. Happy roaming!

RELATED ARTICLE:
At Westgate Resorts, when you Check-In, there's a LOT to Check-Out! Your Gatlinburg vacation awaits! Explore our Gatlinburg resorts today or talk with a vacation planner at 888-852-2959 or 407-355-2690.
* Westgate Resorts is in no way affiliated with the attractions featured in this article. Items or places listed are current as of the publishing date of this article. Please call or visit the respective website for the most up-to-date offerings and details.
When You Check-in, There's a Lot to Check Out
Sign up for our newsletter and check-in to great offers, secret stuff, and special events.