6 Budget Friendly Beach Vacations in Florida
6 Budget Friendly Beach Vacations in Florida
It's often difficult to plan out a vacation that will make everyone in your party happy. Where should your group vacation? What should you guys do during your vacation? After paying for the hotel, can you afford to do anything else during the trip? Trying to research every aspect of the getaway while also juggling work, family, home, and a boatload of life's responsibilities? Who has the time to do all that research or the money to pay a travel company to do it for you? Save yourself some time and take advantage of our research by checking out our list of affordable beach vacations or take advantage of these 51 adventurous things to do in Florida featured on our Travel Blog!
Florida Beach Vacations
If you can't wait to get away and spend some time in the fresh ocean breeze without having to dip into the kids' college funds, then this is the list you've been hoping to find. Locals know the best ways to find a comfy hotel at a reasonable price and places to park that cost less than the car itself. So, read on and let a local share some of these secrets with you: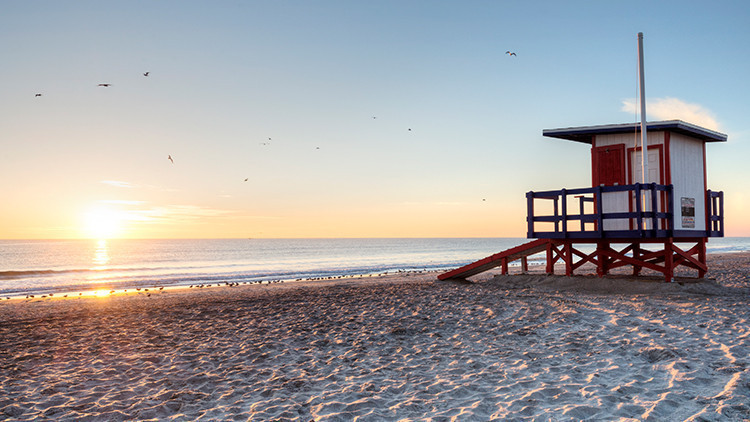 1 | Cocoa Beach | Let's start with one of the top beaches around and dive right in at Cocoa Beach. There is so much to do in Cocoa beyond hanging out at the beach, though that is definitely the highlight as the fine sand beaches are a major draw and totally worth the visit. It can be difficult to find free parking at this beach, but if you pick a centrally located Cocoa Beach hotel, then you can manage free parking and a free shuttle ride to the world famous Cocoa Beach Pier. Keep in mind, although you may find great deals on all the different travel sites, it can often payoff to check out the actual hotel's site for better deals or rewards points.
Since you're planning a beach vacation, you're obviously going to spend some much-needed downtime on the sand, but what do you do once everyone has had enough sun and wants to do something else? How about looking up the schedule of activities and events going on during your visit? You might even be lucky enough to witness a space shuttle launch while you're there! Since the pier has THE best launch viewing spot on the beach, you should plan to grab your spot at the end of the pier early and nab yourself plenty of Instagram-worthy photos.
Need to do something active? Rent a paddle board for an hour or swing by the city's free skate park and burn off some of those fast food calories. Want to see a gator? Grab the family and take an airboat tour to check out some of the back river wildlife that is so infamous in Florida. There is so much to do in Cocoa, both on-and-off the beach, that you may want to extend your visit a few more days to soak it all up.

RELATED ARTICLES
The 8 Best Beaches Near Disney World
12 Florida Fishing Charters That Won't Take a Bite Out of Your Wallet!
51 Things to Do in Orlando Florida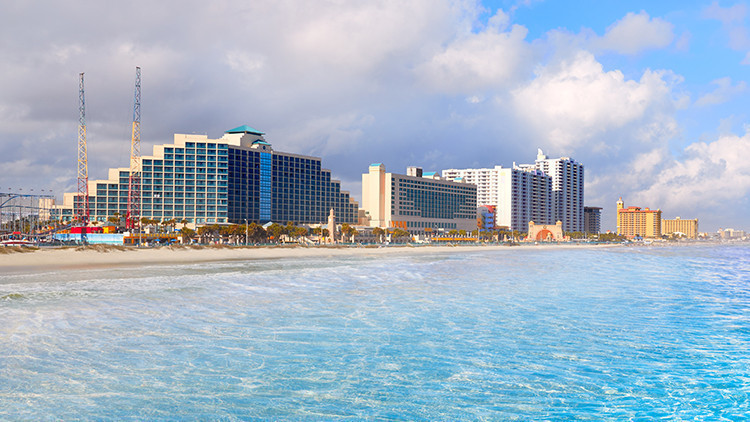 2 | Daytona Beach | Let's be honest here, visiting the 'World's Most Famous Beach' should really be on everyone's bucket list and doing it on the cheap is just an added bonus. Don't be fooled into thinking it's too expensive to visit Daytona due to its notoriety. In reality, it's actually one of the more wallet-friendly beaches around. Although Daytona is well known for Bike Week and the Daytona 500, there are plenty of other lesser-known activities to enjoy during your stay that won't require a leather jacket to participate. Part of what makes this beach so great is its one of the last few that allow you to still park on the beach. In case you're wondering why that's so cool, try carrying that enormous cooler full of ice, party size beach tent, and the rest of the beach items that have taken up 2/3rds of your car across the hot sand to your spot by the water. If you don't want to spend the dollars to park on the beach, then it is still easy enough to find free parking at any of the public parks along the beach. Wondering what to do in the evening? The city of Daytona hosts a free concert series at their bandshell all summer long, so grab a chair and relax to some tunes with a fireworks finale. How about indulging that shopping bug? Florida is well known for its outlet malls and Daytona is no exception, so make sure to keep some extra room free in your suitcase.
Speaking of room, it's always a good idea to get a hotel room with a mini-fridge, but an even better idea to have a hotel room with a full kitchen. You can't get around having to feed your brood while on vacation, but you can avoid spending half your budget on eating out. With grocery stores located up and down the beach, it's super convenient to grab some groceries and make a good share of your meals at your hotel. When you do decide to eat out, head away from the busier end of Daytona and find some of those amazing hole-in-the-wall beach restaurants. They often have better prices and the meals are freshly prepared, and since the owner/manager is likely to be the one greeting you, don't hesitate to negotiate a better deal on your food (This works great at pizza joints!).
Whenever you decide to visit, it's hard to go wrong at this beach, and you will be able to check a world-famous location off your bucket list.
3 | Miami | Bienvenidos a Miami! Your first cost-saver recommendation is to visit here without a vehicle, if possible. If you do need to have your car then read those hotel descriptions and price out parking at each location so you can average it into your total hotel cost. It's best to find a Miami hotel within walking distance of the beach so you don't have to stalk beach-leavers out to their cars and spend all the kids' lunch money on parking. Save time and dinero (while burning some calories) and just walk to the shore. Once you have your beach spot, hold it. Either send someone to go grab food from any of the dozens of eateries by the shore or pack your lunch and chillax when the tummies start grumbling.
Wanting to do a bit more exploring of the area? It's just a pittance to cross the bridge to Key Biscayne for a pretty drive with free beaches all along the way, each one with a better view than the last. Just make sure to keep on beach hopping until you reach Bill Baggs Cape Florida State Park because for a very small fee you can visit the park, have a picnic at any of the plentiful picnic tables, park your car in the shade and unload your crew in the sand next to some crystal clear water. Although, be warned, you may find it hard to relax when everywhere you look is a picture-perfect scene ready to be photographed and launched across social media, causing intentional vacation envy.
Now if you're hoping to do some city sight-seeing, the recommendation to leave your car behind still stands. There are bike rental spots all over the city that let you grab a rental bike wherever you find one, rent by the hour, and then park and leave it when you're done. Bring a water bottle (or 2) and coast around the area in Miami style (yes, cycling is cool again) to visit the Wynwood art district or follow a map of all the different famous TV and film locations (that's right jealous followers – bet you didn't know THAT movie was filmed here).
No matter how much you manage to fit into this visit, you still won't have time to see it all. Luckily you now know how to save enough money on this visit to afford a repeat!
4 | St. Augustine | One of the more history-oriented beaches in Florida is St. Augustine Beach. This gem provides the benefit of enjoying the beach experience with nearby restaurants and attractions while still giving you a more relaxed spacious feel. For starters, buildings and skyrises aren't crowded up on the edge of the beach, which means when driving by you can actually see the ocean, and enjoy a more scenic drive. There are also parts of the beach when you move farther north into Anastasia State Park that are only surrounded by wilderness. Like other national parks, this one also allows you to drive a carful of people in for next to nothing and then enjoy the whole day exploring the beaches and hiking trails. It also offers the opportunity to save money on accommodations as it has a campground (which fills up quickly, so book ahead) near the beach. Their campsites allow parking at the site and there are even RV spots available. Plus, if you wake up early enough, you can walk on over to the shore and watch the sunrise. Although that part of the beach does not allow cars, St. Augustine Beach does, which again makes hauling and packing your party all day in the sun gear, uber easy.
Now when you are ready to explore the historic side of St. Augustine, drive on over to Old Town and either park in the garage for a nominal fee or, if you're lucky and are not spending more than an hour or two, you can park for free along the streets in designated areas. There's so much to see in Old Town, including the old jail, the 17th century Fort Castillo de San Marcos, the oldest wooden schoolhouse, and if you need an evening thrill, there are plenty of ghost tours ready to give you a good scare. One of the best ways to get around Old Town and see everything is by using the hop-on, hop-off trolley (there are discounts for them online), which will get you quickly to all the best spots, even to a delicious chocolate tour (yes, there is chocolate there). Since Florida is beach ready year-round, don't be afraid to plan a visit during the "winter" months as there will be fewer crowds on the beach and Old Town will be lit up for you with twinkle lights. No matter what time of year you visit, there will be no shortage of photo ops to capture your vacation memories.
5 | Clearwater Beach | Anyone that has had the opportunity to visit Clearwater Beach knows how amazing it is and why it's worth a visit. When visiting, it is best to find a place near or on the beach to stay, so you can avoid paying for parking. But if you do need to park, there are plenty of places to choose from and you can search online to compare parking prices prior to picking your spot.
When figuring out your food budget, it's still best practice to find accommodations that include a fridge and microwave (or a real score – that feature a kitchen!). Make sure to check out the various sites listing home rentals, which can often allow for more guests than an expensive hotel room, and they come with kitchens and extra privacy. Regardless of where you stay, complimentary parking is standard.
Don't worry about spending any of that precious moolah on evening entertainment because all you need to do is stroll on over to the pier and watch the street performers. These talented entertainers start wandering out before the sun sets, so they can claim the best spots to wow the crowds. If you happen to be there on a weekend, make sure to bring your blanket and take advantage of the free cinema by the pier, just save a little time before the film starts and take a stroll for a little local artisan shopping. You also may not know about the fabulous aquarium in Clearwater that is home to a certain movie star dolphin named Winter, who gladly welcomes visitors to her habitat. They have some decent discounts too, so don't forget to check those out before buying your tickets.
Clearwater Beach really is aptly voted one of the #1 beaches in the country. So, pack up the car, grab the cooler, and spend your beach time on the superfine white sands.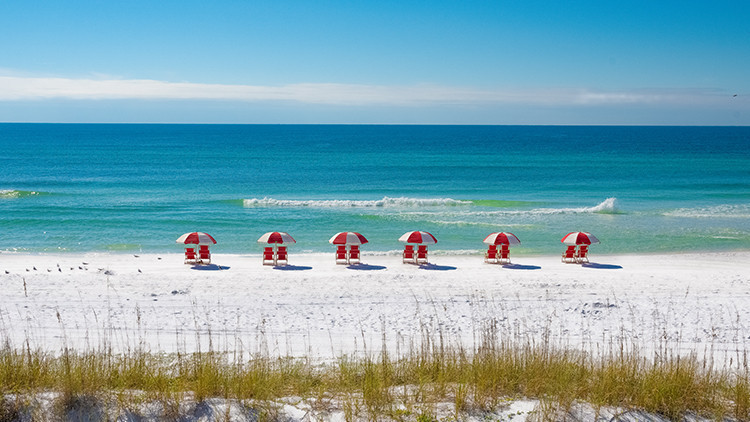 6 | Destin | Come visit the sun and sand of Florida's beaches, and thanks to the number seven shape of this state, you don't have to drive 6 hours across to reach one of its incredible beaches. Sitting comfortably up there in the panhandle is the sugar sand and clear water of Destin Beach. Like other Florida beaches, this one will easily accessorize your vacation with a beautiful beach experience, nature and wildlife viewing opportunities, a huge variety of restaurants, swimming, shopping, and accommodations of all shapes and sizes.
Depending on your budget, there are hotels right on the beach that cost a little more than the ones just across the street which require just a 3-minute walk in order to reach the soft sand. There are also campground options at Henderson Beach State Park, which can be booked online like any other lodging. Since this is a state park, you can enter it with your whole crew for almost nothing and then enjoy all of the various amenities once inside the park. They offer a boardwalk, showers, bathrooms, picnic tables, hiking, and beach access. One of the really cool exploration options is the opportunity to search for modern day buried treasure, also known as geocaching. This activity can be done for free with just the use of your cell phone and a free app.
Now if you have performed any kind of online search for Destin Beach, then you are undoubtedly already aware it is most famous for its fishing. And if you haven't heard yet, just to give you an idea of your fishing options here, this area is called the "Luckiest Fishing Village in the World." This not only means cheaper seafood dining, but also better deals on boat rentals for fishing, or just cruising the waters and partying! You can rent a pontoon boat here that fits more people than an airport shuttle, for the whole day at less than $300. Hang out on the boat, explore the area, catch some fish, throw a party, or pull up alongside a beachfront restaurant and park your boat to enjoy some seaside dining.
There's really so much to do in Destin and if that solely includes hanging out at the beach, you will still be able to have a fabulous and affordable vacation.
Final Tip: One of the basics to keep in mind when visiting any beach town and trying to figure out what to do or eat on a budget, is taking advantage of free offers. There are coupon books and attraction pamphlets in just about any hotel lobby along the beach, which will not only give you plenty of ideas, but also better deals! I've often found that some of the most enjoyable activities are the ones that aren't plastered on huge billboards or on every tv – they're the hidden gems. In fact, if you visit sites for the various activities and restaurants, they often have promos going on, deals of the day, or you can sign up for their newsletter and score a discount or even a free appetizer!
Bottomline
We all know that Florida is mostly surrounded by water (we do all know that, right?), so if you drive long enough you will eventually hit a beach. These are just a few of the awe-inspiring beaches that make Florida so popular and a total vacation destination. So, let's sum up with a few budget-friendly takeaway tips:
There are state parks EVERYWHERE, which means there is a minimal entry cost and plenty to do and see for free once you are inside. This also means that if you purchase a state park pass or a national park pass then you will only have to pay once for the year and then visit as many parks as you can reach within that time.

Beach towns are generally run by locally owned and operated businesses. What does that mean for you as a visitor? They are run by supply and demand, with some areas being more flooded with certain types of businesses and therefore providing you with negotiating power. Although their prices may be "set", since you are dealing with the business owner, test out your negotiating skills and try out a bit of southern hospitality when working out the best deals.

Once you pick out an activity you would like to try, always check their site for coupons and discounts. In order for those businesses to encourage foot traffic on their site (which translates into actual foot traffic to their business) they will often offer you exclusive discounts as one of their VIP visitors!

Save money on food by finding places with kitchenettes or full kitchens so a good portion of your food can be prepared on the cheap (and perhaps allow you to avoid some of those classic vacation add-on pounds…). When eating out, find places off the beaten path where the locals are more likely to dine. After all, the locals aren't willing to pay inflated tourist prices, so why should you?
Other Spotlights In Florida
If you've already experienced the beach or it's not your cup of tea, there are plenty of adventurous things to do in Florida. From best the places to kayak in Florida, and daytrips from Orlando to relaxing things to do near Disney, you'll find a lot of great ideas in our Travel Blog.

RELATED ARTICLE:
At Westgate Resorts, when you Check-In, there's a LOT to Check-Out! Your vacation awaits. Start planning your next vacation today or talk with a vacation planner at 888-852-2959 or 407-355-2690.
* Westgate Resorts is in no way affiliated with the attractions featured in this article. Items or places listed are current as of the publishing date of this article. Please call or visit the respective website for the most up-to-date offerings and details.
When You Check-in, There's a Lot to Check Out
Sign up for our newsletter and check-in to great offers, secret stuff, and special events.