8 Relaxing Things to Do in Orlando to Wind Down
8 Relaxing Things to Do in Orlando!
Need to change it up with some relaxing things to do in Orlando that bring some chill back to your thrill? Orlando is a mecca for amusement park-lovers. There's SeaWorld, Legoland, and Disney. But what if you want a break from the theme parks and the thrilling rides? Well, you'd be pleased to know that Orlando has plenty of relaxing destinations that sometimes only the locals know about!

Best Relaxing Spots in (or near) Orlando
Keep in mind that Orlando is located in Central Florida, and that means that it has access to plenty of nature reserves, lakes, and other serene environmental agritainment options. Furthermore, even though Orlando is a bit inland, the beaches are relatively near, especially if you're making the day trip to Cocoa Beach for some biking and surfing!.
All in all, this means that you'll have no problem looking for a beautiful spot to enjoy a relaxing day in Orlando.
1 | Discovery Cove | While officially Discovery Cove is a theme park, it comes with a significantly tranquil atmosphere compared to the mammoth parks. The place has activities, but it's more on the mellow side. For example, you can swim with bottlenose dolphins. You can interact with exotic birds in their free-flight aviary. If you just want to lay down and melt the stress away, then there are private beaches to discover and heated indoor pools waiting for you. Furthermore, the park has a coral reef. With the provided equipment, you can swim with thousands of tropical fishes. You can also have a leisurely exploration with the park's many attractions via boat ride. It will take you to the park's rainforest, waterfalls, sandy beaches, and aviary. Keep in mind that the park only allows a certain number of guests each day. Hence, make reservations in advance.
WHERE: 6000 Discovery Cove Way, Orlando, FL 32821 | WHO: 407-513-4600
2 | Gatorland | Founded in 1949, Gatorland is a reptilian wonderland. As the name suggests, the main attraction are the alligators. The place has a vast area of about 45 hectares, which is one of the reasons why it has earned the nickname the alligator capital of the world. Gatorland takes care of thousands of crocodiles and alligators. Many of them were confiscated from trappers that hunt these beautiful creatures for their skin and meat. The place features a unique atmosphere and setting. Some parts of Indiana Jones (1984) were shot in the park. It features a breeding marsh that you can walk over via a wooden boardwalk. You can also observe the reptiles from a three-story observation tower. If you're feeling a bit adventurous, then you can learn how to wrangle one of the crocodiles or alligators like a pro. They have a "trainer-for-a-day" program that you can join.
WHERE: 14501 S Orange Blossom Trail, Orlando, FL 32837 | WHO: 407-855-5496
3 | International Drive | If you are thinking of having a joy ride as a way to relax, then the International Drive is highly recommended. Stretching around 11 miles, this roadway features some of the most popular hotels and attractions in Orlando. You'll have a roadside view of some of the notable theme parks such as SeaWorld, Universal Studios, and Wet 'n Wild. You can also relax and shop with a multitude of malls found in the International Drive. If you ever get hungry, then it's likely you'll be confused with the options as there are seafood, pizza, barbecue, sushi etc. Keep in mind that the International Drive is not friendly to pedestrians. Hence, you either have to drive or hop on to an i-Ride trolley. If you want to explore International Drive to the fullest, then it's best to invest in a two-week or day-long i-Ride trolley pass.
WHERE: 9150 International Drive, Orlando, FL 32819-8112 | WHO: 407-248-9590
4 | St. Augustine Beach | If you truly want to wind down, then there's only a handful of options that can beat a day on the beach. For that, St. Augustine Beach is a highly recommended destination. The beauty of St. Augustine Beach is that it's a long sandy coastline with plenty of public beaches to enjoy. For example, there's Crescent Beach, St. Augustine Beach, and Vilano Beach. In the middle of the St. Augustine Beach coastline, you can find Anastasia Park. This park remains unspoiled and pristine as it doesn't allow cars. When the day is winding down, you can enjoy a beachside meal at the many restaurants. Keep in mind that if you want to bring your pet to the St. Augustine beaches, make sure to keep them on a leash.
WHERE: St. Augustine Beach, FL 32080 | WHO: 904-471-2122
5 | Pirate's Cove Adventure Golf | There's always something in the smell of freshly cut grass that's soothing and refreshing. Well, there's a good chance of that if you visit Pirate's Cove Adventure Golf. The place is even better if you are fond of playing golf. Pirate's Cove Adventure is unique as the entire setting is themed as if you are in a pirate world. You'll go through bridges, caves, and even under waterfalls. Of course, the entire setting wouldn't be complete without sunken ships, treasure holds, and dungeons. Pirate's Cove Adventure Golf features two golf courses. The Captain's course is suitable for novice and kids as it's easier. For anyone who wants something more challenging, then the Blackhead's Challenge is there. Playing through the courses is always relaxing and refreshing not only because of the unique setting but also because of the beautiful scenery. If you can make a hole-in-a-one, there's even a special award waiting for you.
WHERE: 8501 International Dr, Orlando, FL 32819 | WHO: 407-352-7378
6 | Daytona Beach | This list wouldn't be complete if we didn't mention Daytona Beach. After all, this beach is probably one of the most well-known beaches in the world. Despite the many exciting attractions of Daytona Beach, it's a great spot to wind down. With 23 miles of coastline, you'll have no problem looking for a place to enjoy a quiet time. You can also find plenty of beachfront parks with convenient facilities like restrooms and picnic areas. There are plenty of interesting vendors that sell a variety of snacks and cold drinks. If you want to mix a few outdoor activities while you relax, then you have plenty of options such as kayaking, paddleboarding, surfing, and snorkeling.
WHERE: 126 East Orange Avenue, Daytona Beach, FL 32114 | WHO: 386-255-0415
7 | Boggy Creek Airboat Adventures | This attraction is situated in Kissimmee, which is close to Walt Disney World. The main attraction is the airboat, which allows you to glide the everglades up to 40 mph. If that's too fast for you, then some packages will help you have a mellow ride. Each boat is approved and inspected by the United States Coast Guard. A standard tour will typically last for an hour, and it will host up to six people. During the trip, you will see areas that are not touched by man. Also, you'll likely see exotic wildlife in their natural habitat. The cool thing about Boggy Creek Airboat Adventures is that there are plenty of packages to choose from. There's the standard tour and the private tour. Also, there's a sunset and night tour if you're looking for something out-of-the-ordinary.
WHERE: 2001 E Southport Rd, Kissimmee, FL 34746 | WHO: 407-344-9550
8 | Bok Tower Gardens | Bok Tower Gardens is perhaps one of the best-kept secret attractions of Orlando. It's actually surprising that not a lot of people know this place, considering that it's just 10 miles away from Legoland. Bok Tower Gardens is a fantastic place to have a relaxing day thanks to the conservation lands, nature trails, woodland gardens, and citrus groves. They also house endangered plants. For a botanical garden, the place is huge. The site also houses animals, but mostly birds. There are more than 126 species of avian life, including the endangered ones. Because of the many attractions, there's always a breathtaking sight, no matter the time of the year. Bok Tower Gardens is officially a National Historic Landmark. It was donated by Edward Bok, an author that won a Pulitzer Prize, world peace advocate, and humanitarian. Some parts of the park have been designed by Frederick Law Olmsted, Jr., a famous landscape architect.
WHERE: 1151 Tower Blvd, Lake Wales, FL 33853 | WHO: 863-676-1408
Use Our Handy Map to Find Your Way Around Orlando!
Last Tips on Relaxing Things to Do in Orlando
The first thing you need to know is that Orlando is a humid place. If you haven't experienced high humidity combined with high temperatures, then it's better that you take it slow. And that means, don't try to stuff your days with activities. High humidity and high temperature can be very exhausting if you are not used to it.
Another essential tip that relates to the first one is to bring plenty of water. With Orlando's climate, you'll be sweating a lot. The way to counteract that is to drink water at regular intervals even if you are not thirsty.
Because Orlando exhibits a bit of a tropical climate, the weather can be unpredictable. Even during the summer months, it's not surprising if it rains in the middle of the day. If Orlando's forecast predicts a good chance of rain, don't worry. In most cases, it will rain for an hour or two. And, before you know it, the sun will shine again. However, never ever ignore extreme weather conditions.
The unpredictable weather conditions also affect the operating hours of most of Orlando's attractions. Hence, you should contact them before you head out. You really don't want to spend time and effort getting all prepared and drive to your destination only to find out it's closed.
If you're looking for a place to stay that's close to the action, Westgate's Orlando resorts are just minutes away.

RELATED ARTICLE: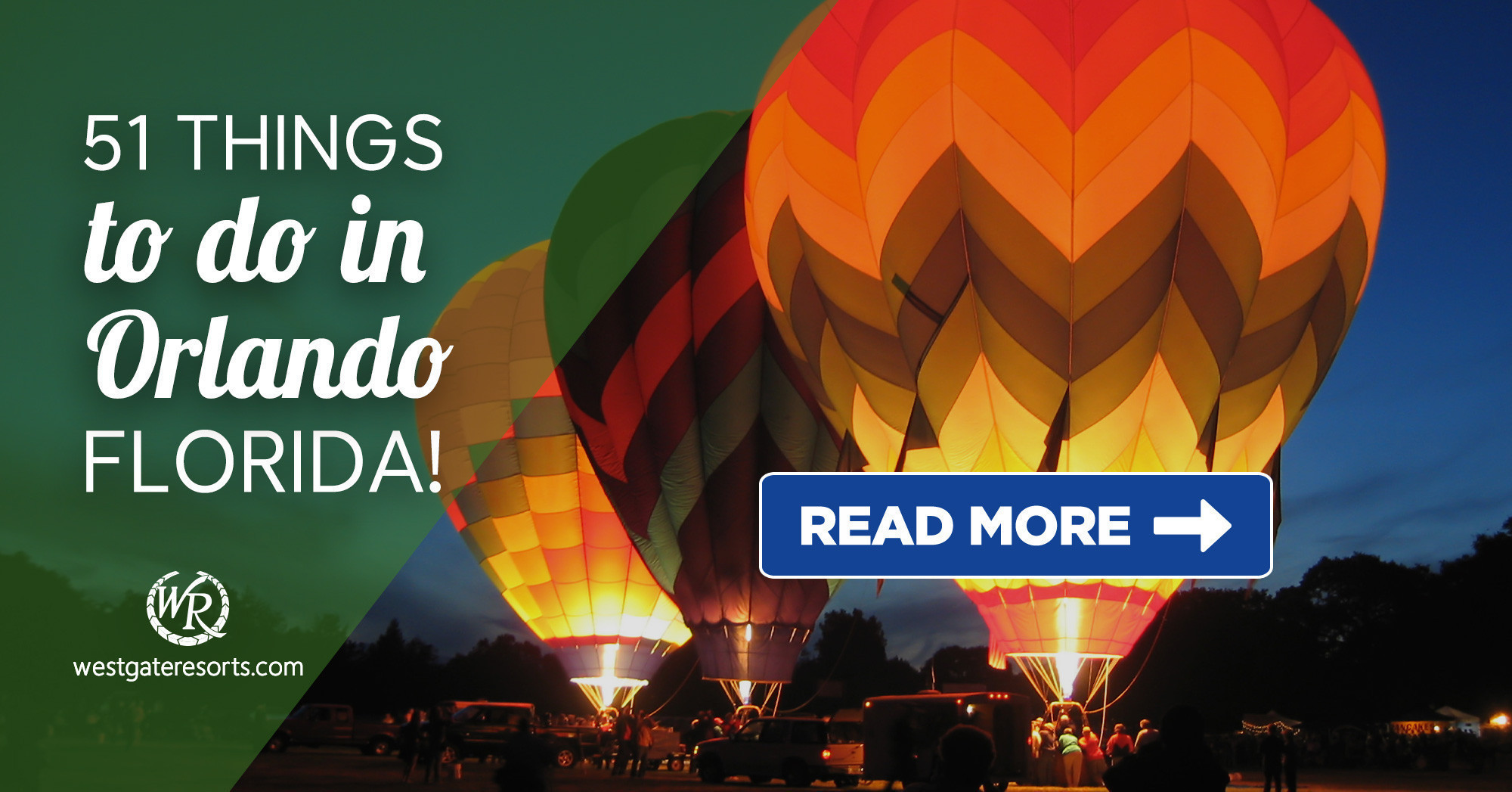 At Westgate Resorts, when you Check-In, there's a LOT to Check-Out! Your Orlando vacation awaits! Explore our Orlando resorts today or talk with a vacation planner at 888-852-2959 or 407-355-2690.
* Westgate Resorts is in no way affiliated with the attractions featured in this article. Items or places listed are current as of the publishing date of this article. Please call or visit the respective website for the most up-to-date offerings and details.
When You Check-in, There's a Lot to Check Out
Sign up for our newsletter and check-in to great offers, secret stuff, and special events.