The 6 Best Airboat Tours Orlando Has to Offer!
The 6 Best Airboat Tours Orlando Has to Offer!
"Blessed are the curious, for they shall have adventures." – Lovelle Drachman
On the hunt for the best airboat tours in Orlando? Of course, with all the things to do in Orlando, this city is best known for its world-renowned theme parks and themed hotels. However, it's a shame that not many Central Florida visitors know that Orlando also boasts access to some of the best natural areas in the country. We're talking about miles and miles of marshes and everglades just a short drive of Walt Disney World Resort, Universal Orlando Resort, SeaWorld Orlando and downtown Orlando. Exploring the headwaters of the Everglades is a bit tricky since a conventional boat's propeller can easily get stuck in the marshes.

Best Airboat Tours in Orlando
Honestly, the best way to explore the headwaters of the Everglades is via an airboat, which is actually even more fun because airboats are capable of traveling at high-speeds and airboat adventures provide both thrills and educational opportunities about Florida's unique ecosystem and wildlife dynamics, as well as ongoing conservation efforts. Below are some of the best airboat tours in Orlando that you and your family should definitely add to itinerary during your next Central Florida vacation getaway.
1 | Airboat Rides at Westgate River Ranch | Believe it or not, just an hour south of Orlando lies Westgate River Ranch Resort & Rodeo, an authentic Florida dude ranch that offers a myriad of outdoor recreational activities, including thrilling airboat ride adventures. The 40-minute-long airboat rides on the scenic Kissimmee River allow you to glimpse Florida's diverse wildlife such as alligators, turtles and bald eagles. Westgate River Ranch also features luxury Glamping opportunities, including 35-foot-tall Luxe Teepees, if you wish to enjoy an extended stay and take advantage of all the onsite amenities here such as horseback riding, trap & skeet range, swamp buggy rides, a thrilling adventure park that includes ziplining and rock climbing, a spectacular Saturday night championship rodeo and much more!
WHERE: 3200 River Ranch Boulevard, River Ranch, FL 33867 | WHO: 863-692-1321
2 | Wild Florida Airboats & Gator Park | Looking for adventure in the wild? Buckle up and head just 45 minutes from Disney Springs to nearby Kenansville, home of Wild Florida Airboats & Gator Park - the world's only airboat, gator, and Drive-thru Safari Adventure Park for a good time. This outing is perfect for families with children, nature lovers, and anyone who wants to experience Florida's wildlife up close, on four wheels, by boat, or on foot.
The park hosts four-hour tours, followed by 60-minute or 30-minute airboat rides for your convenience and preference. Bring your binoculars and arrive early, so you can score the best seats and snaps of bald eagles, fierce alligators, ospreys, plants, and wildlife deep into the headwaters of the Everglades and wetlands.
Always a hit with families and nature enthusiasts, the educational and entertaining Gator Park is home to 200 native and exotic species. Here you can learn the facts about these fascinating creatures and exotic animals from friendly animal keepers on hand to answer questions. Up-close encounters are also a part of the package! You will have the opportunity to interact with native animals, sloths, lemurs, porcupines, alligators, and more.
Take a ride on the wild side down the gravel road of the Drive-thru Safari. You'll see 100 native and exotic animals from as far away as the African Savannah and every continent on earth up close, as they roam freely and you enjoy the real-life spectacle from the safety and comfort of your car. The impressive lineup of animals includes giraffes, zebra, antelope, American Bison, mouflon, and so much more that you can now see in person and not only on TV!
WHERE: 3301 Lake Cypress Road, Kenansville, FL 34739 | WHO: 407-957-3135
3 | 90-Minute Airboat Everglades Adventure Tour | As the name suggests, the Everglades Adventure Tour will last around 90 minutes for a nice opportunity to view the headwaters of the Florida Everglades. The beauty of this specific package is that every airboat only accommodates six people. It will give you a more intimate experience as you explore the Florida Everglades. Also, the Everglades Adventure Tour provides an excellent option if you don't want something that's too crowded. Another benefit of the limited capacity is that you'll have a better view of the scenery. You'll have a good and comfortable look at Florida wildlife such as alligators and bald eagles. The company also provides you with everything you need to have a comfortable and enjoyable trip such as ear protection, which is a big help as the boat engine produces a lot of noise. Bimini tops offer sun protection. There's also a life jacket for each passenger. Lastly, if it happens to rain during the trip, the airboat tour company will provide you with rainwear.
WHERE: 2830 Neptune Road, Kissimmee, Florida 34744 | WHO: N/A
4 | Airboat Rides Miami Gator Park | Vacationing in Miami or heading south on a day trip from Orlando? Pencil in a stop at Airboat Rides Miami Gator Park to explore the Florida Everglades and enjoy some up close gator action! Gator Park Airboat tour will take you through the still waters of the Everglades amid more than 200,000 alligators and 28 different snakes, crocodiles, endangered birds, fishes like Blue Gil and Catfish, small creatures, and other native wildlife. You'll also love the resident turtles, macaws, peacocks, snakes like Florida Kingsnake, Red Ratsnake, Blackpine, Brooks Kingsnake, and more at the Gator Park, so bring the cameras along for those Insta-worthy shots! Don't miss out on the alligator wrestling spectacle and if you're a nature lover or brave at heart, hold a real-life baby alligator in your arms. This outing is perfect for every member of the family and a treat for nature lovers to view exotic creatures in their natural habitats.
WHERE: 24050 S.W. 8th Street, Miami, FL 33194 | WHO: 305-559-2255
5 | Crystal River Tour | Looking for a Florida airboat tour with a West Coast flavor? The Crystal River Tour offers guided cruises, mostly in the Crystal River, which lies about 90 minutes west of Orlando. What makes this tour different is that you'll be able to view manatees in their natural habitat. In fact, the Crystal River and the surrounding area is a natural habitat for these gentle marine mammals. Believe it or not, you also have the option to swim with the manatees if you so desire. The tour also brings you to the Homosassa Springs Wildlife State Park. Aside from the resident manatees of the park, there's also a chance to see alligators, panthers and even black bears. Furthermore, breakfast and a picnic lunch are also included with the fee. The boat ride tour will explore some parts of the scenic Withlacoochee River. Each boat will have a narrator to guide you through all the sights and sounds of the trip. The airboat tour will take around 30 minutes. There's a boat cruise that you can also experience that highlights the local manatees. If you are interested in swimming with the manatees, then you'll be pleased to know that the company also provides snorkeling equipment.
WHERE: 469 N.E. 1st Street, Crystal River, FL 34429 | WHO: 352-586-5259
6 | Boggy Creek Adventures | If you want an airboat adventure that adds additional exciting activities to the experience, then the Boggy Creek Adventures is an excellent option. The airboat tour typically lasts 30 minutes, and you'll be discovering the headwaters of the Florida Everglades. As always, keep your eyes on the marshes as an alligator may pop up its head at any time. After the airboat trip, you can then head to the 70-foot mine for a unique prospector gem mine experience. Furthermore, it's fun for all ages, so you should definitely bring the kids along. All the fun activities in Boggy Creek Adventures will likely make you hungry. Worry not as there's the onsite Boggy Bottom BBQ, which provides indoor and outdoor seating and genuine Florida-style barbecue. The sandwiches are simply amazing, and you have plenty of options such as beef brisket, steak and cheese, grilled chicken, BLT and pulled pork. The fee also includes a Native American Presentation. And yes, it's a live show. Also included in the price is a meal voucher. Last but not least, you also have the option of checking out the Alligator Oasis.
WHERE: 2001 E. Southport Road, Kissimmee, FL 34746 | WHO: 407-344-9550
Use Our Handy Map to Find These Top Airboat Tours In The Wild!
Last Tips on the Best Airboat Tours in Orlando and Beyond
As you can see, an Florida airboat trip is a different kind of outdoor adventure. Hence, there are certain aspects that you don't know yet that can significantly impact your experience.
Below are a few tips to keep in mind:
Check Airboat Tour Availability: Be sure to call the company before heading out. Most attractions in Orlando only operate during certain days of the week. Also, an unscheduled closing is not very uncommon due to the unpredictable weather conditions in Florida. The last thing you want is to prepare, get excited and find out that the place is closed.

Use Earplugs: An airboat is powered by a huge fan that propels the boat forward. It's a fast way of maneuvering through the swamps and Everglades. However, the engine can be very noisy. Hence, be sure to ask if the airboat tour service provides you with earplugs. In many cases, they do provide ear protection, but it's still best that you ask so you can bring your own if they don't.

Bring Plenty of Water: Orlando features high temperatures and humidity. If you are not used to this type of weather, it can sometimes be very draining. The best way to combat such a climate is to drink plenty of water. Most importantly, you will want to drink water at regular intervals, even if you are not thirsty.

RELATED ARTICLE: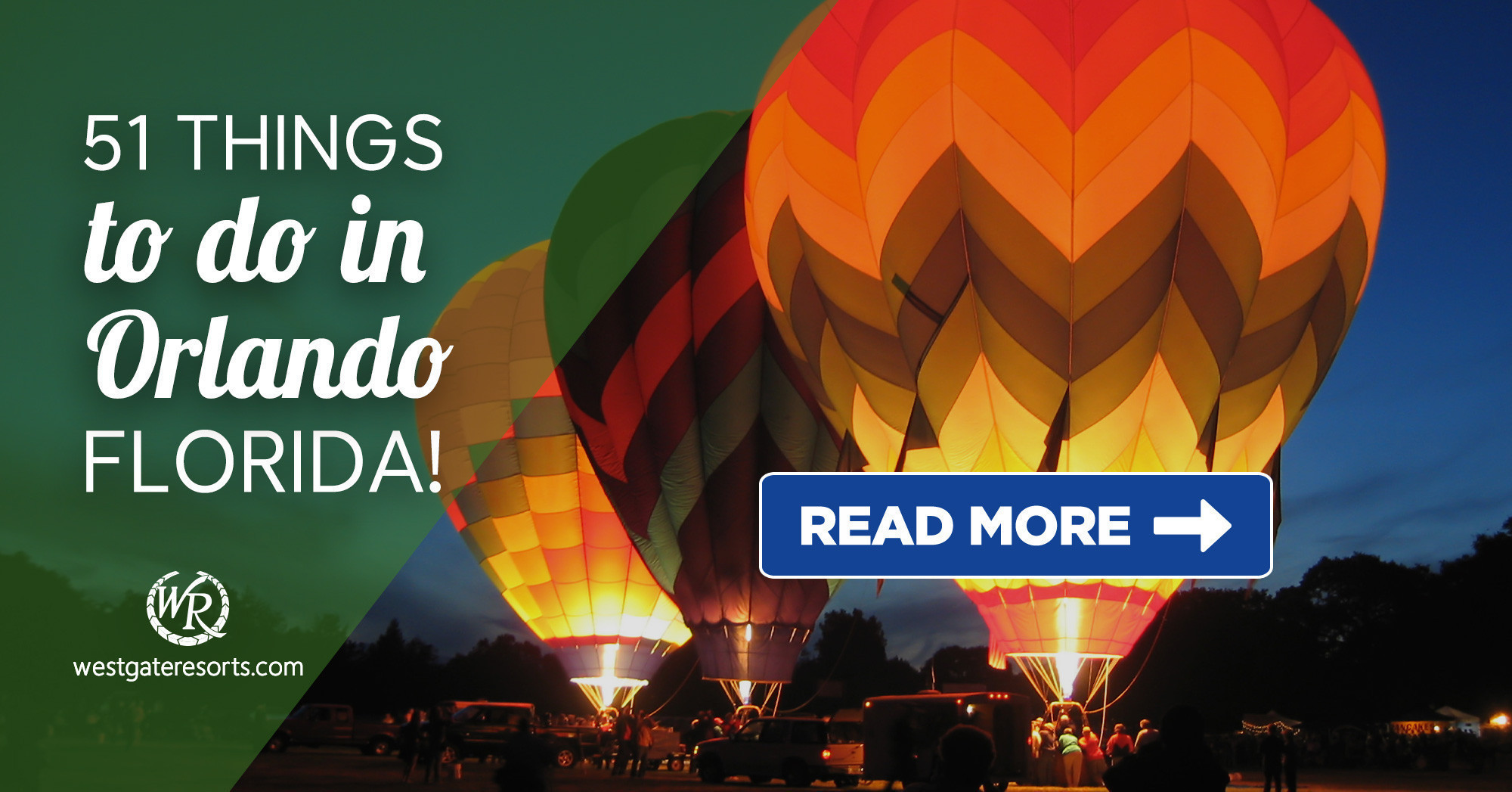 At Westgate Resorts, when you Check-In, there's a LOT to Check-Out! Your Orlando vacation awaits! Explore our Orlando resorts today or talk with a vacation planner at 888-852-2959 or 407-355-2690.
* Westgate Resorts is in no way affiliated with the attractions featured in this article. Items or places listed are current as of the publishing date of this article. Please call or visit the respective website for the most up-to-date offerings and details.
When You Check-in, There's a Lot to Check Out
Sign up for our newsletter and check-in to great offers, secret stuff, and special events.