6 Ways to Survive Halloween Horror Nights You Might Not Know About!
6 Ways to Survive Halloween Horror Nights You Might Not Know About
Of all the spook-tacular things to do in Orlando, Universal Studios Halloween Horror Nights is an annual event that's thrilled and chilled so many people that it's become a fall tradition. Some families have made it a cornerstone of their Halloween season, the way a trip to Santa at the mall punctuates the winter holidays. Of course, the cool comfort of those holiday elves accompanying Jack Frost's nip at your nose is quite different from the adrenaline rush of the Halloween monsters nipping at your toes.
After all, nothing quite matches the fun of a good scare (except maybe scaring up a great deal on Halloween Horror Nights hotels - lol, shameless plug!). What Halloween season is complete without vampires, monsters, ghosts, goblins, and zombies prowling the streets and turning the familiar town (into the) Upside Down? And there's no better place to fill your need for screams than at Universal's Halloween Horror Nights.
There'll be no shortage of scares at Universal's Hollywood Horror Nights, and they'll be tailored to every threat level you can endure. The best way to prepare for a scare, of course, is to know what you can expect. While there are surprises in each location, you can make the most of a fun night with a little advanced knowledge and planning, and Westgate has six ways to help you survive your encounter with the living dread that is a Halloween tradition like no other.
1 | Know Your Scare Level | One of the best ways to enjoy Universal's Halloween Horror Nights is to know which attractions you most want to visit, and which ones you might want to avoid. Look for the clearly marked signage letting you know what types of thrills you can expect in a house, what level of scare they promise. You want to have fun above all else, so don't go into a haunted house that exceeds your comfort level too much. Be sure to pay attention to each attraction's signage so you can know what to expect.
2 | Plan Ahead | Planning ahead will also help think about what attractions you most want to visit. Like any theme park experience, you know there are going to be lines. By setting your sights on what you want to visit most, you can enter the park with a definite plan and avoid the scariest experience of wishing you'd had more time to visit to the house you wanted to walk through most. Keep an eye on Universal's official site for updates about Halloween Horror Nights for Orlando to keep up to date on the latest announcements.
Best of all, if you stay at one of our Orlando hotels or resorts near Universal Studios Orlando, you're just minutes away from a fright night full of ghoulish delight.
3 | Embrace the Classics or Face the Unknown | There's a lot of buzz about your chance to go back to Hawkins, Indiana for an all-new Stranger Things haunted house experience. Go through the most thrilling scenes from the second and third seasons as you test your reflexes against fearsome Demodogs, and see Chief Hopper's cabin and the Starcourt Mall for yourself. Just make sure no one in your group's secretly working for the Mind Flayer!
Of course, if it's the 1980s and you're in a tight jam with the supernatural, who can you call? The Ghostbusters, of course! Universal Studios is brining Peter, Ray, Egon and Winston out of retirement to help you navigate the perils of coming face-to-face with Gozer the Gozerian, the Stay-Puft Marshmallow Man, and fan-favorite Slimer! While you're running from ghosts, you'll encounter the villains of the quirky cult hit Killer Klowns from Outer Space returning to Universal's Halloween Horror Nights. The 1980s knew how to scare us, and these houses are happy to remind us of just why.
In addition to all of this, you'll have the opportunity to face the terror of freshly-reimagined versions of Universal's classic monsters like Dracula, Frankenstein, Wolfman, . These creatures defined cinematic horror for generations, and they'll show you why they are the classic legends of nightmare thrills that can't be topped.
Universal's Halloween Horror Nights is also known for bringing new scares, too! Thrill to original houses that take you from the bottom of the ocean to mountain peaks. Depths of Fear will send you into the deep ocean where a deep-sea mining company has uncovered a species of parasite creatures that drive you mad. The Yeti: Terror of the Yukon attraction will take you through unexplored caves that hide a dangerous beast hungry for new prey. Nightingales: Blood Pit takes you back to the days of Ancient Rome when gladiators faced elder monsters with a thirst for blood and hunger for human flesh.
4 | Pair Up with a Faithful Companion | The best part of any scary fun experience is sharing in it! Make the most of your Halloween Horror Nights experience by taking someone with you who can be that rock of reassurance as you navigate the mazes full of crazy scares, or just someone who will understand why you're screaming louder than they've heard you scream before. Whoever is with you, make sure they know who gets to be the first around the corner, and who gets to be the one to pay attention to the rear. Make sure they promise not to abandon you when the monsters get near!
Who knows? Maybe you'll even make a new friend when you visit Halloween Horror Nights. Just make sure they're not a ghoul in disguise!
5 | Take a Break If You Need It | The haunted houses at Universal's Halloween Horror Nights can get intense, no matter how old you are! There's a reason they recommend it only for kids older than 13. That's why it's nice to know that they have scare-free zones where you can take a breather and collect yourself after finding yourself face-to-face with a Demogorgon from the hit show Stranger Things. Grab a bite at Mel's Drive In, take a break by stopping off at the Simpsons' Krustyland Arcade, or work out some of your fear by blasting aliens in the Men In Black wide.
If you want a break from monsters but want to keep the adrenaline flowing, you can hop on the Rip Ride Rock It roller coaster. You can also take a quick trip with Harry Potter through the Escape from Gringotts ride if you want to keep the mystical theme intact but add a magical defender to your night. Need to really get away? You can always hit the best haunted hayrides Orlando has to offer or visit one of our resorts to find a spooky way to spend Halloween!
6 | Find Your Safe Space at Westgate! | Westgate Palace Resort is just minutes away from Universal's Halloween Horror Nights. Our special room rates and deals will help make the most of getting a good scare at the freakiest annual event at Universal Orlando Resort™
Final Thoughts On HHN 2023
There's no doubt that this year's Halloween Horror Nights is going to be frightfully fun and better than ever, and even if you're a little faint of heart, it's always great to go take in the scare zones, saunter through the back alleys of creepily clandestine city-scapes, and (in general) boost your nightmare fuel with heavy doses of fun included. So get geared up for HHN 2023, and drop in for all the best info and resources on HHN wait times, as well as other spooky scares around the Sunshine State, such as our guide to the best haunted corn mazes in Florida, a rundown of the most haunted places in Florida, and some great resources on Orlando hotels to get some sweet dreams after a night of screams. Whatever your taste for this Halloween, we've got you covered right here on Westgate's travel blog!
RELATED ARTICLE: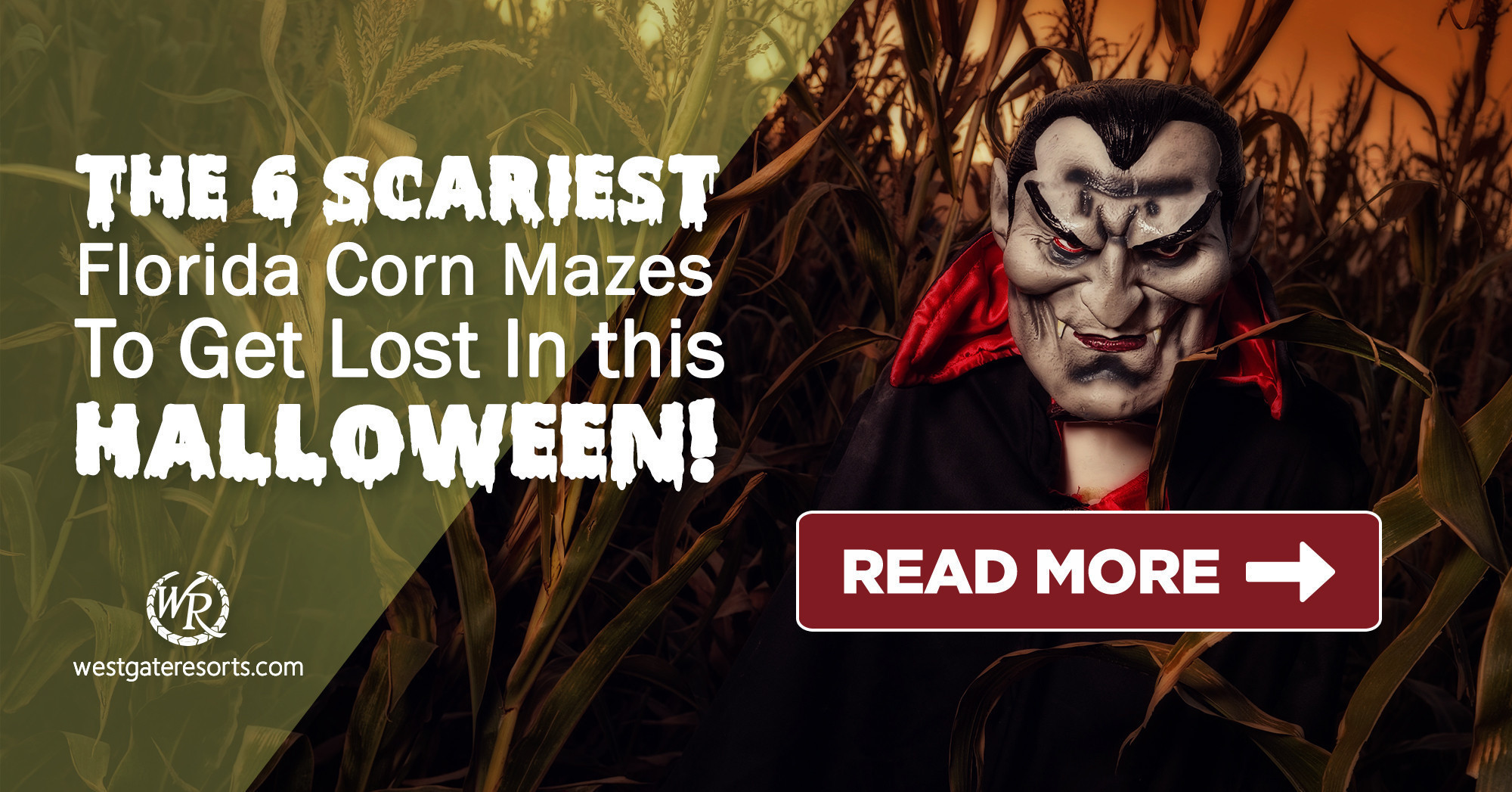 At Westgate Resorts, when you Check-In, there's a LOT to Check-Out! Your Orlando vacation awaits! Explore our Orlando resorts today or talk with a vacation planner at 888-852-2959 or 407-355-2690.
Other tagged pages of interest: orlando hotels near disney, resorts near universal studios orlando, lake buena vista resort, kissimmee resorts, kissimmee hotels, hotels orlando, orlando resorts, resort hotels, staycations
When You Check-in, There's a Lot to Check Out
Sign up for our newsletter and check-in to great offers, secret stuff, and special events.