The 10 Best Restaurants in Chinatown NYC
Best Chinatown Restaurants in NYC
Get ready to take your tastebuds on an excursion in one of New York City's most historic neighborhoods. If your desire is to dine on authentic cuisine and venture into traditional recipes, Chinatown NYC needs to be on your itinerary. The Big Apple is home to iconic eats, fun things to do in New York City and the famous Central Park NYC. Chinatown is definitely among one of the top things to do and see while visiting the city.
Chinatown NYC Restaurants
Locals have their favorite Chinatown restaurants, and visitors would be wise to go where the NYC locals go. Be sure to stop by Mei Lai Wah for their famous roast pork buns or Jing Fong for an unforgettable dim sum experience. Or for a traditional tea experience, visit Nom Wah Tea Parlor or any of the local tea parlors. There are a plethora of delicious options to choose from in Manhattan's Chinatown and these 10 restaurants will surely satisfy your craving for a flavorful feast.
1 | Green Garden Village | For Cantonese cuisine it is difficult to top the offerings at Green Garden Village. Although the dim sum is a highlight, other dishes like beef chow fun and the seafood selections really shine. The salt and pepper squid should not be overlooked, and the dried shrimp and scallop rice roll, as well as the steamed king crab are hits. Here at Green Garden Village you can bring your own bottle to toast your delicious meal in Chinatown NYC.
WHERE: 216 Grand St New York, NY 10013 | WHO: 646-912-9136
2 | PhoBar | This Chinatown restaurant gets points just for its creative name alone. While PhoBar is ever so slightly less traditional than other Chinatown restaurants, its approachable flavors are a hit among locals and visitors alike. As you can imagine, Vietnamese pho is a staple of the menu. Shrimp rolls and summer rolls are also highlights, and don't forget to finish your meal with some Vietnamese coffee. One important note, this restaurant is cash only.
WHERE: 43 Mott St. New York, NY 10013 | WHO: 212-267-5400
3 | Wah Fung Fast Food | Although it does not offer a true dine-in experience, Wah Fung Fast Food is a must-do if you want decadent, delicious roasted meat. Grab a sweet roast pork over rice or combination with roast duck and find a scenic spot in Chinatown to sit and enjoy. Arrive early because locals know this is the place to go for quick and casual fare that is oh so tantalizing. Important note, the eatery only accepts cash.
WHERE: 79 Chrystie St New York, NY 10002 | WHO: 212-925-5175
4 | Spicy Village | Get ready for rich flavors and authentic style at Spicy Village. This Chinatown favorite is known for its hand-pulled noodles. If you're not familiar with hand-pulled noodles, the handmade preparation often produces a silky, springy texture. No visit to Spicy Village is complete without dining on the restaurant's big tray chicken. You can devour a variety of savory dishes here, and if richness is what you crave, turn to the lamb noodles or beef brisket.
WHERE: 68 Forsyth St Ste B New York, NY 10002 | WHO: 212-625-8299
5 | Bo Ky | Enjoy the flavors of Teochew, which is a Chinese style of cuisine influenced by Vietnam, Malaysia and Thailand. Like so many great restaurants in Chinatown, Bo Ky is no frills, just authentic food. The country style duck is the star of the menu. A variety of noodle soups are perfect for a chilly New York City day. Don't overlook the curry dishes, either.
WHERE: 80 Bayard St New York, NY 10013 | WHO: 212-406-2292
RELATED ARTICLES:
The 15 Best Irish Pubs NYC Locals Won't Tell You About
The 15 Best Restaurants in NYC With A View of the New York City Skyline
The 20 Best Bottomless Brunches NYC Locals Are Crazy About!
6 | Super Taste | The place that is credited with introducing hand-pulled noodles to New York City's Chinatown is also home to some incredible dumplings. The seating area is tight, not uncommon for the area. but the flavors at Super Taste are delectable, and the food is served quickly and at an affordable price.
WHERE: 26 Eldridge St New York, NY 10002 | WHO: 646-283-0999
7 | Great NY Noodletown | Noodles may be in the name, but you'll find much more on the menu at Great NY Noodletown. Known for its late-night hours, you can enjoy great Cantonese cuisine late into the night. Ginger scallion noodles are a must and so are the chasu wanton noodles. For a special treat, consider the soft shell crab. Let the bright yellow sign lead you inside and enjoy the experience within.
WHERE: 28 Bowery New York, NY 10013 | WHO: 212-349-0923
8 | Peking Duck House | A dining excursion to Chinatown is not complete without a spectacular meal of Peking duck. As you can imagine, Peking Duck House offers a quintessential Peking duck experience. The dining room is filled with energy as culinary staff presents luxurious, decadent duck tableside. If you visit NYC as a group, this is a great place for a big meal and special occasion.
WHERE: 28 Mott St # A New York, NY 10013 | WHO: 212-227-1810
9 | Pings | Seafood is the way to go at Ping's Seafood. From shrimp to sea cucumber, crab to conch, there are a myriad of ways to dine on delights from the sea. Land lovers will be pleased with pork shumai, spicy pork buns and beef short ribs. Banquet-style tables fill the dining room adding an air of celebration.
WHERE: 22 Mott St New York, NY 10013 | WHO: 212-602-9988
10 | Royal Seafood Restaurant | While you might expect to sing the praises of the seafood dishes here at Royal Seafood Restaurant, you will be pleasantly surprised by the variety of entrees and dim sum. Shrimp dumplings and seafood soup are popular seafood choices. Yet, the steamed buns, T-bone steak and lamb chops are worthy of praise as well. If you want to take part in a traditional early afternoon dim sum, this is a great choice, but get there early.
WHERE: 03 Mott St New York, NY 10013 | WHO: 212-219-2338
Use Our Handy Map to Find Your Way Around!
Frequently Asked Questions About the Best Restaurants in Chinatown NYC
Chinatown in New York City is definitely worth visiting, especially for tourists who haven't been before. The neighborhood is known for its delicious Asian eats and is bustling with lots of activity.
Not every place in Chinatown in NYC is cash only, but many places are. You should always bring some cash just in case.
The distance between Times Square and Chinatown is 3 miles.
Chinatown is found along Canal Street and Mott Street.
Chinatown is found along Canal Street and Mott Street. Little Italy is found along Arthur Avenue, a neighborhood where more than two dozen Italian shops and restaurants have been in business for 50 to 100 years.
New York has the biggest Chinatown in the U.S. Although there are several Chinatowns throughout New York City, the most famous one is in Manhattan.
If you're talking about rent, the median rent in Chinatown NYC is $2,775, which is low compared to the rest of Downtown Manhattan. Food prices are also relatively cheap in comparison to some of the more expensive eateries in the city.
Last Tips on Chinatown NYC Restaurants
Now, who's hungry? If you're unsure of what to try first, soup dumplings and rice noodle rolls are must-tries at any of the local dim sum spots. Plus, don't forget to indulge in some ice cream or turnip cake for dessert. From tasty wheat noodles to dim sum and shumai, Chinatown in New York City is home to delicious eats that will leave your mouth watering. You can also check out some great NYC food tours when you're in the city. For more restaurant guides in New York City, visit our Westgate Resorts Travel Blog.

RELATED ARTICLE: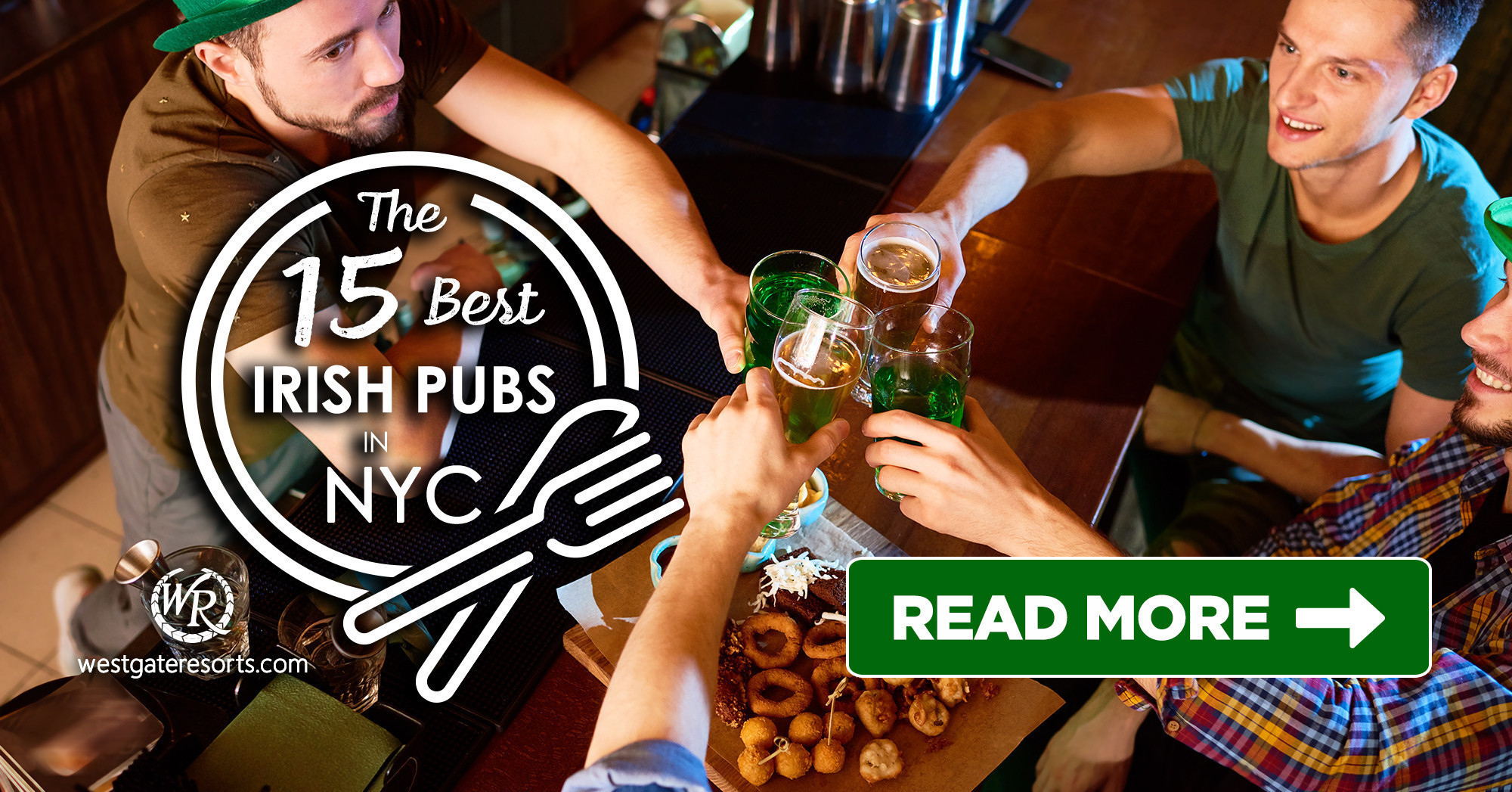 At Westgate Resorts, when you Check-In, there's a LOT to Check-Out! Your vacation awaits! Start planning your next vacation today or talk with a vacation planner at 888-852-2959 or 407-355-2690.
* Westgate Resorts is in no way affiliated with the attractions featured in this article. Items or places listed are current as of the publishing date of this article. Please call or visit the respective website for the most up-to-date offerings and details.
When You Check-in, There's a Lot to Check Out
Sign up for our newsletter and check-in to great offers, secret stuff, and special events.