10 Proven Ways to Increase your Chances of Getting Hired on the First Try
10 Tips to Help You Get Hired on the First Try
Do you want to work in Orlando and are looking for ways to increase your chances of getting hired on the first try? Well, you aren't alone; every jobseeker's dream is to secure their dream job on the first try. Although this may seem difficult, it's possible if you have the right tips in mind.
From familiarizing yourself with the successful interview tips to having a strong resume and cover letter, there are plenty of ways to increase your chances of getting hired faster.

Pro Tips to Keep In Mind
When it comes to getting a job, the key is to put your best foot forward. Of course, you want to make sure that your resume and cover letter are top-notch, but this alone won't land you your dream job. Competition in any job field can be fierce, meaning it's not enough to simply submit a resume and hope for the best unless you are ready for disappointments most of the time.
So, in order to stand out and increase your chances of getting hired faster, you need to do a lot more.
Here, we'll discuss 10 proven ways to increase your chances of getting hired on the first try. Implement these tips, and you'll be on your way to landing the perfect job for you.
1 | Do Your Research | Once you spot a job you want to apply for, you first need to research the company before sending your application. Research helps you learn about the company's mission, vision, goals, culture, procedures, clients, etc.
Many job seekers assume that the only way to research a company is to visit its website. However, this is only the tip of the iceberg. In today's day and age, there's a wealth of information available at our fingertips. You can find valuable information about a company in news articles, press releases, as well as reviews and testimonials from employees and clients.
This knowledge can be incredibly valuable during an interview and may just give you the edge you need to land the job. Furthermore, having the company's information at your fingertips shows that you are dedicated and motivated, two qualities that any employer is sure to value.
RELATED ARTICLES
4 Things to Keep in Mind When Dressing for Interview Success.
Resume Do's And Dont's: 3 Reasons Why Your Resume Stands out For the Wrong Reason
3 Reasons You Are Not Getting the Promotion You Want
2 | Read and Understand the Job Description and Requirements | While it may seem like a waste of time, thoroughly reading and understanding the job description can actually increase your chances of getting hired.
For one thing, it allows you to identify whether you are truly qualified for the role. Besides, if you have any questions about the requirements, you can also contact the employer for clarification.
In addition, understanding the job description can help you customize your resume and cover letter to better match the employer's needs.
3 | Tailor Your Resume and Cover Letter | According to a report by Glassdoor, each corporate job posting attracts 250 resumes. And out of these, four to six candidates are called for interviews, and only one gets hired.
Another survey by ResumeGo found that 81% of the interviewed recruiters and hiring managers take time to read cover letters when going through job applications. This report also revealed that job applicants with tailored cover letters secured over 50% more interviews than those without.
Based on these statistics, it's clear that a resume and cover letter are critical in any job application, and you should tailor them to the specific job requirements to increase your chances of getting hired faster.
This means highlighting your experiences and skills that are most relevant to the position you're interested in. It also means using the keywords and phrases that the employer is looking for. Also, mention your strengths and accomplishments and include reliable referees.
In your cover letter, be sure to mention why you're interested in the position and why you believe you would be a good fit. With a little effort, you can create a resume and cover letter that will help you stand out from the competition and snag the job you want.
If you aren't sure how to customize your resume, these resume tips will help you do it like a pro.
4 | Prepare for the Interview | Interview preparations involve researching the company again and preparing answers to common interview questions.
You should also take some time to practice your interviewing skills. A great way to do this is to role-play with a friend or family member. This will help you feel more confident and relaxed during the interview.
In addition, be sure to dress for success. Wear clothes that are appropriate for the job you're applying for. Decent dressing makes a good impression on the interviewer and shows that you're taking the process seriously.
Also, arrive at the venue a few minutes before the scheduled time, be confident, and practice good body language.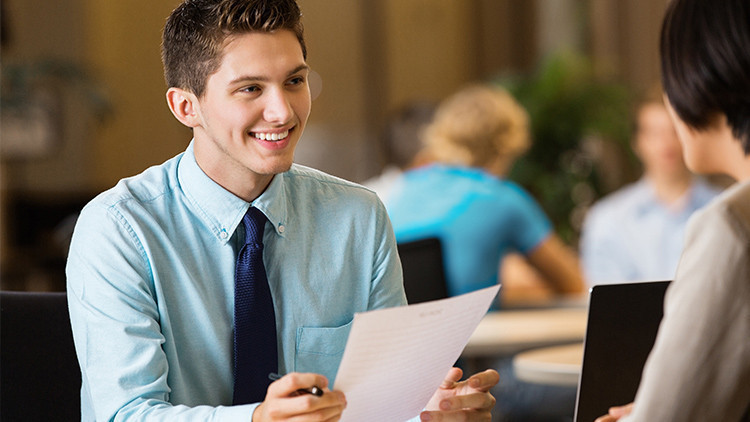 5 | Reveal Any Other Relevant Skills That You Have | Don't forget to reveal other skills that you think are relevant to the job. For example, if you're applying for a position as a web developer, highlighting your experience with graphic design or user experience can make you a more attractive candidate.
Employers are always looking for candidates who have a well-rounded skillset, so don't be afraid to showcase your abilities! Knowledge of multiple programming languages, platforms, or software programs is also highly valued in many industries.
So, if you've got the skills, make sure potential employers know about them. Here, you can also showcase your work to show the hiring team what you are capable of.
Showing off your skillset is a great way to increase your chances of getting hired on the first try.
6 | Mention the Value You'll Add to the Company | When talking with the hiring team, don't focus solely on what you hope to gain from the new position. It's also important to highlight what you can contribute to the company.
Emphasizing the value you'll add to the team shows that you're not just focused on your own career advancement but also on helping the company meet its goals.
This disposition can be especially helpful in competitive fields where employers are looking for candidates who will be team players. By mentioning the valuable skills and perspectives you can bring to the table, you're increasing your chances of landing the job on the first try.
7 | Be Up to Date With the Latest Technology and Trends | In today's job market, it's more important than ever to stay up to date with the latest technology and trends. Employers are increasingly looking for candidates who are familiar with the latest tools and approaches and can hit the ground running on day one.
There are several ways to stay up to date with the latest developments in your field. One is to read industry-specific publications and blog posts. Another is to attend conferences and workshops. And most importantly, don't be afraid to reach out to your network of colleagues and ask for their advice.
By staying up to date with the latest trends, you'll not only improve your chances of getting hired—you'll also position yourself as a leader in your field.
8 | Send a Thank You Note | You've aced the interview and are feeling pretty confident about your chances of getting the job. But do you know that there's one more simple step you can take to increase your odds of being hired on the first try?
Sending a thank you note is a great way to show appreciation for the interviewer's time and can also help solidify your image as a professional and courteous candidate. A thank you note also keeps you fresh in the interviewer's mind within the period when they'll be making their hiring decision.
And since not so many candidates remember to send a note after the interview, doing so will likely make you stand out. Ensure you send your thank you note within 24 hours after the meeting.
9 | Connect with the hiring team on LinkedIn | After you've gone through the interview process and really impressed the hiring team, it's important to stay top of mind. One way to do this is to connect with the hiring team on LinkedIn. This keeps you fresh in their minds and also allows you to further demonstrate your interest in the position and the company. Plus, it's a great way to build your professional network.
When you connect with the hiring team on LinkedIn, be sure to include a personal note. This is your opportunity to reiterate your interest in the position and thank them for their time. By taking this extra step, you're increasing your chances of getting hired on the first try.
10 | Follow Up With the Hiring Team | Don't just send a thank you note or connect with the team on LinkedIn and relax; no, you need to follow up.
You can give the company a call or send an email a week or so after the interview to see if they've made a decision yet. Following up is a great way to show that you're interested in the position and willing to go the extra mile to get it.
Now that you have an idea of the top proven ways to increase your chances of getting hired on the first try, the next thing is to implement them. And once you land your dream job, don't forget the basic workplace etiquette. Also, here are a few tips to keep you going if you feel burn out on the job.
Are you interested in a career in travel and hospitality with Westgate? We're always thrilled to meet inspired, hard-working, creative candidates who want to make a real impact in the hospitality landscape. Explore our open positions here at Westgate Careers and discover the Westgate difference today!
Don't forget to work your way up the job promotion ladder.

RELATED ARTICLE:
At Westgate Resorts, when you Check-In, there's a LOT to Check-Out! Your vacation awaits! Start planning your next vacation today or talk with a vacation planner at 888-852-2959 or 407-355-2690.
When You Check-in, There's a Lot to Check Out
Sign up for our newsletter and check-in to great offers, secret stuff, and special events.