The Definitive Site Inspection Hotel Checklist for Meeting Planners
The Definitive Site Inspection Hotel Checklist for Meeting Planners
A site inspection goes beyond simply looking at a spot and deciding if the space is enough. Instead, proper scrutiny should be driven by a comprehensive checklist that includes thoughtful questions which cover important aspects of each venue being considered.
If you've been given the ultra-important task of choosing the next amazing spot to host a super important event, keep reading this definitive site inspection hotel checklist for meeting planners, and discover tips and tricks to help you plan a successful event. Or check out our hotels and meetings spaces at Westgate Resorts.
Simplifying Site Inspection Hotel Checklists!
Say you visit several prospective venues to identify the best option for your event. Your handy site inspection hotel checklist will act as a cheat sheet to help you stay organized and keep track of the pros and cons, benefits and limitations of each site you visit. This will make it easier for you to compare and make informed decisions while also creating a repository of finer details you may forget along the way. Consider a site inspection checklist as a huge asset which will also help you plan future events.
Things to Add to your Checklist
1 | Basic Information | Start with the inspection date, name of venue, type of venue, address, contact information and dates of availability. This should be done for each venue you consider. Be sure to keep track of the people you talk to as this will come in handy if conflicting information is provided. These simple details will help keep you organized and efficient.
RELATED ARTICLES
Theme Park Roundup! 5 Parks Sound Off On Safety Policies Now In Place
10 Things You NEED to Look For to Stay Safe When BOOKING Your Next Hotel
2 | Site Details | Salespeople will always try to impress you, so it is important to have a prepared criterion in mind before your inspection begins. This will ensure that you stay focused on your needs despite the captivating sales pitches you will hear.
Consider the venue's AAA rating. This will indicate if a hotel has passed inspection and met rigorous standards to become AAA approved. Chances are, the higher the rating, the more credibility you can expect!
What is the full price tag, deposit amount and due date to pay? What is the cancellation policy and attrition penalty? Life happens and this sometimes calls for fluid plans, so knowing these details upfront will serve you well if the unexpected occurs.
Depending on your event, it may be useful to know if the venue is ADA compliant to accommodate attendees with special requirements.
Does the appearance of the building and landscape around it project an image and atmosphere that complement your event?
Is there construction planned on the property? The last thing you want is for your attendees to arrive to the sounds and dust from noisy construction equipment. Know ahead of time to avoid last-minute surprises.
3 | Logistics | Location! Location! Location! Is the venue located in an easily accessible area – reasonable distance to the airport or major highways, attractions and places of interest? This is key when planning events particularly if out-of-town travel is involved.
What are the parking fees for attendees who will drive? Is valet service available at the hotel as an added option for guests? Are there sufficient directional signs to lead attendees unfamiliar with the location? Does the hotel provide complimentary transportation to the airport or local spots? What is the cab fare from the airport?
These are answers that should be known when choosing a venue.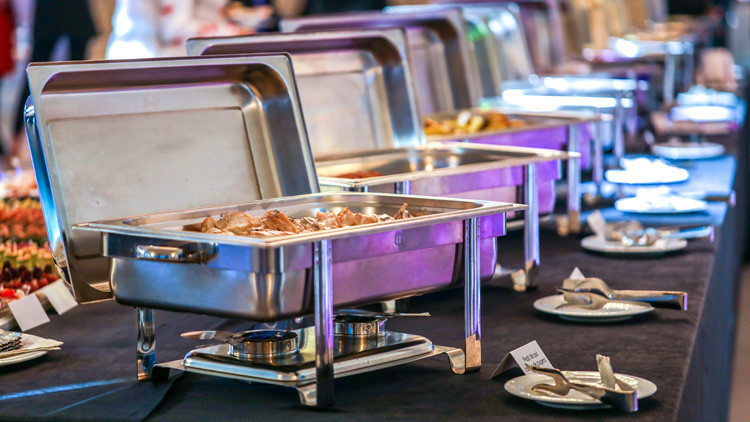 4 | Food and Beverage | F & B is one of those details that people will remember and talk about even after the event is over!
What are the food options and cost for breakfast, lunch, dinner – and coffee? Is there a service charge? Are special packages available for accommodations and food combined?
Consider the menu option for the main event. Ensure there is something for everyone; vegans, meat lovers, special diets, whatever the circumstance, the menu should be inclusive, so everyone has something to enjoy.
An easy way to record this detail so you can compare different venues, is to rate the presentation, selection, pricing, creativity, and service on a 5-point scale. This too will save time and allow you to compare when you are making a final decision.
5 | Equipment | Consider the equipment needed for the event. Using state of the art, cutting edge technology will give great peace of mind that things should run smoothly during important presentations. What equipment will be provided? Are equipment rental rates and labor rates separate or included in the overall event cost?
Consider also the quality of the equipment and request a demonstration of the sound system, presentation equipment, soundproofing, and other tools to ensure your needs will be met.
6 | Meeting Rooms | Whether you're having a large-scale affair or an event on the smaller side, the space you choose must be appropriate for the number of expected attendees. What is the square footage or room capacity relative to the number of attendees, servers and personnel?
Are the room rental and set up charges separate, or included as part of the event cost? Is there temperature control that can be adjusted easily, or will a request be required to have the staff make adjustments?
Assess the lighting and ceiling height – these may seem minor, but lighting can make or break an atmosphere and the height of the ceiling will play a part in determining the depth and spaciousness of a crowded room.
How close are the elevators and restrooms? These are reasonable considerations which address the need for easy access.
7 | Accommodations | When the event ends, your attendees should retire to a clean and comfortable room, so asking the right questions is important to safeguard their contentment.
Find out how many non-smoking rooms and suites come with a king, queen, 2 double or twin beds. Is there a rack rate or group rate for single, double rooms and suites? Are complimentary rooms available? What is the room rate tax? Can room blocks be reserved on a daily basis?
Assess the décor, cleanliness, and appearance of the rooms and bathrooms. What is the square footage of the rooms and proximity to the meeting space? What are the amenities that come with the room? Is there a microwave, workspace, sitting area, balcony? Take note of functional features and amenities that will bring comfort to your guests.
Other Important Factors
Find out how late events can run and any additional costs involved. Are special permits required for the event? Is there a special storage room for any equipment you may need to bring or ship to the location?
As you examine your checklist, consider your needs and the initial criteria you created. Examine each venue and compare. By using your checklist, you should be able to identify the site which will provide the greatest benefit for your needs.
Wrap Up
Looking for the ideal location to host your event? Westgate Resorts has AAA rated hotels and meeting spaces in the country's most exciting destinations. From our Orlando hotels, to our Kissimmee water park hotels, and New York hotel specials, we offer many options to choose from to host a successful event.
At Westgate Resorts, when you Check-In, there's a LOT to Check-Out! Your vacation awaits. Start planning your next vacation today or talk with a vacation planner at 888-852-2959 or 407-355-2690.

RELATED ARTICLE:
When You Check-in, There's a Lot to Check Out
Sign up for our newsletter and check-in to great offers, secret stuff, and special events.