10 Things You NEED to Look For to Stay Safe When Booking Your Next Hotel!
Some Top Tips to Help You Stay Safer When Booking Your Next Hotel!
Whether you're looking into a staycation or exploring a new travel destination, you may be wondering how you can find clean hotels in the area you're looking to visit, and what criteria you and your family can lean on, other than the standard third-party reviews. And let's face it, in the new travel-reality, you want the hotel or resort you select to be a destination on its own – one with both on-site amenities to keep your family entertained, and mindful plans in place to keep your family safe. You're allowed to be picky when it comes to peace-of-mind! For most of us, this is unchartered territory and your health and well-being are top priorities.
So What Should
Before booking your next getaway, consider looking into what your hotel of choice is doing to mitigate your family's health risks in these 10 areas, which tend to be the most important when it comes to cleanliness and sanitization standards:
1 | Entry, Doorways & Flooring | It's important that you feel good about your family having free reign to explore the resort and enjoy their stay to the fullest. That starts with knowing that the proper cleaning procedures were followed to ensure your well-being before ever stepping foot in the room. You should be rest assured that guest room entryways, doors and flooring were fully cleaned prior to your arrival. If you have little ones crawling around – you certainly know the importance of freshly mopped tile!
2 | Handles & Knobs | Cabinet handles and doorknobs are major touching points in the room, so it is pivotal that these surfaces are disinfected property. Think about it – where does your hand go right after touching the cabinet handle to grab a snack? Your mouth! These tiny surfaces should be wiped down by using multi-purpose cleaner or disinfecting wipes.
3 | Kitchen Surfaces | It goes without saying that you'll want to be storing your family's food and preparing your meals in an ultra-clean environment. While we are all eager to begin eating out at restaurants again, depending on your travel destination, it could be too soon to feel totally comfortable dining near others. Having a full-kitchen in your hotel room is an awesome luxury! All in-unit kitchen surfaces – from refrigerator shelves to countertops and stove tops – should be disinfected frequently and thoroughly.
4 | Bed & Bedding | Before your child runs into their room and plops face-first into the pile of pillows, you'll want peace of mind that every bedding set in the unit has been thoroughly refreshed and sanitized since it's last use. Hotels going the extra mile have laundry facility equipment that utilizes ultraviolet lighting for disinfecting bedding during each wash cycle.
5 | Bathrooms | The current goal of all businesses should be to make shared spaces cleaner and safer. Think about everything you touch on a typical bathroom visit: the doorknob, light switch, toilet handle, faucet handle, even the mirror! Shared spaces like bathrooms should be sanitized often with a peroxide disinfectant. According to the CDC, hydrogen peroxide is considered to be a stable and effective cleaner. It is active against a wide range of microorganisms, including viruses.
6 | Switches & Electronics | Babies are known for sticking household objects near their mouth, and TV remotes are no exception. Even if you don't have young children, these small devices all around the unit are likely being handled regularly by every member of your family. To reduce health risks, TV remotes, light switches, and alarm clocks should be included in routine sanitation efforts.
7 | Furniture & Hard Surfaces | While you may not have much direct interaction with large pieces of furniture like dressers, TV stands, and built-ins, this also includes commonly-touched hard surfaces like nightstands and the dining room table. After wiping this large surface down, you'll also want to make sure your family lathers up with an antibacterial hand soap before sitting down to eat!
8 | Seating | The first thing you'll want to do after lounging by the pool all day, is come back to your room and lounge on the couch! Cozy up for a family movie night knowing that the seating in your room has been properly disinfected. Cleaning chemicals should not be sprayed directly on fabric or leathers, but on the cloth used to clean the item. It's also important to note that furniture around the property should be arranged to emphasize social distancing requirements.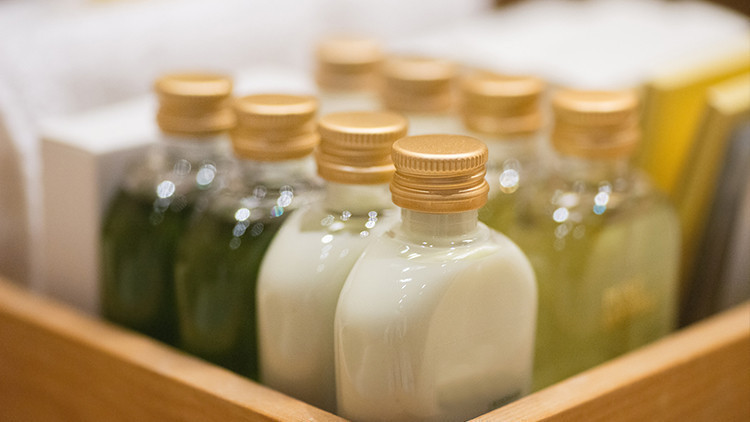 9 | Containers | Trash cans will need to be removed from the unit and sanitized. However, many hotels and resorts will be suspending daily housekeeping service for the time being. Housekeeping should not be entering your unit to take out the trash – unless absolutely necessary – until after you check out, so you may have to monitor how much your family is throwing away during your stay.
10 | Climate Controls | If you travel with family, you know that getting everyone to agree on a temperature setting for the room can make or break your vacation! You definitely don't want to forget about the climate control panel when doing a sanitation sweep of the room – the buttons on the panel may be touched by every member of your family!
With your family's health and safety at the forefront of all your upcoming decisions, businesses should be making it clear to you what they are doing to ensure your safety during this challenging and uncertain time, and although hospitality doesn't necessarily mean checking into a 'hospital' environment, it's wise to choose hotels that work hard to take the worry out of travel!
RELATED ARTICLES
8 Great Family Vacations to Take with College Students
15 Virtual Disney World Tours to Turn Your Home Into a Theme Park!
You Look For In A Hotel?
At Westgate Resorts, when you Check-In, there's a LOT to Check-Out! Your vacation awaits. Start planning your next vacation today or talk with a vacation planner at 888-852-2959 or 407-355-2690.
Practical Programs For Clean Hotel Stays
WestgateCARES is an example of a comprehensive approach to the preventative measures required to mitigate your family's risk. The protocols go into great detail on the areas outlined in this list, as well as sanitation processes for resort amenities, spas, fitness centers, restaurants and entertainment venues. The WestgateCARES plan is detailed, transparent, and easily accessible! For more information, including downloadable links, visit WestgateCARES and see how Westgate is reshaping the surface of travel – literally, for the better!
When You Check-in, There's a Lot to Check Out
Sign up for our newsletter and check-in to great offers, secret stuff, and special events.