The 10 Best Ice Cream Shops In NYC To Keep You Chill!
The 10 Best Ice Cream Shops In NYC To Keep You Chill!
Chill…. we've got the scoop on the best ice cream shops in NYC! Whether it's a hot summer in the Big city or a chilly winter evening, ice cream is always a perfect treat to celebrate a day in New York City! With so many fun things to do in NYC and historical sites to explore, the best part about city life is the abundance of sweet treats and the best dessert places in NYC to discover while weaving in and out of neighborhoods. Our favorite site to discover while out and about on the town is, of course, an ice cream shop! There are tons of nostalgic, classic, and whimsical shops throughout the city, so many we lost count. The only question is…which one do you hit first?
Ice Cream Shops NYC
It's no secret that the creamy delight holds a special place in all of our hearts. The perfect ice cream shop is a staple for enjoying life and making memories with friends and loved ones, from childhood memories to first dates. Soft serve, triple scoops, waffle cone, in a cup, doused with toppings—however you like your ice cream, these 10 NYC ice cream shops are sure to make you scream, "More please!" After visiting the top historical landmarks in NYC near your favorite Midtown East hotel, be sure to take a lick out of one (or a few) of the best ice cream shops in NYC listed below!
1 | Milk & Cream Cereal Bar | Ice cream. Cereal. Nothing screams nostalgia like Milk & Cream Cereal Bar! Located in Chinatown, the shop specializes in colorful, cereal topped creamy creations featuring cereal-infused ice cream! From Fruity Pebbles to Fruit of the Loops, every bite is a taste of home. Partnering with Nickelodeon to make cartoon-based ice cream creations, the ice cream cereal bar has released several unique treats that take a fun spin on our favorite childhood treat. These delightful creations include a Teenage Mutant Ninja Turtles-inspired ice cream pizza and a new Reptar Ice Cream Bar based on the beloved Rugrats dinosaur character. Be transported back to the 90s with the funky décor and enjoy the feeling of being a big kid!
WHERE: 159 Mott St, New York, NY 10013 | WHO: N/A
2 | The Original Chinatown Ice Cream Factory | Meet us in Chinatown for one of the most original ice cream experiences in NYC! Opening over 40 years ago, the family-fun Original Chinatown Ice Cream Factory's original storefront on Bayard Street is a must-visit for NYC tourists and locals alike. The shop is an intimate, small space serving big flavors. From Black Sesame, Red Bean, Pandan, Taro, Durian, Lychee, and more, experience authentic flavors of China like never before!
WHERE: 65 Bayard St, New York, NY 10013 | WHO: 202-608-4170
3 | Tipsy Scoop | Have you ever heard of a "barlor?" Well, now you have! An ice cream parlor and a bar, the Tipsy Scoop is the dreamy and boozy result when you mix alcohol with ice cream! Alcohol ice cream is an upward trend in the dessert market, and Tipsy Scoop is one of the best places in NYC to tackle both cravings at once! Putting a spin on classic cocktails, customers can enjoy chilly and sweet cocktails like the (C)old-fashioned and buzz-worthy scoops, like the Cake Batter Vodka Martini and the Raspberry Limoncello Sorbet flavors.
WHERE: 217 E 26th St, New York, NY 10010 | WHO: 917-388-2862
4 | Sugar Hill Creamery | Created by a husband-and-wife duo, Nick Larsen and Petrushka Bazin Larsen's zany seasonal flavors are inspired by the combination of their Midwestern and Caribbean backgrounds. Paying tribute to their home and community in Harlem, Sugar Hill Creamery is inspired by the "sweet life" residents of the Harlem Renaissance shared together. With inventive, sometimes out-of-this-world flavors, like the Ramen scoop and the ginger and turmeric candy-inspired Tuma Buna, the shop not only sources their ingredients locally but also give back to their community outside of their uplifting neighborhood ice cream shop.
WHERE: 184 Malcolm X Blvd, New York, NY 10026 | WHO: 212-634-9004
5 | Mikey Likes It | Mixing New York pop-culture icons with inventive ice cream flavors, the founder of Mikey Likes It, Michael Cole, creates an ice cream experience that'll have your taste buds booming with joy. With artisanal, organic, locally sourced ice cream inspired by pop-culture A-listers like Jay-Z, customers can enjoy flavors like Jack & Jill, a peanut butter ice cream with strawberry preserves, and Eat to Heal, a vegan flavor with blueberry hibiscus ice cream with a cayenne pepper swirl. The best part is Mikey will even mix up your own flavor if you ask! Whatever flavor you choose, Mikey guarantees you'll like it.
WHERE: 199 Avenue A, New York, NY 10009 | WHO: 212-673-0199
6 | Eddie's Sweet Shop | Live out your Grease-lightening fantasy when you visit this old-fashioned soda shop in Queens! The oldest ice cream parlor in New York City, Eddie's Sweet Shop has the scoop on the best (and biggest) ice cream sundaes, malts, and shakes in town. Serving happiness in a scoop since 1925, the shop is best known for its towers of ice cream sundaes, which come in the traditional vanilla, chocolate and strawberry, banana splits, and the sweet nostalgia of its old-school ice cream parlor décor.
WHERE: Union Square W &, E 17th St, New York, 10003 | WHO: 212-788-7900
7 | Oddfellow's Ice Cream Co. | Known as Brooklyn's Finest Ice Cream, Oddfellow's Ice Cream Co. is the mastermind result following one of the owner's brilliant yet relentless pregnancy cravings. Since the opening of their first shop in 2013, the odd ice cream shop has shared over 500 wacky and creative ice cream flavors, including Miso Cherry, Vegan Matcha & Black Sesame Seed, and Ricotta Lemon Spongecake. Jumping on the alcohol ice cream trend, the shop also offers boozy sweet flavors like Maybe Sammy's La Finca and Death & Co's Buko Gimlet.
WHERE: 44 Water St, Brooklyn, NY 11201 | WHO: 718-683-5755
8 | Ample Hills Creamery | Looking for flavors that will remind you of grandma's baking? With over ten locations, Ample Hills Creamery has quickly become a Brooklyn hotspot since its opening in 2013. Scooping up favorites like Ooey Gooey Butter Cake, I Wanna Dance with Some Berry, and Nonna D's Oatmeal Lace, a brown sugar cinnamon base mixed with chunks of oatmeal lace cookies, every bite is a huge hug of comfort for your senses.
WHERE: 141 8th Ave, New York, NY 10011 | WHO: 646-454-0440
9 | Morgenstern's Finest Ice Cream | Whether you enjoy a scoop of traditional vanilla or are always on the search for the newest flavor combination, Morgenstern's Finest Ice Cream has the perfect flavor for you! With over 88 flavors available, the shop offers whimsical flavors, like Banana Curry, and fun takes on vanilla, combining it with ingredients like bourbon or burnt honey.
WHERE: 88 W Houston St, New York, NY 10012 | WHO: 212-209-7684
10 | Malai Ice Cream | Travel the world through the intriguing and inspiring handcrafted ice cream creations at Malai Ice Cream! Founded by Pooja Bavis, the shop originated as a store-bought ice cream brand and finally opened up their first storefront on Cobble Hill. Enjoy exotic flavors like Turkish Coffee, Fig on Fig, Baklava, Masala Chai, and Rose with Cinnamon Roasted Almonds, or try out its seasonal flavors, including Sweet Roti and Ghee. If you're looking for a flavor wholly original, we recommend the Agate Candy Saffron, inspired by Bavis' winning dish on Food Network's Chopped Sweets.
WHERE: 268 Smith St, Brooklyn, NY 11231 | WHO: 347-889-5789
Use Our Handy Map to Find Your Way Around!
Last Tips
Ready to find your chill amongst the hustle and bustle of New York City? Satiate your sweet tooth and dive into the sweet nostalgia of childhood happiness with the 10 best ice cream shops in NYC! With something for everyone, be sure to share a bite with your loved ones and discover your next favorite ice cream flavor as you tour the Big Apple. You never know what fantastic sweet you'll find outside your favorite Midtown East hotel! For more vacation itinerary inspiration, be sure to check out the Westgate Travel Blog for the hottest NYC spots and delicious hidden fares!

RELATED ARTICLE: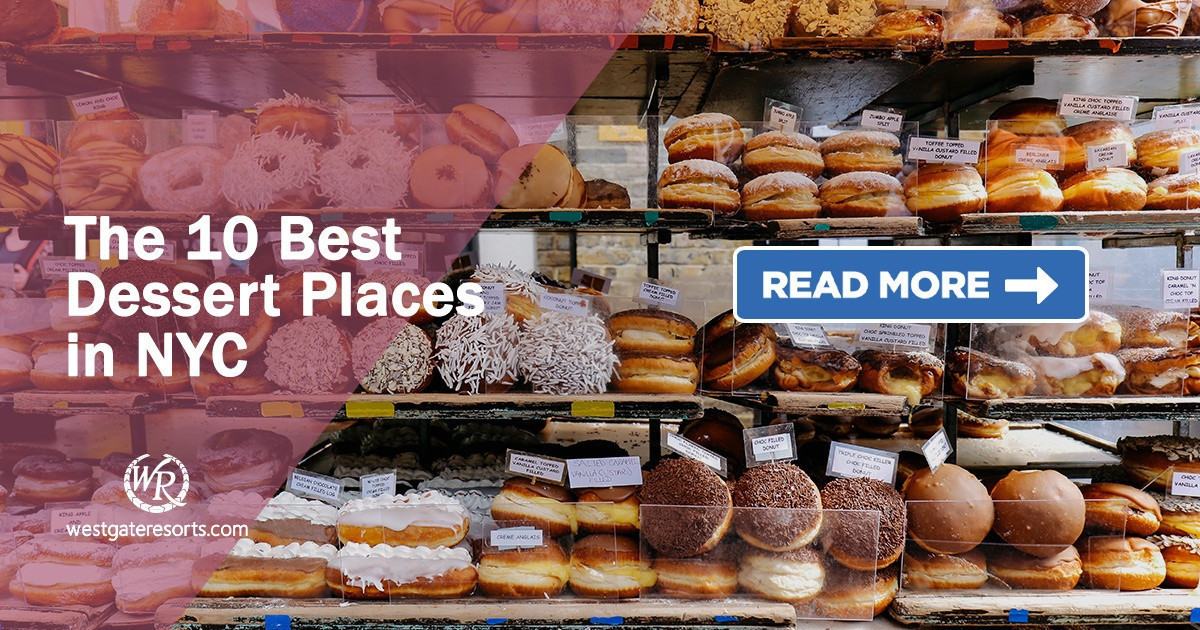 At Westgate Resorts, when you Check-In, there's a LOT to Check-Out! Your New York City vacation awaits! Explore our New York City hotel today or talk with a vacation planner at 888-852-2959 or 407-355-2690.
* Westgate Resorts is in no way affiliated with the attractions featured in this article. Items or places listed are current as of the publishing date of this article. Please call or visit the respective website for the most up-to-date offerings and details.
When You Check-in, There's a Lot to Check Out
Sign up for our newsletter and check-in to great offers, secret stuff, and special events.